Juventus and Massimiliano Allegri kick start this season's European campaign in a fabulous fashion. A victory after scoring two goals, conceding none and most importantly, getting the three points. This now puts us on top of Group A ahead of Olympiakos, Atletico Madrid and Malmo for the time being.
For a team with the pedigree as Juventus, is defeating the Champions of Sweden, much of a celebratory victory? You tell me? This is our first victory in our opening Champions League game since beating Petrzalka akademia(known as Artmedia Bratislava then) in a playoff game in 2008.  First win in our opening Champions League game in the group stages since Alessandro Del Piero scored that free kick over Zenit Saint-Petersburg in the same year.
Not only did we win our first Champions League game in six years but the man who helped us achieve this feat hadn't scored a goal in Champions League since five years. Co-incidentally, Carlos Tevez scored his last goal in Europe's biggest competition against Porto in the same season we last won our opening Champions League game. It was one of those games that we were destined to win due to a brace from the former Manchester United striker.
Here are my 5 key takeaways from this season's European debut as I watched the game with a Malmo supporter:
1. Seventh Clean Sheet
Surprised? Don't be. Continuing from last season, this is our seventh consecutive clean sheet in competitive games. The last time we conceded a goal was when Antonio Conte was in charge and it was to a player whom we co-owned then. Simone Zaza of Sassuolo was the last person to beat Gianluigi Buffon at club level in a competitive fixture. Buffon himself hasn't conceded a goal in four successive games for club and country.
The tendency to concede less goals in Europe gives teams an effective advantage over their opponents. We conceded nine goals in the Champions League last season and failed to surpass the group stages while conceded only four in Conte's first season in Europe, managing to top the group. Conceding to the likes of Nordsjaelland and Kobenhavn was something that we avoided on this occasion. Unlike the last two seasons, we were able to keep a clean sheet in our first Champions League fixture. This was managed without Andrea Barzagli.
Martin Caceres, Leonardo Bonucci and the returning Giorgio Chiellini had an outstanding game. Much credit must also go to the central midfield combination of Claudio Marchisio, Paul Pogba and Kwadwo Asamoah. Some credit has to be given to Allegri for starting his best possible defense despite the fact that we encountered a minnow. We have witnessed the problems of including the likes of Angelo Ogbonna and Federico Peluso at defense in the starting line up even though when you have better players on the bench.
The only chance that Malmo got was the only time when we lost our concentration. It was also yet another time when we had to rely on an immortal figure in front of goal, who as always was completely focused. That is what separates legends from gods and Super Gigi is no less than a god.
Key Stat: In the seventeen home games in 2014, Juventus have conceded only seven goals keeping eleven clean sheets in all competitions. Fortress.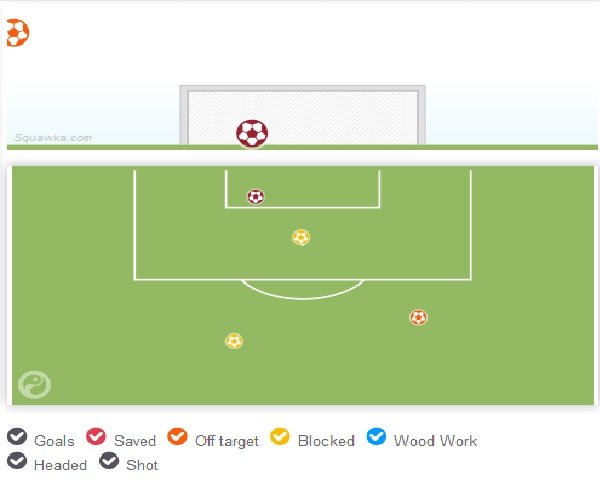 Shot Analysis: Malmo managed an overall of four shots against Juventus
2. Depth at midfield
Keep Andrea Pirlo away, keep Juventus away. Doesn't work? Keep Arturo Vidal at bay, keep the most coveted team in Italy at bay. Still doesn't work? What to do?
That is the strategy of most of our opponents. This was also one of the reasons why Conte's teams were so predictable. While Conte's teams relied on individual brilliance and prowess to steamroll in Italy, they also made us a vulnerability to fail in Europe miserably. Instead of employing the likes of Simone Padoin at the heart of the midfield, our current 47-year-old tactician chose to start Asamoah in his best position. The 25-year-old Ghana midfielder duly delivered with a beautiful assist. These are optimistic signs to indicate that we are headed in the right direction at this moment.
Unlike Conte, Allegri has taken Europe very seriously and not underestimated teams of smaller stature. He started with the best team at his disposal and got the much needed three points. This was a game in which we missed the magic of our Maestro and the spirit of our warrior. This was also the second victory without Vidal and the third without Pirlo. Not only did we miss our Italian genius and our Chilean fighter, but we also missed an Argentine surprise. Roberto Pereyra was unbelievably very good in his first start in a Bianconeri jersey but had to miss out due to suspension. It just shows the depth and quality we have at midfield. It also proves that winning in Europe can be achieved when you play the most suitable players in their best positions.
Obviously, we are going to encounter such situations again in crunch ties in Europe. But, Allegri has at least shown that he has a backup plan when we miss our key midfielders. Allegri or Conte, in general, winners don't make excuses when the other side plays the game. Especially not when you are associated to Juventus.
Key Stat: In the Serie A last season, Pirlo and Vidal created 115 chances in 32 games between them. Importance.
3. Wings of fire
Much doubt was cast on the strength of our flanks. Certainly we as fans must question about the potency on our wings. However, on this occasion, we have been wrong. Not wrong about Stephan Lichtsteiner, but about Patrice Evra. Together, they got into magnificent positions while still tracking back to perform their defensive duties. It was a joy not to see the likes of Mauricio Isla go AWOL at a time when your side just takes the lead.
While much criticism can be placed upon Lichtsteiner for his lack of decisiveness when brought into key positions, a lot of credit must be given for being drawn into those areas. Against Chievo, the highest number of passes managed were between Ogbonna and Asamoah, who started on the left flank. When we met Udinese, Pogba and Evra interacted the most. Similarly, in a confrontation with Malmo, Pogba and Lichtsteiner had most number of interchanges.
Co-incidentally, Tevez scored against Udinese after a promising move started on the right flank with an assist from Lichtsteiner. Tevez again got on the score sheet against the team from Scania, with the move accelerating on the right wing involving the 30-year-old Swiss international.
Key Stat: Until this stage of the last season, Juventus created only seven chances from the wingers in the Serie A and Champions League. The Bianconeri have already created thirteen chances from the flanks this season.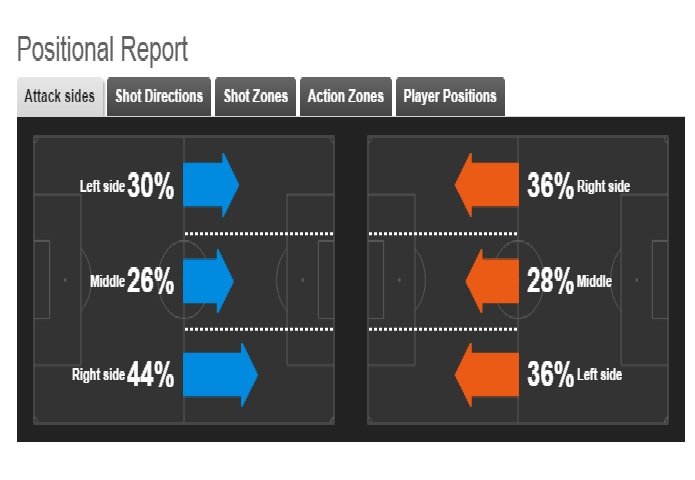 Juventus vs Malmo: Attacking areas. Juventus in blue, Malmo in orange
4. Dedication
The first name that pops up in all our minds when we come across the word "dedication", is Tevez. The man who was vastly criticized for taking the number 10 shirt that belonged to Pinturicchio, is the same man who has won over the hearts of the fans of the beautiful old lady. The 30-year-old Argentine was considered as a more viable option than a certain Montenegro striker during the summer mercato of 2013. And why not?
Unlike Stevan Jovetic, Tevez is a proven goal scorer at the top level with a bag of experience in his illustrious club career that includes winning the Champions League. The former Manchester City striker is also a consistent goal scorer with an ability to also actively be involved in build up play and create goals. In addition to these, he can also sustain working rigorously in training, contribute defensively, slog tirelessly and give his side thirty games a season than the current Manchester City striker who has been able to churn one fourth the number of appearances at the Etihad than his predecessor has obtained for us. To top this all, Jovetic costed thrice the value for which Tevez was secured.
Tevez had the chance to visit his stepfather after the latter was released from a kidnapping in the outskirts of Buenos Aires. Our talisman instead chose to stay back and turn up for training while attending the preseason tour. He could have easily opted to miss the game against Udinese on match day two, not taking chances for the Champions League game. But, he played eighty two minutes in our debut home game of the season, scoring one goal and laying one assist.
Coming under a lot of criticism and pressure for his absence of goals in the Champions League since 2009, Tevez delivered when it really mattered. He silenced his doubters once again by netting a brace and truly played like a leader. Since his arrival in Turin, his commitment to La Vecchia Signora, has always been a hundred percent.
Key Stat: Tevez has made the most number of key passes every ninety minutes than any other striker from the top five European leagues in all the competitions.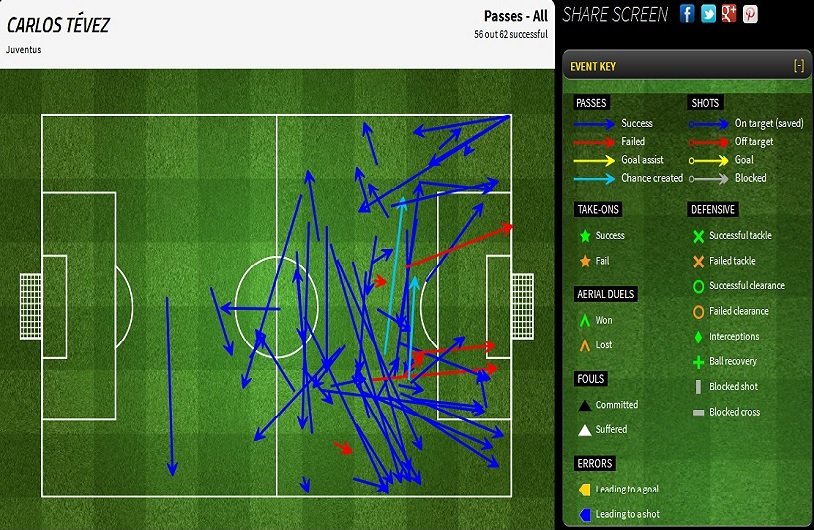 Passing analysis of Tevez
5. Late substitutions
Among all the positives, this was one problem with Allegri. Apart from seeing Fernando Llorente come on for Kingsley Coman in our inaugural victory away at the Bentegodi, all our substitutions have come after the 80′ minute. This would seem understandable when your side is convincingly leading by a two goal margin. Regardless of the fact that these are still early stages and the coach not only has complete confidence in the ability of the players at his disposal but also their condition, late substitutions should not be made a habit.
We defeated the Crocoiati by a solitary goal while leaving it very late to seal a victory over Udinese and Malmo. I would love to see more attacking changes when our side lacks efficiency in front of goal. In the future when we are required to withstand tremendous pressure, a defensive change is automatically in need. One of Conte's primary reasons to fail in Europe was his inability to make major tactical changes during the course of the game. There have been games where we have witnessed the likes of Padoin coming on for Pirlo..
As long as we open the scoring, we are safe. It is only when we concede a goal, will Allegri be truly tested. As it stands, Allegri's ability to motivate and give an adrenalin rush to our players does not look as assuring as his preceding tactician. In this case, the need of substitutions at the right time is pivotal for the team to succeed.
Key Stat: Apart from drawing to Galatasaray at home and losing to Real Madrid away, Conte made zero changes before the 60′ minute in his five losses and eight draws in Europe.
Let me know if you agree with my views or not. Cheers! Fino Alla Fine! Forza Juve!
---
Note:
1. All the statistics have been taken from Squawka, FourFour Two, WhoScored and transfermarkt.