Juventus won 1-0 in their third Serie A game over AC Milan at the San Siro. The Bianconeri go three points clear at the top of the table with AS Roma having a game in hand to catch up with the leaders. Even though it was not our best of performances, we were still good enough to win on the night.
This was a game that involved multiple jaw dropping story lines. Massimiliano Allegri returned to Milan, a side with whom he won one Scudetto and one Super Cup. Filippo Inzaghi faced his former side, where he  spent four seasons as a player, winning a Scudetto and a Super Cup apart from a UEFA Intertoto Cup. Despite not playing, Andrea Pirlo watched from the stands as returned to the San Siro, where he was ironically cast out by Allegri.
An away victory at a tough ground against a tough opposition, three points in the bag and a clean sheet resulted in a perfect Saturday night. Especially considering the fact that we were involved in Europe in midweek, we were able to grind out a positive result. It was a game which showed everyone that in order to win the hearts of Juventus supporters, one needs to win. Allegri has not fully conquered our hearts but he is slowly earning his place. Speaking about winning, Milan seem to be struggling facing us. They have now lost six, drawn two and won only two against us in their last ten encounters in all competitions.
Anyways, here are my 5 key takeaways from our victory against Milan:
1. Loyalty
There's a special place in the hearts of all Juventini for Claudio Marchisio. Starting his youth career with us in 1993, Il Principino has spent twenty years as a Bianconero with the exception of one season where he was loaned out to Empoli. He is one of the very few members of the squad that survived the Calciopoli. He has played in every position at midfield while also featuring as a trequartista and as an attacking winger.
Having played in over two hundred games for us, Marchisio truly bossed the game against Milan. Featuring as a usual replacement to Pirlo at the heart of the midfield, Marchisio not only controlled the tempo of the game but was also very effective in creating key chances. Apart from rattling the post once when he surged ahead, he also gave us solidity defensively which helped the likes of Paul Pogba and Roberto Pereyra move forward alternatively. Marchisio was in my opinion the man of the match. Only negative aspect about his game was that he picked up a yellow card. Barring his booking, it was a flawless performance from his side.
Marchisio has made the most number of passes in the Serie A this season.
Key Stat: Marchisio averages close to 96 passes every 90 minutes making him the eight best player in this category in all of Europe's top 5 major leagues.
  Marchisio vs the best passers in their respective leagues
2. Stability
Despite missing Pirlo and leaving Arturo Vidal on the bench, the combination at the center of midfield was excellent. Pereyra returned from suspension as he missed the game against Malmo. Much like the game against his former employers Udinese, the 23-year-old Argentine was once again the surprise package of this game. Taking Vidal's place in the starting line up, he offered a different dimension than the Chilean. Despite not offering much defensively, he was always a threat when he moved forward.
Pogba on the other hand worked tirelessly on and off the ball. Although, the 21-year-old Frenchman was criticized by Allegri, he demonstrated glimpses of magic. He gave a beautiful assist to Tevez for the solitary goal of the game. Marchisio was orchestrating the game beautifully. The team didn't look like it missed Pirlo and Vidal from the starting line up.
The balance at the center of midfield impressed me the most. All the three center midfielders would press high and work very hard in retrieving the ball in an organized fashion. Whenever Milan were in possession they were put under a lot of pressure making it very hard for them to not only hold onto possession but found it extremely hard to create chances. They maintained such a high tempo that the Rossoneri  never really settled in the game after having very little time on the ball.
There were moments when the Milan players looked jaded and were playing only to clear their lines. Our opponents had a maximum of only two players whenever they counter attacked. When we were in possession, all of Pogba, Marchisio and Pereyra found themselves with space and time to continue to combine at ease. Pereyra also told after the game that he tried to get into goal scoring positions as Allegri wanted him to be an extra weapon considering that Milan tried to man mark Tevez with Nigel De Jong. When Vidal came on for Pereyra, he gave a decent performance as well.
Key Stat: Pereyra, Marchisio, Pogba and Vidal managed to have 257 touches on the ball against Milan. The overall touches on the ball managed by the total combination of the starting midfielders and attackers of Milan were 268.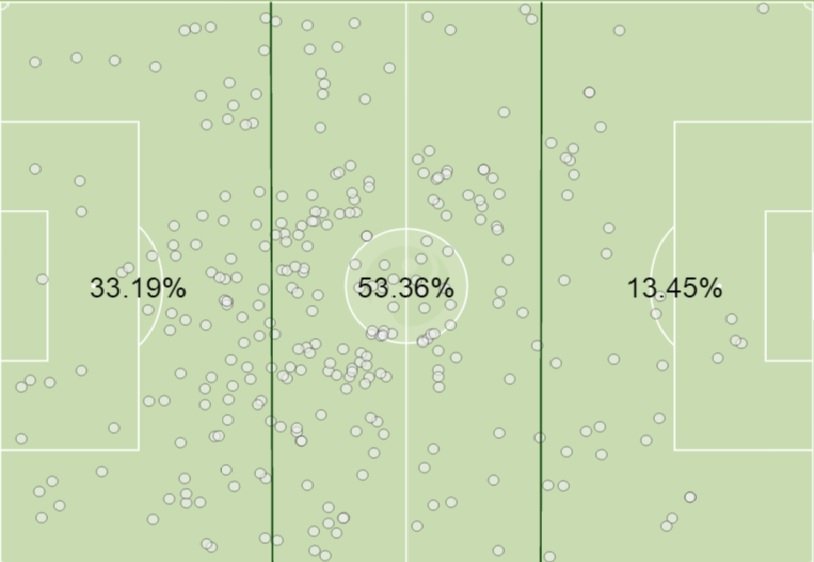 Action zones of Pereyra, Marchisio, Pogba and Vidal vs Milan
3. Consistency
After crossing 100 points to win the Scudetto last season, we have been supremely consistent in the Serie A. We won 19 home games in the Serie A last season and have won two of our home games in all competitions this season, maintaining one hundred per cent winning accuracy. In our last 50 games in all competitions, we have lost only six games and all the six of them have been losses away from home. Three of the six games that we lost came in Europe while the other three have come in Italy.
This was another game in which we failed to concede goals. This was our eight successive clean sheet in all competitions. The last time we conceded a goal, it came against Simone Zaza in an away game to Sassuolo. Gianluigi Buffon has not conceded a single goal for 584 minutes for Juventus in all competitions while we have not let in a goal for 801 minutes.
Despite missing Andrea Barzagli from the starting line up and losing Martin Caceres due to an injury in the first half, we were still able to keep a clean sheet against Milan. Apart from Giorgio Chiellini making a bad pass, the defense was settled on most of the occasions. Angelo Ogbonna did well after he came on for Caceres while Leonardo Bonucci produced a stellar performance.
Milan had scored eight goals in the thirteen chances that they created against Lazio and Parma, but  managed to have only three shots on target with the seven chances that they created. Jeremy Menez looked active but failed to make any significant impression on the game. Despite managing to combine and bring out a save from Buffon, Keisuke Honda and Stephan El Shaarawy were both relatively absent in the game and they were eventually both subbed off.
Key Stat: Juventus have won 71 of their last 100 games in all competitions. 
4. Work rate
Tevez was in action once again. The 30-year-old Argentine scored the only goal of the match that gave the Rossoneri their first loss of the season. Despite the fact that his goal on this occasions was not as spectacular as the goal he scored against the Milanese side earlier this year, the former Manchester United player was the most decisive player.
After being criticized for his goal drought in the Champions League, Tevez popped up to score a brace and give Allegri his first European victory for La Vecchia Signora against Malmo in the midweek. In his Bianconeri career, Tevez has scored twenty five goals in forty nine games while making nine assists. In this season alone, he has four goals and one assist from four games.
More than the consistency, its the effort that Tevez puts in which deserves the most appreciation. Never standing at one position, his movement gives defenders a tough time to mark him. Having a free role in the attack, he has proven that he is not only good at scoring goals but also creating them. He also contributes defensively which makes him a complete striker.
Key Stat: Tevez has made a total of 157 passes in the Serie A this season and is therefore the best striker in terms of passing. Menez is second in this account with 87 passes and has completed 70 passes lesser than Tevez.
5. Drought
Moving from one striker to another. Fernando Llorente has begun this season just like the last season. The 29-year-old Spaniard is yet to open his scoring account for us in this season despite featuring in all of of our four games. He has begun this season's campaign very slowly on the basis of goal scoring. However, the effort that he puts in the entire game is unquestionable.
Llorente is one of the most lethal strikers in the world inside the box. Though he helps to actively get involved in buildup play and helps in holding up the ball, his goal scoring attributes are at best when he is within the box. During this season, the average time spent by Llorente inside the box is close to 23% of his overall time in the match. This means that in a game which would see him feature for 90 minutes, he only spent close to only 20 minutes inside the box.
That figure is too less for a player like Llorente. Perhaps, Allegri wants him to offer more defensively, which is why he averages close to 50% of his overall time in the match at the region between the center of midfield and the center of attack. This would be more ideal for a player being employed in the trequartista position. This is one of the primary reasons as to why the likes of Robin Van Persie and Robert Lewandowski like Llorente haven't been that successful in terms of scoring this season.
Key Stat: All of Llorente's 18 goals in the last season in all competitions came inside the box.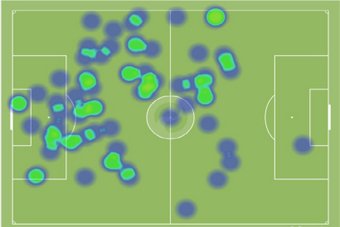 Heatmap of Llorente vs Milan
Let me know if you agree with my views or not. Cheers! Fino Alla Fine! Forza Juve!
---
Note:
1. All the statistics have been taken from Squawka, FourFour Two and WhoScored.