Ahh the top striker. Ever a desired commodity, ever a topic of debate, yet there never seems to be a result that pleases everyone. Prior to this summer Beppe Marotta was on the receiving end of a lot of criticism for failing to bring a striker to Turin. After years of suffering through the ineptitude of Amauri, Iaquinta, and an aging/weight gaining Luca Toni, Marotta brought on Mirko Vucinic, Alessandro Matri, Fabio Quagliarella, and Sebastian Giovinco over the course of a couple mercati, and while each is a good player in his own right, none could bear the burden that is required of a top striker for Il Bianconeri. To make matters worse, Marotta supplemented these average/above average strikers with garbage bin pickings Bendtner and Anelka.  The combined contribution of the two of them was less significant than the comedic relief provided by Bendtner's DUI (which, coupled with his remarks on twitter was actually quite amusing). To top it off, the Bendtner signing came at the end of the market as an attempt to add depth after bids for Van Persie and Jovetic failed miserably.
Then, January of 2013 rolled around. Yes, this is the market that allowed Anelka to become a poor depository of food, water, air, attention, and wages that would have been better spent elsewhere. Yes, this is the market which saw Marotta fail in the closing stages to secure Lisandro Lopez (who may or may not have helped), but it is also the market which saw Marotta secure Fernando Llorente for the coming summer. While it may have been prudent to pay the few millions for him then and get him ahead of the summer, bear in mind at that point Llorente didn't know a word of Italian (ok he probably knew ciao, arrivederci, pasta, intermerda, etc, but nothing that would have let him communicate with anyone in Vinovo aside from the Spanish speakers), hadn't played since the previous year, didn't know Conte's tactics; the list goes on and on. (You can read an assessment of why it took so long for him to get on the pitch here.) It took him almost two full months to become integrated into the squad with an extensive knowledge of the system and the ability to speak Italian, and that was after a full summer under Conte's tutelage.  I can only imagine how long it would have taken last winter. So, in hindsight, Beppe did very well waiting it out as the odds of Llorente helping out had he arrived last January were slim to none.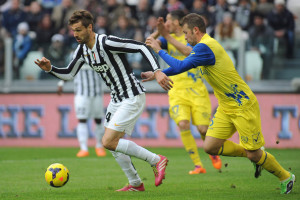 A look back at this past summer sees Marotta knee deep in negotiations for various strikers – Jovetic, Higuain, Ibrahimovic and Tevez, with Higuain as the clear front runner. It seemed that the deal was all but complete, but Florentino Perez is a greedy miser and decided he wanted more than what looked like an agreed upon 25m. However, as soon as the Higuain deal fell apart rumors started coming in fast and thick and before the dust settled Tevez was the new Juventus number 10. Nobody, including myself, really knew what to make of it. The talent was there, but would it materialize? The attitude – could it be suppressed? Above all, the #10 shirt – who in hell did the management think they were giving Tevez the number that had been worn by Del Piero, Baggio, Platini, etc. It was ludicrous. Reports started surfacing that Marotta and Co. had met with Tevez back in May, and then Carlitos showed up at Vinovo with the world holding its breath, and holy shit. He said the right things, appeared humble, rededicated, aware of the burden he was taking on, etc. As things stand, he is in my opinion the best case scenario for an heir to the number 10. That is not to say he is the best striker, but the combination of his attitude and ability to play for the team has been incredible.
Now, Tevez wasn't alone in his move to the Serie A this summer; Mario Gomez, Llorente, Gonzalo Higuain, and Giuseppe Rossi (the winter before but he didn't debut until this season) were also new to the campionato come August. This led to some thinking, which of the new strikers has done best, and of them all which would I prefer to have at Juve? As always with statistical analysis, it cannot be taken at face value, and there are  unlimited extraneous factors that weigh in the performance of a player at a particular destination. There are leadership qualities that cannot be quantified; the players around them are far from equal, return in relation to value, etc. I will go further into detail with these items later, this is just to let you know that I am aware of them, and I wish you to be aware of them as well.  One last stipulation is that I relied solely on Serie A fixtures, as with Fiorentina not participating in the Champions League I did not want there to be any inconsistencies with the data.
| | | | | | |
| --- | --- | --- | --- | --- | --- |
| Serie A Newcomers | Gomez | Higuain | Llorente | Rossi | Tevez |
| Price | € 15,500,000 | € 37,000,000 | € 0 | € 10,000,000 | € 9,000,000 |
| Age | 28 | 26 | 28 | 27 | 30 |
| Matches (sub) | 3 (1) | 20 (3) | 17 (3) | 18 (0) | 21 (3) |
| Minutes | 253 | 1731 | 1467 | 1391 | 1792 |
| Shots Per Game | 2.8 | 2.9 | 2.2 | 3.3 | 3.8 |
| Goals (penalties) | 2 (1) | 12 (4) | 10 (0) | 14 (5) | 13 (1) |
| Assists | 1 | 7 | 4 | 3 | 6 |
| Woodwork | 2 | 0 | 0 | 0 | 4 |
| Key Passes/Game | 0.3 | 1.0 | 1.3 | 1.2 | 1.9 |
| Completed Dribbles/Game | 0 | 1.2 | 0.5 | 1.1 | 1.6 |
| Dispossessed/Game | 0 | 1.8 | 2.0 | 2.5 | 1.9 |
Note, Llorente has 4 substitute appearances to date but played 0 minutes in one of the appearances according to whoscored.com, so I am only counting 3 of them.
So, a number of things jump out from the above chart, namely that Rossi is the leader when it comes to goals, Tevez does the most in the buildup, Higuain is by far the most expensive, and Gomez hasn't had the appearance numbers the other 4 have had. What does all this mean?  Depends on who you are; all three teams have benefited from the signings as I wouldn't call any of them busts – far from it, in fact I would call each signing a success, just on different levels. Higuain is scoring roughly every 144 minutes, compared to once every 99 minutes for Rossi, once every 138 minutes for Tevez, 147 minutes for Llorente, and 127 minutes for Gomez. Higuain, however, cost a full 21,5 million more than the next most expensive signing, which was Gomez, and has returned only 8 goals from the run of play.  On the other hand, the Madrid transfer is the youngest of the bunch, and has the most assists. Rossi's goal tally is the highest, but he gets dispossessed the most, and has only scored less than both Tevez and Llorente from the run of play as more than a third of his goals are penalties. Additionally, he suffered an injury which has kept him off the field since January. Tevez contributes the most in the buildup to goals as evidenced by his high dribbles completed and keep passes per game, but at the same token,  neither of those statistics are key aspects of Llorente's and Gomez's game.
It's abundantly clear now how hard it is to take everything at face value, so I wish to introduce a new stat which looks at total offensive contribution. This will add up goals from the run of play, plus ½ the number of converted penalties, assists, ½ number of times the woodwork has been hit, and ½ the total key passes played, as well as half the dribbles completed. Assists are self-explanatory in that they are passes that directly create goals, and since both shots off the woodwork and penalties include an element of luck they are being halved.  Key passes and dribbles are by far the trickiest statistic to include, and don't always pay off (which is why I'm halving them), but they are offensive contributions which could sustain buildup to a goal none-the-less.  After doing all that I'll divide the final number of total contributions by the number of minutes played (total number of minutes divided by 90) to get total offensive contribution per 90 minutes. Note, I'm leaving out dispossession on purpose because while it is a stat detrimental to offensive contribution, it's one of the easiest to be skewed if a striker becomes isolated, and receives no help. The same could be said about dribbles or key passes, but those would then be the striker in question making something out of nothing, and contributing to the attack which is what we are looking for here.
| | | | | | |
| --- | --- | --- | --- | --- | --- |
| Serie A Newcomers | Gomez | Higuain | Llorente | Rossi | Tevez |
| Price | €15,5m | €37m | 0 | €10m | €9m |
| Matches + ½ sub | 2.8 | 19.2 | 16.3 | 15.5 | 19.9 |
| Goals + ½ penalties | 1.5 | 10 | 10 | 11.5 | 12.5 |
| Assists | 1 | 7 | 4 | 3 | 6 |
| Woodwork ( ½ ) | 1 | 0 | 0 | 0 | 2 |
| ½ Total Key Passes | .5 | 11 | 13.5 | 11 | 22.5 |
| ½ Total Completed Dribbles | 0 | 14 | 5.5 | 9.5 | 19.5 |
| Total Contribution | 4 | 42 | 33 | 35 | 62.5 |
| Contribution per Game | 1.43 | 2.19 | 2.02 | 2.26 | 3.14 |
| Contribution per million euros | 0.26/ €1m | 1.14/ €1m | ________ | 3.5 / €1m | 6.94/ €1m |
Remember, the numbers above include halved values for woodwork, penalty goals, and passes/dribbles, since ultimately goals should be weighed the most in any offensive contribution equation.
Hopefully you've been able to stick with me up until this point, but ultimately what the table above shows is an attempt at overall offensive contribution per full 90 minutes weighing goals and assists most heavily, but also taking into consideration key passes, dribbles, penalties, etc. Llorente represents the most value as he was free, but had he been purchased for the rumored €7m that could have happened that January, he would still place second on the chart behind only Tevez. Aside from that the verdict is clearly still out on Gomez, his value per euro is ridiculously low as he has been hurt, while his contribution per game is more on par with the rest (It would he higher without the substitute appearance he made last weekend, it will clearly take him time to get his shooting boots back). What is clear however, is that while Rossi has scored the most goals, Tevez has made a bigger overall contribution, and came at a cheaper rate. Higuain clearly doesn't look worth the 37m paid for him, but again, he is only 26 years of age, and the €37m takes that into account.
Ultimately, what this goes to show is that all 5 are adapting very well to life in the Serie A, and that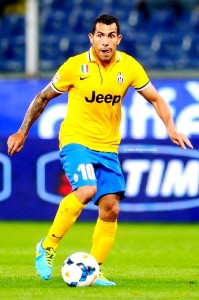 ultimately, as a Juventino, I am incredibly glad to have both Carlos Tevez and Fernando Llorente.  Not only does the former represent the best value (disregarding Llorente's free), but also contributes the most on offense to each match, in addition to the leadership and off-field class that has been evident.  Now, I'm willing to acknowledge that it could very well be down to Conte's system that Tevez contributes so much in the buildup, as even Llorente has high contribution levels (a prima punta with more key passes than a seconda punta??).  That being said, taking age, price, injury risk, and contribution into equation I would rank them in the order of 1) Tevez 2) Higuain 3) LLorente 4) Rossi 5) Gomez. For me, Rossi and Tevez would be fairly equal except for the injury factor; that Rossi got hurt again this year is extremely disconcerting, and even though it was a different injury, it drops him to 4th on my list (when I originally put this bit together last November he was first). Higuain will only continue to improve and adapt, and has the potential to be the best striker on this list in a few years. Llorente and Gomez were fairly equal as Gomez was playing at a high level prior to his injury, and Llorente is playing at an equally high, if not higher level now. That being said, Llorente has price in his favour while Gomez has injury counting against him, and ultimately that propelled me to put Llorente in front of him, as well as Rossi (Plus, Llorente is only 28). Regardless, I am thrilled to have Tevez right now, statistics further prove (in a way), that he has given the most back on the pitch, and most importantly, he seems to love being in Turin. I'll revisit this issue at the end of the season to see how Serie A's new strikers perform over the entire duration of the season, especially as the scudetto race heats up. Questions as to my statistics? Comments? Disagree? Other Juve related strikers you'd like to see analyzed like this? Let me know below, or on twitter @acoop13.