With the World Cup slowing down to a brief halt, we have time to return our attentions to Juve matters. Yet I assume there are many like me, who having lost Italy from the qualifiers, are focusing mainly on the Juve contingent playing in Russia and maintaining steady vigil on the transfer front.
Briefly, on the tournament…
I have either been lacking enthusiasm from the off, missing La Nazionale too much or something else, something deeper, more insidious is at play. For I have found this WC outing too lacking in passion, in pride, and most importantly, in quality. No one team has looked convincing or convinced. Portugal have the bit between their fangs due to one player who seems hellbent on winning the damn thing on his own. Spain have faltered. The Argies seem lost souls with no direction. England…well, my chums from back home taunt me, or at least they did, until they faced a half decent side and reality bit back. Brazil, perhaps, are the only team who have looked in any way formidable, churning out chance after chance in all their games thus far and slowly finding a rhythm. Yet even they were pushed hard by the Serbs, possibly due to the physical differences between the sides. France are worth a mention, as they have had fine results whilst playing very poorly, and if one or three of their prize players spark into life, they will be a force. Perhaps a newcomer to hands on the trophy will emerge? Croatia and Uruguay seem the two remaining dark horses (of the apocalypse…)
What has dominated my thoughts is that the biggest players, earning the highest wages are not (Ronaldo aside) reproducing much of their club form. They not only know who butters their bread, they have been instructed. By their agents. By their clubs. By their sponsors. The modern game is about money first and foremost. And if my income depended on the well being of a player who was earning me 1m per year at a big club, with a bright future in the game, I would be telling them…
'have fun, enjoy yourself, see the sights, play well enough, but remember you need a break, your body needs to recover and rest…next season and beyond is worth more to us both, and our families and future, than going all out in Russia…and if you head home early, its a longer break.'
This is not mere suspicion of a troubled soul, its assuredly the truth of things. Yet of course, other angles are valid, for those players on the grandest stage of all – to some – who are seeking to earn a new contract, a new club, to move from a lesser to greater team. Its a shop window, so it stands to reason as to why I see the lesser known players trying harder, fighting with more zeal, urging their sides to victory. Same goes for management.
And then yesterday, when the full moon was glaring at me, my beast within roaring and all fangs, my howl was hard to restrain and pounced out at a few, which is healthy, for too much of the mind on the control panels leads to a dull existence, we ARE animals, and to move too far away from this is to move away from our own Nature…I had a brief glimpse of my lack of connection with the English national team.
I used to feel a semblance of kinship. I remember Pearce, and Adams, and even Shearer, and now…they feel so disconnected to everything of me I consider English. For their modern counterparts are multi millionaires, they live in a different strata. They walk on the celebrity circuit. They literally exist in a world so far removed from my own recollections of a life led in the motherland, that there can be no connection. How could there be? They have not experienced the same life. The same struggles. The same world.
There is much of my nature that is worldly, for I have traveled far and wide into many strange and chaotic cultures over the years…but much that is bonded to my nature of spending most my formative years in England. And this nature, has nothing to do with the English national team. They do not represent me in anything that truly, deeply matters. We have shared barely any rites of passage, through youth, and assuredly thereafter. Hence, why I feel no connection. They represent a millionaires club, with none who show any zeal I appreciate or find born of a life I have led in solidarity.
Back to the mercato mutterings…
Perin was a steal. He could have gone for more money, to another team. His eagerness to join us is what I would like to find in every player we seek. Its a tribal thing. Its not about the money. Its about joining a tribe, of earning the chance to be considered for that tribe, and when our interest comes, it must be a step up, it must be a dream come true. Anything absent of this…and I am less eager for the move. I dont want the chance to represent our club as a card to play in a game with other would be suitors or as a stepping stone. It has to be…Juve wants me??? I want nothing else…
On that score, Perin is a superb move. The finest native shot stopper in Italy other than Buffon, with proven talent and superb determination. He will likely become our number one.
On that score again, Golovin can go to Chelsea. Savic can go elsewhere. Sandro can scarper also if his heart ain't in it.
I suspect we have reached some agreement with the Russian, and its his club who want to cash in, and why not eh? As for the player, he has not proven much other than in the europa league and against KSA. He also wouldnt command a first team place, and Allegri has a proven reputation of giving players a lot of time, too much some might say, to adjust to the culture of league, club and country.
Savic is a trickier one. The cost is prohibitive. He has not done enough to convince of such a huge figure as anywhere near 100m. He is not Ronaldo. He has done very well for a good Lazio side, but what have they achieved? His offering at the world cup seemed lukewarm, yet the same can be said of far more experienced top players. We have Can and Pjanic in the middle, and so unless we sell Miralem, which I truly hope we do not, I cannot see this move gathering serious momentum. Due to the Can move, I would very much prefer to stick with the Bosnian than plunder huge resources for the Serb…
I mentioned Alex Sandro, because his form last season was average, at best. Nothing of the consistency of the previous campaign. He didn't seem right in the head, fine physically, but not focused and I dont think it helped him when deployed higher up the field. His best work has always come from the LB position. Not as a winger. If he has personal issues to deal with, OK, lets help him and hope he gets back on track, but if his haphazard form is down to pondering other options, as in other clubs, then lets get the best price for him and ship him out. I daresay Darmain could provide a fair amount of the same value. I remember his Torino days well enough.
Cancelo is a powerful move.
With Sandro poor last season and dithering over a new contract or even happy to stay, Asamoah gone, and Stephan also moving to foreign shores, our fullback stable is uneasy and open to discussion. We needed a big signing and we have arguably the strongest fullback in Serie A last term. Of a good age, proven quality, with room to develop further.
Emre Can.
I have never seen him hugely excel, put in a berserk man of the match dominate the game performance…and yet I watch premier league football every week. Still…its worth adding that he played for a very attacking team which demanded much of him in front of a poor defence, and they did well. He did well. And there is massively more to his game than merely a reliable DM. He has decent feet, good pace and an eye for a pass and shot when given licence to become involved higher up the field. A very useful signing. (The move was free, as in no transfer fee, but there are 16m of costs. Most of which, I assume, will go on agent and signing on fees; leaving the move still a smart piece of business, given his standing in the game, experience and age). I feel he will surprise a few and who knows eh? Perhaps he will prove to be a long overdue replacement for Vidal; a box to box menace at both ends of the field. He has no obvious weaknesses and plenty of time to further improve his game.
Essentially I see Can as a significant upgrade on not just Sami Sloth and mangled out of any possible value Sturaro, but also Matuidi. More mobile, more physical, accustomed to acting as a focused and highly capable all round central midfielder.
Which leaves us with the other ponderings.
Higuain.
Are we/He offering his services to anyone willing to pay 50m? I like the idea, but find it a little far fetched. Though Sarri might be interested and the wily managers at clubs who can match or improve his wages and afford the fee will know that his game is not at all as polarised on finishing as many seem to believe. His hold up play, physical strength and intelligence on the ball is of a very high level. Still…I would be keen to see him play as part of a 2 up top with Dybala much nearer, Costa truly bedded into the side and Juan/Freddy taking turns to run rampant on the right. Add in a more advanced and liberated Pjanic (due to Can behind him) and I am sure we would see more goals from Gonzalo. Its fine if he stays.
The options to replace him seem curious. With mainly Morata and Martial talked of. The former lacks the mentality to lead the line at Juve, and the latter has not played through the middle for a fair while, though excelled as a CF for Monaco. His mentality is also perhaps suspect. Yet I like his pace, his power and he is very much an elite finisher. Still, as someone pointed out recently, pacy players tend not to prosper in Serie A as much as in other leagues. The defending is not too deep, its too tactical and organised. There is however, much more, I believe, to Martial's game.
There is also Cavani. Too old. Too expensive.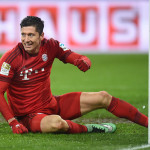 And Lewandowski. His wages at Bayern are 10m per annum. So too expensive, again.
Icardi is the wild card here, and if we were to spend massively on a player I would very much like it to be him. I cannot believe that Inter would sell him to us. And they don't need to. Hence, this is extremely unlikely a move.
The flanks are covered superbly, yet will Mario be happy to return as a bit part player up against an ever more amazing Little Doug? Could he be our new CF if Gonzalo leaves? Probably not. He would be back up which at this stage of his career spells POSSIBLE DEPARTURE. Mourinho likes him, as he loves very physical CFs. Though yet again, why would Mario move to play second fiddle, to Lukaku?
Darmain looks likely and we are in need of a LB after  Spinazzola was crippled with the ACL tear leaving him out till early 2019. I have longstanding doubts over his defensive ability and have yet to see any serious suggestion in his form to present as a serious alternative to any of our other LW options.
Which leaves the defence, where the old guard have renewed, hopefully not earmarked as starters. For Chiellini is increasingly error and injury prone, and Andrea, whilst consistent, is a JCB on the field and a liability against fleet footed attacking players. Their experience in the dressing room and on the training field, with Caldara coming in to join a hopefully remaining Rugani will be invaluable. They couldn't hope for better transition planning.
Benatia might be heading out, and this would be fine for me, with Godin an immense opportunity if the 20m pricetag is accurate.
Other than which, I will focus briefly on the central midfield. The source of most of our most obvious issues last term, with Sami the major problem from what I have seen. He is one paced and far too immobile to play in a hoped for fluid central triumvirate. He pulls the team out of shape by lingering high, and taking up position where Dybala likes to naturally flit in and out. It is horrid to see talk of his contract been renewed. Especially after his terrible offering for Germany.
Ive no idea as to why Max has such a fetish for the chap. Yet I also remain perplexed as to how Claudio Marchisio found himself somehow behind Sturaro in the pecking order last season.
We really need to get the midfield balance right this season. I am happy with the idea of Bentancur playing deep with Can, and Pjanic further advanced. Matuidi can add some hustle and Ja Ja Binks impersonations in the weaker battles and from the bench. Marchisio can deputise for any of them. With Sturaro set to leave, it would still be interesting to see Golovin arrive, as he appears capable of playing both as a holding and creative midfielder. With the side looking so different absent of Pjanic, anyone else capable of carrying the ball forward and creating will be welcome in the ranks.
Its still early days, and there is a fair chunk of gold to come from a flurry of transfers, which will help in regards to investment.
We are not far off a squad capable of greatness. The work carried out so far is commendable and moves us in the Right direction. What matters most is that we get the balance right. Mainly in midfield, but also team wide. For we seemed so often, last season, with no recognisable shape. Which is something that sets us aside from the elite teams we hope to match, rival and challenge.
This responsibility lies with Max, Beppe and his hatchet-man Paratici. They have worked marvels so far, but we are demanding supporters, and we all yearn to see us progress.
Mercato evaluation at this point, with much more to come – Encouraging.
forza juve
(follow me on twitter here)