Waking at 432am, stumbling and grumbling to the kitchen to avoid waking the mad pixie queen and her slumbering toddler, I was not exactly horrified or surprised, but certainly disheartened by the starting XI Max deployed.
Bentancur had been one of the few positives of recent games. He was fit, had momentum and was match sharp. Instead, we saw Can take his place, a player who excelled in an ultra defensive role in the win over Atletico Madrid, yet otherwise has done little to justify his signing this season. Perhaps he could be a decent squad player, but he is not as quick as Rodrigo, nor do I believe is he as capable of moving the ball upfield from deep.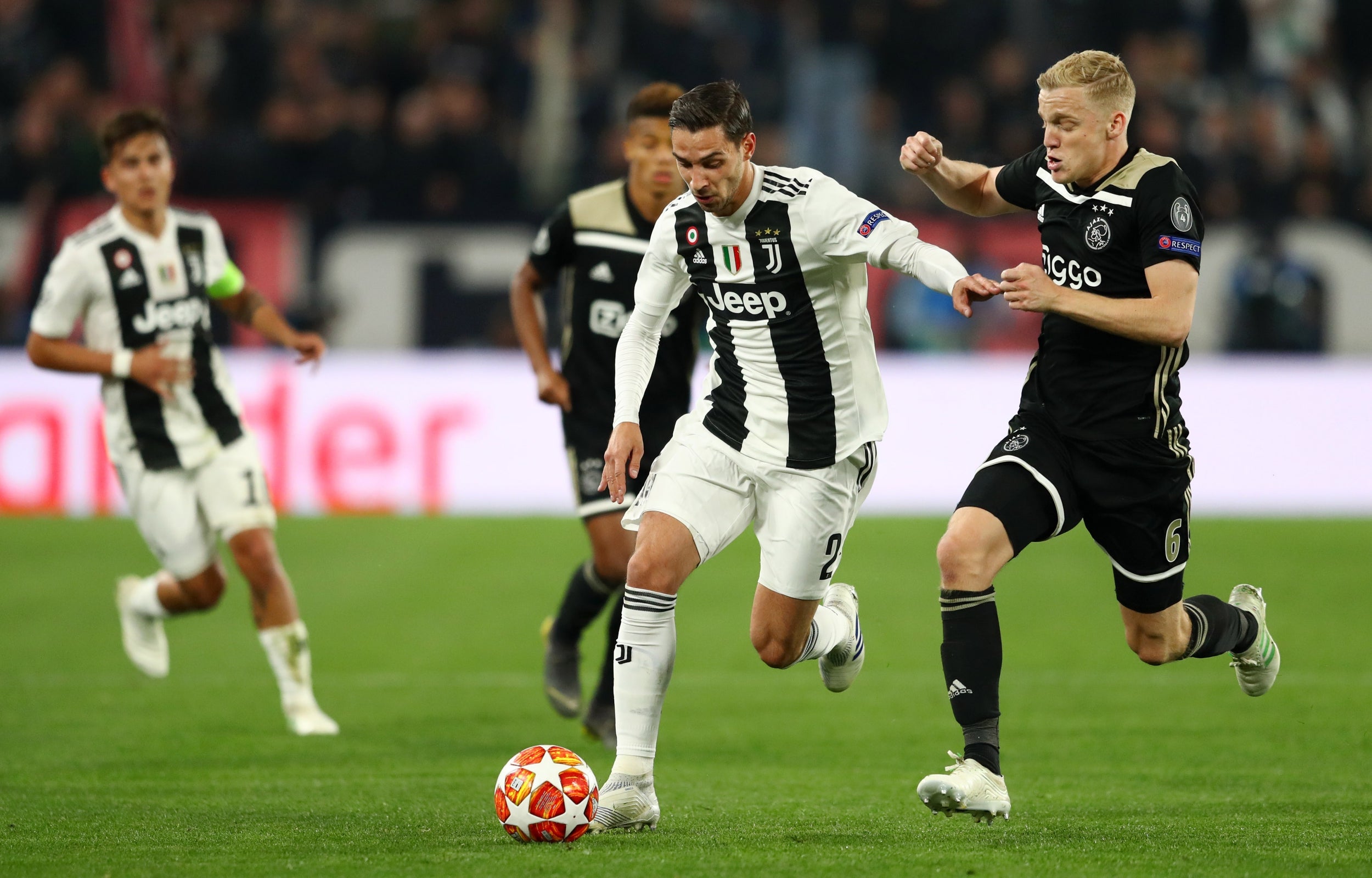 De Sciglio was chosen over Cancelo. The italian is an average defender who offers very little in the final third and can be rather timid on the ball even at the back. In stark contrast to Cancelo who is exactly the kind of offensive minded player we needed to ensure that we were not playing too deep and offered strength in numbers in the final third, rather than relying on one of the men we want on the end of things to create as well as finish a move…
Dybala has been in wretched form, most the season really. Yet especially so of late. He has a weak mentality and whilst he has been often played out of position, the player must take some responsibility for his form.
In his defence, playing as an attacking midfielder who often comes deep to try pick the ball up and thread the midfield to the attack is not at all his forte. It was however, for this very reason – Max's attempts to shoe horn him into a deeper lying playmaker rather than as a forward which is his natural game – that he started. Max likes to have a player whose clear potency is in the box and near the box, play deep to support the more defensive elements of the side and begin the attacks in the most busy and physically robust areas of the pitch.
With zero form, Max made him Captain. On the bench he kept Kean who has been the one positive of the last month, with an astonishing record in front of goal. Who was super fit, magically sharp and champing at the bit to start. The youngster is also physically far more robust and quicker than Dybala.
These three decisions looked to me ultra cautious. They seemed designed to contain rather than to attack. Which is exactly what Ajax wanted. Why? Because we were playing to our weaknesses allowing them to play to their strengths.
Regardless of my cynicism, I was impressed with the opening quarter of an hour, as we huffed and puffed and took the game to the visitors. The game then settled into a more even affair as Ajax found their rhythm.
Ronaldo's goal was well taken (as always) yet Bonucci's block on the falling player certainly helped. Probably the correct decision to let it stand as he was pushed initially by De Ligt. It did look, to my tired eyes however, that Leo gave him a little slap on the head as he tumbled down!
All looked quite promising at this stage. 1–0 up at home with the wind in our sails, and yet Ajax didn't let their heads drop. The opposite occurred. A deflection from a shot never likely to trouble our Pole in the goal, fortunate in where it landed, presented an easy chance for the equaliser within 5 minutes of us scoring. The defence had moved out quick enough, yet it was possibly Bernardeschi who was too slow on the right flank and played De Beek onside. Poor concentration at a vital moment of the match. Unquestionably sloppy.
The second half was a horror show. At least for Juve. As Ajax attacked again and again and it was their young captain, the rightly highly sought after De Ligt, who powered past a combination of Sandro and Rugani to head home from 6 yards out. The desire, the hunger, the strength he showed in making sure of the the header demonstrated keenly everything we lacked. As did his side's approach to the game more generally.
Other chances came and went, far more regularly for the away side. With Juve unable to string together more than 1 or 2 passes, barely any support in the final third when we did sense a counter attack and to any neutral observer it was the players in red and white who appeared the home side playing with confidence and collective zeal and belief.
This was a victory for football.
A fairytale of sorts which we rarely see in the modern game. With a side built on a pittance of the budget Juve have, who had also dealt a savage blow against a much better side than us, in Madrid. A squad of youngsters brimming with youthful exuberance blended with experienced pros who bring all their nous to act as the perfect foil for a team set up to play always on the front foot, always with immense belief, with a captain aged barely 19.
I can look to a half hearted penalty appeal, but overall, in both legs, Juve got off lightly. Had we lost 3–1 in Amsterdam and 1–4 in Turin, I would have no reasonable complaints of an ill deserved defeat. They ran us ragged. Other than in barely 20 minutes over 180 minutes of football which was dominated by their highly entertaining endeavour and cohesion and technique.
Their ability to create or find tight spaces in the final third and play swift incisive football with men in numbers always flooding forward is truly a joy to behold. As I say, this was a victory for football, over multi million euro deals for ageing superstars, over hugely inflated reputations, over pragmatism at the expense of any sense of identity or collective development and cohesion.
Truly, I wish Ajax all the success in the world. A fairytale would be complete to win the damn thing before their side is cruelly dismantled by the reality of the world with money drawing towards it like a giant vacuum the finest talent on offer.
Yet onto Juve…
We have been woeful in terms of the close to complete absence of performances which see drift from the celestial realm stardust into the eyes and rouse passion in the heart all season long. Other than in the one game, at home to Atletico in the last round, when Max threw caution to the wind and went for an all guns blazing display playing to our strengths. I thought of this as I read of little Captain Tushin's unerring and unfathomable display of true bravery which could also be classed as madness, when commanding the battery against the French as Prince Bagration's hugely out numbered army fought off the invaders against all odds…
Tushin did not experience the slightest qualm of fear, the idea that he might be killed or badly wounded never entered his head. On the contrary, he grew more and more elated. It seemed to him that it was a very long time ago – almost as far back as the day before – when he had first caught sight of the enemy and fired the first shot, and that the little scrap of field where he stood was well known, familiar ground. Though he forgot noting, thought of everything did everything the best of officers could have done in his position, he was in a state akin to feverish delirium or intoxication. (War and Peace, Tolstoy)
In all other games I have seen this campaign, and many in the previous season, we have been hard to endure. Total capitulation often threatening as the side go a goal down and embrace cohesive disarray.
There has been far more obvious player and tactical regression, than development. We have watched the midfield and defence become weaker and less connected. We have seen the side play constantly within itself, with players showing often no evidence of tactical training away from the competitive action. We have cringed when teams so much weaker than us on paper have left us looking shamefully laboured and too long in the fang.
Yes, it is an achievement to win an 8th consecutive title. Although it must and will be stated that this achievement is mitigated through the reality and understanding that we have more money and a much stronger squad than any other team in the league. Essentially, we should be winning the domestic title every year.
We have been absolutely destroyed by the might of Atalanta, humbled by Genoa, even taken apart by the plucky New Boys of Switzerland, and finally, when we come to the crunch of the season; outplayed, out-thought and out-fought by an Ajax side who cost a fraction of the huge investment made to bring this Juve side together.
Much of the blame for this I place on Max Allegri. He has been a major success for the club, building on the star studded squad put together during Conte's time at the club and winning mentality reinvigorated in the essence and ethos of all things Juve. He has taken us to 2 CL finals and dominated the league, brought home plenty of coppa italia titles as added baubles. And yet, I am not alone in finding myself ever more convinced that the hoped for future of the club I am desperate to see begin moving towards reality cannot begin to materialise…until he leaves.
I was watching the goal dot com crowd youtube preview of the match yesterday. I rarely find their articles of any value as they are always absent of emotion and do not register as valuable analysis. However, one of the chaps on this show remarked something along the lines of
'Ronaldo has brought Ronaldo, goals in the biggest of games. The rest of the side has actually gone downhill.'
He was spot on.
We have regressed. Placed too much importance and focus on Ronaldo at the expense of developing any sense of identity or cohesion. And even Cristiano looks often a lesser version of himself.
We win games more often on moments on individual quality than on concerted dominance and collective heaving as one great and mighty ship and oars and sails.
The side as a whole is disjointed, unbalanced, and I am hard pressed to find any player who has improved over the last 12 months. Even Bentancur, who looked a better player at Boca, not simply because it's probably an easier league, but due to his deployment and the adventurous spirit of his side. He is one who shows rare glimpses of what he is capable of becoming, not because of Allegri but almost in spite of his shoe-horned, restrictive duties.
Chiellini is getting old and increasingly prone to clumsy fouls he tries to con the ref into awarding for him not against. Still, he is by far our strongest CB. Yet is fast fading, even in terms of basic fitness.
Bonucci is haphazard as a stopper, a pure CB, as he always has been, and yet that is how we play him. His strengths come to the fore in a back three, with others to do the last man routine and offer him a platform to affect the tempo of the game in the middle of the park, constantly stepping out of defence with the ball at his feet and playing intelligent long balls. His role under Max makes this natural strength shackled.
Rugani is average. At best.
Caceres couldnt even stay fit enough to get a regular first team berth at Lazio.
Barzagli is finished.
De Sicglio is sometimes dependable at the back, rarely useful beyond the half way line.
Sandro has lost interest since 2017.
Spinazzola is no great defender, but offers more than the brazilian who owns the LB berth regardless.
Cancelo is adventurous but due to the fragility of our backline and disjointed midfield, he is a loose cannon whenever forced to defend as a last man.
Pjanic has been okay as a pure creative force shoe horned into a DM/regista role often over run and if he cannot get forward and have runners to hit, he is wasted and ineffective.
Matuidi is as good as he can be, often playing at his capacity, though has clear limitations creatively.
Can has been a waste of time and money and appearances.
Bentancur looks still potentially a solid player.
Bernadeschi is still miles away from his Florence form.
Dybala has gone so far downhill, all this former talk of a move to Madrid or Barca for 150m now seems silly. And yet still, evidently his career at Juve is over, if Max stays.
Mandzukic is a beast, and toils like a berserker, but what other team aspiring for the elite table would ever start him, given his lack of pace and dribbling and technique?
Khedira is a sloth and should have left many moons ago, but Max adores him.
We lack world class talent. Ronaldo has hints of this still and will have for a few seasons yet. Between the sticks, Szczęsny is a very strong and experienced keeper.
Kean is a brilliant talent, very raw, yet of huge potential.
Three players, I will add in the very best of possible futures for Bentancur, and say four players…who I can see as anywhere near strong enough to make a team anyone of right mind could call an elite side.
Some of the blame for the shambles we have become must go down to Beppe and Fabio. They have not seen or addressed the dismantling of one of the strongest midfields and the ageing of a world class defensive unit. Instead, they have focused on Ronaldo, and Bernardeschi and Costa, and free transfers for Can and low cost moves for Caceres. They have looked to add pretty leaves without bothering to attend to the roots and the stem.
There is a huge amount of work to do for Paratici this close season, yet all may be in vain if Max remains. For we could sign Joao Felix, Ndombele and De Ligt, and still I would see the same pattern of heartless, non flowing football, grinding out results with pragmatism ruling over development, flair and excitement at every step.
The worst of it is that against Atletico, a side who nobody beats handsomely or as totally as we did, Max had his back against the wall and came out all guns blazing. He played to our strengths. And it worked. Rather than build on that he reverted to type. This brief flash in the pan of superb form, the return swiftly to tripe defensive football, and the merited defeat to Ajax I can but hope will cause the manager himself and the BoD to make the move which seems so hard, for reasons beyond my ken to fathom.
We not only need reinforcements at CB and CM, more than anything else, we need a new manager…