AC Milan 0-2 Juventus

Scorers – Higuain 23, 63 (J)
---
Gonzalo Higuain scored a brace and led the charge as Juventus conquered the Milan in a thrilling 2-0 victory.



Biggest winner/biggest loser:
Some might argue that it's wrong to get too carried away after a victory over Milan, given that we are two sides in very different periods; the hosts are rebuilding after many years of wayward investment and no clear vision for the future, while Juve are consolidating on six seasons where they've dominated every other side in Serie A. Despite the different fortunes of the two teams, this game is always a standout of the Serie A calendar, and a sold-out San Siro was testament to the fervor that always surrounds Milan v Juventus. Matches like this sometimes stand in isolation from the rest of the season, simply because of the fanfare and spectacle of two of Italy's most successful sides squaring up in what is normally a thrilling encounter.
For all their muddled form of late, it's important to remember that Milan invested close to €250m in the hopes of replicating what Juve achieved in 2011/12, going so far as the invest €40m on Leonardo Bonucci alone. I think the intention was to have a young coach and a refitted squad with ambitions of wiping the slate clean and starting over with a successful and experienced captain to lead the way on the pitch. Despite their intentions, there's no denying, the Rossoneri have fallen short in a big way and they were the biggest losers on the night, and not just due to the result. While they started the match relatively well and made an attempt to dominate us, their tactics, formation and starting XI looked muddled and their attempts at early pressure gave way all too easily. Once we were able to see the pattern in their play, we were able to nullify the physical presence of Nikola Kalinic through Giorgio Chiellini and Daniele Rugani, while Mandzukic and Cuadrado pegged back Fabio Borini and Ignazio Abate. The loss leaves Milan in 8th place, having won just 2 games in their last 8 – A poor return.
It'd be all too easy to single out Gonzalo Higuain as the biggest winner, and while he stole the show, I think the team as a collective were the biggest winners. The 4-1 scoreline against SPAL hid the average performance and lapses in concentration and Allegri warned of the same kind of complacency in this match. On the contrary, we were sharp and focused throughout, even when we were without the ball. Early in the game and midway through the second half, we seemed all too content to let Milan have possession without pressing, but in hindsight, it seemed a smart play to conserve energy. It's not often that i'm full of praise for every single player, and although Milan weren't at their best, you can only beat the team in front of you. The Juventus players were full of fight and grinta, rarely letting their levels drop and my sincere hope is that the loss to Lazio has proved as a turning point for an improvement in all parts of the pitch, but most of all, the focus and concentration that was lacking.
Takeaways from the performance/areas of improvement:
Perhaps the biggest takeaway from the 90 minutes was the level of concentration and focus we displayed. It's not often that every single player stays switched on from start to end and this match showed that we're capable of maintaining a high-level of performance, albeit in a game that meant a great deal for all involved. What i'd like to see is this kind of attitude and approach being taken forward into the matches against the likes of Genoa and Chievo, where we are sometimes prone to small, yet costly mistakes. It's hard to pick fault with the display, given that every area of the pitch was working to such a high level – The defence was utterly ruthless, Daniele Rugani in particular showing his nastier side; The midfield worked perfectly in tandem with both ends of the pitch; The attack buzzed and hummed throughout, the linkup between Gonzalo Higuain and Paulo Dybala being a particular highlight.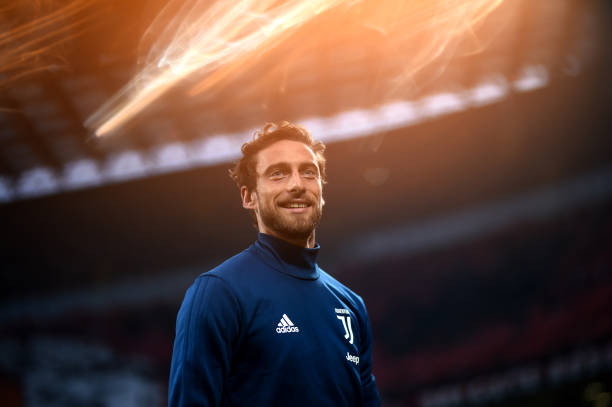 Injury updates:
Thankfully we remain unscathed after a string of good performances and slowly but surely, players are returning to the squad, with only a handful of absentees remaining. Marko Pjaca continues his recovery and is expected back in November. Benedikt Howedes should be assessed this week and will hopefully make his debut in one of the next few games while Mattia De Sciglio was in the squad that traveled to Milan, along with Blaise Matuidi who got 10 minutes of game time.
Outlook for next fixture:
Attention turns to the midweek visit to Portugal where we face Sporting Lisbon in the Champions League . The home side endured a pretty tough visit to Rio Ave on the weekend, eventually winning the match through a late Bas Dost goal, so there's a chance they might have exerted plenty of energy in an intense game. Much like our opponents, I suspect the win over Milan took it out of our players so two days of recovery will help with preparations. Sporting are a tough side to play against, as we saw in the game in Turin, so Allegri might take a more cautious approach as we did in Milan, playing on the counter and hoping to steal a goal or two.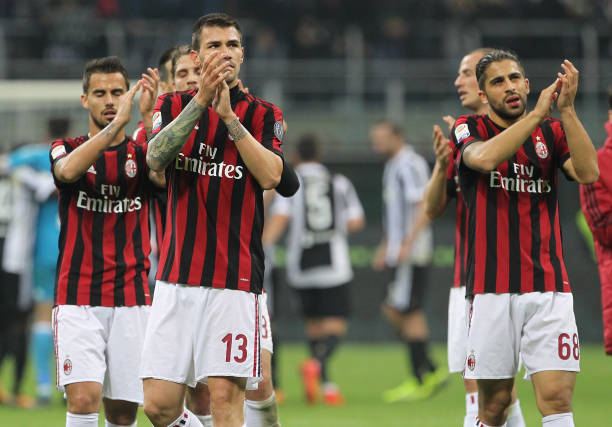 Opposition:
See above – Milan were good in spells and edged possession, but they failed to make any of it count. One good Kalinic chance aside, they were wasteful and lacked any sort of consistency and only a handful of players truly stood out as good performers. Lucas Biglia is a poor reflection of the player he was at Lazio while Alessio Romagnoli and Ricardo Rodriguez lacked the physicality or intelligence to deal with Higuain's movement on and off the ball. In all honesty, I expected more from the home side, having only watched a handful of Milan games this season – They only seemed interested in playing one way, and once we were able to outmaneuver them, the result seemed inevitable.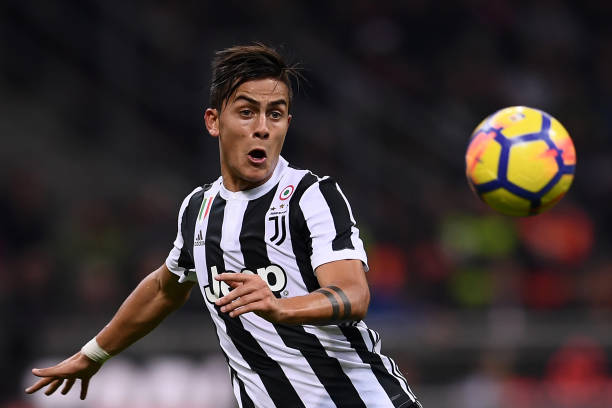 Best new signing on the field:
The mister opted for experience in this one, so Federico Bernardeschi, Douglas Costa, Rodrigo Benatncur and Bob Szczesny all remained on the bench while Matuidi was introduced late in the game to keep the midfield running. All praise therefore, has to go to Higuain for his monstrous individual display, and not just for the goals. When Milan were attempting to box us in, he roared at his teammates to get out of their own half and stop being intimidated. After the victory against Udinese, Gigi Buffon said that Allegri should show a video and conduct a training session based around Higuain's display in the match, and once again, he was a leader of sorts. His movement was sharp, he bullied the Milan back-line and his energy and work-rate has only improved in recent weeks. Easily the man of the match.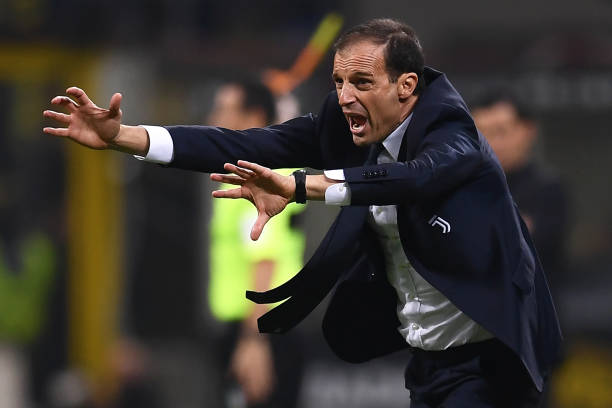 Manager Review
A perfect starting XI and a perfectly executed game plan – His substitutes were timely and he opted for energy and industry over flair and creativity to help us secure the win. After the victory against SPAL, Allegri once again alluded to our lack of concentration being our greatest downfall and the players obviously took this on board and remained focused throughout. It was good to see the mister rewarding Rugani for his fine performances of late, despite the earlier suggestions that Barzagli would start the match. Starting Kwadwo Asamoah proved to be a great decision, given that Alex Sandro has yet to find his best form and seems to be sleepwalking through some matches. Brave choices that ultimately paid off.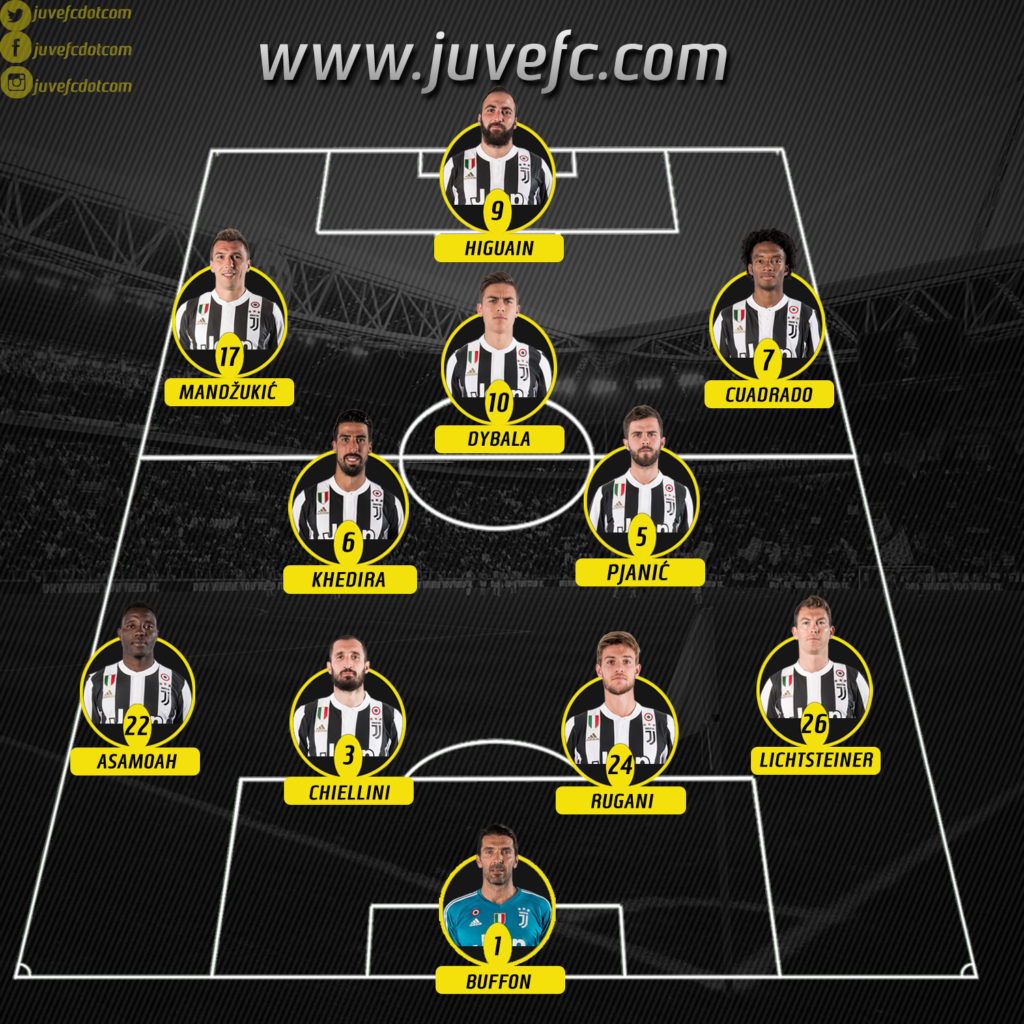 Formation/squad selection grade: A+
A well balanced starting XI with a robust and determined back-line, an industrious midfield and a tireless attack. I would have argued for Bernardeschi to be handed another start, but given the occasion, Allegri opted for Juan Cuadrado who delivered a magnificent display. Dybala may not have scored, but he played a vital part in both goals and helped ease the pressure in midfield.
Lineups:
Milan: G Donnarumma; Zapata, Romagnoli, Rodriguez; Abate (Antonelli 60), Kessie, Biglia (Locatelli 60), Borini; Suso, Calhanoglu (Andre Silva 76); Kalinic
Juventus: Buffon; Lichtsteiner (Barzagli 65), Chiellini, Rugani, Asamoah (Alex Sandro 70); Khedira (Matuidi 80), Pjanic; Cuadrado, Dybala, Mandzukic; Higuain
Ref: Valeri
Statistics:

Man of the Match: Gonzalo Higuain


  Flop of the Match: N/A


  Corners: 6


  Pass Accuracy: 79%

  Shots on Target: 4

  Total Shots: 9

  Ball Possession: 46%


  Formation:  4-2-3-1