Max Allegri gave an emotional farewell press conference, confirming he'll be leaving Juventus this summer, calling his time at the club "five extraordinary years."
The coach will take charge of his final game at the Juventus Stadium this weekend and took the opportunity to look back at his five years in charge of the Bianconeri.
"I thank the President for his wonderful words. I thank the lads for all they've done, all they've given me, including all the players over the five years," said Allegri, choking back tears as he looked at the entire squad sitting in the front two rows of the Press conference.
"I leave a winning team that has the potential to repeat its success in Italy and have another great Champions League campaign. Unfortunately, some situations meant we couldn't go all the way.
"We talked, expressed our ideas on what was best for Juventus and the future of Juventus. After that, the club evaluated it and decided it was best that I wouldn't be the Coach of Juventus next season.
"The rapport with President Agnelli, Nedved and Paratici remains excellent. We've all grown together, including with Beppe Marotta, and the right moment has come to leave on the best terms.
"I leave behind a solid group with extraordinary players, both technically and as men, because you need good men to win as well as good footballers.
"Fabio and Nedved are younger than me. I met them when they were lads, but they are becoming important directors now.
"Some things were written that were not correct, suggesting I asked for a long contract, for a squad revolution and different players, but we never got to that.
"We simply realised it was best not to continue together. People again wrote about four or five meetings, but there was one dinner and one meeting in the club headquarters with the President, Fabio and Nedved. At that, we realised there were not the right conditions to continue together. The President, as a decisive man, made the decision.
"It was far simpler than you seem to think. We had five extraordinary years together and must be proud of that. You journalists do your jobs and write all sorts of things, but I am happy, I am emotional…
"But enough, because tomorrow we have to celebrate! All the rest is chatter. Juventus will start next season with a super club and an extraordinary squad.
"Tomorrow, we must celebrate. First, for the Scudetto and secondly the retirement of Andrea Barzagli. The Professor of defenders is leaving, taking nothing away from the others, so tomorrow must be a wonderful evening where we all celebrate, as these have been five extraordinary years."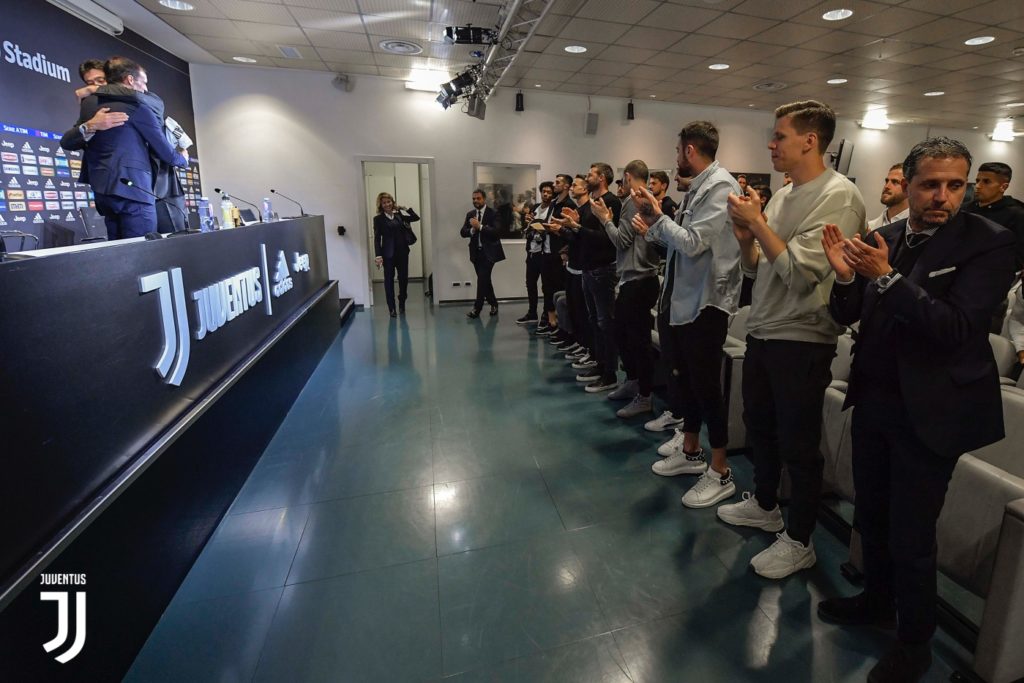 "It was always a debate with reporters and pundits, which is how it should be, but when you work at Juventus, you have to know that you won trophies. This season, we got the Scudetto and the Supercoppa, so it was still a success.
"As for playing good football, I've seen a team dominate until the 93rd minute and then concede, so all of a sudden the winning team had an extraordinary performance. Inevitably, the result makes writers change their approach to a performance, but the Coach must evaluate all of it.
"Football is also strategy, understanding the right moments of the game. It's impossible to play well for 38 rounds, but the important thing is to win even after playing badly, because that is the sign of a great club.
"Hearing people go out after a defeat to say, we played well, we finished second and that's fine with me – that is not my style. There's competition even between kids on the street playing five a side, let alone at Juventus.
"I always say there is no shame in defending. The great games and trophies are won by the best defences. For example, in the Champions League Final in Cardiff, we didn't lose because Real Madrid attacked better, but because we defended worse, especially in the second half.
"I still haven't worked out what beautiful football is, nobody can explain it to me and I'd love it if they did. There must be a reason if there are some players and Coaches who always win, dammit?! There has to be a reason why those people always end up on the winning side.
"People seem to think it's all about theory now, but this is a profession. Those who win regularly are better than the others, that's all there is to it.
"I would like to make an example, but I won't, because otherwise there will be chaos!
"The fans have always been very warm towards me and it did get me emotional when the crowd called my name. In a way, I felt more fired up the more criticism was coming in from the outside, rather than those in the stadium.
"I don't know what will happen in future. I need a little rest too, while after July 15 I might inevitably feel the desire to get back to work and I'll evaluate the situations that are proposed. Otherwise, I'll have a year to dedicate myself to my family and that band of crazies who are my friends. We'll see. For now, let's think about celebrating tomorrow."
Images from Juventus.com