After being 'expected to sign in the next 24-48 hours' for what seemed like an eternity, on July 19th Alvaro Morata finally signed on the dotted line for La Vecchia Signora. The 21-year-old Spaniard was presented to the media holding aloft the no.9 jersey (with the truly horrible yellow-print-on-white combination).
To honour our latest number 9 I decided to take a trip down memory lane and evaluate how our last five no.9's performed whilst wearing the legendary black and white stripes.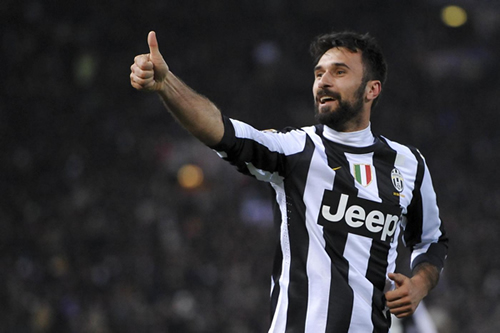 Mirko Vucinic – 2011 to 2014
Games: 96
Goals: 26
Unquestionably the most frustrating player to wear the jersey in recent times, the Montenegrin international had the ability to fluctuate between world class match winner and Serie B footballer from one game to the next, sometimes even within the context of the same game.
Signed in the summer of 2011 after Beppe Marotta had chased more illustrious names and failed. Mirko originally inherited the no.14 shirt due to the ongoing presence of 'the leech'(more on him later).
Vucinic wasn't your typical no.9 in the mold of Pippo Inzaghi or Hernan Crespo, he could play all across the front line, with his best work for Juve, and Roma before that, coming from starting out on the left wing and drifting inside. His best season for Juventus was arguably his first, in 2011/12 he was a key player in Juve's Scudetto winning side, starting 29 games and scoring nine times,.  Forming a front three with Simone Pepe and Alessandro Matri.
In 2012/13 he had another decent showing but was hit by niggling injuries, he managed 24 starts with ten goals and a further six assists. By now wearing the no.9 jersey, he kept his best performances for the Champions League were he was one of the few players to emerge with any credit after the quarter-final battering at the hands of eventual winners Bayern.
For the 2013/14 season, Vucinic had fierce competition with Carlos Tevez and Fernando Llorente purchased in the summer. He started the season brightly and there seemed to be potential in a decent partnership forming between Tevez and him before he got injured. When he returned from injury Llorente had cemented his status as Tevez's no.1 partner and you felt it was only a matter of time before he wanted to leave, and this summer he departed for the UAE side Al Jazira.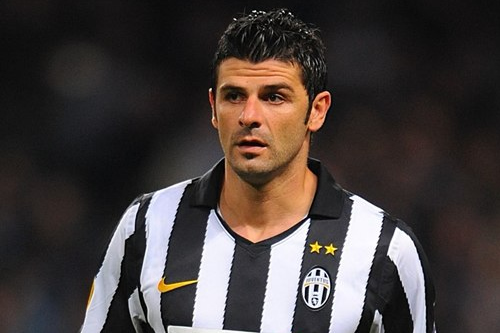 Vincenzo Iaquinta – 2007 to 2013
Games: 108
Goals: 40
The mere mention of his name sends anger and resentment from some Juventini, but for a number of seasons, Vincenzo Iaquinta was a very useful member of the Juve squad and was at a point considered an important player.
The Cutro native joined the Bianconeri in the summer of 2007, given the no.9 jersey by the now infamous Alessio Secco, his role in the beginning of his tenure was back up to the clubs greatest ever forward line, Alex Del Piero and David Trezeguet. Strong and very mobile on the ground, he offered a different dynamic to the side, in the coming seasons he gained a more prominent role in the team as both Del Piero and Trezeguet declined and he had the knack of scoring crucial goals.
It was towards the end of his time in Turin that the animosity started, he became semi-permanently injured, only making 35 appearances over two seasons. When it became blatantly apparent that there was no future for him at the club when Antonio Conte arrived, he became stubborn, turning down many offers.
He eventually left on loan to Cesena for six months before returning in the summer of 2012 and this time outright refusing to leave, thus becoming a leech and clutching onto his fat contract from the Secco era.
The goodwill that he had built up with the Juve faithful completely evaporated, there wasn't many fans crying at his departure when his contract expired.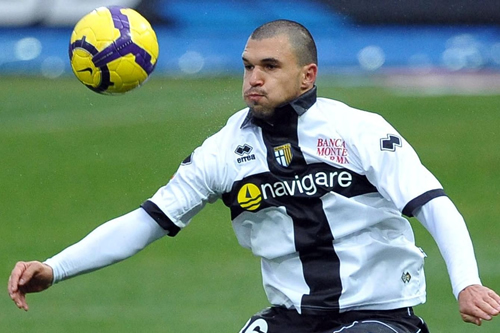 Valeri Bojinov – 2006 to 2007
Games: 19
Goals: 5
Remember him? At one time hailed as the next big thing of Bulgarian football, with a left foot as exquisite as his legendary compatriot Hristo Stoichkov. Valeri Bojinov had the talent that suggested he was destined for a stellar career.
He only spent one season on loan in Torino, as a makeweight in the deal that saw Adrian Mutu move from Juventus to Fiorentina. Only 20 years old at the time, he had burst onto the Serie A scene in 2003/04 with Leece, winning a move to Florence the following summer.
His season with Juve coincided with the clubs year in purgatory following Calciopoli, even with the team in Serie B, Bojinov was surrounded by world class players like Gigi Buffon, Pavel Nedved, Alex Del Piero and David Trezeguet and thus was expected to learn from them with a view to making the switch to Turin permanent.
However he never really excelled in Piedmont, spending most of the season on the bench, his best games were against Crotone and against the side were he first got noticed, Leece, scoring a brace in both games including a stunning free kick against his old team.
With the season over he returned to Florence, and was then sold to Man City for the start of the 2007/08 season. It was in England were his career nose-dived, becoming injury plagued and afterwards being sold to various clubs every other summer.
He is currently playing for Levski Sofia, still only 28, his career is certain to belong to the 'whatever happened to' category.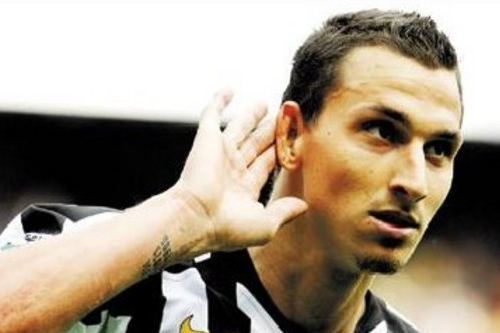 Zlatan Ibrahimovic – 2004 to 2006
Games: 89
Goals: 26
There aren't enough adjectives in the English dictionary (or any other dictionary for that matter) to describe Zlatan Ibrahimovic. The epitome of a serial winner and a person who certainly lives life on his own terms and like a fine wine arguably gets better with age.
The sublime Swede won two Scudetti and in the process usurped Alex Del Piero from his starting spot to become Trezeguet's regular partner in Fabio Capello's dull-yet-bulldozing 4-4-2.
In his first season he was named Serie A foreign player of the year, ending the 2004/05 with 16 goals, in his second and last season his form dipped badly and his performances became increasingly erratic and lackluster.
In his book Zlatan remarks that Capello made him sit down and watch VHS tapes of Marco Van Basten at Milan to dissect how to become a great striker, unfortunately it would be other clubs who would get the benefit of Zlatan's studies as in the summer of 2006 he forced a move out of the club as the thought of playing away to Rimini didn't sit comfortably with the volatile Swede.
Now 32, he later became one of the few players to have played for all three of the big clubs in Calcio. His actions that summer undoubtedly damaged his reputation with the Juve tifosi, but no one can doubt his talent, not even the English media.
It's hard to ascertain whether his two-year stint with The Old Lady was a success or failure, given how he would develop as a player later in his career, one could argue that he didn't do enough to be judged as an outstanding success nor an outright failure, but you have to consider that he was only 24 years old by the time he left and as the man said himself, Juventus turned him into a ruthless winner.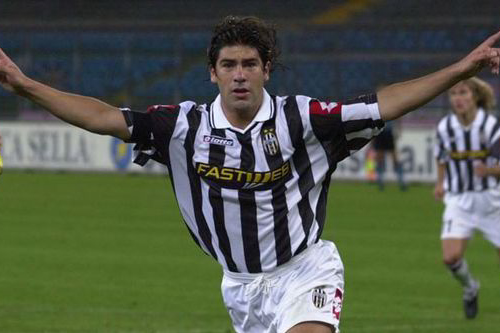 Marcelo Salas – 2001 to 2004
Games: 27
Goals: 3
When reminiscing about the summer of 2001 – 'that' summer where Zinedine Zidane's wife decided she was no longer keen about life in Turin and wanted her ever-so-slightly talented footballer/husband to move on to finer pastures in Madrid, for a then world record fee. The summer in which Luciano Moggi re-hired Marcello Lippi, bought Gigi Buffon, Pavel Nedved and Lilian Thuram with the Zidane money and Juve were completely reinvigorated.
In the midst of the hysteria of that summer, one transfer move that is with the passage of time oft forgotten is that of Marcelo Salas joining La Vecchia Signora from Lazio.
'El Matador' (The Killer) Salas was signed as a replacement for Pippo Inzaghi, who couldn't handle competition from David Trezeguet and decided to join rivals Milan. Salas was arriving on the back of three very good seasons at Lazio in which he played a pivotal role in their double winning season of 1999/00 and it was viewed by many on the peninsula that Juve were upgrading their attack.
However this wasn't to be the case, right from the start of his time at the club he was continually blighted by injury and when fit could never force his way past Del Piero nor Trezeguet into the starting XI.
After two seasons in which he won two Scudetti and scored only three goals, playing a minor role, he was loaned out to one of his old clubs, River Plate. However he would never recapture his pre-Juventus form and injuries would hinder the rest of his career.
In comparison to the esteemed no.10 shirt, the no.9 has been a mixed bag of results in recent memory, so how will Morata do with the no.9 shirt? Only time will tell, but lets hope he is more Vucinic and Zlatan than Salas and Bojinov.