The following is a guest post written by Arjun Pradeep – You can follow him here on Twitter.
Juventus have always had a fascination for French players. With 20 players, France is the third most represented country after Italy and Argentina among players to wear the Black & White colours. From Michel Platini to Zinedine Zidane, Lilian Thuram to Patrice Evra, it's safe to say that the Torinese club have profited a lot from French Football.
In total, 20 Frenchmen have combined to win 63 trophies, playing 1741 games and scoring 374 goals. With a combined total of 4 Ballon d'Ors won between them, Platini and Zidane are widely recognized as the some of the greatest players to play for La Madama. David Trezeguet is the club's all-time leading non-Italian goal scorer with 171 goals. And then there's ba ba, who's being pursued by most of the top clubs across Europe.
History
Juve are a club of immense tradition. It has been run exclusively by the Agnelli family since 24 July, 1923. In today's world where money governs the beautiful sport, the most coveted Italian team have managed to stay strong for 92 years and counting, under the singular leadership of the Agnelli family. Another unique example of their tradition is seen through their policy of transfers. Throughout the club's 118 year old history, the Piedmont team have never sold a player they regard as important, for economic reasons, unless the player himself requested for a move.
It is a resounding policy considering the fact that they have had many exquisite players that many top clubs have always wanted to sign. This was particularly seen when Zlatan Ibrahimovic wanted to leave the sinking Torinese ship during Calciopoli. He had to pull off so many antics to leave the club who were, at the time, playing in the second division. This was the will of the club during its darkest sporting and economic phase. The will to retain their strongest players despite enduring the loss of many sponsors, the revoking of 2 Scudetti and the demotion to Serie B. And onto Pogba…
Why would the 34 time Italian champions suddenly change their traditional century policy and accept a transfer for their most priced asset without his intention to move, especially when they're in a supreme position of strength, not only in terms of sporting results but also with regards to finances?
What does Pogba mean to Juve ?
Winning 4 successive Scudetti, 2 Coppa and 2 Supercoppa by being a protagonist for seven of those trophies is probably enough to justify that Pogba is extremely important to Juve. Helping Juve remain unbeaten for 156 of the 178 games he featured for the Bianconeri indicates his crucial presence. Scoring 34 goals and making 42 assists in his 14, 068 minutes for the Torinese club proves his decisiveness.
Directly contributing to nearly 28% of Juve's total goals for the 2015-2016 season despite being a midfielder demonstrates his significance to the club in sporting terms. It isn't a co-incidence that Juve resurrected their season once Pogba hit top gear and exuded qualities of a leader to steer his team to mark Quenquennio 2.o
On non-sporting terms, Pogba is Juve's highest paid player earning 4.5 million wages [net] and their most prized  asset. This illustrates that he is their most valuable player and their most important player on all levels. He is fundamental to their success on an economic and commercial level. He is the holder of Juve's most dear shirt, the number 10, which is mostly given to champions that have created footballing history. La Madama gave Pogba the number 10 because his sporting performances merited it and he helps to raise the brand value of the club by wearing the number.
According to a report by Tuttosport, Juve's commercial value and marketability is primarily dependent on Pogba for not only this season, but for the next 5-10 years. From his dabbing to his dancing, he draws sponsors, sells merchandise and elevates the commercial value of the club. It is safe to say that he is Juve's most focal point of their sporting and economic project. An important one that also attracts top players from around the world to play for the club.
All these factors further justify the reasons behind Juve holding him very closely and reportedly having the minimum value of his price tag of over €120 million.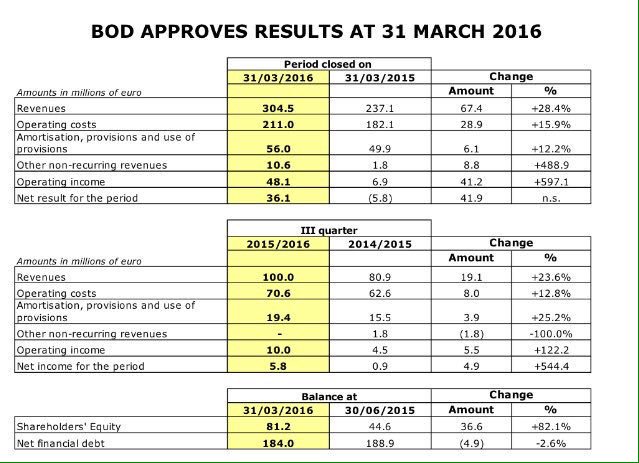 Juve's Economic Strength



Juve are growing economically ever since President Andrea Agnelli became the president in 2010. His management has been able to overturn a deficit of over €90 million to a profit of €2.3 million for the 2014-2015 season. This was before injection of a new deal with Adidas and JEEP came into picture.
In accordance with Juve's official financial report for the first nine months of 2015-2016 fiscal year, the revenues were announced to be €304.5 million with total costs of €277.6 million subsequently generating a positive operating income of €48.1 million before taxes and €36.1 million after taxes. La Madama are projected to generate €360-380 million for the entirety of 2015-2016 fiscal year and make a net profit of €5-10 million.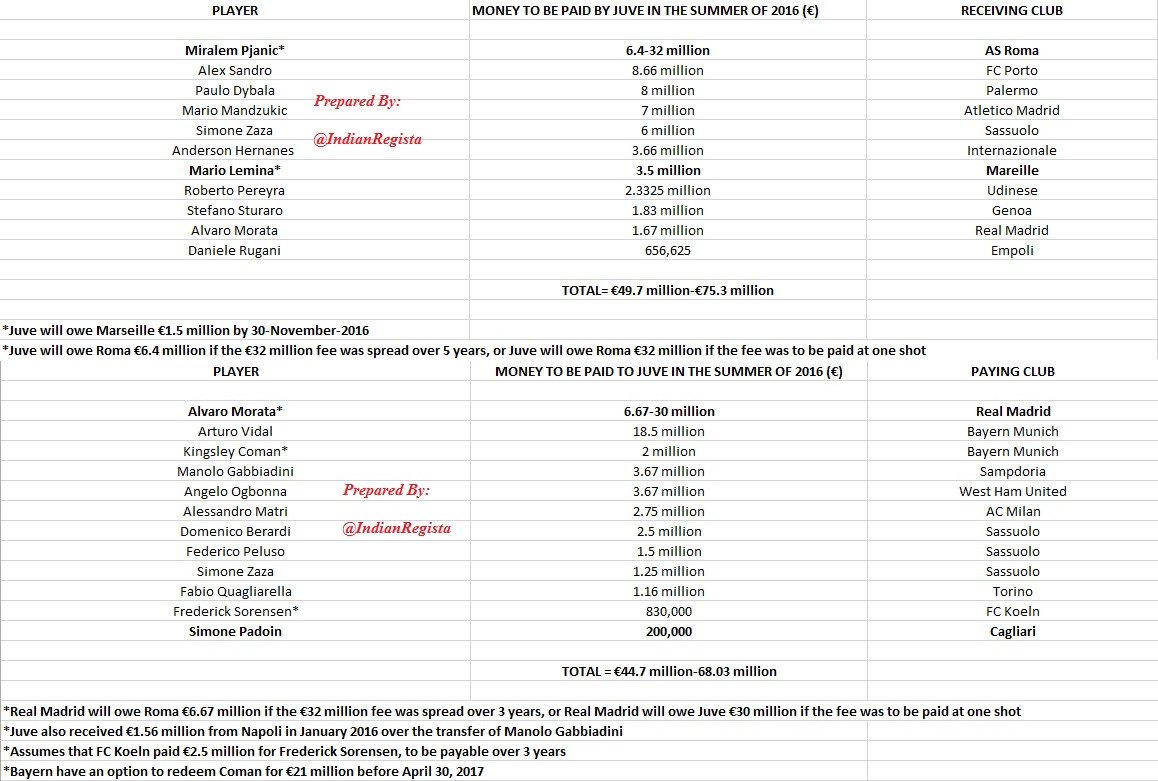 Juve's transfer budget



Until this point, Juve are to pay a minimum of €49.70 million or a maximum of €75.3 million depending on whether the mode of payment for Pjanic was spread over multiple years or a one shot payment. At the same time, until this stage of the mercato, La Madama are to receive a minimum of €44.7 million or a maximum of €68.03 million, depending on whether Alvaro Morata's buy back clause will be paid in different installments or at a single time.
Automatically, Juve's net spend at this point of time, varies from a minimum €5 million to a maximum of €30.6 million . This figure is well within Juve's budgetary constraints for FFP and otherwise, even without including the potential sales of fringe players such as the likes of Mario Lemina, who are reportedly on their way out of Turin. Therefore, the club can easily make room to afford another defender, a midfelder and a striker without even considering the sale of Pogba.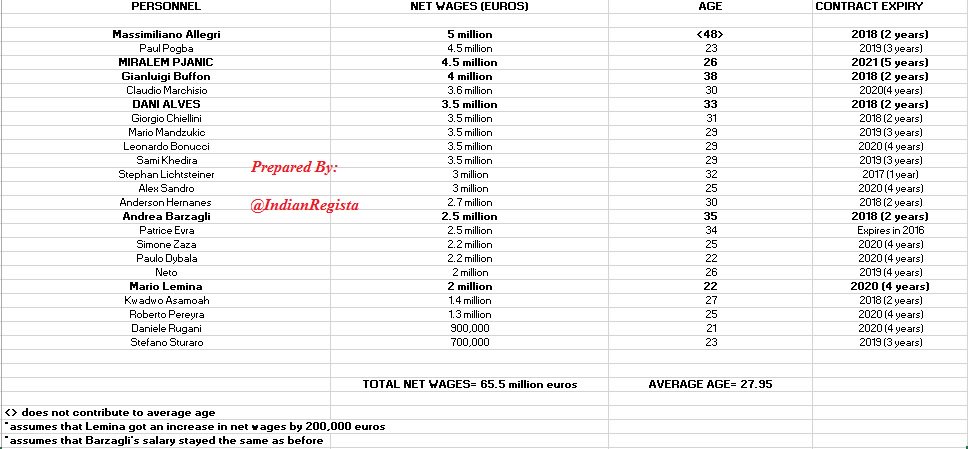 Juve's wage budget



Juve's net wage budget for 2015-2016 season was €63.8 million while Juve's net wage budget is currently at €65.5 million. The Bianconeri acquired Pjanic and Dani Alves at a combined reported net wages of 7 million euros while saved wages of €9.2 million with the departures of Morata, Simone Padoin, Martin Caceres, Rubinho and Juan Cuadrado, whose future is reportedly not in Turin.
There is a net difference of only €1.7 million added on to the net wage budget until this stage of the mercato, in comparison to the 2015-2016 season. Considering that some of the reserve players such as the likes of Anderson Hernanes will be departing the club, Juve can reportedly free net wages further up to €15.2 million when they have added only €7 million till now.
Pogba has a current deal till 2019, which sees him earn nearly €14 million excluding bonuses and taxes. According to various reports in Italy, he will be offered an extension by Juve till 2021 which would see him earn €7 million net. Juve's current net wage budget would subsequently rise to €68 million making it only €4.2 million more than the net wage budget for 2015-2016.
Hence, it is within Juve's limits to increase their wage cap and offer Pogba the quoted price. The returns are subsequently higher with regards to merchandizing and on a commercial level. Pogba too would be inclined to accept it as he gets a wage hike by €2.5 million net and he can continue to develop further, win and remain a protagonist as a Bianconero.
Juve's perspective



Now that we know about Juve's economic strength and Pogba's dependence to them on sporting and economic terms, we know that it isn't easy for another club to enforce a transfer. Juve are economically strong enough to reject offers for Pogba while he's adding a lot of value on a sporting and marketing level, which makes Juve want to keep him.
The club's perspective is and has always been: "Pogba is non-transferable. There is no intention to place him on the market and be involved in negotiations with other clubs over a transfer." Juve's CEO Giuseppe Marotta also revealed that the club rejected bids of over €80 million for Pogba from Manchester City and Barcelona last season.
As mentioned earlier, Juve also have a history of keeping their most valuable players without any intention to sell regardless of the number of lucrative proposals that are always up for grabs. It is what makes Juve a "big club". That being said, it ultimately depends on the player and his will to stay. Like anyone else of a similar caliber before him, if Pogba wants to stay, Juve won't even entertain discussing financial parameters on the table.
If he wants to leave, Juve won't force him to stay and they will participate in negotiations with other clubs for him. If he wants to leave, they will certainly set a world record fee that can only be afforded by very few clubs in the world. If Pogba's intention is to leave, Juve will subsequently monetize on an unimaginable gigantic deal.
Pogba's perspective



Money is always an important factor for any player and that doesn't exclude Pogba. Juve don't have the financial resources yet to match the huge wages that may be offered from the top clubs from England, Spain, France and Germany. But the Piedmont club definitely made a huge statement two years back by making him their highest paid player and portraying his worth to them compared to the rest of the team.
There have been many comparisons with Zidane's move to Real Madrid in 2001. The situation was different when compared to what Pogba is currently experiencing. Zizou was 29, his wife wasn't happy in Turin and Juve had only won the Intertoto Cup in his last 3 seasons. His wife had previously stated her intention of leaving Turin on many occasions prior to 2001. Juve were still happy to retain Zidane but the 1998 World Cup winner requested to be sold once he was 30.  Perhaps Juve automatically felt he wasn't that stimulated enough to give his all to the club and saw it as the best opportunity to monetize a lot for him that would enable them to launch a new cycle. He was subsequently sold a year earlier than when he wanted to leave.
Pogba is 6 years younger, he's a part of the club's best cycle since the 90's and he is winning. He is at a club where he is constantly developing at a tremendous rate taking his game to new boundaries. As a man, he has matured and has proven that his shoulders can bear the pressure of lifting the team as a star. He is at a team where he is winning, earning a lot, being valued by the club and its fans. He maintains a close relationship with his coaching staff, his teammates, the president, the directors and the vice president.
Pogba's agent, Mino Raiola also previously represented the vice President of the club, Pavel Nedved. Raiola maintains a great relationship with the leadership of the club. In short, Pogba and his agent are currently happy at Turin and this was also confirmed by his representative in a recent interview to Marca.
The club is also adding players of a high caliber and surrounding Pogba with players that are worthy of accomplishing their 20-year elusive dream of winning the Champions League.
Can they lure Pogba?



Multiple media outlets in Italy, from Mediaset to SKY Italia, reported that Pogba's agent wanted wages of €11-13 million [net], to convince his client to move to Real Madrid. An ambitious high demand on an economic level from his agent to convince the 23-year-old to move to the reigning Champions League winners and perhaps the biggest club in the world. He will probably seek a 5-year deal which would mean that the Spanish giants despite all their stature & success must offer him nearly €150 million [gross] including taxes and bonuses.
That isn't an easy demand to match, even for a club as big as Real Madrid. That would mean the Spanish giants raising their wage budget for 23-year-old central midfielder that has never won or even played for them, offering excruciating wages that are much higher than those that created history and offered more to the club. This would result in the existing players at the Galacticos to demand higher wages for themselves and may result in causing friction and disharmony among the members of the squad. Hence, a club like Real Madrid would need to think a lot before agreeing to offer Pogba what he seeks, without disrupting the environment and the finances of their own club.
When Pogba's agent reportedly seeks such high wages from a club of Real Madrid's stature, it is obvious that he would seek more from clubs that aren't as big or successful as Los Merenguens currently. Would Pogba agree to move to such clubs, though? He's at a place where they're bidding to win the Champions League currently. Would he accept moving to clubs like Manchester United or Chelsea that aren't even in Europe's most prestigious competition, and are starting a new cycle under new coaches in an entirely new project with a goal of winning in Europe in 5 years, by when Pogba will be 28?
It would perhaps be wise to wait for the likes of Real or Barcelona when they're more convinced in him and want him at all costs. Pogba's agent also stressed in the same interview to Marca, that the sporting project of an interested suitor is of more importance to him than their economic offers for his client.
The probability of Pogba's agent using other clubs to get a better proposal from Juve to keep him in Turin cannot be ruled out.
Conclusion
Considering all the aforementioned factors, the chance of Pogba leaving Juve is very low. Juve are financially strong and in a position to reject the pursuit of others clubs for him. The club is in a position to offer him a reasonable new contract and keep him at their disposal for a longer time, thereby increasing his price tag by a lot more to shield him from potential suitors in the future.
Pogba is in a position where he gets to win, wear the number 10, be the highest paid player, be their most valuable asset, continue to develop at a tremendous rate and be happy in Turin. However, it ultimately depends on his will. If a club meets his economic and sporting demands, he would definitely be inclined to move. But the probability of that occurring in this summer is very minimal.
Pogba's agent, Raiola would seek the best for his client and work as per his client's wishes. If Juve want to keep Pogba in addition to satisfying his economic and sporting demands, Raiola would be happy to keep his client at Juve. If Pogba wants to stay in Turin, Raiola would seek out his best interests and look to keep him in Turin as a Bianconero for this summer.
When the three major parties involved: the club, the player and the entourage, are in synchronization honoring each others sporting, economic and moral demands, the likelihood of Pogba moving from Juve to another club is virtually impossible.