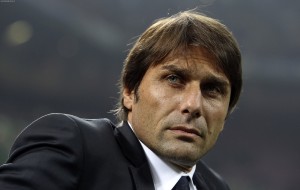 Not going to lie, I thought the internet was drunk last Tuesday. Or that Milan were getting the Calcio world back for photo shopping that picture of Jeremy Menez. Or anything else. Anything. But lo, we Juventini find ourselves fans of a Max Allegri coached side, struggling to figure out what has happened, whether Vidal will remain, what expectations should be, and just exactly what to respond with when teased about the Count Max acquisition.
I was, at first, just as pissed at the signing when I first heard the news as I think were most. That being said, when getting into the nitty gritty, the move makes perfect sense. The candidates linked with Juve, which of course we can all assume is not an encompassing list, included Mancini, Guidolin, Zidane, Allegri, and Mihajlovic, among others. Nedved went on record and is quoted as saying:
"There were only two candidates… Mancini had the option of becoming Italy Coach, so we reached an agreement with Allegri. He is a quality Coach and a winner."
How much of any of the above is true, nobody will really know. Ultimately, it makes sense, when looking at the situation, that Juve only considered Allegri and Mancini. Nedved makes a further comment on the club being required to 'act quickly,' as any further delays would have meant more disruption in pre-season. That being said, it seems likely that the desired results the front office wanted to attain would have been unity in the club, and keep the immediate project the same until they have time to conduct a more in-depth coaching search.
Given the names linked to the side, it is possible to immediately rule both Zidane and Guidolin off the list. Zidane lacks any sort of tried and tested strategy, or experience of the kind needed in a situation like the one Juve currently face. He would have made an interesting signing 3 years ago, or for the situation Milan are in, but not here. Not now. Guidolin has received plaudits for all he has done with Udinese, and rightfully so, however he has mainly shown a talent for developing young players, something which all of Italy could learn from, but not the right man for Juve. This is not his bianconeri.
Mancini would have been a much more palatable name at the time, but, when looking at the appointment I'm beginning to think not. Yes, he's been up for discussion with La Nazionale, but more importantly, he is too big a name to be a stop-gap. There is a reason Allegri was only given a two year deal, namely, the front office are still looking for our coach of the future. Our technico futuro, if you will. Sure, Mancini would have played ball in the beginning, but a coach of his stature would have had much more sway in any attempts to alter the transfer strategy, or to change the direction of the project.
This brings us back to Allegri. Bare in mind, unity, and an easy transition are the supposed goals the front office was shooting for with their hire. Hiring a coach who was currently a free-agent makes sense in that regard. Allegri was supposedly a scapegoat, or somewhat of a puppet, in Milan, from which it follows he should be open to taking orders from Marotta, Nedved, and company. Additionally, Allegri is coming into the job off a less than stellar stint at AC Milan, yet with a fairly strong track record prior to that. The 'X' factor here is Allegri's somewhat mystifying success in the Champions League, an area where Juventini are clamouring for an improvement. Allegri's ability to tweak things for the better in big games could come up huge, and pay dividends for both himself and the club. If both parties are willing to talk things through, it leaves them both with the potential to win.
The front office could very well ask Allegri to guide the current project best he can without attempting to change anything, in a move which could prove quite shrewd. Ultimately, cooperation from Allegri gives him a resume booster, and some credit for a successful season with Juve, while the front office gets a year to find and perhaps lure the candidate of their choice.
Finally, let me clarify that I am finding these positives in assuming his appointment is a short-term one, for to me it makes the most sense viewed in such a light. Anything longer than a year or two and I'd reconsider my stance, however, given the length of this contract (2 years), I find it hard to imagine Allegri is going to be here for long. Agree? Disagree? Feel free to comment below or yell at me on twitter @acoop13. If this hasn't been enough to sway your opinion of the appointment, take one more look at the team sheet and tell me that Buffon and Pirlo are going to let anything bad happen. I dare you.