Atalanta v Juventus

Serie A Week 13 – Saturday, 23rd November – 14:00 GMT – Stadio Atleti Azzurri d'Italia

---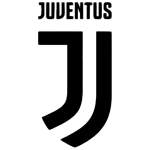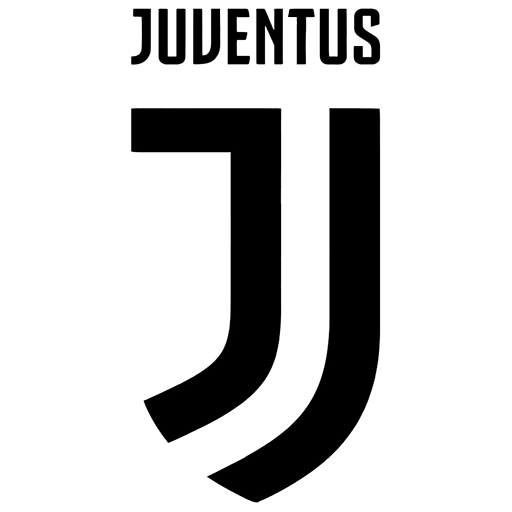 Juventus
With great players comes massive attention, but most of the fuss surrounding the Cristiano Ronaldo situation during the break was really about nothing. I would say that the only truly negative element of the story was him leaving the stadium early, which was very impolite towards his teammates, but it does not look like it bothered them too much. He was clearly limited by an injury and the sub was totally fair and luckily turned out to be the deciding factor in another narrow win, otherwise it would have been an even bigger deal. Most of the Juventus world has accepted Ronaldo to be above everything else, now it is time for him to tolerate being treated like a normal player from time to time.
While that blew over, the bigger issue remains what to do with his knee problem and, while it did not keep him out of the lineup or prevent him from scoring against lowly national teams, it apparently got worse in the last few days. He is set to miss the Atalanta game barring a miraculous recovery and, even beyond this one, it would be better for him to rest for a while to allow it to heal it completely.
However, the fact that Inter continues to breathe down our necks, making every game a must-win one, surely complicates things. Even if it still early in the season, avoiding a faux pas and thus continue to stay on top would be very much recommendable, as chasing an opponent is more draining than the other way around. The extra attention even a hobbled Ronaldo draws is still an asset and perhaps using him in small doses is the best way to go. He has come off the bench just once in his black-and-white days, coincidentally against Atalanta away, and that is an enticing idea for when he will be healthier but not 100 percent.
It is now up to Paulo Dybala and Gonzalo Higuain to hold down the fort, and they are surely capable. I wonder also if the coach will be able to mix in some Douglas Costa next to just one of the two and a trequartista supporting them in order not to unbalance things too much. There are actually some reports out there indicating that the coach could go back to 4-3-3 and use just one centre-forward, but I am sceptical about that to be honest.
A mixed bag out of the international break, where Aaron Ramsey and Danilo shone, while Alex Sandro, Miralem Pjanic and Juan Cuadrado got hurt. The two defenders are questionable, while the Bosnian midfielder is trending in the right direction, so it looks like it will be the usual duel between Sami Khedira, Rodrigo Bentancur and Emre Can for one spot, as Adrien Rabiot is banged up as well.
Ramsey is the most likely to start as no.10, with Federico Bernardeschi and Douglas Costa off the bench, unless they play as wingers. Should they be called upon in the back, Danilo and Mattia De Sciglio would have to step it up because their last outings were less than ideal.
The pause also gave the executives some time to work on the extensions: the one handed to Leonardo Bonucci was deserved since he has been a rock this season but also not that meaningful because he already had a long-term contract. On the other hand, Juan Cuadrado had an expiring one and was locked up until 2022: he has been as revelation at right back, to the point that Joao Cancelo has not been particularly missed, which is quite a feat. It is one of those situations, like the three-headed attack, where you have to wonder whether the management planned it or at least envisioned it happening or if they totally backed their way into a great solution, but no complaint since its working.
UPDATE: The final updates say that Danilo will play over Cuadrado, Federico Bernardeschi in the hole and Ramsey moving to box-to-box in lieu of the hurting Matuidi.
Probable lineup
4-3-1-2: Szczesny; Cuadrado, Bonucci, De Ligt, De Sciglio; Khedira, Pjanic, Matuidi; Ramsey; Dybala, Higuain.

Injured players:
Ronaldo (knee), Rabiot (thigh), Sandro (thigh), Chiellini (knee), Perin (shoulder), Pjaca (knee).
Suspended Players:

None
Formation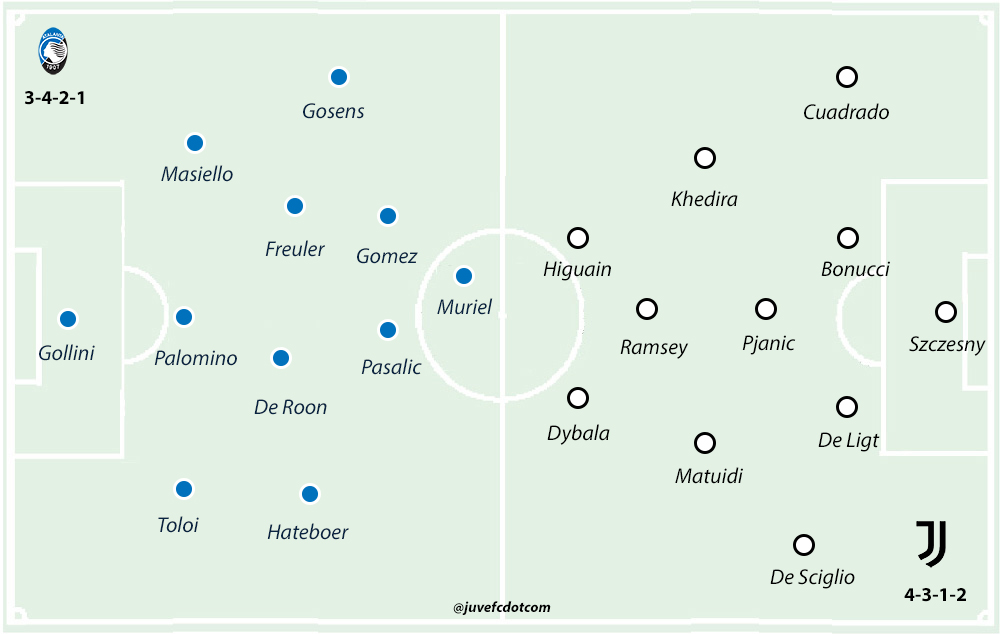 Atalanta

Atalanta have operated like a top team during the summer, only adding without selling, and the early results, despite a very recent dip, have confirmed their status in the top echelon of Serie A franchises. They will be in the running for a Champions League berth this year too, proving that last season was not a fluke, even though they struggled in the continental competition.
After scoring at a historic pace through the first ten rounds, they have not hit the net in the last two versus Sampdoria and Cagliari. Fatigue and injuries got the better of them at the end of a gruelling cycle, and they do not have a particularly deep roster. They are currently in fifth position, on a par with Roma, two points behind Lazio and Cagliari.
They are set to have Duvan Zapata back from a thigh injury, but he probably will not be risked from the get-go after a lengthy absence, even though they are short-handed up front due to the simultaneous suspensions of Josip Ilicic and Ruslan Malinovskyi. Their other big summer acquisition, Luis Muriel, has filled in admirably once his compatriot went down and was actually spectacular even before that. He is also a bit banged up after international duties: in the worst-case scenario, they will have to trot out Musa Barrow, who has looked kind of lost for a good year, or resort to unusual solutions, like moving one of the wing-backs to the attack. Mario Pasalic will likely be used as no.10, and he can be sneaky, but he is nowhere near the playmaker his teammates are.
The script has not changed compared to the one that gave them a ton of success in the past campaign: when they are on point physically, they outrun and outgun opponents and come in waves that are just impossible to contain for too long. They overwhelm adversaries with their motor. However, the busy schedule and the lack of rotation has diminished that a bit lately, and we will see in what condition they will be at after the international break, which usually does not help anybody.
In their standard formation, Alejandro Gomez plays more as a midfielder than as a forward, but he should advance his heat map in this one. The offence runs through him, and he has already tallied four goals and six assists in all competitions. Muriel is unleashed in the open field and should never be allowed to have a on-on-one with a centre-back.
They also lean a lot on their wing-backs and Robin Gosens has made the leap this year, often taking matters into his own hands when they need a spark, producing some sudden cut-backs that are hard to stop. He has taken the mantle from Timothy Castagne, who was their most productive player in that role in 2018/2019. The two central midfielders, instead, Remo Freuler and Marten De Roon take on the difficult task of maintaining the balance of a squad that at times can be a too rampant.
Such a factor has had an impact on their defensive numbers, which are quite pedestrian, and they are not as talented there as in other spots. They tried to bolster the back-line with a veteran presence, bringing in Simon Kjaer after Martin Skrtel suddenly left, but he has yet to establish himself as full-time defender and there has been too much José-Luis Palomino and Berat Djimsiti, who are simply average, to be truly robust and clean up the blunders.
In their most challenging fixtures, they have equalized with Lazio and Napoli and defeated Roma, while they picked apart the minnows.
UPDATE: In a surprise twist, Zapata has been ruled out in advance despite the previous optimism and the fact that he has been out for a while. Muriel instead is available and expected to start. Berat Djimsiti might be fielded over Andrea Masiello, while Timothy Castagne has a slight edge on Hans Hateboer.
Probable lineup
3-4-2-1: Gollini; Toloi, Palomino, Masiello; Hateboer, De Roon, Freuler, Gosens; Pasalic, Gomez; Muriel. 

Injured players:
None
Suspended Players:

Ilicic, Malinovskyi.
Juventus and Atalanta Performance Statistics