Bologna 0-3 Juventus

Scorers:  Pjanic 26 (J), Mandzukic 36 (J), Matuidi 64 (J)

---
Blaise Matuidi scored his debut Juventus goal as the Bianconeri thumped Bologna 3-0 to leapfrog Inter in the Serie A table.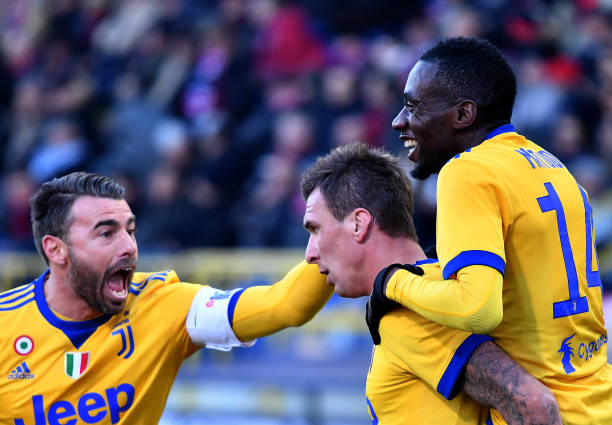 Biggest winner/biggest loser:
Rav: A very solid performance from all over the pitch ensure there was only one winner here. Bologna can be a stubborn side, difficult to break down and often very comfortable with 10 men behind the ball, so the early goal helped change their game plan and opened up space on the flanks and in the centre for us to exploit. The 4-3-2-1/4-3-3 seems to offer us a lot more stability in midfield and in turn, a lot more protection for the backline. Up front we were good enough without making the most of our dominance and its a shame we can't be a little more attack-minded. We have a good goal tally this season but i can't help but feel we could have even more if we played the best of our attack and gave Higuain more service overall. Results elsewhere were largely beneficial to our cause with Inter suffering their first defeat and Lazio being held to a draw so there was extra cause to celebrate a well-rounded victory.
Takeaways from the performance/areas of improvement:
Rav: Plenty of positives to draw from the match, despite the opposition not playing at their best. It was nice to see us control a game for such long periods again as we have been too used to conceding possession of late, especially in the games against Napoli, Barcelona and Inter. The defence looks as though it's turned a corner and 6 clean sheets in a row can be attributed to:
i. Medhi Benatia's brilliant run of form since returning from his injury/international duty

ii. Mattia De Sciglio playing a very understated role alongside his Moroccan teammate and plugging the hole at right-back where we often looked more vulnerable

ii. The 3-man midfield which gives license to Pjanic to create while keeping the back-line protected.
Up front, we still look miles away from where we should be – A squad with the likes of Douglas Costa, Paulo Dybala, Federico Bernardeschi and Gonzalo Higuain should be putting teams to the sword, but all too often, everything looks laboured up front. Higuain lacks service on occasions and we seem to trade pace and creativity for stability and control on the flanks. Allegri's tendency to bring the younger players in slowly has worked well in the past, but I can't understand why Bernardeschi isn't playing more frequently, especially now that De Sciglio has plugged the hole at RB.
The only other concern is Paulo Dybala who really seems to be going through a rough patch of late. Rumours suggest it's down to problems off the pitch that have affected his performances in the team, something Allegri has alluded to in the past during his pressers and interviews. I'm still inclined to believe Paulito is wasted playing so deep where opponents have managed to keep him contained. He's the kind of player that flourishes when being closer to the goal, surely we'd get the best of him there?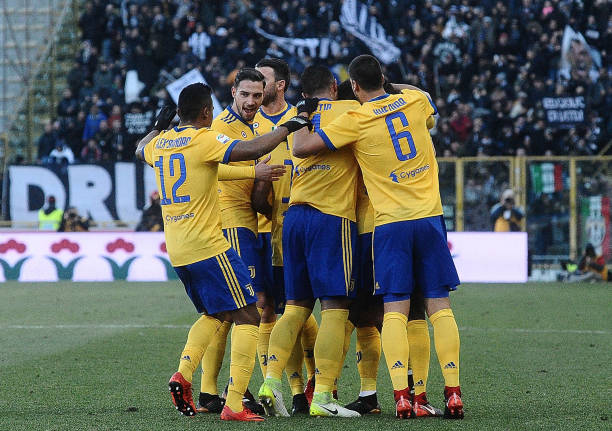 Injury updates:
Rav: Gigi Buffon is still out with a calf injury and there's no mention of a return date as yet; fortunately Bob Szczesny is doing a fine job between the sticks and he'll probably get the nod at the weekend against Roma. Giorgio Chiellini is nursing his hamstring and may not return until near the end of the month while Stephan Lichtsteiner has a hamstring problem of his own and is expected back around the same time. Benedikt Howedes will be out until 2018 at the very least.
Outlook for next fixture:
Rav: Roma worry me far more than Inter at the moment. Despite a shaky start to the season, the Giallorossi are finding their feet and playing some great attacking football, despite not scoring as many goals as they should have up until now. They had a flurry of chances against Cagliari at the weekend and left until the last minute to get the win, but even at that point, they never let their heads drop and didn't stop searching for the goal and it's a testament to Eusebio Di Francesco that he's got them fighting again.
We have a good home record against Roma and they've not won in Turin (against Juve) since 2010 which bodes well – The formation seems to be set for now and the 3-man midfield combined with a resurgent Medhi Benatia and Mattia De Sciglio gives us the stability that we lacked in the early part of the season. Up front, we have a wealth of talent but we're still not showing it to best effect with only certain players performing at optimal level. I really hope we see Paulo Dybala start against Roma as he tends to do well against the big teams and needs to find some form again. All in all, we stand a good chance of taking three points, provided we don't play conservatively.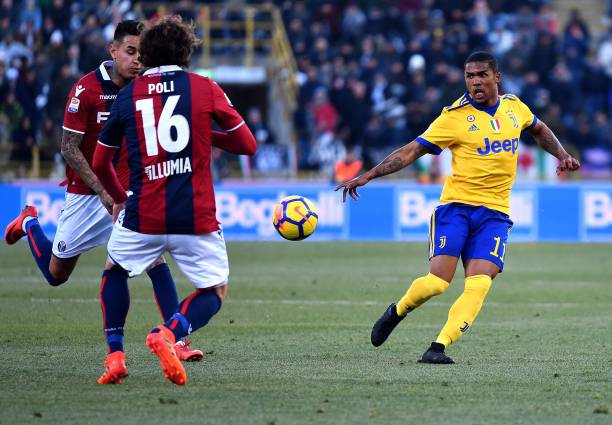 Opposition:
TG: Today we were up against a Bologna side that we should have, and did easily dispatch. Hardly created any chances as we were far too much for them on the day. A few nervy moments here and there, but nothing that wasn't manageable. They did well enough trying to stifle our attack and remain resolute in defense, but, all things considered, with the run of form we're on, I was expecting this type of performance. Three necessary points collected today.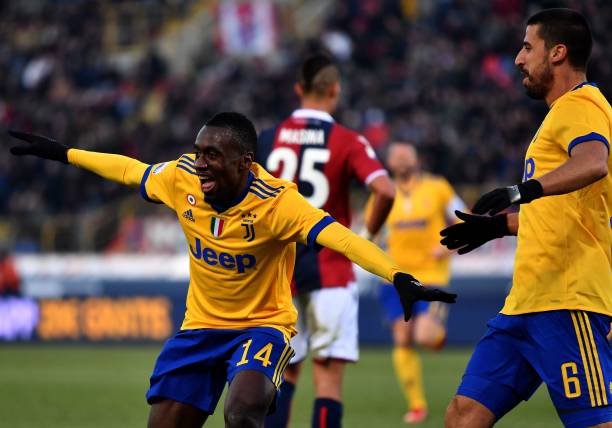 Best new signing on the field:
TG: Today my best new signing goes to Blaise Matuidi. While young Mattia De Sciglio and Douglas Costa deserve praise in this category for their great displays of late, Blaise beats them out on the day. Was there a blade of grass he didn't touch? Constantly harassing the opposition, covering the defense well, and being a great link between attack and defense. Put in another great shift as the workhorse we need in the center of the park. Last, but certainly not least, what a strike for his first ever Serie A goal. A thing of beauty as it nestled into the bottom corner of the net and left the oppositions keeper utterly helpless. Every bit the player we purchased him to be.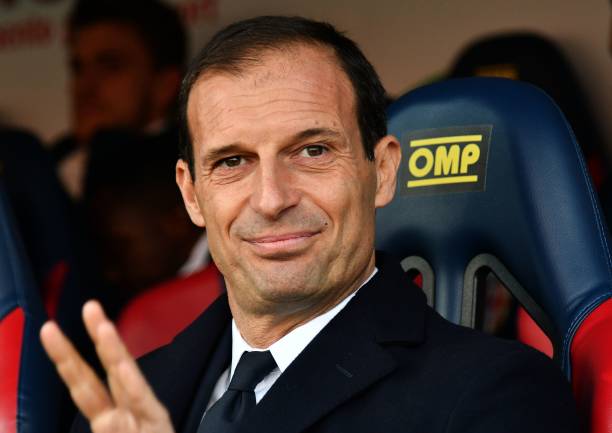 Manager Review: 6/10
TG: Mad Max gets the credit for another well prepared game plan. The high press really was too much for them to handle and he seems to be acclimating the team to the 4-3-3 well. I would give him a bit more praise, but even without our starters, this is a game we should have expected to dispatch with relative ease. Additionally, although we're starting to deploy the squad in a better shape with the personnel we have, and also regaining our defensive solidity and attacking verve, there is still a few things to be desired in the starting eleven. Marchisio should be starting above Khedira, just to name one. Good on him for subbing early today as well. Not bad, but not great.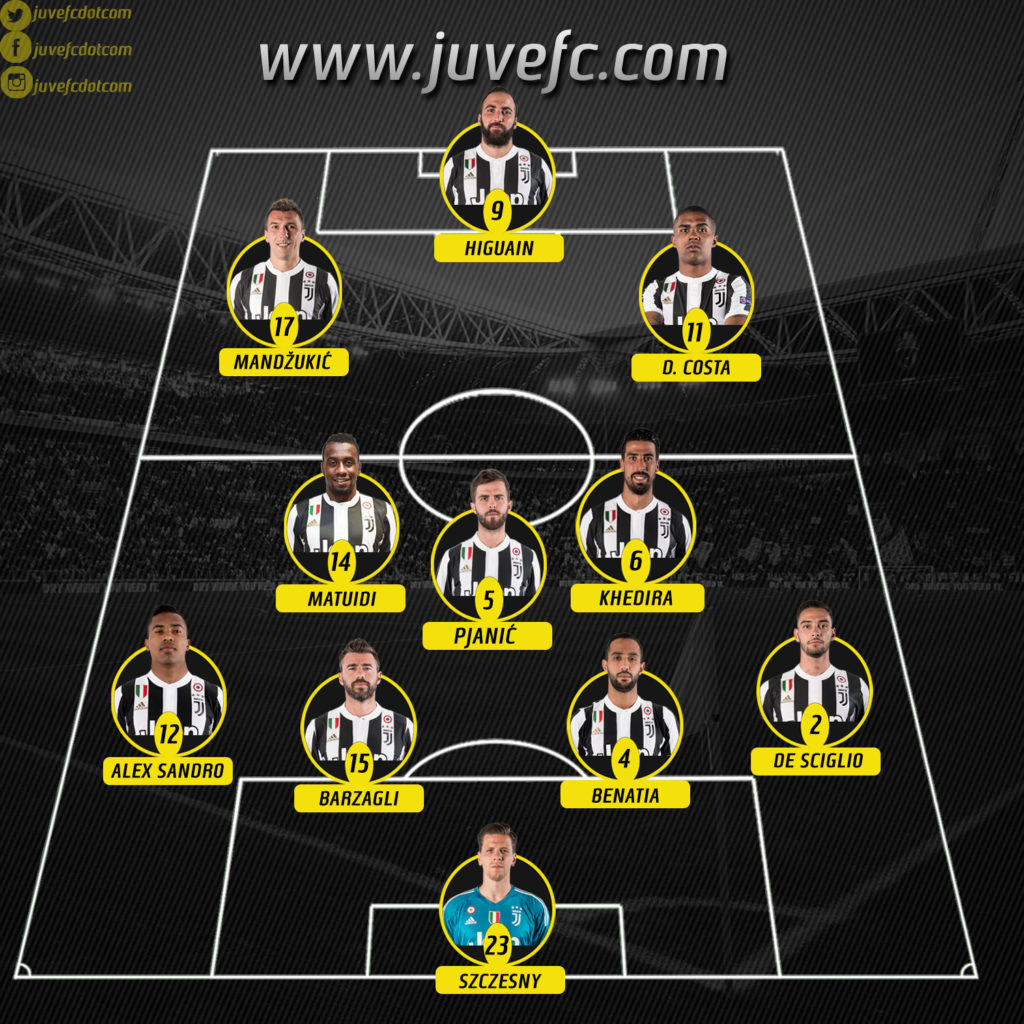 Formation/squad selection grade: 7/10
TG: We are starting to see much better displays utilizing the 4-3-3. We are much more stable at the back and it allows us to utilize the natural wingers we paid pretty pennies for over the summer. In this formation there are questions to be asked though. How does Dybala slot in? Will Mandzukic remain a starter on the wing, or will he be utilized more to rotate with Higuain? At least for the time being, I find it reasonable to stay the course, because if it's not broken, don't fix it, right?
Lineups:
Bologna: Mirante; Mbaye, Helander, Gonzalez, Masina; Poli, Pulgar, Donsah (Falletti 65); Verdi, Destro (Petkovic 53), Okwonkwo (Krejci 70)
Juventus: Szczesny; De Sciglio, Benatia, Barzagli, Alex Sandro; Khedira, Pjanic (Marchisio 86), Matuidi; Douglas Costa (Bernardeschi 70), Higuain, Mandzukic (Dybala 75)
Ref: Banti
Statistics:

Man of the Match: Miralem Pjanic


  Flop of the Match: N/A


  Corners: 7


  Pass Accuracy: 87%

  Shots on Target: 6

  Total Shots: 11

  Ball Possession: 59%


  Formation:  4-3-2-1