Cagliari v Juventus

Serie A Week 20 – Saturday, 6th January – 19:45 GMT – Sardegna Arena

---

Juventus
Mission accomplished for Juventus in Coppa Italia: despite a sleepy performance, they managed to get past Torino thanks to a stunning volley by Douglas Costa and a rather controversial score by Mario Mandzukic. The Granata created a couple of chances they should have probably capitalized on, but the Bianconeri got the clean sheet this time. Still, it was a little crazy to see them fire Sinisa Mihajlovic when the break is just around the corner, but that is none of our concern right now.
After dodging Roma thanks to the upset by Torino, the Old Lady will avoid Napoli as well as Atalanta defeated them fair and square at San Paolo. The Bergamaschi are proving to be very perilous in the cups so far, as shown by their good work in Europa League as well, so we will have to be very careful when we will take them on later this season.
Unfortunately, a couple of players got hurt on Wednesday: Claudio Marchisio had to be taken out because of a muscular ailment, while Stefano Sturaro got knocked on the knee. Il Principino will miss this game, while Sturaro is in the squad list. Gianluigi Buffon, Juan Cuadrado and Mattia De Sciglio will remain sidelined by their respective issues. They will probably all be up and running in two weeks, while the status of Benedikt Howedes is a little more uncertain. Miralem Pjanic played and did not look hindered at all, but he still has to be managed carefully because he has had frequent small hiccups from the muscular standpoint.
Massiliano Allegri has not shown his hand in the pre-game presser, so both tactics are in play. We can expect Medhi Benatia, Sami Khedira and Alex Sandro to return to the starting lineup compared to the midweek game. Giorgio Chiellini played on Wednesday played on Wednesday and I would not be shocked to see him rested Saturday night, but he is still the favourite to play, otherwise Andrea Barzagli would take his place. The veteran right back could also play on the right, but Stephan Lichsteiner is the frontrunner as of now. Some whispers indicated that Mario Mandzukic could be spared, but the coach said that he is fine and that, on the other hand, Douglas Costa was a little fatigued at the end of the Torino game because he is not that accustomed to playing full games this season. In any case, Federico Bernardeschi would start if the Croatian tank was out.
Marko Pjaca was officially loaned to Schalke 04 this week: he showed some promising signs when called upon, but unfortunately his stint has been so severely marred by those two big injuries, so we really still do not know what we have in him. It was a decently sizeable investment at that time, around €20M, but it pales in comparison to what we spent for Federico Bernardeschi and Douglas Costa. At this time, Juventus can not wait for anybody, so sending him elsewhere to play was a good idea as the competition is fierce in that role and also some potential minutes have been cut down by a more constant use of 4-3-3. I am still holding out hope he will turn into a big-time player and that he could earn himself a big role in the future. After all, you can never have enough talented players.
Probable lineup:
4-2-3-1: Szczesny; Lichtsteiner, Benatia, Chiellini, Alex Sandro; Khedira, Pjanic, Mandzukic; Dybala, Higuain, Mandzukic. 
Injured players:
Buffon (calf), Cuadrado (groin), De Sciglio (hamstring), Marchisio (hamstring), Howedes (hamstring). 
Suspended Players:

None.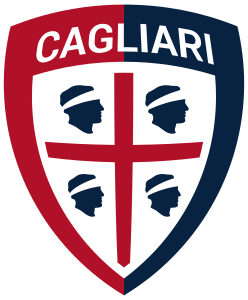 Cagliari
Cagliari have been up and down so far this season. They unusually dropped many points at home early against accessible opponents, but, after the coaching change, from Massimo Rastelli to the returning Diego Lopez, they have been able to muster enough victory to slightly pull away from the most dangerous zones of the table.
They could use a defender in January as their play back there has been very underwhelming, no matter what combination was on the pitch. Marco Andreolli has probably not been as good as they hoped he would be, Filippo Romagna needs to grow, but he is only 20, while Fabio Pisacane, Marco Capuano and Luca Ceppitelli are barely Serie A-quality players.
They deploy a 3-5-2 now to try to hide the defensive deficiencies, while they are decently productive upfront. Leonardo Pavoletti is not a world beater, but he is a nice centre-forward to have at this level, while Diego Farias and Joao Pedro are always moving around and doing stuff. Their wing game is improving, but still not particularly explosive.
Joao Pedro is serving the second match of his four game suspension for stomping on an opponent's foot, so Farias will start upfront. With Lopez at the helm, they have not been really able to use them together effectively, but that is a problem for a later time. Nicolò Barella missed the last game because of a sprained ankle, but he will be the squad list a probably starting this week. Daniele Dessena will be called up as well after missing time with a hamstring strain. Senna Miangue is suspended, so they will have one less option on the left. Anyway, Padoin is set to retun to the flank with Barella back and, in case of extreme necessity, also Gregory Van der Wiel, who has pretty much been a bust so far, can play on the left.
The other doubt is on goal: Alessio Cragno is the presumptive starter, but he has been in and out of the lineup because of a hamstring strain, so Rafael could get another start. Their four top defenders have rotated a lot as well.
They do not have many pacey players, but Diego Farias on his own is enough to have blazing fast counter-attacks and he is also their main playmaker offensively, so he will have to be held in check. Pavoletti is an old-fashioned centre-forward, whom they constantly feed with long ball and crosses, on which he tries to outmuscle the opponents. Marco Sau could be an interesting weapon off the bench as he has always had a penchant for scoring. Paolo Faragò has been a pleasant surprise in a new role on the right flank.
Juventus have had a great deal of success in Sardinia in the last few trips. In the first game of the season, the Old Lady defeated the Rossoblu three-nil with all their three top strikers scoring, but Farias missed a penalty that would have equalized the game in the first half.
Probable lineup:
3-5-2: Rafael; Pisacane, Andreolli, Romagna; Faragò, Ionita, Cigarini, Barella, Padoin; Farias, Pavoletti. 
Injured players:
None. 
Suspended Players:

Joao Pedro, Miangue.