Cesena 2-2 Juventus
Scorers – Djuric 17 (C), Morata 27 (J), Marchisio 33 (J), Brienza 70 (C)

---
Serie A – Week 23 [Sunday, 15th February – 19:45 GMT] – Stadio Dino Manuzzi
Sometimes we complain about Juve's dominance in Serie A. It's a valid complaint, as seen by last week's demolition of a once proud Milan side. Every now and then though, a result comes along that pokes a tiny hole in this complaint. Today, Cesena brought it to Juventus and, for at least 90 minutes, made us compete in a Serie A match again. As upsetting as a 2-2 draw is for Juventini, one has to give credit to a Cesena side that never gave up against the league leaders.
In fact, Cesena were the more dangerous team for the first fifteen minutes. Barring a near Pogba wondergoal – and a would be goal had Alvaro Morata not slipped on the artificial turf after Nicola Leali's failed catch of the ball – Cesena were the only team to come close to scoring in that run of play. Indeed, Gianluigi Buffon had to make three miraculous saves in this fifteen minute period. Three times Cesena started a dangerous counter attack through Juve's right side, and three times it ended up with shots on goal, saved by Buffon.
Then came the fourth counter attack. This time, Milan Djuric scored. Shockingly the counter attack started from Andrea Pirlo giving the ball away in Juve's half. From there, Cesena moved clinically. Djuric outpaced Stephan Lichtsteiner – who had a horribly day on the defensive side – and due to the abrupt nature of Pirlo's intercepted pass most of Juve's defense were out of position for this counter attack.
Juve's defense was pretty terrible today. Leonardo Bonucci and Stephan Lichtsteiner were especially bad, but the unit as a whole was just awful. Were it not for Buffon, Cesena could have scored four or five goals. Credit is also due to Cesena's attacking unit of Djuric, Gregoire Defrel, and Franco Brienza who were constantly harassing Juve's defense and making very smart passes and moving wisely to further their counter attacks.
Cesena led for about ten minutes, but even as they constantly created scoring chances Juve continued to attack. Indeed, while Juve's defense was bad, their attacking was relatively functional. In the 27th minute Pogba fed a beautiful cross to Alvaro Morata. Morata headed the ball in and equalized for Juve.
Five minutes later Juventus took the lead. A Morata pass into the box was deflected into the air, and Claudio Marchisio recovered it at the end. Marchisio, in his 200th appearance for Juventus, was right in front of goal and he poked the ball in for Juve's go ahead goal.
It seemed here that Cesena would break. Juventus have a habit of breaking the will to fight of most Serie A teams, especially once they take the lead. Today this would not be the case. Cesena withdrew for a bit as the first half continued but they were still pretty dangerous. Djuric even caught Lichtsteiner in a bind in the 40th minute, and Lichtsteiner was given a yellow for pulling on Djuric's shirt.
The 2nd half continued the back and forth of attacking between the sides. In the 47th minute, Morata returned the favor from his goal and found Pogba in the box in space. Unfortunately Pogba slipped on the artificial turf – a common occurrence for the Juve players today -and the opportunity was wasted. Pogba would recover and get the ball, but he was immediately closed down by two defenders.
As aforementioned, Cesena would not give up. Even when they did not get the calls from the ref that they wanted, they continued to fight and mercilessly counterattack Juventus. Their counter attacks continued to build in danger as the 2nd half went on and in the 70th minute they shockingly equalized.
Djuric headed a cross towards Brienza, who was making on run towards the edge of the box. Brienza, completely open, pummeled the chance and the game was tied. Moments later, Cesena scored a moral victory of sorts when Constantin Nica beat Pogba in a one on one outside of Juve's box. Pogba fouled Nica after he was beaten, which was a good idea given that Nica would have been free into Juve's box. Pogba was then taken off for Roberto Pereyra.
The last big moment in the match came in the 79th minute when Juve were awarded a penalty. Fernando Llorente was fouled as he attempted a bicycle kick, but Domenico Di Carlo was upset that the ref had missed an earlier Juventus foul, and he ended up being sent off for protesting this penalty kick. It seemed that Juventus would finally put down the stubborn challengers from Cesena. After all, Arturo Vidal was about to take the penalty kick.
Then Vidal took the kick. His effort had the right amount of power, but it sailed wide left and Cesena were given a reprieve. From there, the game was destined to end in a draw. Even after Kingsley Coman and Simone Pepe came on for Juventus, they weren't able to change anything. Coman barely got in a touch, and when he did he was dispossessed.
It was an unpleasant evening for Juventus. With Roma having drawn earlier in the day though, it's ultimately a moot point. Juve are still seven points ahead of Roma on the table, and Atalanta come to Juventus Stadium for the next Serie A match. Then comes the big Champions League game versus Borussia Dortmund.
---
 Statistics:

Man of the Match: Alvaro Morata


  Flop of the Match: Andrea Pirlo


  Fouls: 18


  Corners: 3


  Pass Accuracy: 82%

  Shots on Target: 4

  Total Shots: 15

  Ball Possession: 62%


  Formation:  4-3-1-2

---
Formation: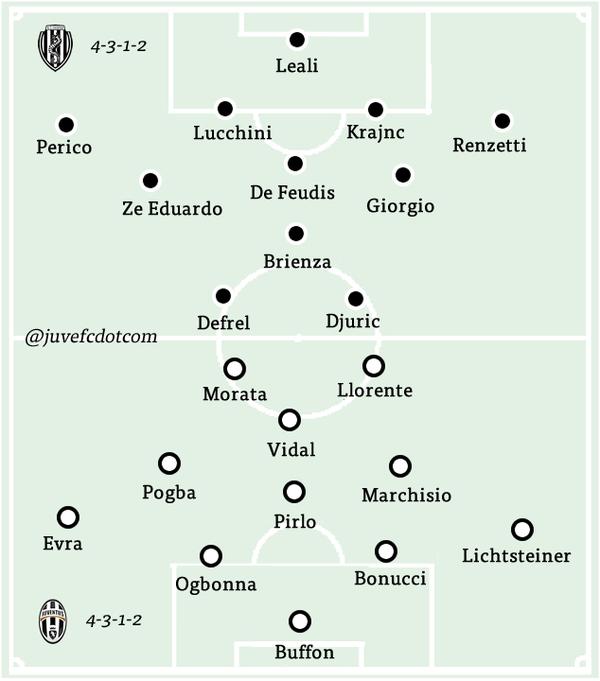 ---
Lineups:
Cesena: Leali; Perico (Nica 60), Lucchini, Krajnc, Renzetti; Ze Eduardo, De Feudis, Giorgi (Carbonero 83); Brienza; Defrel, Djuric (Rodriguez 83)
Juventus: Buffon; Lichtsteiner, Bonucci, Ogbonna, Evra; Pogba (Pereyra 74), Pirlo, Marchisio; Vidal (Coman 88); Llorente (Pepe 88), Morata
Ref: Russo
Missed penalty: Vidal 82 (J)


---
Video Highlights:
---
Poll:
[socialpoll id="2253166″]
---