Chievo 2-3 Juventus

Scorers: Khedira 3 (J), Stepinski 38 (C), Giaccherini pen 55 (C), Bani og 76 (J), Bernardeschi 93 (J)

---
Cristiano Ronaldo made his Juventus debut as the Bianconeri overturned a 2-1 deficit to emerge 3-2 victors against a resilient Chievo side.

I have to admit, I watched this game feeling slightly hollow and devoid of the same emotion that would accompany a Serie A curtain raiser involving Juventus. There were the obvious and notable absentees, the ones we all knew would be ending their Juve careers at the start of the summer and to a certain extent, I was prepared for a first match without Stephan Lichtsteiner and in particular, Gigi Buffon. I'd seen both players feature for their new clubs and taken the opportunity to reflect on all they had bought Juve with a firm hope that we might see them back one day to feature back of house or perhaps in some other capacity. It was the absence of Claudio Marchisio that really hit hardest.
Speaking ahead of the game, Beppe Marotta offered a brief take on why Claudio had left the club and what had driven his decision:
"It would've been more difficult for him to get playing time than in recent years, it was only fair that we make that clear to him and he preferred to find another destination. I don't know where he's going next and I don't think he does either."
It was the last part of that sentence that really hit home. Whatever his injury woes over the years, Marchisio still offered Juventus plenty outside of the pitch. He was a loyal and devoted servant to the club of his heart and frankly, he deserved better. I fully understand that change in football is constant, players can't spend their entire careers at one club anymore, and if the Bianconeri are to challenge the elite clubs, they need to be all the more ruthless. But whats the cost? Of course, I'm not advocating keeping a player on the books purely because for sentiment or loyalty, but if you look back at the match yesterday with the benefit of hindsight, it's exactly the kind of game where we would have benefited from a player like I Principino.
I digress and while the focus of this post was more to look at the victory against Chievo, it's hard not to think about the players who helped get us to this point. The same emotional bond that i felt for Marchisio is built on the same sentiments and emotions that bought me to Juventus in the first place. Poised for another great season, ready to make the Champions League a reality, all built on the hard fought victories and sacrifices from those that came before, like I Principino who gave us 25 years. Grazie Claudio, sempre uno di noi.
Biggest winner/biggest loser:
The collective came good today and while there's still plenty of room for improvement, the result never looked in doubt, even late in the match. Granted, Juve had to work harder than they would have liked to get the three points, but a match like this is sometimes a nice introduction to the Serie A campaign, especially for the new players who have yet to experience Italian football. A tough induction for Cristiano Ronaldo who took it all in his stride, perhaps learning more from playing a side like Chievo than he would of in an opening fixture against say Milan, Roma or even Atalanta – The league and can be won and lost in the provinces and while on paper, the 'smaller' sides may not be able to match Juve for talent, they can make it plenty difficult to come away with three points. The biggest winner was the team as a whole. The starting XI played really well together, particularly the left flank where Douglas Costa, Alex Sandro and Ronaldo managed to seamlessly overlap, showing a good understanding of one another. A good result and a valuable win in tough conditions. It'd be harsh and a little unfair to call Chievo the biggest losers given their plucky display and the fine work they put in, particularly down the flanks – They deserve some praise for pushing Juve all the way to the end.
Takeaways from the performance/areas of improvement:
Defence ! On too many occasions last season, we looked absolutely in control and cruising to a victory before momentary lapses in concentration or poor decision making cost us dearly. Allegri has reiterated it time and again in post-match interviews, highlighting the need to stay utterly focused for the entire 90 minutes. Thankfully it didn't cost us today, but Leonardo Bonucci needs to step back up to Juve levels of performance as he was caught ball watching for the Chievo equaliser and mistakes like that won't be tolerated in the Champions League. Joao Cancelo was exceptional when in the final third of the pitch, but his poorly timed tackle was rash and he needs to work on the defensive side of his game.
On the right, Juan Cuadrado looked a little aimless, his crossing not at its best and his finishing leaving a lot to be desired. Sami Khedira, despite opening the scoring, really looked low on energy in the centre of the pitch, the one area where we need to be playing better, faster, and two steps faster than our opponents. On too many occasions, he slowed things down to a walk when Juve were in good positions and could have capitalised from a more forward thinking, high-energy midfielder.
Paulo Dybala stepped things up late in the game, but until that point, he was anonymous for large periods of the match. Granted, he was playing in a slightly more withdrawn position and was closely marked by the Radovanovic and the Chievo backline, but he needs to impose himself more on games and be less of a passenger. He's suffered periods where he's been all too passive, allowing the game to continue around him without playing a role – We need to see him step up more.
Injury updates:
Leonardo Spinzzola is the only long-term absentee having undergone surgery in May for a lesion to the anterior cruciate ligament. The typical recovery time is around 4-6 months so we should hope to see him back in the team around September or October. Medhi Benatia and Mattia De Sciglio both have muscle strain but both should be back in the squad shortly.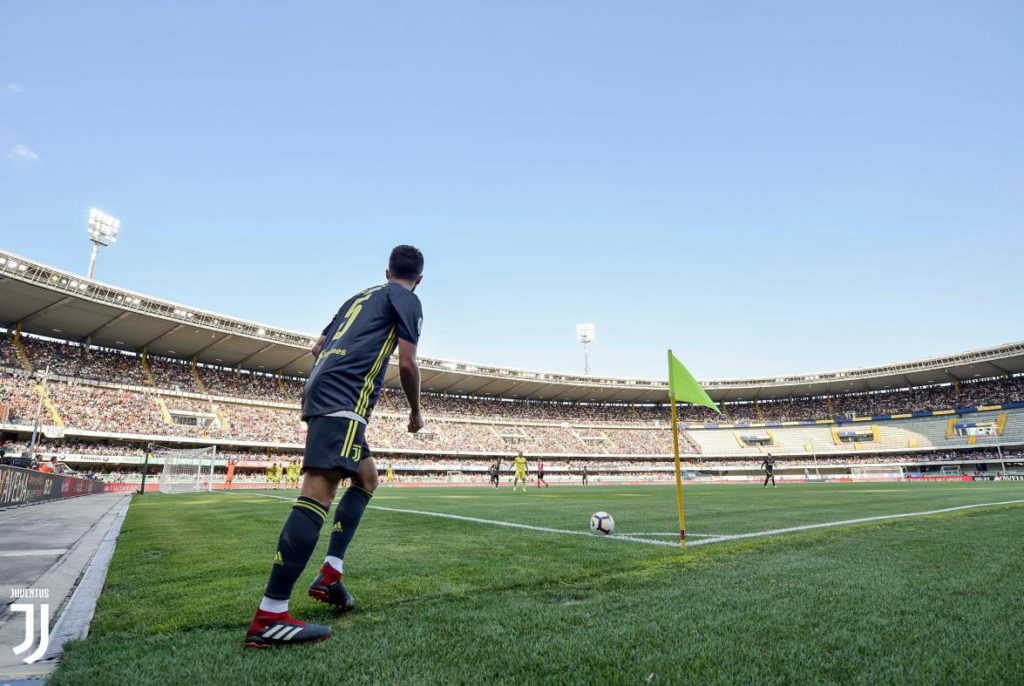 Statistics:

Man of the Match: Bernardeschi/Ronaldo


  Flop of the Match: N/A


  Corners: 8


  Pass Accuracy: 91%

  Shots on Target: 10

  Total Shots: 26

  Ball Possession: 43%


  Formation:  4-2-3-1
Opposition:
Chievo deserve praise for testing Juve as much as they did and while they weren't able to hold out for the draw, they did what they do best against the bigger sides: Pull men back, frustrate and harry their opponents while staying (relatively) well organised at the back. Juve hogged the possession, kept the ball well, kept pressing and attacking late into the game, and ultimately, that made the difference as the home side looked utterly exhausted by the 80th minute. Ex-Juve man Emanuele Giaccherini looks like an astute purchase for the Gialloblu and provided a great outlet down the left while Fabio Depaoli had some nice touches and linked up well with Mariusz Stepinski. Chievo can and should take heart from this kind of display as they'll need this kind of fight and grinta to avoid slipping into another relegation battle this season.
Outlook for next fixture:
We ground out the win in typical Juve fashion, making it far more difficult than it should have been by switching off in key moments despite dominating the match. Allegri made the right substitutions at the right times so key players should be well rested ahead of the visit from Lazio next weekend. It's inevitably going to take some time for the team to fully gel together and understand each others patterns and styles, but getting the three points was paramount and the momentum from a strong opening display should carry into the next match.
For their part, Lazio looked very promising in the opening half of 2-1 defeat to Lazio. They controlled the tempo well and opened the scoring after a defensive mix up by the visitors. As the game went on, they became spectators, all to content to cede possession to the Partenopei, allowing them to click through the gears and create chances at will. A final late flurry wasn't enough to snatch a point and while Juve may need to take their performance up a notch, especially at the back, they should have enough to get a win over the Biancocelesti next weekend.
Best new signing on the field:
It's really hard to look elsewhere; Cristiano Ronaldo was superb. The statistics will say one thing but his performance on the pitch tells another story altogether. His linkup with Dybala, the clever and creative play to bring his teammates into the attack, creating space in the box to beat 3 defenders and fashion a chance for himself, testing Sorrentino from range on a handful of occasions – All of it was a joy to watch, pure entertainment that fed into the larger spectacle of a roller-coaster opener to the new Serie A campaign. There was an inevitable air of excitement around his debut and while he lacked a goal for his efforts, Ron delivered on all other fronts, undergoing a true trial by fire in the most archetypal of Serie A matches: A tough, dogged opponent, all too content to sit back with bodies behind the ball in an attempt to frustrate the visiting champions. Welcome to Serie A Cristiano, it can be like this sometimes.
Match Highlights:
Manager Review: 7/10
It's hard to fault the Mister in his opening game, especially as he's had little time to prepare the team properly. Half the squad was on World Cup duty and returned late to Turin while the other half was in the US playing in the ICC, so there's been very little time to play any games with a first choice XI. It seems Bonucci will inevitably slot back into the back line alongside big Giorgio with Cancelo and Sandro the first choice full-backs for the moment. Allegri keeps reiterating the importance of Sami Khedira in the XI and went so far as to vehemently defend the midfielder from the criticism he's received of late:
"Khedira is a player beyond reproach. He scored nine goals last season, immediately got one today. I heard a lot of criticism since he's been at Juventus and he always replied on the pitch. He's one of those players who understands the tempo of the game and you miss him when he's not there."
While i can understand the reasons for his inclusion, there were at least two occasions when we had the chance to hit Chievo on the counter and Khedira's first inclination was to pass the ball backwards in order to hold onto possession. Sami has moments of brilliance in him as we saw with the opening goal as well as in some of his fine displays last season, however he lacks consistency at times and and his legs seem to give out by the time we hit the 60-70 minute mark. He looks leggy and weary and just doesn't have the pace that we need at times, especially in this new look Juve where pace and acceleration is so abundant in the other players. My hope is that Allegri opts to use Emre Can a little more in the months ahead so we can see if he can bring some more energy to the midfield.
The rest of the set-up looked fine and worked almost as expected and the impact substitution of Bernardeschi helped turned the game around. A display like that to go alongside his strong performances last season should really be enough to warrant his inclusion in the XI over Juan Cuadrado.
Using Ronaldo as a '9' seems to be the game plan for Allegri and it's easy to see the reasons why, especially based on this performance. We'll inevitably get more out of the 33-year-old by limiting the amount of time he needs to spend running down the channels, especially when we already have Douglas Costa available, another player who put in a great shift.
The Mister balanced it all pretty well today, shuffling his deck, handing the new players an important debut and using the new star signing in the best possible way.
Formation/squad selection grade: 8/10
It was hard to fault the setup which seemed to alternate between a flat 4-4-2 and a 4-2-3-1. As Allegri has mentioned in previous seasons, the formation matters little as the numbers used don't always accurately reflect what the players are doing on the pitch. Everything felt fluid, less rigid, less constrained, less formulaic – The full-backs pushed up and pressed high, Pjanic dropped deep to collect the ball, Ronaldo drifted from the centre to the left and back again. The overwhelming feeling is that this is a team that can play almost any formation as the positions between certain players can be interchangeable as we look to attack more and defend less.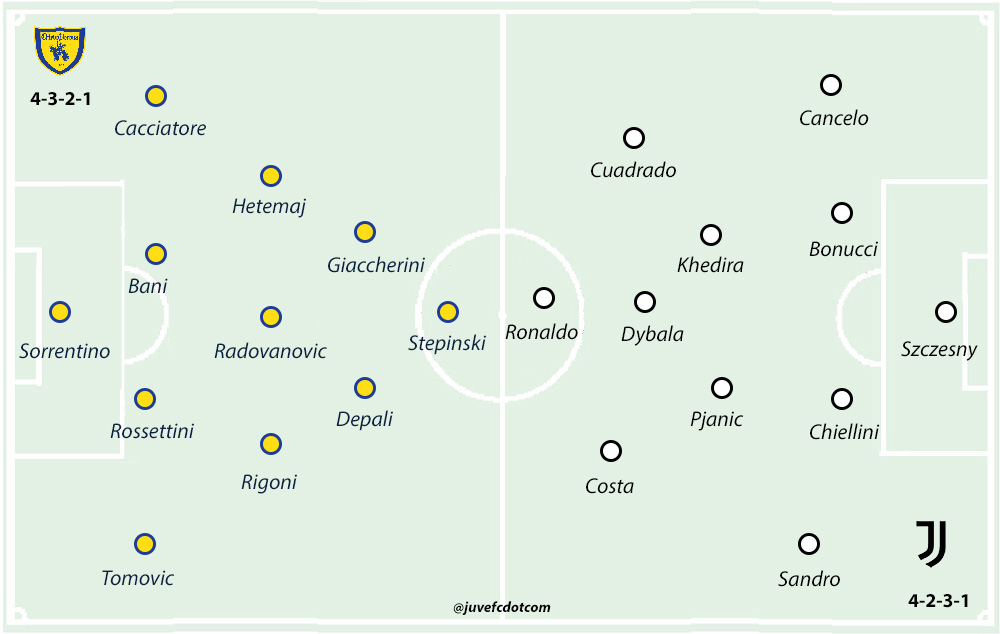 Lineups:
Chievo: Sorrentino (Seculin 91); Tomovic, Rossettini, Bani, Cacciatore; N Rigoni, Radovanovic, Hetemaj (Obi 77); Depaoli, Stepinski (Djordjevic 66), Giaccherini
Juventus: Szczesny; Cancelo, Bonucci, Chiellini, Alex Sandro; Pjanic, Khedira (Can 84); Cuadrado (Bernardeschi 56), Dybala, Douglas Costa (Mandzukic 63); Cristiano Ronaldo
Ref: Pasqua
[Image from Juventus.com]