With the focus presently very much on potential new recruits, I feel it is worthwhile to consider those who might be offered a handshake, gratitude for their service in black and white and sent yonder.
As we season upon season try to improve the squad, the recruitment routine takes on ever more pivotal importance. We have returned to steady domestic dominance and assuredly reaffirmed our position as one of the top sides in Europe. Allegri changed the system earlier this year, with the aim of getting the very best out of the squad, or simply improving our fortunes. This was achieved, yet there is a down-side for some players, as positions have changed on the field. Whilst some can adjust commendably, such as Mandzukic, others have fared less comfortably. If we are to continue with the 4-2-3-1, which I believe to be the case, we must bring in specialist assets for each position within that formation.
The first two players on the list fall into this category of failing to adjust to opportunities in the 4-2-3-1.
Mario Lemina
I have never been impressed with the Gabonese. There sometimes appears a good player hidden away who shows himself in brief spurts, but his general output has been abject. Perhaps he could have been a box to box midfielder? Or an attacking midfielder through the middle? Regardless of the whatifs the player has failed miserably to find any form in the RM offerings presented. He will certainly be leaving. With his value likely around the 10-15m mark. Which is based more on his age and form in France prior to his move to Turin, than on what he has achieved since. I will be happy to see him leave the club.
Stefano Sturaro
Such a shame that injuries have curtailed his juve career so horridly the last year or so. For I have always enjoyed his tenacity, and found him one of few natural box to box midfielders in the ranks. He would die for the cause, but his attempts to replicate Mandzukic or Pjaca on the left have proven consistently low quality. With his name in the pecking order for the 2 CM spots below Pjanic, Khedira, Marchiso and Rincon, the italian really must be considering leaving the club, in order to find regular football. As with all players of a good age with any experience for the national side, this season leads up the World Cup which may well play into his thoughts when deciding upon his club for next season. If he is to leave I would hope we retained an option. Expected value 10-15m.
Neto
A dependable understudy to Santo Buffon who it appears has decided to seek first team football elsewhere, perhaps in Italy. I cannot fault his ambition, as the real champions wish to earn titles on the field, not from the bench. Expected value 7-12m.
Stephan Lichsteiner
Whilst some will note that he actually signed a contract extension earlier this year, our steady pursuit of De Sciglio and the continued presence of Alves combines to suggest that the Swiss Locomotive might seek an exit. Alves is playing as a RW because Max has concluded he is superior to Cuadrado against the stronger sides. I generally agree with this thinking, but Alves is not a RW. Better than our other option there, but not a natural fit. If we are to sign a natural winger or wing forward, and with Pjaca to come back into the side, there is less space for Alves or Cuadrado, so I assume Dani will revert to RB, perhaps sharing the role with the Swiss. The mathematics are against all three staying, especially if we sign De Sciglio or another fullback alongside a powerful RW such as Costa. Expected Value – Released on a free due to long, solid service.
Asamoah
This apparent hunt for a natural fullback also casts light on the Ghanaian, who has performed well enough this last season after returning from injury, yet may be deemed surplus to requirements as we look to improve the overall quality of the squad. Add to this the potential of Spinazzola returning to the ranks who can play in the exact same positions on the left. Expected Value 5-10m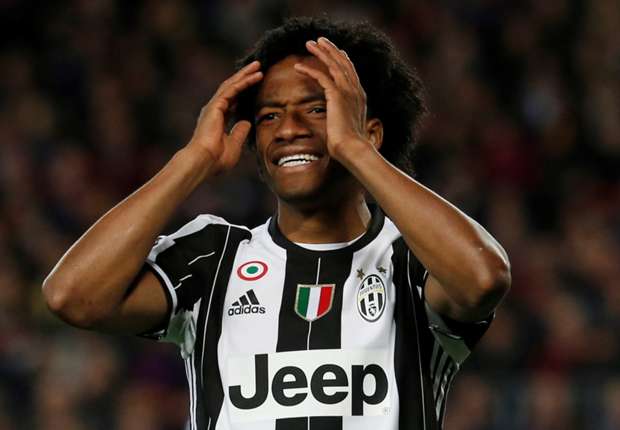 Juan Cuadrado
It won't happen, but I wouldn't mind if it did! We have enough to win the league, certainly not at a canter, but through losing to our main rivals through the campaign and taking the title for the points we picked up against the weaker sides. Juan is super in the latter, for his pace and random trickery helps to break down gritty, competent opponents when they dig in. Unfortunately, Juan's mentality is ver fragile indeed. He has improved since the turn of the year, but his lack of mental fortitude has reared its ugly head again of late. He needs to be happy to perform, more-so than others in the squad who are able to focus, always, on their game. As mentioned earlier…we are seeking to improve the quality on our flanks. Part of this is a direct indictment of Cuadrado's failings. Fine to keep as a squad player, yet by my reckoning he is dispensable. Expected value 15-20m
Tomas Rincon
The gritty Venezuelan captain was brought in during the January injury crisis and has proven industrious if little else. Tough and accomplished when called upon, I cannot see what match winning value he brings to the side and he will be nowhere near a starting berth for the coming season. Can we afford to have anyone in the squad who is simply reliable, no frills, adds little but industry to the side when appearing? I believe not. We need players capable of making a difference. Expected value 5-12m
Rolando Mandragora
The elegant DM cum regista has enjoyed a fine Under 20 World Cup and made an impressive debut for the club late last season. Fully recovered from his injury woes, he is the one youngster in our ranks who seems physically ready to blossom at a high level. However, as is long overdue, the club are clearly looking to invest in a player comfortable at the base of midfield, able to dictate the tempo, put his foot on the ball, pick out passes and keep the defence screened. This is exactly the skill-set of Rolando, yet we are focused on Nzonzi and also Paredes. Four players for two CM positions is the minimum. Five will leave one barely featuring. With Marchisio, Pjanic and Khedira ahead of him and potentially Nzonzi, it seems likely that the youngster will head out on loan. In saying this, I would be most pleased to see him stay, as I have serious faith in his potential. It might come down to a straight battle between the italian and the soon to arrive Bentancur. Both occupy similar positions, though the Uruguayan would take up one of our prized non-EU spots, which could affect our plans for more established players
Paulo De Ceglie
The long forgotten fullback, probably the worst player I have ever seen in our colours, is finally to leave the club. Given a shirt number last season solely because he satisfied one of the Home Grown spots and nobody else wanted him, his contract is up at the end of June. A determined lad, who reminds me of Damien from The Omen, yet as a footballer, he is appalling. Good riddance.
Mattiello, Audero, Kean and Clemenza all need first team football, which none of them will receive if they stay at Juve. Yet we must consider the Home Grown (at the club) rule. Four must be included in the squad. We also must include four players who grew in Italy, elsewhere or at the club.
This past campaign the four HG in house were-
Audero, Mattiello, Marchiso and De Ceglie.
Rugani might be considered as HG also…depends on the time he spent away on loan when we owned him. I suspect he was not eligible as he was not officially at the club for the required period of three years between the ages of 15 and 21. It is this HG rule which might well lead to one of those mentioned remaining. We can register another from the primavera, just to make up the numbers.
(NB we can go with fewer, but UEFA then restrict the squad size for european competition.)
The question is…are we then holding back a player's development? They will be training with world class talent, which certainly has its merits, but if they barely feature, if at all, I believe their progress is more stunted than nourished.
That is a tough task for Beppe, Fabio and Max to confront.
I should probably mention Big Leo. In whom there is yet again undeniable interest, primarily from the premier league. Yet likely also from beyond.
Bonucci enjoyed another powerful campaign. He remains one of the finest ball playing CBs on the planet and given he is relatively young for a player of such high calibre in that role, demands for his services come from the very top. Chelsea and Man City have both sounded out the club. 50m+ seems a lot, and we have Rugani as well as other classy CBs, yet none of them are as useful on the ball. That could be mitigated by having a player like Nzonzi who can perform the same duties a little higher up the field, yet still with defensive value. However, we have no need to sell any of our prized assets, and solely if the player himself decides to embark on a new challenge, sample a new culture will any offers be countenanced.
There will be plenty of movement in the youth sector with rumours already flying around like a locust plague. I will update on happenings in that realm in due course.
The key areas I feel the first team squad needs to improve are DM, LW, RW. The club seems to agree. Schick provides possibly apprentice value for not just Higuain but also Dybala. A LW would mean Mandzukic returns to back-up Higuain. Other than which, I would be happy to see De Sciglio appear and one of Asamoah, Lichsteiner or Alves to depart. And then there is Neto…Whom to replace and groom to step into the first XI when Santo Buffon hangs up his gloves, we appear to be moving for Szczesny. My own opinion on this story is…
After reading a fair amount of the player whose name is damn hard to spell let alone say, I am surprised by the change in his humility and self awareness. He speaks like a different man entirely to the sometimes reckless keeper from North London. Well aware of his lack of progress during his time for the Gunners and matured, grounded and clearly good enough to claim a starting role in the first XI of a Roma side who have finished 3rd then 2nd during his time at the club.
Then onto his highlights, and it all combines to make this signing, if it happens, a welcome move. A decent price for a very experienced keeper, who is at a good age, has grown up, improved his mentality – which was lacking in England – who has held down a place at a decent club playing at close to the top level. Considering we must assume that Neto wants out, we could do a lot worse than (copy and paste!) Szczesny.
Some of his play reminds me of the Great Dane, as he loves to spread himself star like wide and makes plenty of saves from close range whilst commanding his box with far more composure than I remember from his PL antics.
We are not able to sign Buffon V2. He does not exist. And whilst Santo Buffon continues between the sticks, we are not able or willing to pay the huge sums required for the only keepers who might be near his standard…De Gea for example. So it makes sense to bring in Szczesny, as a number two. Not Buffon elect. And to see how he fares, when given the chances, see how he beds into the group, see if he can take the maturity displayed in Rome, and continue to build on that, as he has stated he wishes to.
At first this seemed horrible, but my mind was stuck in 2014 and before…
If that boisterous character of his has truly blossomed to include some steel, I sincerely believe that the Pole could surprise a few people.
That pretty much covers the main possible and probable departures, with brief mutterings of who might be appearing in their places to be forthcoming soon.
As has been the case for many moons, I continue to place my trust in the club.
forza juve
TGP
(Follow me on twitter here)