I've just had to watch the highlights to seek out anything I may have missed from the match from the first viewing. Hardly to relive the glory, although of course the one piece of quality in the final third from either side which decided the match once again warmed my heart and conjured a smile to my haggard countenance. But no, I was hoping for a few positive moments to draw upon, which I may have missed. Which were not to be found.
The double double has been achieved, and the performance which dragged us over the line is less important than the result it earned. I doff my Panama to Allegri and the club as a whole, raise my glass of russian firewater in their honour and then I must revert to type…
Unfortunately this was not the spectacle we had hoped for. Milan made all the running, dominated large swathes of the game and were it not for their absence of quality in the final third, would have won the game handsomely and dare I say deservedly.
Player Ratings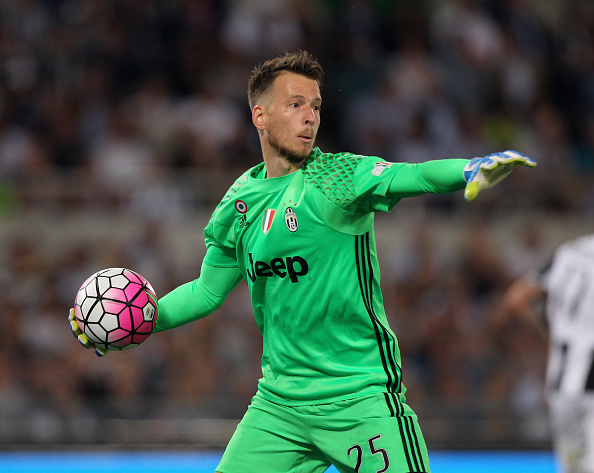 Neto
By far the busier of the keepers, the under-used Brazilian made one superb save low down to his right when moving to the left. Other than which played his part in the siege which ebbed and flowed towards his goal throughout the first 90 minutes. 7
Barzagli
Over-worked and unable to impose himself on his opponents yet stood firm enough in the final reckoning. 7
Chiellini
By far our most bullish element in the rear-guard yet his lack of matches of late showed in his distribution on several occasions, thankfully none of which put us in serious trouble 6.5
Rugani
Vital experience in the development of the youngster, surely his toughest game in our colours to date. I see new aspects of his game slowly appearing, such as tactical fouls and knowing when to take the ball out of defence at his feet. To suffer is to learn, and he will have taken great value from surviving such an lively encounter relatively unscathed. 6.5
Lichsteiner
Not helped by a very poor defensive showing by Lemina for much of the game, Stephan laboured diligently as always, found a half chance up top and otherwise was kept very busy indeed by Bonaventura and Poli. The absence of assistance from midfield caused plenty of problems for the Swiss Locomotive. Average, or even poor by his own high standards, yet mitigating circumstances were at play. 6
Evra
Made one crunching sliding challenge in the first half, yet struggled to forge any meaningful support higher up the field. As with Lichsteiner on the opposite flank, he was often over-run as the overlapping midfielders and fullbacks were constantly thrown down the wing towards and through him. With Pogba out of sorts and constantly surrounded and mauled the frenchman was often left with no option but to cede possession.  6
Lemina
I am still working out what kind of player he is, where his strengths lie and I am beginning to conclude that he is at his best when nicking the ball deep and charging forward, as he did on several occasions, one of which led to the goal. However, his defensive play and positioning, eagerness to place himself in an area where he can launch the attack is not at all in line with the box to box demands of the CMR role in our 3-5-2. At times – especially in the first half – we seemed to have only 2 central midfielders on the field. Which is one of the major reasons why we were constantly pinned back in our own half. Lichsteiner has no natural chemistry with the Gabonese and was offered little support against a side very much focusing their attacks down the flanks. He needs to play further forward. Perhaps as a trequartista? His passing is top drawer and the lad can dribble and shoot. Yes yes! He was integral in the winning goal, yet far too unable to impose himself on the midfield to be commended for this performance. Admittedly, he is far from match sharp and has played very little football this year. Sturaro would have been a better choice I believe for this match. 6
Hernanes
Hard working and constantly trying to make something happen, yet with all options ahead of him constantly closed down, he found more failure than success. Some will likely be more harsh than myself, yet for me, in such a game where we are on the back-foot for long periods, the very least I demand to see of the central midfielders is presence, involvement and effort. All of which Hernanes displayed. Like many others, he was at best average. 6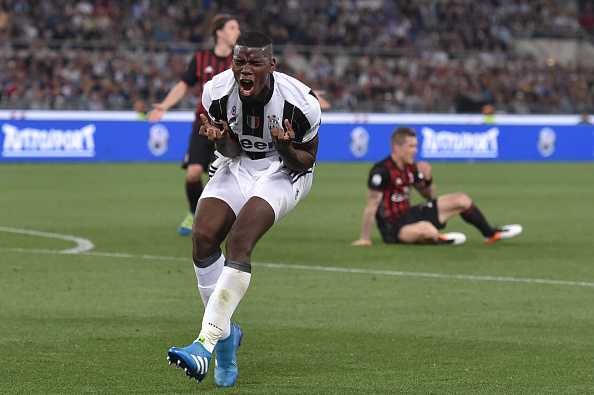 Pogba
Should have had a penalty, which seemed to throw him off his game thereafter. Unlucky with a couple of passes into the box, though his lack of maturity was in effect more often than flashes of his sublime power and talent. Constantly fouled by Fucka. Offered very little protection by the ref. And found reverting to attempting to overplay when a simple pass may have been more useful, yet pass to who? Irritated and losing his head at times, he will be happy with the trophy, but not with his own efforts on the field. 6.5
Dybala
Well marshalled and whilst he constantly looked for space and the ball, he never found the two combined in positions where he could damage the opponents. 6
Mandzukic
Toiled and yet achieved very little. His lack of pace and support caused the Milanese defence little trauma, his sole effort of note more of a cross than a shot. 6
Sandro
Finally the game began to change when the flying wingback entered the fray. Pogba appeared to calm and find focus, inroads were made higher up the field and the Fucka/Honda axis lost its dominance. He will be starting next season surely in the first XI. As we are always a better side with him on the field. 7
Cuadrado
His cameo offered an overview of his season. For his clever and well executed pass for Morata to smash home for victory was top drawer, after which he became muddled and messy in our rear-guard action, lost positional discipline and could easily have handed a better side a direct route to goal. Its that inconsistency which has bothered me since his first game in our colours. Against Milan his errors went unpunished, though against stronger foes, he could have cost us dearly. When we are 1-0 up in extra time I would expect to see greater not lesser focus and concentration. Appreciate his efforts and he has played his part in our success, yet I will not be sad to see him leave. Wondrous pace and 5 times out of 10 he will produce an intelligent pass into the danger area when finding a good position. Still…not good enough for the top level. 6.5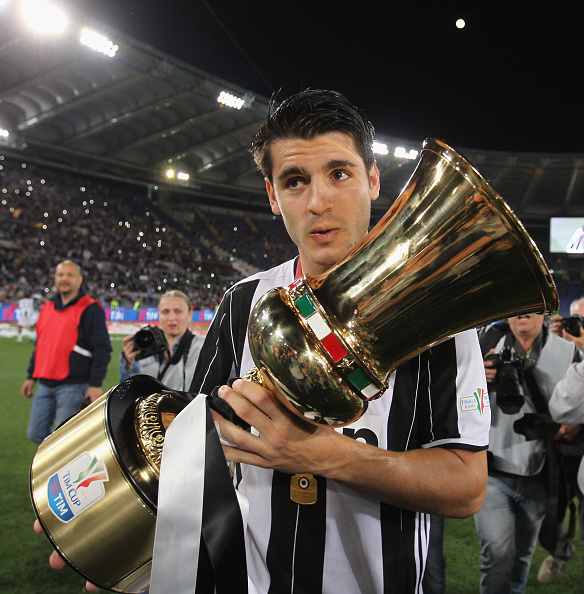 Morata
It had to be the Spaniard. Why he wasn't introduced earlier is now of no consequence, for with what may have been his first touch, Alvaro clinically despatched the winner with superb technique. It is no surprise to learn that his resurgence of late has come from his heart finding home in the bosom of a new lover. With his form up until that point rather haphazard, perhaps due to the split last Summer with his former flame. An emotional chap, whose romantic zeal I can hugely relate to, for I am not just a happier man when in love, I am a better man. Other than which I am prone to the dissolute, to darkness, to seeing the worst of the world more easily than the best. I am convinced he is departing, yet believe the club will offer up to 25m to keep him. Which could be enough. The suggestion of the player's will holding zero weight in any prospective move is too strange a thing for me to accept. If he goes, it will be his decision. 8
Brocchi set up his side to fight. To hustle. To rile. To push from the first whistle to the last. His club must take pride from their magnificent effort, for they flew from the traps like dogs of war and were very unlucky not to find the luck or quality required to turn their dominance into goals. I was very impressed with De Sciglio, who I am now ever more eager for us to sign in the Summer. He was not just solid at the back but a serious threat going forward. Zapata was monstrous. And their midfield owned the central channels, blocked out all runs through the middle other than Lemina late on, supported the attack brilliantly and were a joy to behold! Other than Pogba's menacing shadow, Fucka…The slovakian was horrid. A spiteful brute who can also play.
Poli was also in fine fettle. Delicate on the ball and able to find great positions in the box. Another worth a mention is Montolivo, whose form seems encouraging going into the EUROs with Verratti out injured.
I kept thinking throughout the match that we needed something to happen to light the fire, a tackle, a chance, anything to spark us into life. Yet it never happened. We only appeared stronger when Milan began to tire. Even after the goal we were a listing ship and could easily have thrown the victory away with a series of schoolboy errors in defence and out wide. Mauri's shot at the death was mere centimetres wide.
Pogba needs to learn calmness in the face of adversity. The more he succeeds the more he will be targeted with however far the laws of the game can be stretched to thwart his progress. We were very much relying on his zeal, which was only provided in brief glimpses. If he is to achieve his dreams, he must accept the rough with the smooth. He can be the world's best and has plenty of time to further develop, hopefully in Turin, yet he is not ready to take on the responsibility his talent and ambition crave.
Hardly any player in black and white came out of the skirmish able to hold their head high and say they gave their all. Which would be more of a concern had we lost. It is fair to factor into the appraisal of such a debacle the absence of competitive fixtures for more than a month. However, this can not be allowed to be an excuse in future. For a fine example of a true juventino, we can peek at the reactions of Beppe and Pavel when in the dying seconds Mauri went within a whisker of taking us to penalties. Beppe, never a player but supreme in his own rights as Transfer Chief was immensely animated, whereas Nedved looked upon the chance with steel, no emotion, no reaction other than a barely perceptible calm rage in his glare. No doubt disgusted to see us conceding such a chance whilst so close to victory. And rightly so.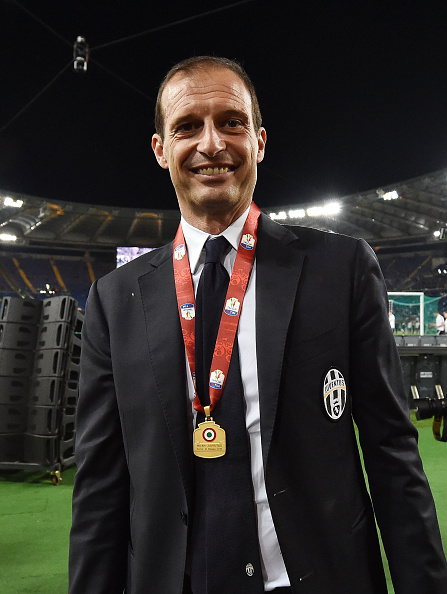 Still, to look at the match from a different perspective…Neto had one decent save to make and he made it. 
Credit where it is due. Allegri's substitutions won us the game. It is a welcome end to a rollercoaster of a season during which we were written off before christmas, came back magnificently to break records, find ourselves woefully unfortunate not to beat Bayern Munich and progress in Europe, claim our 5th straight scudetto and second domestic double on the trot.
This team is growing, learning, maturing and there is so much more still to come. We have a wonderful balance of experience and blossoming talent. A winning mentality. Very promising youth sector. The future looks ever so bright and already I cannot wait until next season begins! Until which we will have to sate our thirst with the EUROs and mercato dramas, yet I assume that Beppe and Fabio are very eager to avoid last season's late flurry and sign our targets sooner rather than later.
forza juve
TGP