Juventus v Lazio

Coppa Italia Final –  Wednesday, 17th May – 19:45 GMT – Stadio Olimpico

---

Juventus
Juventus come off a pretty horrid performance against Roma, where they failed to withstand the opponent's charge in the second half and conceded three goals, something that should not happen considering that the defence has been capable of shutting down the Barcelona attack in the near past. That means that the bout was not tackled with the adequate focus. Massimiliano Allegri opted to rest Paulo Dybala and when he is not out there, it is always trouble, especially when Juan Cuadrado is not having his best match. The coach also reverted back to a three-man midfield featuring Mario Lemina and Stefano Sturaro alongside Miralem Pjanic: the two youngsters had a dynamic performance, but all in all, the whole department did not have the usual weight.
Roma cut the lead to four points, so Juventus are still firmly in the driver's seat for the title and will simply need to take care of business in one of the next two games. Unfortunately, there will be no Scudetto parade because the management cancelled the planned celebration scheduled after the Crotone game out of superstition after the Olimpico debacle.
Up next, the Coppa Italia final against Lazio. Considering the rotation in the Roma game, this has been regarded as a priority and how could it not be. The Old Lady has won the last two editions and will try to three-peat for the first time in history. It helps to have a good tradition against this opponent, as we have won the last nine encounters.
There are two big doubts concerning the lineup: Paulo Dybala is dealing with a sore flexor, while Mario Mandzukic received a big blow to the back in the last tilt. Both are questionable heading into the final and could decide to bite the bullet considering the circumstance. The situation of the Argentinian is trickier because you can not absolutely risk to lose him for a month in case of a strain. Therefore, there is a little more optimism about the Croatian, who is nursing a painful bruise that should not linger much further.
Dybala's presence will dictate the formation: there is no 4-2-3-1 without him. Mandzukic could be replaced by Stefano Sturaro, even though he is meh there, or by putting both Alex Sandro and Kwadwo Asamoah together. 4-4-2 and not 4-2-3-1 is the likeliest choice in case La Joya is not able to recover, with two pure forwards and a strong flank game to feed them. If both are out, Allegri will have to work hard to come up with a passable attack: an idea could be to move Juan Cuadrado to the left and advance Dani Alves in the trident.
The Brazilian fullback is set to feature from the kick off, either at right back or winger. In the second case, Andrea Barzagli would have a better chance to start than Stephan Lichtsteiner. The fact that Tomas Rincon was not used on Sunday is probably an indication that he will play in this one, alongside Claudio Marchisio since Miralem Pjanic is suspended. Giorgio Chiellini and Alex Sandro will return with the XI. I would not put it past the coaching staff to use Barzagli in place of Leonardo Bonucci. Norberto Neto is set to finish off his Coppa Italia run.
4-2-3-1: Neto; Barzagli, Bonucci, Chiellini, Sandro; Rincon, Marchisio; Alves, Dybala, Mandzukic; Higuain.  
Injuries: 
Khedira (hamstring), Rugani (tibia), Pjaca (knee). 
Suspensions:
Pjanic. 

Lazio
Lazio will try to stop Juventus' attempt to put the first step toward the treble and take their revenge after the 2015 final, which was decided by an overtime goal by none other than Alessandro Matri. They basically rested all their best players against Fiorentina as they are already fairly sure to finish in fourth position. A terrific season for Simone Inzaghi, who was retained after the failed courtship of Marcelo Bielsa and proved to be a Serie A caliber coach.
They have used two tactics this season: 4-3-3 and 3-5-2. For a while, they preferred having Balde Keita off the bench in order to sub in an impact guy. However, he is playing so well that it would be asinine to keep him out right now; he is thriving now that he is playing more centrally. He has scored seven goals in the last four matches, so they will wisely choose to stick with what is working. The downside is that Felipe Anderson is headed to the bench and, despite disappointing a little bit this season, he remains their best offensive distributor. An extreme solution would be to use him as RWB, but that is probably too offensive for a game against Juventus.
Marco Parolo appeared to have injured his knee against Fiorentina, but he practiced in the days prior to the game and should start. Therefore, Inzaghi will not need to do much gymnastics to find an XI: Parolo and Lucas Biglia in the midfield, Senad Lulic on the left and Dusan Basta on the right. Sergej Milinkovic-Savic plays an hybrid role, both as box-to-box and attacking midfielder. In case of absence by Parolo, Lulic will be slotted in the middle, with Patric or Basta on the left since Jordan Lukaku will be sidelined by a muscular injury.
There is a little in the defence, where they have rotated all the men they had at disposal, between the explosive Bastos and Stefan Radu, who has a little edge because of his experience, but the Angolan colossus has done well when his name was called up and could be better suited to go to war with Mandzukic. Stefan De Vrij and Wallace will complete the trio.
Keita is on fire and poses the biggest threat: he is so slick and has improved on his finishing over the last two years. Paired with a 25-goal striker like Ciro Immobile, that is a potent attack. In general, they are so stout, poised and physical. If they managed to erase the burden of the lengthy losing streak, they could have a real chance at grabbing the trophy.
3-5-2: Strokosha; Bastos, De Vrij, Wallace; Basta, Parolo, Biglia, Milinkovic-Savic, Lulic; Immobile, Keita. 
Injuries: 
Lukaku (hamstring), Marchetti (knee).
Suspensions:
None.
Listen Live
Formation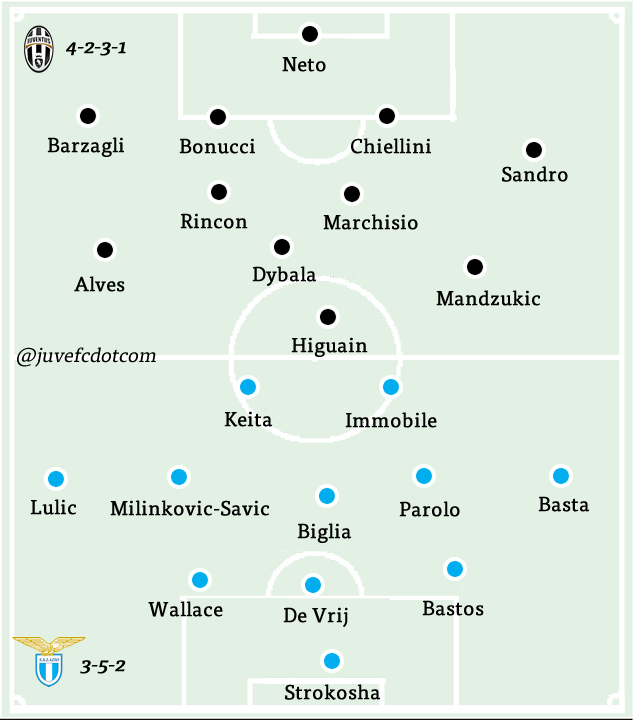 Watch Live
Watch the Coppa Italia live and in HD (where permitted) in conjunction with OZ – click here for more information.