Juventus have dominated Serie A during the last five seasons, winning five Scudetti in a row. Massimiliano Allegri has been in charge for two seasons now, taking over from Antonio Conte in 2014.
Allegri used the 3-5-2 lineup predominantly this season, winning 25 of their last 26 games before losing a meaningless game at Hellas Verona as Luca Toni said goodbye to football with a Panenka penalty kick.
However, that proved to be a switch from the 2014/15 season, in which Allegri's favourite 4-3-1-2 lineup was used the most, a massive switch from Conte's final season as the Azzurri coach played 3-5-2 in all Serie A fixtures.
The following table summarizes the different lineups used by Allegri and Conte during their time in Turin:
Lineup     2015/16     2014/15     2013/14     2012/13      2011/12
3-5-2              26                 17                  38                 33                   10
4-3-2-1            7                  19                   /                    /                     /
4-3-3               3                   1                    /                    1                     23
4-4-2               1                    1                   /                     /                     5
3-4-2-1            /                    /                  /                     4                     /
To conclude: Conte switched from a 4-3-3 lineup to a 3-5-2 one as he started trusting a three-man defence with Leonardo Bonucci. Meanwhile, Allegri implemented the 4-3-1-2, but had to stick to the 3-5-2 along the way. No wonder, the Old Lady were drilled non-stop playing that lineup by Conte and lineup stability is key to success.
Time for a change?
This season, the Bianconeri used a 4-3-1-2 formation on seven occasions. That resulted in four wins (Milan, Torino, Atalanta twice), two draws (Chievo, Bologna) and one loss (Napoli), and a 9-4 goal difference. Decent, but not exactly dominant in any way according to Juventus standards.
However, with Andrea Barzagli, Giorgio Chiellini, and Stephan Lichtsteiner getting older, and injuries hitting the defence, it might be time for Allegri to go back to his favourite formation, therefore using a four-man defence. The 48-year-old loves individual skill to create and finish chances, while Conte focused much more on the creative power of his system and tactics derived from it.
The current squad should be able to do well in a 4-3-1-2 formation. Alex Sandro has proven to be a strong left-back, while Lichtsteiner occupies the right flank. At centre-back, there are four options with Chiellini, Barzagli, Bonucci and Daniele Rugani. Giving the first two more time to rest during the season, as only two CB's are required. Meanwhile, Juve have played a three-man midfield and two-man attack many times in the 3-5-2, meaning that transition shouldn't be a big issue.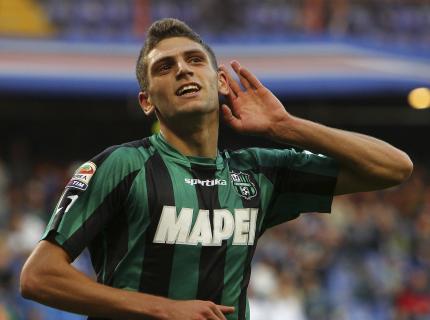 Missing link: the trequartista
There's really only one problem for Allegri to transform Juve from a team used to playing 3-5-2 to one predominantly playing 4-3-1-2, and that's the absence of a true trequartista. Paulo Dybala and Paul Pogba have been the Bianconeri's best (and only) playmakers this season, providing a total of 20 assists in Serie A. However, Dybala plays at his best in a role as secondary striker while Pogba is also necessary in midfield with his superior box-to-box qualities, running, ability to win one-on-one duels, and fighting spirit.
Therefore, Juventus have to hunt for a creative player to play behind a two-man attack. A player who has the necessary vision, passing skills, mentality, and X-factor level to make a difference, especially in the Champions League. Domenico Berardi should be able to play this position in the future, like Kevin De Bruyne has been able to do at Manchester City and Belgium, transitioning from the wing to a more central role.
However, the Bianconeri want to win now and should give Berardi, if he joins, the chance to grow steadily. The likes of Andre Gomes, Miralem Pjanic, Oscar, Isco, Henrikh Mkhitaryan, Javier Pastore and James Rodriguez have been rumoured to be on the Old Lady's radar during the summer transfer window. It's obvious Allegri is planning to make the switch, making this kind of transfer crucial to Juve's success next season.
It will work
But the question that, in the end, remains: will Juventus benefit from such a lineup change? The 3-5-2 has given this club enormous success. Just think about this: five consecutive Scudetti, their first Coppa Italia in 20 years, three Italian Supercups, and one Champions League final. So why bother changing a system that has proven to be so successful during the past five seasons?
There's just one answer to this question: winning their first Champions League since 1996. At Europe's biggest stage, the Bianconeri played a three-man defence and a four-man defence both four times this season. The results: 7 points with three at the back, 5 points with four at the back. However, Juve won at Manchester City and brought Bayern Munich to the brink of elimination using a four-man defence. And they went to the 2015 final using the 4-3-1-2.
Playing four at the back gives Juventus more defensive stability, while the midfield is able to focus on playing forward rather than making sure the defence isn't overrun. That, in turn, gives the Old Lady more offensive power, definitely with a strong playmaker combining with a wizard like Dybala. In Serie A, Juve can win using almost any lineup, but in Europe the 4-3-1-2 might be their best chance.