Preamble
As noted from the analysis of Juve's current figures in Part-1, the goal is to be financially sustainable without overly relying on important sporting performances. The objective is to compete with the elite European clubs without needing to make an important player sale. The growth of characteristic revenues lies locked within a door and Cristiano Ronaldo is the key to unlock the door.
Before moving on to understand the key areas of revenue growth, it is necessary to estimate the costs incurred on the club's balances, upon signing CR7 for a record €100m.
Part 2
Major Expenses in 2018/19
For the third consecutive financial year, Juventus have made a great effort to improve the team with an important financial commitment towards transfer fees and wages. The signing of Cristiano Ronaldo is naturally a super heavy burden for the club.
Amortization costs related to transfer campaign
UEFA allows clubs to follow a straight-line basis while accounting transfer fees. Transfer fees can be amortized over the length of a player's contract and accounted on a club's balance sheet. But it's worth noting that in reality clubs pay off transfer fees in installments or at one shot depending on a pre-defined negotiated agreement.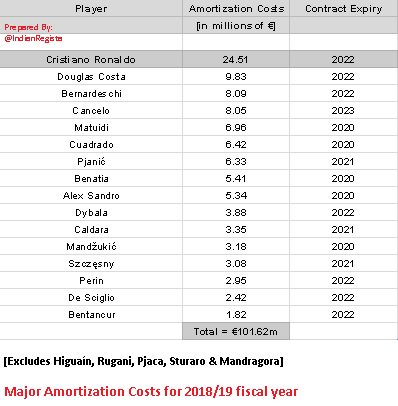 I've estimated the amortization costs for the transfers within the first team for 2018/19 financial year, by excluding Gonzalo Higuaín, Daniele Rugani, Marko Pjaca, Stefano Sturaro and Rolando Mandragora, from my calculations. It is reported they are on their way out. Among them, Juve would incur a heavy cost over amortizing Higuaín's transfer fees while Pjaca presents a medium burden, but for the others, they put a lesser weight on Juve's balances. I've listed their residual book values later in this report while calculating revenues generated from their sales.
According to my calculations, Juventus will incur nearly €101 million on amortizing transfer fees within the first team, for 2018/19 financial year. This cost rises to €126 million if the club retains Higuain, Pjaca, Mandragora, Sturaro and Rugani.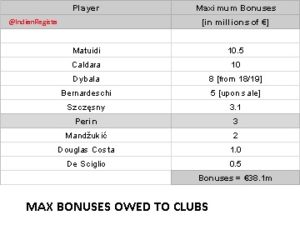 The Bianconeri are obligated to incur €5 million in expenses related to solidarity compensation [as per FIFA rules] from signing CR7. They were also required to pay off clubs a maximum of nearly €38 million in performance related bonuses for other transfer operations. Although, most of these bonuses are yet to be activated while some may have already been paid off.
Salaries and Other Costs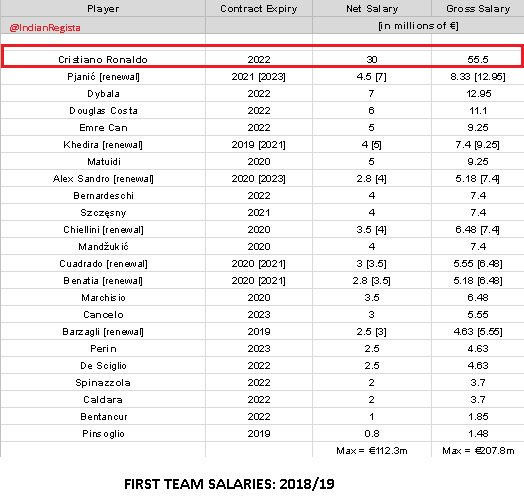 I have excluded the aforementioned players who are most likely to leave. Among them, Higuaín presents the heaviest burden at €13.88 million gross, while the others are on relatively low salaries. As per the graphic listed above, La Vecchia Signora will incur a cost of nearly €208 million in wages on the first team. A figure that would rise to €234 million if the players who are expected to be sold, are retained on the pay-roll.

In addition, the club confirmed to incur €16 million in costs related to the operation of Emre Can, over the next two financial years. The club also confirmed to have incurred €12 million in costs related to signing CR7. Presumably these costs are related to commission fees and sign-on bonuses. Reportedly, the club actually paid the previously listed €12 million, over 4-years, to Ronaldo's agent Jorge Mendes, for brokering the deal. A fee that may increase, as the same entourage also represents another player that the club signed this summer, João Cancelo.
The ADIDAS deal
On October 24 in 2013, Juventus officially announced that they had:
"Reached an agreement with Adidas for techical sponsorship deal starting from the 2015/2016 campaign.
Adidas will be the technical sponsor of all Juventus teams for a fixed consideration of €139.5 million over the 6-year term. The consideration does not include the value of Adidas products that will be annually supplied to the club or the programme of performance related incentives and bonuses available to the club.

Adidas will manage all Juventus' licensing and merchandising activities for a fixed consideration of €6 million per annum.

The club may also benefit from additional royalty payments upon exceeding a threshold of sales."
The deal got activated in 2015/16 and runs on until the 2021/22 season. Initially, the deal saw Juventus pocket €139.5 million for 6 years, i.e. a base value of €23.25 million per year, in addition to €6 million per year for licensing & merchandising, and bonuses based on exceeding a limit of threshold sales.
Usually, upon exceeding a certain predefined threshold limit, the profit is 15-20%. That is, if Juventus and Adidas agreed on a predefined a threshold limit of €50 million in shirt sales, and if Adidas pocketed €60 million from selling Juventus shirts, then Juventus would be getting €1.5 million – €2 million.
However, Juventus renegotiated this deal to retain a base sponsorship of €23.25 million per year until 2021 and also retained the bonuses based on exceeding a limit of threshold sales. But they gave away the extra €6 million in exchange for owning the rights to licensing and merchandising.
La Madama now own the rights to license and merchandising their own products while still collecting €23.25m per year in addition to bonuses, from Adidas. The reason why the club opted for this method is because they felt there was a greater scope for them to profit from licensing & merchandising in their own online and onsite stores, than to hand the rights over to Adidas for an extra €6 million per year.
As highlighted, from licensing & merchandising, La Vecchia Signora officially collected €13.5 million and €19.2 million in 2015/16 and 2016/17 financial years respectively, while are estimated to have collected €30.6 million in the 2017/18 financial year. The club collected 2x, 3x and 5x the €6 million offered by Adidas, for the corresponding three financial years, before they even had Cristiano Ronaldo. There will be a super demand and a new commercial area to massively monetize on.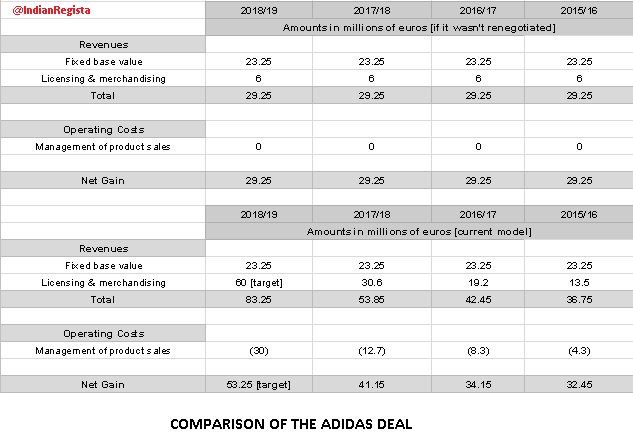 However, these increases in revenues come at a cost related to direct management of distributing merchandises. La Madama officially incurred costs of €4.3 million and €8.3 million for 2015/16 and 2016/17 financial years respectively, while are estimated to have incurred €12.3 million for the 2017/18 financial year. The club incurred 2x and 3x the cost incurred in the 2015/16 financial year, before they even had Cristiano Ronaldo. With a super demand, comes a super cost to manage distribution of merchandises.
It is quite possible for Juventus to incur €25 million – €30 million in costs related to management of licensing and sale of products, for the 2018/19 financial year. However, the club would target getting €60 million in revenues from licensing and merchandising.
Conclusion:
The positives outshine the negatives. Juventus took a calculated risk to manage licensing & merchandising on their own at an operating cost but there is a greater net potential to generate a higher profit from revenues. Similarly, Juventus will reach out to the world with a large scope to grow on a commercial level despite having to encounter significant costs related to the CR7 operation. The Cristiano Ronaldo key costs a lot but there is a global treasure to collect from what's present on the other side of the unlocked door.
References:
1. My calculations for amortization costs related to the transfer campaign follows the straight-line basis accounting principle.
2. My calculations consider gross salaries to be 1.85x figures of net salaries
3. For the graphic pertaining to list of salaries in the first team for 2018/19 financial year, it is based on a report by Calcio & Finanza on 7 September 2017. But I made the necessary adjustments by considering reported net salaries of confirmed new arrivals and confirmed or probable renewals.