Preamble
The positives outshine the negatives. Juventus took a calculated risk to manage licensing & merchandising on their own at an operating cost but there is a greater net potential to generate a higher profit from revenues. Similarly, Juventus will reach out to the world with a large scope to grow on a commercial level despite having to encounter significant costs related to the CR7 operation. The Cristiano Ronaldo key costs a lot but there is a global treasure to collect from what's present on the other side of the unlocked door.
Now, we can move on to project the key areas of revenue growth and the costs incurred on the club's balances, upon signing CR7 for a record €105 million.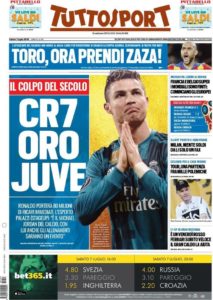 "Cr7 is the Michael Jordan of football, with him even training sessions become events."

–  Front page of Tuttosport
Part 3
Revenue growth
It is clear that Cristiano is a money making machine for the teams he plays for. But what are the areas of growth?
1. Broadcasting
i] Serie-A

Lega sold the domestic rights for Serie-A to Mediapro initially for €1.05 billion per year between 2018-2021. However, an Italian court annuled the contract as the tender was not properly formulated and violated anti-trust principles. SKY and Perform later won the rights for €973 million making Serie-A's domestic TV deal the 3rd best in Europe. The international rights for Serie-A were attributed to IMG and RAI for €371 million per year between 2018-2021. Hence, the total worth of Serie-A's TV deal is worth nearly €1.4 billion per year. However, as per Gazzetta dello Sport, there would be certain reductions on this yearly €1.4 billion deal as €50 million would go to Infront as commission,  €20 million allotted for Coppa Italia & other Lega competitions. Therefore, the total value of Serie-A's TV deal would be around €1.2 billion per year.

The increase is positive in the overall TV deal but the problem for Juventus is that the system to redistribute the TV jackpot has changed and there is more uniformity in distribution. Despite a €300 million increase in Serie-A's TV deal, Juve could end up making €16m lesser in 2018/19 than what they made in 2017/18.

However, as per Calcio & Finanza, there is a clause in the contract of already allocated TV rights for Serie-A, related to increases in subscribers & business results, which when achieved gets an extra €150 million and takes the TV deal to nearly €1.4 billion. Cristiano's presence at Juve attracts a greater domestic and international audience that can help Lega achieve those performance related bonuses. If Juventus are allocated 1/10th of Lega's maximum achieve-able €150 million bonuses, they would get an extra €15 million which brings their total to €106 million for 2018/19, nearly as much as they received in 2017/18.
The Turin giants will also collect nearly €2 million by participating in 2018 Supercoppa Italiana and if they are able to lift the Coppa Italia again, in 2018/19, they will collect nearly €6 million after Lega increased the allocation from €18 million to €20 million, for the Italian Cup between 2018-2021.
In short, it is quite possible for Juventus to receive nearly €115 million in 2018/19 from Italian Competitions.
ii] UCL
UEFA released details of the distribution of revenue to clubs for the 2018/19 season.
a. Total fixed fees received by every club based on how far they go in the competition:
€15.25 million = Exit in Group-Stages
€24.75 million = Exit in Round of 16
€35.25 million = Exit in Quarter-finals
€47.25 million = Exit in Semi-finals
€62.25 million = Runners-up
€66.25 million = Winner
b. Fixed bonuses to every club for performances in the Group Stages:
€2.7 million per win
€900,000 per draw
c. 10-year UEFA Co-efficient ranking:
One share added for every rank.
Each share is worth €1.108 million.
Highest ranked team gets 32 shares and subsequently collects €35.456 million.
Lowest ranked team gets 1 share and subsequently collects €1.108 million.
Juventus are ranked 7th and have a total of 26 shares.
d. Market Pool
It will be distributed in accordance with the proportional value of each TV market represented by clubs taking part in the UCL [group stage & onward]. Italy have four representatives in the UCL group stages with Juventus, Napoli, Roma and Inter. UEFA are yet to allocate the price on the market pool for Italian clubs and they will only do it after all contracts with other federations are agreed upon.
Assuming €30 million is allocated for the market pool towards Italian clubs in UCL, it would split equally split into two fixed pots at €15 million each.
The first €15 million is split between the four Italian clubs based on their position in the Serie-A during the previous season.
40% of €15 million = Juventus
30% of €15 million = Napoli
20% of €15 million = Roma
10% of €15 million = Inter
The second €15 million pot is split based on how deep each club goes within the competition.
This distribution system does not change. If €40 million was allotted towards the market pool for Italian clubs, instead of €30 million, it would still be split into two pots, but  worth €20 million each [instead of €15 million]. Juventus would still get a 40% stake on the first €20 million pot. The second €20 million pot would still be split based on the progression of each club in the competition.

If Juventus reach the same stage of the 2018/19 UCL as in 2017/18 UCL, and if one Italian club reaches the semi-final while the other two crash out in group stages, Juve would collect nearly €83 million in revenues, around €5 million more than what they collected in 2017/18. If Cristiano Ronaldo can take them further into the competition and if the destiny of other Italian clubs pan out in Juve's favor, they would get a jackpot from UCL.
2. Ticket Sales
2 weeks before signing Cristiano Ronaldo, Juventus increased the cost of seasonal tickets for the new season, by an average of 30%. The Juventini in Turin voiced their displeasure at such high prices. Funnily enough, there were banners in Turin that requested the club to sign CR7. As it turns out, the fans got to see their crazy dream come true.
Within 72 hours of Ronaldo's unveiling at the Allianz Stadium in Turin, Juventus sold all 29,300 seasonal tickets despite a 30% average hike in the price. Reportedly, Juve have already collected €33 million in revenues, by selling just their seasonal tickets, a crazy increase by over 50% in comparison to the previous season. Considering that the club still has non-seasonal tickets left to be sold on matchdays in Serie-A, Coppa Italia and UCL, they can hit an achieve-able target of nearly €98 million, as revenues from ticket sales for 2018/19. That would note a 40% increase in comparison to the previous season.
"The stadium has played a significant role, since its inauguration in 2011, to creating history with six legendary Scudetti celebrated within its walls. Our ambition and objective is to collaborate with all partners who have helped transform the stadium into a theatre, ensuring that each match is a show of entertainment and a welcoming place for families."

Giorgio Ricci; Co-Chief Revenue Officer, Head of Global Partnerships and Corporate Revenues at Juventus; in June 2017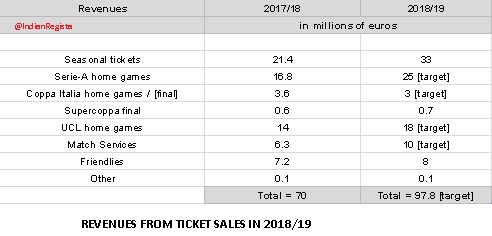 Juve's participation in the 2018 International Champions Cup also brings in revenues. As per La Gazzetta dello Sport, La Madama could collect between €6 million – €7 million, by featuring in four friendlies during their US tour.
3. Other Revenues
This refers to the income from the:
Juventus Museum, Membership and Stadium Tour initiatives, as well as income from non sporting activities carried out at the Allianz Stadium and insurance payments and income from commercial activities from the Lega Nazionale Professionisti Serie-A.
It is possible that Juventus would want to grow by €5 million – €10 million in 2018/19, in comparison to 2017/18, hoping for more international fans to sign up for their memberships and turn up in Turin for the Juventus Museum, which is ever growing.
Total revenues of €40 million is an achieve-able target from this area.
4. Sponsorship and Advertising
Juve's objective is to develop their brand in thriving international markets that is not only profitable from an economic standing point but also beneficial in improving the commercial value of the Juventus brand.
"Whether we are Man United, Real Madrid, Juventus, or Legia Warsaw, Sporting Lisbon, and Anderlecht, we all want more international exposure, to develop our brands. Today everything is about brand exposure."

– Andrea Agnelli to The Guardian in May 2018

---
The club has set up multiple soccer schools in different parts of the world, along with numerous Juventus stores and Juventus lounges. The first team also participates in the International Champions Cup while the club legends take part as Ambassadors in numerous charitable games. The club also invested a lot of resources in digital media and focused on improving its digital presence across Twitter, FaceBook, Instagram, YouTube, Weibo and etc.
"We are aiming for the globalization of our brand."

– Andrea Agnelli to Tuttosport in the summer of 2017
The change in the Juventus logo in Jan 2017 caught the eye of the entire world. The Juventus Village was launched this summer and it consists of the new Juventus Training centres, new Juventus hotels, onsite Juventus stores, the latest Juventus HQ, the Juventus Medical [launched in 2016] and much more. While this Continassa project won't significantly contribute towards revenues, it will help in cutting down operating costs.
"J-Village at Continassa makes Juve become much more solid. It won't directly increase our revenues but we will save a lot thanks to it as we can have more effective logistic solutions."

– Aldo Mazzia; Juventus CEO-CFO; to Tuttosport in September 2016
It is evident that the club has been growing in Sponsorship and Advertising, most recently grew by 20% in 2017/18 while compared to 2016/17. But the club is still far behind the other top dogs in Europe. The club realized that and understands the saturating limits of the Serie-A market & broadcasting revenues in general, which are based on competitive performances. It is almost as they predicted it 1-2 years back and balanced their accounts in order to be in a position to acquire a brand like CR7, their key to the world.
 "Our international appeal increased a lot after the 2015 UCL final. New sponsors are arriving. We want to follow the commercial model of Manchester United. We want to conquer markets of China, Oceanic region, South East Asia, Nigeria and North America. In Europe, we are enjoying the French market as it is a strong region for us."

– Giorgio Ricci to Tuttosport in July 2016
The arrival of Ronaldo won't change the existing deals with existing sponsors. Perhaps it could lead to more lucrative deals with them during negotiations for extending the continuity of the deal. However, the attention that CR7 brings with his own image, will definitely attract newer domestic and especially international sponsors. Hence, Juventus can be able to achieve close to €100 million as revenues from sponsors and advertisers, in 2018/19, without even requiring an increase in FCA's annual contribution, which will be brought up later in this report.
Cristiano's arrival helps the club in the near future and also in the distant future, among the newer generation of young footballing fans that Juventus have already had as their target audience for 2-years now.
The motives behind signing Ronaldo is now all clear. He helps Juventus to bridge their gap with the elite European clubs not only in terms of competitive results but also from an economic and commercial stand point.
5.  Player Loan / Sales
This has been an important source of income for Juventus in recent years and it will once again be important to offset the increase in operating costs.

As noted from the figure above, Juventus would be able to generate over €115 million as revenues from player trading, in 2018/19, if they are able to sell the aforementioned players at the reported prices. It would denote an increase of over €20 million, in comparison to 2017/18.
6. FCA sponsorship
In 2014, Juventus and FIAT agreed to renew their partnership for six more years, from 2015/16 until 2020/21. This partnership oversees Juventus collect an annual fee of €17 million with an additional €2 million in bonuses if certain predescribed conditions are met.
What's important to note here is that, FCA, Ferrari, Juventus & other similar holdings of EXOR, have the same people sitting in key positions on the board. It's run by the same people with similar interests in mind. They are a family.
If Juventus President, Andrea Agnelli wants a greater financial backing from EXOR, he can always enforce a change as he sits on the board of the aforementioned companies. But he would need to convince other board members as to why Juve deserves a special injection of money compared to the other investments.
By just being linked to Juventus in the media, Cristiano's name drove their stocks so high that it increased by over 30% and had a market cap of €800 million, within 72 hours. Italy's stock authority, Consob had to even investigate into it and the club officially clarified the situation with a press release. Certainly, Juve won't be recouping their total investment on CR7, but such stock growth will reaffirm their equity holders. It would better the case for President Agnelli, if he does seek a greater financial backing. Furthermore, FCA can also benefit from Cristiano featuring in a Juventus shirt to advertise their brand.
"The real protagonists of this operation are the player and the shareholders. When we realized that we could seize this opportunity, the company's shareholders agreed to back the operation."

– Giuseppe Marotta; Juventus CEO
Hence, Juventus and FCA can simply renegotiate their partnership and possibly extend the deal until 2024, by just doubling the sponsorship fee. Instead of €17 million + €2 million in bonuses, the club would get €34 million + €4 million in bonuses. UEFA's Club Financial Control Body [CFCB] may confirm this source of income, as a non-equity related source, since the fees would be seen as a fair value of the Juventus brand in today's market and they don't exceed 30% of the club's total revenues.

As noted from the graphic above, there are great signs of a BOOM in characteristic revenues that are largely independent of competitive UCL results. It appears that President Agnelli is achieving the objective he set in 2013, by securing Cristiano.
"Stadium and sponsorship, those are the two elements that we have to grow, to reach a point to become independent from Champions League revenues. Then, once you get them, that is the extra fat you can work on. At the moment, and this is the thing that worries me the most, we are still dependent on that Champions League income to make the numbers meet."

– Andrea Agnelli to CNN in 2013
Final Projection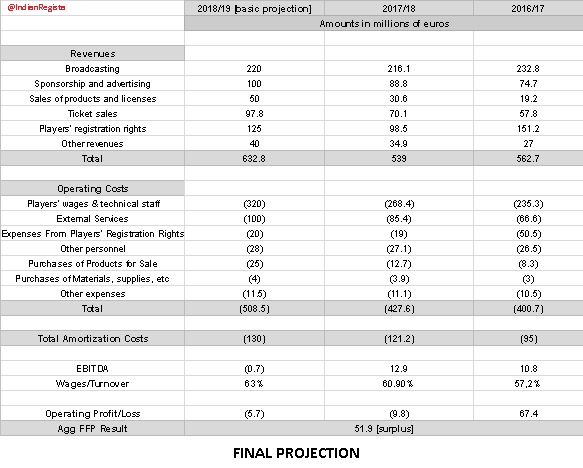 I have tabulated a basic projection of what could be the financial outcome of Juve's 2018/19 season, based on certain predescribed conditions.
Working on the predescribed lower limits of characteristic revenues that are largely independent of competitive results and assuming that the club has the same season as 2017/18, the outcome would be an operating loss of nearly €6 million, in 2018/19. However, the club would have no problems with Financial Fair Play [FFP], as it would leave the club with an aggregate break-even surplus of over €50 million.
Conclusion:
As Juventus recorded an operating profit of €67.4 million in 2016/17, it would require the club to incur an operating loss of nearly €90 million, to fall on the radar of UEFA's CFCB and be given certain sanctions, may be prevented from playing in UEFA Competitions for the 2019/2020 season. This is extremely unlikely to occur. In other words, the club is safe at minimum, until the end of the 2019/2020 season.
Juve's real obstacle begins next summer, in 2019, when they would need to readress the summer campaign and analyze their budgets in order to keep tabs with FFP for the 2020/2021 season.
However, with Cristiano Ronaldo, they may have not only cracked the code to end their ongoing 22-year run without a UCL, but they may have also found the solution to level up to the richest clubs in Europe.
References:
1. My calculations for residual book values follows the straight-line basis accounting principle.
2. All residual book values listed are maximum values on July 31, 2018.
3. The cost and formula of confirmed and probable loan exits are based on Italian media reports.
4.  The cost of probable departures via permanent transfers, are based on Italian media reports.
4. My calculations for revenues from player loans/sales, do not consider deductions for bonuses owed to clubs, players and agents.