There are some players who find their level, where their ability matches their surroundings. For some this is an instantaneous match, you will remember 1990s Southampton playmaker, Matt LeTissier; a one club man who was as much a part of the club as anyone else (those of you not familiar with his talent would definitely benefit from a quick You Tube search). For others it can take a while, one may recall Diego Forlan had a mixed time at Manchester United but appeared to be a different player once he pulled on the Villarreal, and later Atletico Madrid, jerseys. More recently the same can be said of Falcao, I'm being kind when I say he was unconvincing at Manchester United and Chelsea but has been a huge reason for the success of Monaco over the last couple of years.
When Gonzalo Higuain joined Napoli in the summer of 2013 his arrival barely caused a stir amongst the San Paulo faithful. A noted goal scorer during his time at River Plate in his native Argentina, he had joined Real Madrid in 2007. His time there was plagued by inconsistency and a serious back injury, although he was the club's top goal scorer in 2010 and maintained an above average goal scoring record. His playing style maybe wasn't entirely suited to that of a maverick, free flowing side such as Real and so sometimes one has to take a step backwards in order to step forwards.
After dividing several years between Serie A and B, Napoli were steadying themselves in the top division. They had the likes of Cavani and Hamsik and while never challenging for a title win they made some tentative forays into European competition. When their better players sold to more illustrious clubs the goal scoring mantle was passed to Higuain, it's fair to say he grabbed it with both hands and volleyed a screamer into the top corner, Pipita had found his level, his record over three seasons in Naples was phenomenal. The Neapolitan faithful love an Argentinean talisman and Higuain was certainly that as he smashed his way to a record 36 league goals in 2015/2016.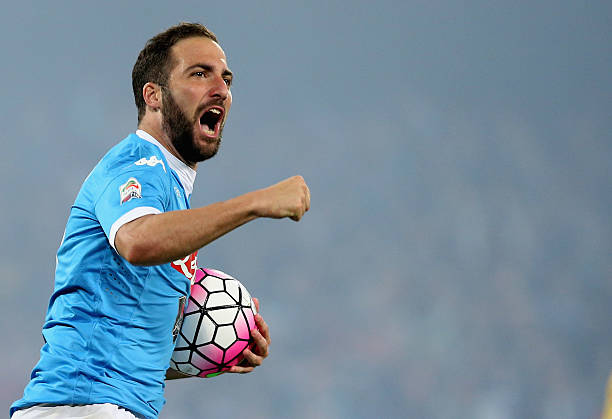 After the 2015 Champions League Final defeat, Alvaro Morata re-joined Real Madrid and with all due respect to a young Dybala and an inconsistent Mandzukic, Juve definitely needed a renowned, proven striker. With the cash from the Paul Pogba deal burning a hole in the pocket of Allegri and Paratici Juve triggered the £90m release clause to bring Gonzalo to Turin. The outcry in Naples was understandably hysterical and borderline violent (Juve's popularity in the south, and in Italy in general, can be compared to the appreciation towards Manchester United by residents of Merseyside).
Higuain has always been a well built player, some just are (players like Nainggolan and Lukaku spring to mind), there's no shame in that, his size is often to his advantage, however he started last season looking pretty out of shape, and yes, overweight. This didn't dampen any goal scoring feats as he scored six in his first seven games, including the winner on his debut. It is a credit to him that when not selected for the international squad in September 2016, he stayed in Piedmont for extra training. The result was a fitter and more determined player who played nearly every minute of every game as he propelled Juve to the Scudetto, Coppa Italia and another Champions League Final. So much for the physical issues mentioned by many, particularly as his playing style lends itself towards huge physical exertion; not only battling defenders but holding up play and chasing down through balls.
There are some who point to his relatively poor record in the Champions League; it can be argued the standard of defending in Europe's premier club competition is much better than Serie A. This is a poor argument in my opinion; it's usually levelled by the same people who think the benchmark of a player is how well he has done against English clubs, as if this is some kind of Holy Grail. In my opinion it is just a coincidence, but it's a stick used to beat him with along with his weight issue, something he and us have to live with, I suppose.
If there are any questions over his nerves and temperament in big games one should look at last season's Champions League Semi Final win away to a very youthful and talented Monaco team. Gonzalo scored both in a 2-0 win, both goals were superbly taken, the first in particular; a flowing team counter attack, is a highly recommend You Tube search, definitely worth a minute of your time.
There is also his second game back at the San Paolo, it was the Coppa Semi Final. Juve had played there in Serie A just days before, as mentioned there is no love lost between the north and south in Italy but this had the added spice of Higuain's return (remember the Gonzalo toilet rolls?!). He responded in the best possible way as he scored in a thrilling game which ended 3-2 to the home side. He made his point, literally, by pointing towards the director's box during his celebration; the focus of his attention was Napoli's director, De Laurentiis, in response to criticism of Higuain's transfer to Juve.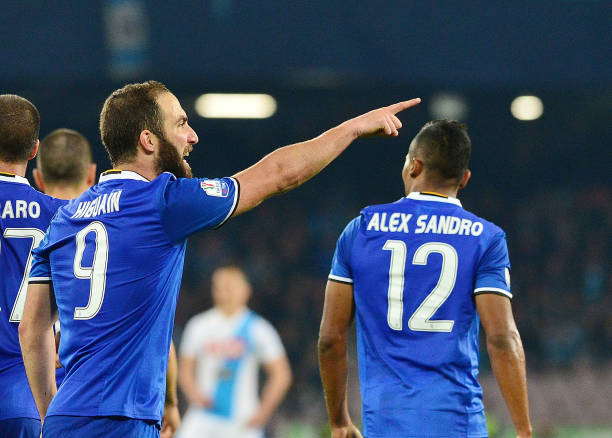 It hasn't always been a black and white striped love story, we have seen footage of him yawning after the Champions League Final defeat to Real Madrid, this against the backdrop of misery with other players in tears. More recently, photos of him flipping the middle finger to the Nou Camp faithful were published after the Champions League game earlier in the month (one would assume because of the old connection to Real and having just been beaten 3-0). However the age of wall to wall coverage is more responsible for picking up and analysing these events and I doubt there are any real character concerns.
Fast forward to September 2017, Higuain, looking tired and out of form, was dropped by Allegri. The dissenters of social media were out in force and, bizarrely, according to some Allegri had no confidence in him and his time in Turin was over. Absolutely not. You do not sell your best goal scorer because he doesn't score for a few games. You do exactly what his manager did, allow him to re-charge the mind and the batteries and sit out a game or two. It's called squad rotation.
On Wednesday night Juve faced a stubborn Olympiakos team, an hour of mostly turgid and frustrating football found a perfect story waiting to happen. Higuain took his chance within minutes of being introduced to the action. A big goal on a big occasion. I couldn't be more pleased for him and the roar of joy and relief from both player and fans as he was mobbed by his team mates could probably be heard all the way to Naples.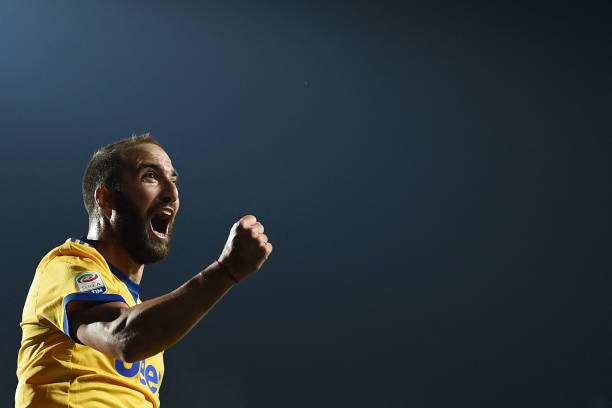 Allegri said after the game "Gonzalo has never been a problem and he never will be. He's a match winner and this is going to be a big season for him". I couldn't agree more; never write off a prolific goal scorer. Higuain needs Juve and Juve needs Higuain, now more than ever.