2019 approaches and Juve have amassed a record number of points over the first half of the season, beating their own 2013/14 record, while UEFA Champions League qualification was secured with a game to spare, leaving Juve handily placed to complete a historic treble come the season's end. The big-money new signings new signings João Cancelo and Cristiano Ronaldo have settled in well, in fact, the former has been a pleasant unexpected success, while the latter has been very much 'as advertised'.
Those have all been positives in a half-season like no other, however, this is Juve, and while we should all be grateful for the wins, the majority have simply been achieved in a pedestrian, ordinary style and some with an element of luck. At the risk of sounding like a broken record, we have been here many times before; winning with a stubborn, almost monotonous functionality. Games have been won but Juve have made it far harder by their inability to kill off teams, I have previously written about this so won't go into too much detail again, but this problem is a real concern and continues to linger as the New Year approaches.
Taking a deeper look at the squad, the goalkeepers have provided much steadiness with Wojciech Szczęsny and summer signing, Mattia Perin, having a relatively straightforward time between the sticks. Szczęsny has shown to be an able replacement for Gigi Buffon with a vital penalty save away to Milan and a number of commanding performances. Perin has served well as a backup and there is nothing to worry about for the time being as far as the number one jersey is concerned.
The defence has been a little more worrisome though, especially the returning Leonardo Bonucci. I don't wish to jump all over every mistake simply because of the manner of his departure to Milan 18 months ago, but it is very apparent his concentration and positioning have dropped somewhat, with goals against Chievo Verona, Genoa, Sassuolo, Parma and most recently against Atalanta all conceded as a result of Bonucci's less than stout defending. His forays into attack have been a little sporadic, other than a goal against Napoli in October and a couple of sublime assists, most notably for Ronaldo against his former club in the Champions League, he hasn't been the same player since returning from Milan. These two areas are where Bonucci must improve in the second half of the season.
His usual partner in crime, Giorgio Chiellini, has been his usual self; a no-nonsense, all action, leader. The maybe a few more miles on the clock but there are simply not many better in Serie A, or indeed the world. He has been everything Bonucci hasn't.
Of the rest, Medhi Benatia and Daniele Rugani have been able stand-ins, but one has to be realistic and foresee a move for one or both in the summer. Both, via different channels, have voiced their concerns over their lack of playing time. Benatia in particular, given his age, would be favourite to move on.
The signing of João Cancelo went under the radar due to the signing of a certain other Portuguese player this summer, but he has been a revelation at right back. No stranger to Serie A fans he impressed last season but has been arguably Juve's best player not named Ronaldo, giving Juve a very dangerous attacking element, not to mention some superb, gif-worthy, skills too. It's a shame a recent knee injury will keep him out until February and Juventini will be hoping he'll be back before the Round of 16 Champions League tie against Atletico Madrid, as he is definitely a player Juve will need as the season reaches its final months.
Cancelo's replacement, Mattia de Sciglio, was last season's scapegoat for many Juve fans, just why is unclear, although it appears because he isn't flashy in the Dani Alves (or even João Cancelo) mould he is seen as not being very good. This season he has matured and displayed many of the safe and reliable qualities which every team needs. He isn't Cancelo but he deputises extremely well.
We have seen some composed and steady displays from Alex Sandro, much improved on his down-season last year, no doubt the new contract has helped, but it is a great sign of commitment from both parties and will hopefully signal his intent to stay in Turin for a few more years. Despite a generally sound defensive display over the first half of the season, Juve are still prone to absurd, panic-stricken defending. Classic examples are that of the defending against Genoa, Manchester United and Atalanta. This nervousness contributes to a lack of confidence around the team's overall displays. Winning they may be, but a defeat never seems to be far away.
Midfield is still Juve's biggest weakness, a rash of injuries in autumn didn't help, which left Allegri only a few healthy players to choose from. Yet, time and again the midfield has been overrun and looked lifeless and dull. It has also been increasingly difficult to defend the inclusion of Sami Khedira, the German World Cup winner has been in and out of the team due to injury, but when he has played he has been all but absent in many games, looking laboured and lost at times. He does give a certain stability to allow Miralem Pjanić and to a lesser extent, Blaise Matuidi, licence to roam into attack, but Khedira's time must surely be coming to an end at Juve. Having said that, he is the target for a lot of personal abuse from fans on social media. I am certainly not condemning fans for voicing their opinions but much of it is unnecessary and puerile. One can virtually guarantee that should Juve produce a sub-standard performance Khedira will the one to shoulder much of the vitriol.
Injuries to Khedira and Emre Can have given Rodrigo Bentancur an extended run in the team, Juventini saw little of him last season but he played in all of Uruguay's games at this summer's World Cup and it was plain to see why the Juve coaching staff rate him so highly as he gave some mature and determined performances.
This is exactly what we have seen from him in a Juve shirt this season. He has been a much-needed link between midfield and attack with some intelligent displays, his link-up play with Pjanić at Old Trafford was truly breathtaking; definitely a performance beyond his years. Yet, there has been an increasing problem with young Rodrigo, that of temperament.
His suspension for exceeding the yellow card tally in early December was quickly followed by his first red card for Juve on Boxing Day in Bergamo. Allegri has to carry out a delicate balancing act to help Bentancur channel his energy into positive displays rather than allowing him to continue to make needless, reckless challenges and become involved with personal feuds during the game. If he can rectify this his future for this season and beyond is very bright.
Matuidi and Pjanić have been virtually ever-present. The Frenchman does what he does, nothing stylish or eye-catching, but he does infuse the team with an energy and desire which is almost unmatched. If it was possible he has become even better this season as his role within the team is becoming more established, if only he could be a little more composed when in possession. That particular trait belongs to Pjanić, who is easily one of the most gifted players at the club. However, while not regressing any he doesn't seem to have improved either. He has the potential to be one of Juve's most legendary midfielders, with an intelligence, skill and ability akin to Zinedine Zidane, but his inability to impose himself on games is most frustrating. One always feels there is more to come from Pjanić but he rarely makes third or fourth gear in most games.
Juve's supporting cast in midfield has supplemented the first-choice team well. Federico Bernardeschi started the season in sumptuous form, scoring a handful of goals and providing that well-known spark and flair. More recently he has had problems with injury and has remained a substitute more often than not. He, like Bentancur, has a bright future in Turin.
Juan Cuadrado and Douglas Costa have both flattered to deceive with their limited starting opportunities. While this is expected of the enigmatic Cuadrado it was hoped Costa would carry on his form from the end of last season into this.
It simply hasn't happened, the fact his most memorable moment of the season was the ugly and classless dismissal against Sassuolo says much about his displays. Both players need to make the most of their limited opportunities to improve their chances of staying at the club beyond the next two or three years.
Given that Juve can call upon players like Costa, Bernardeschi and Can when needed, players who would get into most starting lineups in Serie A, says a lot about the sheer quality Allegri has at his disposal. Credit must go to Allegri, as well as his coaching staff and those behind the scenes who sell Juve and all it has to offer to potential signings. Many of these signings, including Ronaldo, Bentancur and the since-departed Arturo Vidal and Paul Pogba, should go to the also departed CEO, Giuseppe Marotta. He left Juve in October under what was a seemingly dark cloud. He made it very clear his exit was a club decision, rather than a personal one and Vice Chairman, Pavel Nedvěd, prickly observed that Marotta was "clearly not a Juventino", one can interpret (several have) Nedvěd's comments in many ways, and the former Czech Republic international was keen to point out his comments weren't meant as an attack on Moratta. However, Marotta deserved more than being ushered out in this way, but as Buffon, Claudio Marchisio and Alessandro Del Piero will testify, Juve have never been afraid to pull the trigger on anyone, no matter their standing within the club.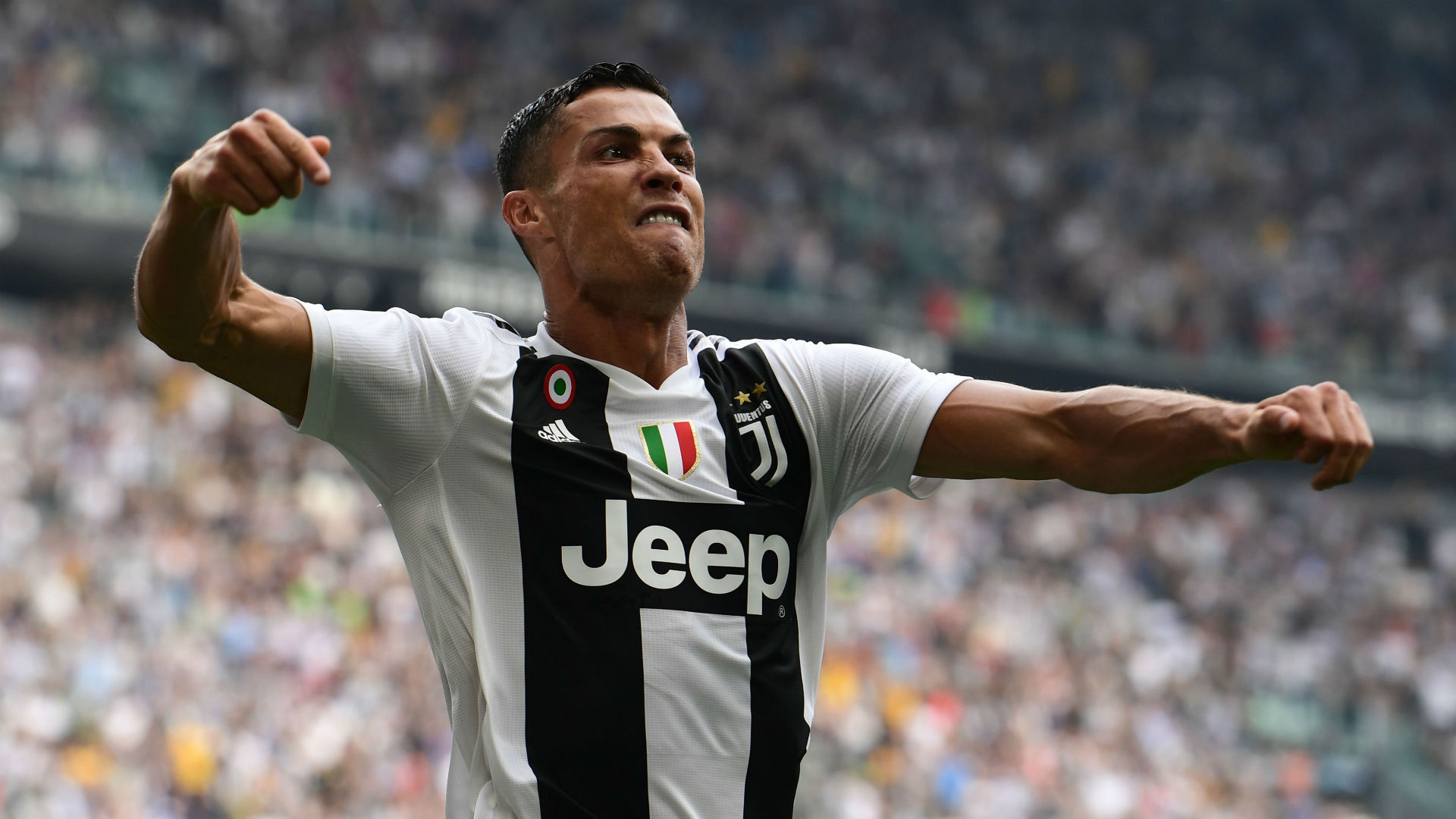 Unsurprisingly, Ronaldo leads the club scoring charts and leads the race for the coveted Capocannoniere, with a goal every 117 minutes. His inclusion in the Juve side has, as expected, added a more clinical edge to the attack. He has seemingly become a more rounded player at Juve and his play has been more relaxed than we have been used to in previous years. Now happy to play a supporting role and be the creator rather than the centre of attention his experience and desire will be essential as the season becomes more serious in the New Year. It would be churlish to suggest Juve are overly reliant on Ronaldo, but he is by far and away the highest scorer at the club, given his age and the number of important games coming up it would be pleasing to see someone else take over the goalscoring responsibilities.
Mario Mandžukić could easily have made way when Ronaldo arrived, but it was Higuain who left the club as Juve put their faith in the Croatian striker. Mandžukić will never be the most gifted player, but what he lacks in skill he makes up for with a devastating determination, passion and vigour, not forgetting a predatory instinct and knack of scoring in the biggest games (I'm still to forgive Mario for crushing England's hopes of making the World Cup Final), this season he's scored against Milan, Inter, Roma, Lazio, Fiorentina and Napoli. He too will be an essential part of the team moving forward.
I wish I could say that about Paulo Dybala, he seems to be at something of a crossroads in his Juve career, given the number 10 shirt last year and has been a stand-in captain on a few occasions he has certainly matured over the last 12 months. However, he has struggled with the deeper role with which Allegri has entrusted him with.
This could just be a settling in period and he remains one of Juve's most talented players, but it could also be a sign of an uncertain future at the club. He like Pjanić needs to become a more imposing presence on the pitch, especially as Ronaldo will need periods of rest in the coming months and Dybala will be called upon to spark Juve's attack again.
It could be arrogant to predict an eighth successive Scudetto, but realistically with a nine point lead, it would take something drastic to wrestle Juve from the top. The Scudetto wasn't the number one priority though, we all know the goal from day one of this season has been to recapture the Champions League trophy, the draw against Atletico Madrid is certainly Juve would've wanted to avoid but as Allegri said in response to the draw "he who has ambition has no fear". That should be Juve's mantra for the rest of the season. The treble is just about in sight in the distance, what is needed from now until June is a focused determination and a greater desire to go for the kill when in the ascendancy, that is Juve's biggest problem and only Allegri can instil that belief to succeed in the team. This season could be his last at Juve and everyone concerned wouldn't want this soul-crushing, frustrating brand of football to be his legacy.