It's not often we hear of Serie D, let alone Juve purchasing a player from the fourth tier of italian football. In fact, whilst we plucked Mbaye Diagne from FC Bra a couple of years back, the giant Senegalese striker has not once been near the first team squad, which leaves Moreno Torricelli, as the only player I can recall who moved from the basement to the very top, way back in 1992, after his provincial side Caratese played Juve in a pre season friendly and impressed then manager Trappatoni so much that the Jesus lookalike soon found himself in Turin, for the tidy sum of 50 million lire. Moreno went on to become a first team regular for Juve, starring in one of our best sides of recent history in the 90s. He was always one of my favourite players due to his extreme determination, resemblance to both Jesus and Splinter and heart.
So it is with some joy, a hint of fantasy and fairytale, that I announce the signing of 19 year old Alessio di Massimo. Who moves from Serie D side Avezzanno to Piedmont this January.
Named after his father's love of former Juve hero Alessio Tachinardi, di Massimo has been wowing crowds this season, continuing his progression from youth level to perform wonders with the big boys. Formerly a midfielder, the youngster has been transformed into an inverted winger to stunning effect.
The player himself said of the move…
"I've never even seen Juve play live and now I may get to train with the first team! A week ago I could have dreamed of carrying Buffon's boots, and now I might be playing by his side! When I heard that Juve were interested in me, I cried with joy and remembered how I had made a poor pass and told my team mates 'come on! I am not Bonucci'."
He shares the same agent as Veratti, a certain Donato Di Campli. Has seven Uncles who attend all his games, and a mother who becomes too involved to watch her boy live –
"I stay home, since a Summer tournament when I took to the field to avenge a foul on Alessio!"
Blessed with lightning pace, tricky dribbling and a definite eye for goal, young Alessio has been training with the primavera since passing his medical in November and will officially become a juve player when the transfer window opens in January for the cheap as chips sum of EU100k. Considering he is an inverted winger who plays naturally on the left, and we have no comparable option presently in the senior squad, who knows eh? Perhaps we will see him in Serie A this season! More likely is to head to the primavera, where as he was under 20 when the season began, I believe he can still join the cause.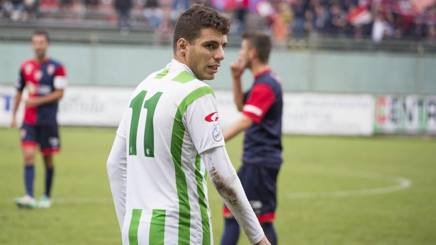 Una favola…And I wish him well.