Juventus 2-0 Chievo

Goals: Higuain 23, 84 (Juventus)

---
A Higuain brace was enough to see off a resilient Chievo side as Juventus stretch their lead to +9 points in the league
With Barcelona around the corner, Allegri opted to rotate the team as much as humanly possible, opting for Andrea Barzagli and Daniele Rugani in defence while Stefano Sturaro sat in on the left of midfield for the injured Mario Mandzukic. It made perfect sense to switch around the starting XI when you factor in two gruelling games in a row against Napoli and arguably our most important game of the season (to date) fast approaching.
Juve started the game as they finished it – In total control, creating chances with relative ease, building up slowly, but rarely conceding possession. Sami Khedira had the first of the chances, a snapshot that stung the palms of Seculin before young Paulo Dybala fired a powerful strike that was fingertipped out by the Chievo keeper. There was plenty to like about Dybala's performance, albeit against a mid-table Chievo side that look comfortably clear of the drop. He was bright, sharp, and inventive, his positioning was superb and he found Higuain with a great pull-back to open the scoring. Its fortunate that he's finding his form at just the right time of the season, having looked much brighter in the two games against Napoli and looking a real creative force against the flying donkeys.
95 – Paulo #Dybala tonight recorded his record of touches (95) and successful passes (57) in a single Serie A game. Joya. #JuveChievo

— OptaPaolo (@OptaPaolo) April 8, 2017

Gigi Buffon made his only real save of the night soon after the restart, beating away an effort from the perennial Sergio Pellissier as Chievo looked to threaten more in the second half. Despite their attempts at a comeback, Juve looked in control. A half chance from Roberto Inglese was headed just over the bar before Juve had a chance to kill-off the game when Dybala played a 1-2 with Khedira who shot wide; Higuain found himself with space and time but inexplicably fired wide from 12 yards out but thankfully he was on hand shortly after to secure the result, late in the second half after some great play from Dybala – La Joya dribbled into the box and spread the ball to Lichtsteiner with a no-look pass who squared the ball for Higuain to tap in.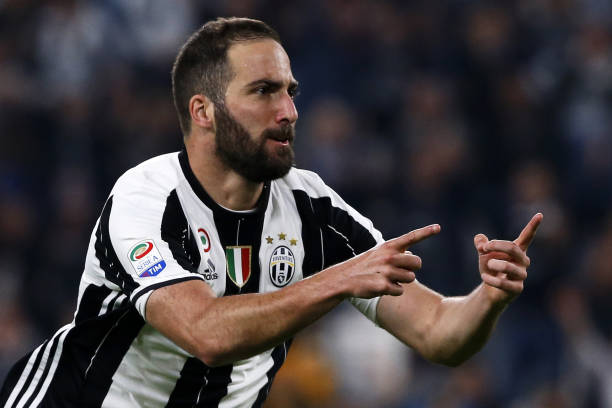 It leaves Juve with a 9 point advantage at the top of the table as Roma travel to Bologna in a potentially tricky tie. If the Bianconeri and the Giallorossi continue to win every game until their showdown in the middle of May, Juve could win the Scudetto in the capital with a victory over their title-rivals.
A few brief thoughts from last night's game:
– Higuain has been superb – Despite dropping off for a month or so and failing to find the net in the league for 5 games, he's now on 27 goals for the season in all competitions and could feasibly hit 30. That's a remarkable return when you consider he's had to do a lot of the grunt work up front and much of his goal-haul last season was down to the great support he had from Hamsik, Callejon and Insigne. Pipita is also the first Juventus player to hit 20 league goals in his debut season since John Charles (28 goals) and Omar Sivori (22) in 1957-58.
– Hats off to Max Allegri for his comments post game:
Allegri: "I am happy for those who have spectacular football, but if I want a spectacle then I'll go to the circus. I want three points." 💪 pic.twitter.com/SbTjNzApb2

— Juvefc.com (@juvefcdotcom) April 8, 2017
– There have been plenty of comments on Juve's brand of football this season, especially since the change to 4-2-3-1. Some initially applauded the tactical change, however in recent weeks, there have been accusations of Juve playing 'anti-football' by being ultra-defensive, especially over the last 7 days when we played Napoli in two contests. If you want to contrast, lets not forget that despite their seemingly attractive brand of football, the partenopei are out of the Champions League, out of the Coppa Italia and seemingly out of the title race. For all their merits and their approach to football, they'll end the season without a trophy while Juve are still in the running for a treble – I'll take that any day of the week over spectacular goals, intricate passing and 90 mins of attack.
–  I touched on it earlier, but it's important to note how much of an improvement there's been in Dybala's game just recently. It's entirely possible that other matters were weighing on his mind or that he was unsure of his place in this new formation. He's playing with more freedom at times, but struggling to impose himself on the game – The last few games have seen him have more of an impact on the matches by taking on more responsibility and making his presence felt more, being more direct and less passive. It's telling and it'll be of huge importance when we face Barcelona next week.
.@PauDybala_JR's superb attacking display during #JuveChievo 57/63 passes (90.5%) 3 chances created, 1 assist, 6/9 take-ons (via @StatsZone) pic.twitter.com/gX4r8pqsGf

— Adam Digby (@Adz77) April 9, 2017
– On a side note, Gigi Buffon made his 616th Serie A appearance last night, taking him clear into 2nd place in the all-time list, with only Paolo Maldini (647) ahead of him. A remarkable feat for the captain and I sincerely hope he goes on to take the title to add alongside the various other records he's broken over the last 5 seasons.
Overall, it was a great display against a mid-table side that had little more than pride to play for. We controlled the game, created a number of clear chances, dictated the pace and tempo and reduced the visitors to just a handful of half-chances. The positives are plenty: No injuries, a clean sheet, key-players rested ahead of a crunch game, Dybala in the best possible form, Higuain back in the goals, Khedira showing some flashes of brilliance and Marchisio almost back to his talismanic best. Onwards and upwards!
LINEUPS:
Juventus: Buffon; Lichtsteiner (Dani Alves 85), Barzagli, Rugani, Alex Sandro; Khedira, Marchisio; Cuadrado (Lemina 65), Dybala, Sturaro (Bonucci 72); Higuain
Chievo: Seculin; Cacciatore, Spolli, Cesar, Gobbi; Castro, Radovanovic, Hetemaj (De Guzman 74); Birsa; Pellissier, Meggiorini (Inglese 66)
Ref: Fabbri
---

Player Ratings
BUFFON: Seldom troubled by Chievo, but on the one occasion he was called into action, he palmed away Pellisiers effort with ease. Always alert and composed. 6.5
LICHTSTEINER: Starting in place of Dani Alves, he put in a solid display, controlling the right-flank with a strong performance, and even managed to provide an assist for Higuain. 7.0
BARZAGLI: Seldom troubled by Inglese or Pellisier, held his ground well and helped us to another clean sheet on a straight-forward night. 6.5
RUGANI: It was a welcome change to see the youngster start a game as he will ultimately be leading the defensive line in years to come, and these are the perfect games to see him feature in. Was berated briefly by Gigi who urged to keep his focus until the end of the game. Worked hard alongside Barzagli and played his part at the back with confidence. 6.5
ALEX SANDRO: Had plenty of joy down the left, pushing up and down the channels and getting back to defend when needed. Solid 6.5
MARCHISIO: It's fair to say Juve are a much better side when Marchisio is on the pitch and playing at full fitness. Completed 93% of his passes, buzzing around the pitch, controlling things form the centre and looking like he's close to his best again. 7.5
KHEDIRA: There's been a real step up in quality from the German midfielder in the last week – He was a powerhouse against Napoli in the league game and continued that form against Chievo, working tirelessly, getting into the box to support the attack and linking well with Marchisio. 7.5
CUADRADO: Some decent crosses and well timed runs, good link up with Lichtsteiner, but the end product is still missing at times from the Colombian. He can and should offer much more in the final third. 6.0
STURARO: Looked utterly lost out on the flanks, filling in for Mandzukic. He seems to play better in the centre of the pitch so this was a real stretch for the young midfielder who struggled. 5.5
DYBALA: Immense, superb and sublime, in equal mesaure. Despite the opposition, take nothing away from the young forward who played delightful passes, pulled defenders out of position with his well timed runs and tested the keeper at times. 9.0
HIGUAIN: A great return to form for the Argentine this week. 2 goals against his former employers and another brace last night in a tight game where Chievo gave him little space to operate at times. He's back to his clinical best and took both his goals with a fine finish. 9.0
Substitutes:
LEMINA: Interesting choice to be played out wide and he has the feet for it, but sometimes struggled in the defensive part of his game. It's a shame to see him reduced to a bit-part player this season as he has obvious talent. 5.5
BONUCCI: A brief cameo where he picked up a booking and looked a little off the pace. A nice warm up ahead of Barcelona, not much more. 6.0
DANI ALVES: N/A
---
Goals