Juventus 2-0 Chievo

Scorers: Pogba 60 (J), Lichtsteiner 73 (J)
---
Serie A – Week 20 [Sunday, 25thJanuary – 14:00 GMT] – Juventus Stadium

Welcome to the Paul Pogba Show. Sure, today the game was Juventus vs Chievo. But really it was the Paul Pogba Show. He scored the first goal and created the second goal – extending his scoring streak to four games. He was a huge presence on the pitch for Juventus, whether it was his wondergoals, his dribbling, or his strength. Today's performance was a continuation of his rapidly advancing development.
To be fair, the game was tied 0-0 for 60 minutes. There were some chances for Juventus, not really for Chievo. Alvaro Morata, Claudio Marchisio, Carlos Tevez, and of course Pogba all had shots on goal in the first hour. Good shots, too. Sometimes though, you just need Pogba and his weird hair to break through a team. 37 year old Chievo goalkeeper Albano Bizzarri did his best to stop this, and he almost succeeded. Indeed, even though his side lost 2-0, he was perhaps their best player.
13 minutes later, Pogba made more magic. From inside the penalty box he took a volley, definitely putting some power into his shot. Bizzarri saved it, but Stephan Lichtsteiner was there to get the tap in from an extreme angle.
After taking the lead, Max Allegri had his side switch to a 3-5-2. We've seen this happen a few times – Max will swap to the 3-5-2 when he wants to preserve a lead. It was a bit odd to see this happen against Chievo, but most likely the fact that the team lacks depth out wide played a role in this decision. Simone Padoin came on for Patrice Evra, and he's definitely not a left back. He is a somewhat left wing back, though.
Also of note: Simone Pepe played a bit at the end of the match. His recent garbage time is of great significance given the severity of his injury and the fact that he hasn't been a regular player for nearly three years. It's not clear how much he can contribute on the pitch, but we all know Pepe is a great factor in terms of morale, and with time he could return to the serviceable player he once was.
Alvaro Morata got the start, but he didn't get a goal. Morata at times had very good hold up play, and other times he misplayed passes or made poor decisions when it came to moving with the ball at his feet. Overall I was disappointed with his performance today. In the two games against Verona – not Chievo – he had an assist in one game and a goal in another. Today, he seemed rather flat. However he really hasn't started and played a full 90 in many games for Juve, so he is still learning how to be effective for an entire game.
Finally, Gianluigi Buffon deserves credit for making a few important saves. He wasn't challenged much, but he made sure Juve kept a clean sheet. Admittedly though, Chievo's best chance came in the 86th minute when Ezequiel Schelotto hit the woodwork.
Next up for Juventus is a match versus Udinese. However, Roma still has to play their fixture for this week. They play Fiorentina, but quite possibly by the time you read this that game will have finished. Even if Roma win, Juventus will end this week with a five point lead atop the Serie A table.
---
 Statistics:

Man of the Match: Paul Pogba


  Flop of the Match: N/A

  Fouls: 19

  Corners: 9


  Pass Accuracy: 85%

  Shots on Target: 8

  Total Shots: 29

  Ball Possession: 62%


  Formation:  4-3-1-2

---
Formation: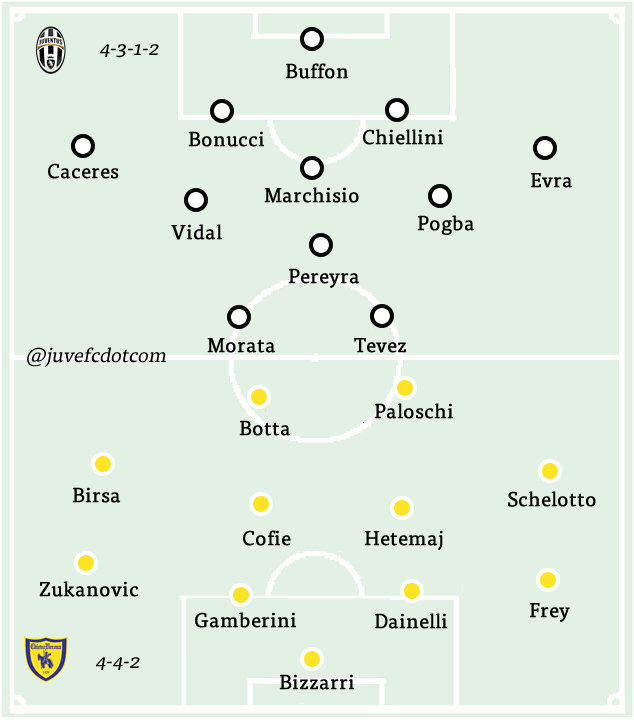 ---
Lineups:
Juventus: Buffon; Caceres, Bonucci, Chiellini, Evra; Vidal (Lichtsteiner 62), Marchisio, Pogba; Pereyra (Pepe 86); Tevez, Morata
Chievo: Bizzarri; Frey (Biraghi 43), Dainelli, Gamberini, Zukanovic; Birsa, Cofie, Hetemaj, Schelotto; Paloschi (Pellissier 76), Botta (Meggiorini 62)
Ref: Massa


---
Video Highlights:
---