Player Ratings
Neto – I believe the number two gatekeeper may have made one save, which didn't trouble him in the slightest as was hit from range. Besides which he seemed fine. 6
Bonucci – Back from his stint in Solitary and kept things safe and simple at the back. It really is a brilliant state of affairs to be able to rest the likes of Chiellini and Barzagli and bring in Leo and Daniele yet the difference in our defensive solidity is zero. 6.5
Ruagni – Already looking like a seasoned veteran, the 22 year rarely puts a foot wrong, is comfortable in the air and on the turf, shows superb timing and confidence on the ball. Caldara to come in…the Juve central defence is set for the next decade. 7
Sandro – Much to my delight after a period of consistency at a thoroughly decent level, Alex appears to be entering another growth spurt. For he has upped his game in recent weeks after regaining his sharpness and is now a major asset in every match. Locked down the flank, put in some intelligent passes and scored a brilliant goal, turning sharply in the box to finish accurately past the keeper for our second. 8.5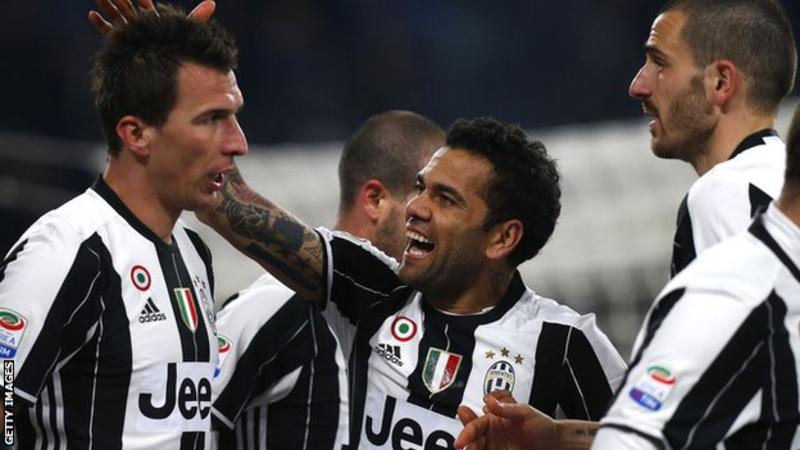 Alves – Once again looked spritely after a superb cameo in Porto midweek. Set up the second, cleared the stadium with a missile of a mishit shot from the corner and put himself about enough to just shade it in convincing me he can defend. Very useful for the squad to have him back and gaining sharpness. 6.5
Marchisio – Displayed maturity, improving stamina and a wondrous range of passing. It is pleasing to see him fit into the new system so seamlessly. Also (finally) managed to avoid crunching any opponents! 6.5
Pjanic – Despite dropping off a little late on Miralem played the deep lying creator as was required. A fulcrum at the base of midfield, quality delivery from set pieces, but did look a little jaded. Not quite right physically. Still, he gave his all on Wednesday when it really mattered, so a slight reduction in output is understandable and acceptable. 6
Cuadrado – Despite my notes showing 3 Xs which represent Juan losing the ball when under zero pressure, I felt his second half performance was superb. Crossing for the opener, causing plenty of trouble with his rapid change of pace and hugely upping his passing accuracy. Why oh why cannot he not play like this more consistently? The Colombian continues what has thus far proven a much improved 2017. 7.5
Mandzukic – Clearly mismatched against the defenders of Empoli and won the vast majority of aerial balls. His goal was well taken and he really should have done better with several other decent chances. Still, the customary astounding work-rate and his relationship with other players is plain for all to see as he creates numerous openings with knock-ons. 7.5
Sturaro – Strangely deployed in what appeared a bullish LM position, but stuck to the task well as could be expected. Had a couple of half chances, sent a few people flying, kept the ball moving with simple, robust link up play. Clearly not his favoured or natural role, but he was likely happy simply to be starting. 6
Higuain – Everything in his game was perfect except the three chances missed, all of which fell to his usually more reliable left foot. 6
Just what was needed after a stunning victory in Portugal. Professional, comprehensive and dominant. With the side rarely appearing to move out of 2nd gear.
Empoli made life as hard as they could and were able to play the ball around a fair amount, but to zero gain, for I noted just the one close to clear cut chance for the visitors during the whole 94 minutes of play, which was wasted. Despite their defensive solidity, often placing 6 players in their own box, we created 12 very good chances. Taking just the two…Same old problem and yet rather than focus on our wastefulness I shall instead lean towards the positive…in that sooner or later we are going to find a performance where our conversion rate rises apocalyptically. and our opponents will be scarred for life. Perhaps forced to move cities or countries to escape the constant pain of their suffering. Also…it is astonishing to be fashioning so many chances and yet still offering the same resolute defensive prowess. Bravo Allegri.
The squad is now strong and fit enough to afford our finest stars a break in between the big games. This tie saw Buffon, Chiellini, Barzagli, Lichsteiner, Khedira and Dybala all start on the bench. That is arguably more than 50% of the ideal starting XI. Although if Andrea can regain his sharpness, we will have three world class CBs with an ever improving Rugani for the 2 spots. As for Benatia? I see no reason to play him whatsoever. As I assume we will not take up his purchase option; due to lack of fitness and lack of showing he can be considered anywhere but number 5 in CB pecking order.
A quick remark on the officials, for the referee was high quality throughout. Maybe missed a penalty claim, other than which was sturdy. And to have just watched the MOTD show, as I do every weekend and beyond, I am convinced that the officiating in Serie A is of a much higher calibre for not a week goes by without a handball missed or a player booked when crunched in the box. This happens ever so rarely in Serie A, in fact the officials are more inclined to wave away any bother, especially when Juve players are mauled!
We are moving forward splendidly. Massive game against Napoli to come next. And also AC to pay us a visit. Such games are required and welcomed, to keep us growing and learning. Suffice to say, we are finding our best form just when it counts the most.
A job well done.
Forza Juve
TGP
(follow me on twitter HERE)
PS. To add to the Juve result, my beloved Gills won their first game since December and to apply icing to the cake, Caldara scored both goals in Napoli's 0-2 home defeat to Atalanta! Caldara's second was gorgeously crafted by another Juve player Leonardo Spinazzola and exceptionally well taken by the CB.