Juventus 2-0 Empoli
Scorers: Tevez 43 (J), Pereyra 94 (J)

---
Serie A – Week 29 [Saturday, 4th April – 20:00 GMT] – Juventus Stadium
The first half was very entertaining as Empoli did not hold back while playing Juventus. This was not the usual Juve in Serie A match where they have to spend 60 minutes breaking an opponent down, though Empoli weren't really exposing themselves either.
Of course, Stefano Sturaro nearly forced an own goal two minutes into the game. Sturaro put in a brilliant 45 seconds of play: he first displayed his pace with a penetrating run into Empoli's half, and then when that venture ended with him dispossessed, he pressured the Empoli keeper Luigi Seppe into making a sloppy pass, one that Sturaro deflected. There was no goal, but Sturaro nearly forced the fatal error.
Carlos Tevez tried to have his say two minutes later, with a strong strike from just outside of the 18 yard box being saved by Seppe. Empoli did not back down to Juventus though, and through the first 15 minutes Empoli was attacking rather consistently.
It took about 15 minutes, also, for Juve's makeshift midfield to get into a flow. Simone Padoin, Sturaro, and Arturo Vidal had not started together in midfield, and it showed for a few minutes. Once the clock struck 15, though, Juventus began attacking more fluidly.
Indeed the squad dominated possession for the next five minutes, with the players easily switching the ball from one side to another, spreading their play wide open and keeping complete possession for moments on end without issue.
Stephan Lichtsteiner nearly scored off of another defensive error in the box, as he caught a clearance in Empoli's own box. Unfortunately, his effort went across the face of goal. Twenty minutes later, though, and an Empoli mistake was finally punished for a goal.
A back pass in the box led to an indirect free kick for Juve, in Empoli's box. Vidal took the kick, tapped the ball to Tevez, who placed a ferocious shot high into Empoli's net for Juve's first goal. A minute later and Carlos Tevez was once again trying the Empoli goal, though he didn't get a second goal in as many minutes. Still, he had given Juventus the lead right as the first half ended.
Gigi Buffon was tested straight after the restart as Riccardo Saponara fired his shot straight at the keeper before Manuel Pucciarelli was denied by Buffon once again.
It was SuperGigi to save the game yet again as he managed to get his fingertips to the ball just ahead of Pucciarelli then immediately made a great reaction save to deny Saponara with the follow-up.
Daniele Rugani seemed to improve as the game went on and it was his perfectly timed tackled that denied Alvaro Morata shortly before Mchedlidze aimed his back-heel flick straight at Buffon.
Juve sat back while Empoli continued to push forward and press high, but it was costly in the end as Roberto Pereyra latched onto Carlos Tevez' saved effort to fire in from a tricky angle to score Juve's second.
---
 Statistics:

Man of the Match: Carlos Tevez


  Flop of the Match: N/A


  Fouls: 11


  Corners: 5


  Pass Accuracy: 89%

  Shots on Target: 7


  Total Shots: 16

  Ball Possession: 58%


  Formation:  3-5-2

---
Formation: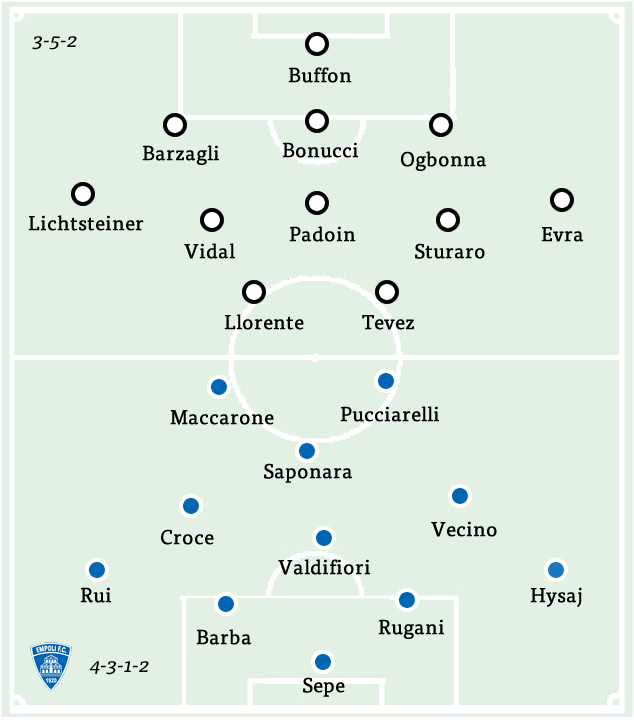 ---
Lineups:
Juventus: Buffon; Barzagli, Bonucci, Ogbonna; Lichtsteiner, Sturaro (Pereyra 77), Padoin, Vidal (Pepe 86), Evra; Tevez, Llorente (Morata 67)
Empoli: Sepe; Hysaj, Rugani, Barba, Mario Rui; Vecino, Valdifiori, Croce (Zielinski 74); Saponara; Maccarone (Mchedlidze 72), Pucciarelli (Verdi 77)
Ref: Giacomelli


---
Poll:
[socialpoll id="2263137″]