Juventus 2-0 Lazio

Scorers: Pjanic 30 (J), Mandzukic 75 (J)

---
Miralem Pjanic's half-volley and a simple tap in from Mario Mandzukic gave Juventus a solid 2-0 victory over Lazio.
Biggest winner/biggest loser:
After losing the SuperCoppa and an important home game to Lazio last season, it was good to get a victory/revenge over a team that impressed a lot of people with their style and approach. Juve rarely looked troubled and once it became clear that Leonardo Bonucci and Giorgio Chiellini had picked up their partnership where they left off a season ago, the Bianconeri slowly cranked through the gears to earn a healthy 2-0 win over the biancocelesti. I think the defence as a whole was the biggest winner on the night – As mentioned, the centre-back pairing seemed to have its old rhythm back with Giorgio and Leo calling out danger when they saw it and generally out-muscling what seemed to be a rather toothless Lazio attack. Joao Cancelo looked much better at the back, cutting out some dangerous passes and more tellingly, providing some moments of brilliance in the opposition half. Alex Sandro put in a good enough shift but seemed to be off the pace a little, compared with his fine season debut against Chievo. Overall, it was a good showing, enough to earn us three points without really having to exert ourselves.
The biggest loser seems to be the Curva Sud who are still protesting an assortment of issues they have with the club. Not content with hurling insults the way of Bonucci for periods of the game (I'm not agreeing or disagreeing with this, merely stating what took place), the atmosphere seemed completely absent. Rather than explain in detail, I'd recommend having a read of the situation from someone who was/is always there:
On a scale from 0 to 10 where 10 was the superb Curva Sud atmosphere of the first years at the JStadium… yesterday Curva Sud was 1 if not 0.
The decline is constant. Organized groups are protesting against the Club because they don't feel supported enough and… pic.twitter.com/QB1po2tzFZ

— Around Turin (@AroundTurin) August 26, 2018
Takeaways from the performance/areas of improvement:
There's still no real identity to the team at present, no set playing style, and as a result, it seems we lack a little dynamism at key moments in the game. Granted, it's still so early in the season and we've won two games comfortably without really having to test ourselves; Griping about formations seems a little churlish and premature. There's plenty of time for the team to find their tempo as the season progresses, and yet I hope we find that little extra in the centre of the pitch sooner, rather than later. Blaise Matuidi brings the energy and hustle, working end to end and breaking up attacks when needed. Miralem Pjanic can drop a little deeper to collect the ball and direct play from just in front of the defence when required, or push up a little higher when opponents are content to sit back. Sami Khedira, for all his efforts, still seems to be so slow and laboured when he has the ball and I'm not always sure what he brings to our play, despite Allegri defending his inclusion. I've no agenda against anyone, nor do I think it's right to single out any player for abuse when the team is on the pitch, but I can't help but feel we should be a little quicker and faster in certain moments and Sami can be a hinderance to that. It's a small complaint and perhaps its the fan in me that wants to see some change to the way we set-up in the hopes we can step up our game before we get to the trickier matches.
Rodrigo Bentancur had a long summer playing with the Uruguayan national side and still needs to return to full fitness, but my hope is that we see more of him alongside Pjanic and Matuidi as the season progresses – The youngster enjoyed a great run ayt World Cup and definitely warrants inclusion in the team. given his mature performances on the biggest stage.
At the back, everything looked far more organised, far more controlled and even when Lazio pressured us, the defence looked untroubled. Leonardo Bonucci should be singled out for some praise given the way he kept Immobile so well marked while Joao Cancelo was far better in his defensive duties, his positioning and awareness looking much improved in just one game.
Injury updates:
Leonardo Spinazzola and Mattia De Sciglio were the only absentees for the Lazio match, neither making the squad. Spinazzola is recovering well by all accounts and should be back in the squad by September or October. De Sciglio has a muscle strain that requires a longer spell on the sidelines but he should be recovered for the visit to Parma or shortly after.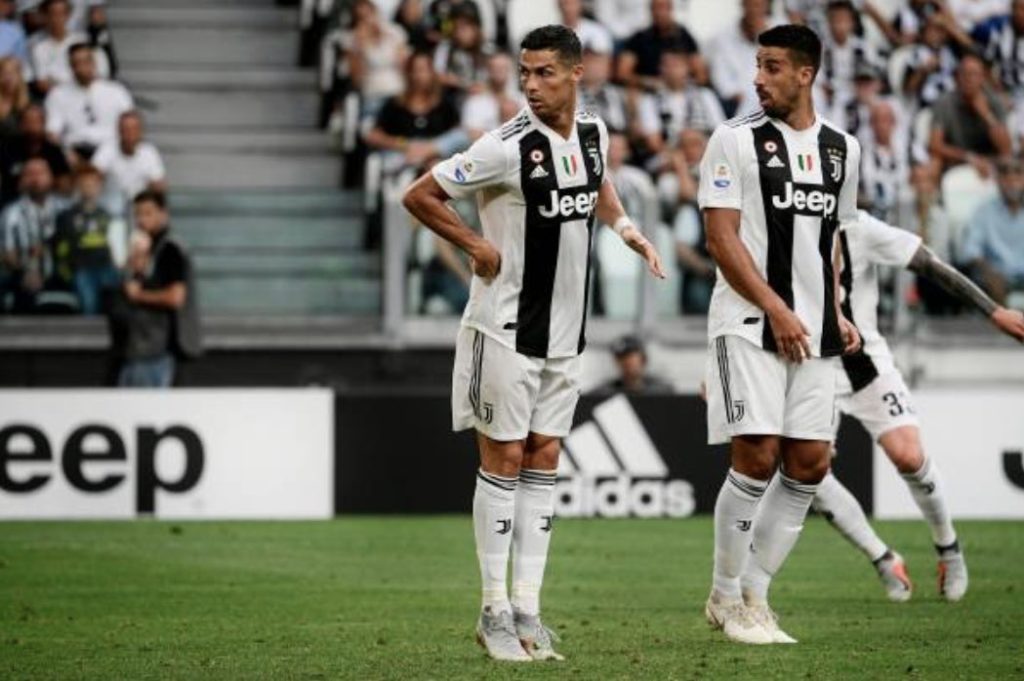 Statistics:

Man of the Match: Mario Mandzukic/Joao Cancelo


  Flop of the Match: N/A


  Corners: 6


  Pass Accuracy: 84%

  Shots on Target: 7

  Total Shots: 16

  Ball Possession: 55%


  Formation:  4-3-3
Opposition:
Lazio started brightly and had their share of possession in the opening half, but they drifted in and out of the game and looked fragile at the back. It's a shame we didn't pressure them more as Stefan Radu looked a weak-link in the defence and we might have made the result a little more comfortable earlier on in the game, had we exploited the channels a little better. Sergej Milinkovic-Savic and Luis Alberto both looked a little leggy and tired as the game developed and overall, Lazio looked a little slow and ponderous when they had the ball. Ciro Immobile was marshaled really well by Giorgio Chiellini and Leonardo Bonucci and the pair seemed to have the measure of the Biancocelesti striker for most of the game. I suspect time is required for Lazio to find their feet again, as will likely be the case with many teams who had players at the World Cup.
Outlook for next fixture:
There's no denying it, the prospect of a trip to Parma next weekend makes me feel very nostalgic and I can't help but raise a smile at the thought of a return to the Tardini all these years later. They've done a magnificent job of returning to Serie A after all the hardships the club, fans and players have had to endure. Thankfully, it looks like things are better organised at present and the team looks like it has plenty of depth with a nice blend of experienced veterans and a good crop of youngsters thrown into the mix.
They were a little naive in the league opener against Udinese, taking a two goal lead before being pegged back to 2-2; I'm sure they'll give a better account of themselves against SPAL in this weekends match. Robero Inglese leads the line well and they tend to stick to a tried and tested 4-3-3 so we may well fare better by mirroring them with a similar formation.
Best new signing on the field:
Emre Can had a brief cameo in the second half and showed some nice moments and a good range of passing, but his decision making was rash and the tackle that earned him a needless yellow card could have been avoided. He needs time to adjust to the tempo of the team but I would hope to see him in place of Sami Khedira in the long-term.
Cristiano Ronaldo worked his hardest, switching with Mario Mandzukic at times, cutting in and out of the box and creating chances for himself, much like he did against the Flying Donkey's last week. He arguably should have done better from Cancelo's pass, but the speed of the delivery may have cost him a moment or two and he still gets the 'assist' anyway. That aside, he was a good threat, made some great runs and I can't help but feel the Juve midfield needs to be working faster and harder to offer him better service.
Joao Cancelo was massively improved for his debut against Chievo, looking far more of an attacking threat while also maintaining some balance at the back and improving on his defensive showing. The cross for Juve's second goal was timed to perfection, easily having the beating of the entire Lazio back line. On balance, I think he was the best of the new bunch.
Match Highlights:
Manager Review: 7/10
The Mister elected to drop Paulo Dybala for this one and while the conspiracist's among us might be quick to point to the poor display against Chievo last weekend, I think his absence was more likely down to the way Lazio set up. Playing Paulito in the same role against Lazio might not have guaranteed us the result and the only other options were to play in on either of the flanks or up top. None of those seemed practical, given Bernardeschi was arguably the man of the match last time out while Ronaldo offers something no other player can. Using Mandzukic as the focal point of the attack gave Juve more of a reference and seemed to make far more sense that trying to sandwich Dybala into the starting eleven, just for the sake of it. Allegri explained it after the match:
"Without Dybala, it becomes more difficult to pass between the lines, but after a while we defended well and did far better in the second half…..The spaces did open up after a while and we should've accelerated when the opponents were more fatigued. Once again, the substitutions were very important with Douglas Costa, Emre Can and Rodrigo Bentancur making an impact off the bench."
The boss keeps alluding to the strength in depth that the team has, perhaps keen to remind us that when you have a team this well stocked in attack and defence, it will take time for every player to find their moment. The substitutions came at the right time, exactly when we needed more a bit more bite in the centre of the pitch and on the wing as well. No complaints at all for the moment.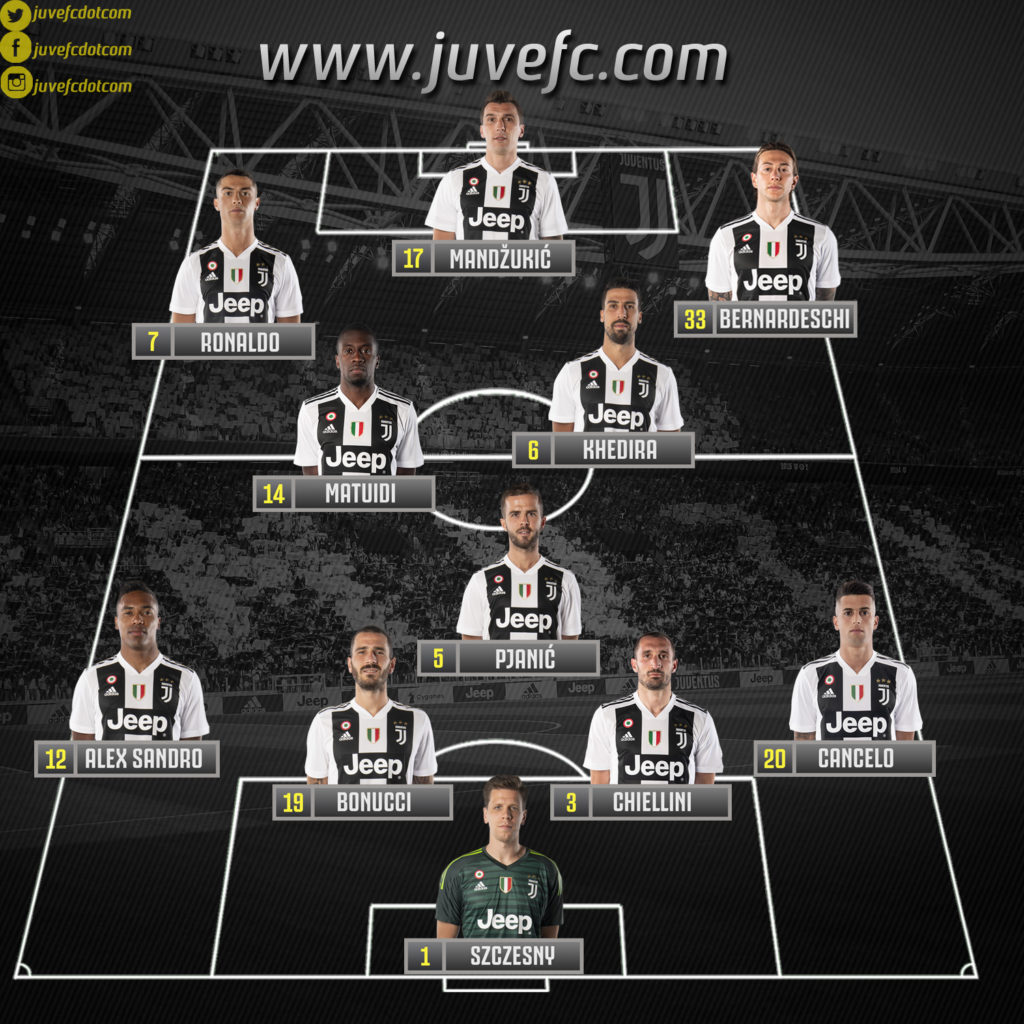 Formation/squad selection grade: 8/10
It was another quite deliberate shift in personnel and I think it was telling. Knowing full well that Lazio would field some variation of a three-man midfield of their own, Allegri opted to drop Dybala from the starting XI in favour of bringing Blaise Matuidi into the setup. Despite not looking at their absolute best and rarely approaching the scintillating football that Juve are certainly capable of, it was a workmanlike performance, enough to get the job done, largely aided by having a box-to-box type like Blaise on the pitch.
The defence looks set and I can't see Allegri deviating from a back four with Cancelo, Bonucci, Chiellini and Sandro while Szczesny is certain to retain his place between the stick for the foreseeable future. Up top and in midfield is where we might see the most variation in the early part of the season, and it's easy to see why. Allegri explained the important of the depth in the team after the game:
"It's one game per week in the first three rounds, but from September 15 onwards there will be midweek Champions League games too and naturally we'll need everyone. The important thing is that those who come off the bench contribute in the right way."
The team returned at various stages throughout the summer and at different levels of fitness. Some players are ready to be thrown in at the deep end and are more than capable of starting every match, while others will take a little more time to find their rhythm again. I don't think we should be married to any formation for the moment, nor should we be too critical at this early juncture, especially as the results haven't looked in jeopardy, despite us barely coming out of third gear.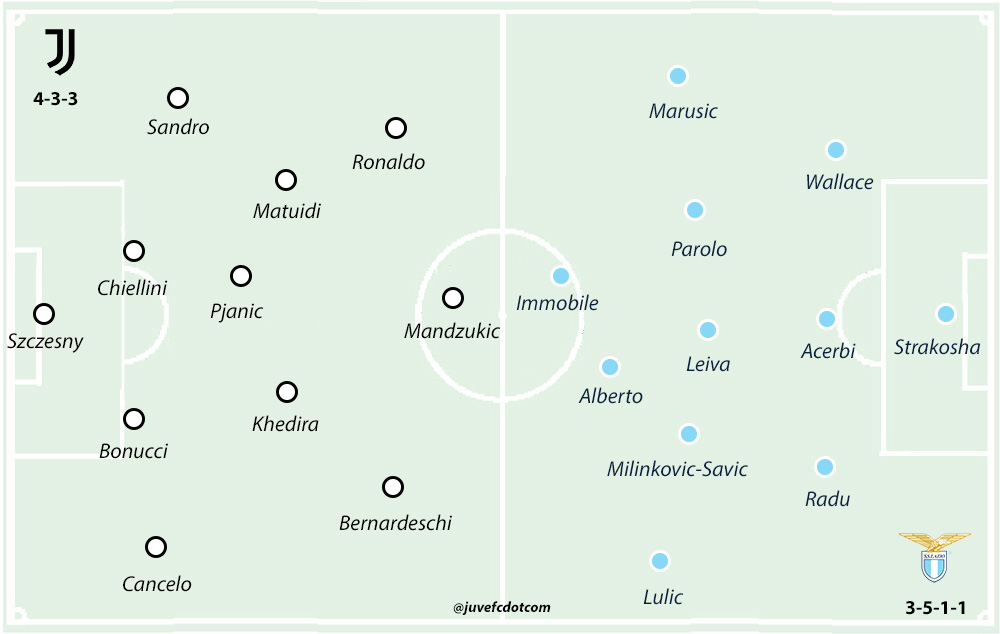 Lineups:
Juventus: Szczesny; Cancelo, Bonucci, Chiellini, Alex Sandro; Khedira (Bentancur 84), Pjanic (Emre Can 69), Matuidi; Bernardeschi (Douglas Costa 59), Mandzukic, Cristiano Ronaldo
Lazio: Strakosha; Wallace, Acerbi, Radu; Marusic, Parolo (Badelj 63), Leiva, Milinkovic-Savic (Durmisi 79), Lulic; Luis Alberto (Correa 63); Immobile
Ref: Irrati
[Image from Juventus.com]