Juventus 2-0 Lazio

Scorers: Mandzukic 69 (J), Dybala 73 (J)
---
SuperCoppa Italiana –  Saturday, 8th August – 14:00 GMT – Shanghai Stadium
Paulo Dybala and Mario Mandzukic were on hand to provide the goals for Juve's 2-0 win over Lazio in the Supercoppa Italiana.
What a match; A first-half hampered by a dreadful broadcast from RAI, topped off by a thoroughly lacklustre display from both teams. Did you have a random Chinese guy interrupting the match every 10 minutes? No? Just me then.
Rather than dwell on the negatives, I thought i'd jump in with some positive moments from today's match:
1.Mario Mandzukic
What a performance from the big-man. Dominant, powerful and commanding in the box. I've heard a lot of people say he's too anonymous and does nothing to contribute in the build-up. Based on today's performance, nothing could be further from the truth. While he may have spurned a glorious chance early on, his opening goal was a perfectly taken header, beating two defenders in the process before nodding past Marchetti. He even played his part in the second goal, pulling wide and shrugging off a challenge before crossing into the box. A very positive display
2. Paulo Dybala
It's been a few hours since the game ended and I'm still watching highlights of Dybala's strike, over and over. Watch his movement. Perfect positioning, doesn't lash at the ball, he meets it just right to put it into the roof of net. His introduction into the game gave Juve some added pace and creativity and ultimately, it sealed the result. A brilliant start to his Juve career.
3. Paul Pogba
I wasn't a fan of handing the '10' shirt to a player who may well be leaving the club a year from now. As much as I love Pogba, and I do love the guy dearly, I couldn't understand the rationale behind it, other than it being a cynical marketing ploy to sell more shirts. In hindsight, I think those comments about Paul wanting the '10' shirt probably ring true and perhaps it was all down to him wanting the added responsibility. He turned in what I can only describe as a 'mature' performance. Fewer flicks and tricks, more intelligent runs, passes and dribbles. I'm pretty sure he completed more tackles than anyone else on the pitch today, before laying the ball off for Dybala to score Juve's second. Maybe, just maybe, Allegri, Marotta and Agnelli know what they're doing.
Honourable mentions should go to the defence, especially Leonardo  Bonucci who worked tirelessly to help Gigi Buffon keep a clean sheet. Very impressed by Stefano Sturaro as well. A few mistakes early on quickly gave way to a more industrious display in the second half, including the assist for Mandzukics' goal.
---
 Statistics:

Man of the Match: Paul Pogba


  Flop of the Match: N/A


  Fouls: 10


  Corners: 0


  Pass Accuracy: 70%

  Shots on Target:


  Total Shots: 6

  Ball Possession: 45%


  Formation:  4-3-1-2

---
Formation: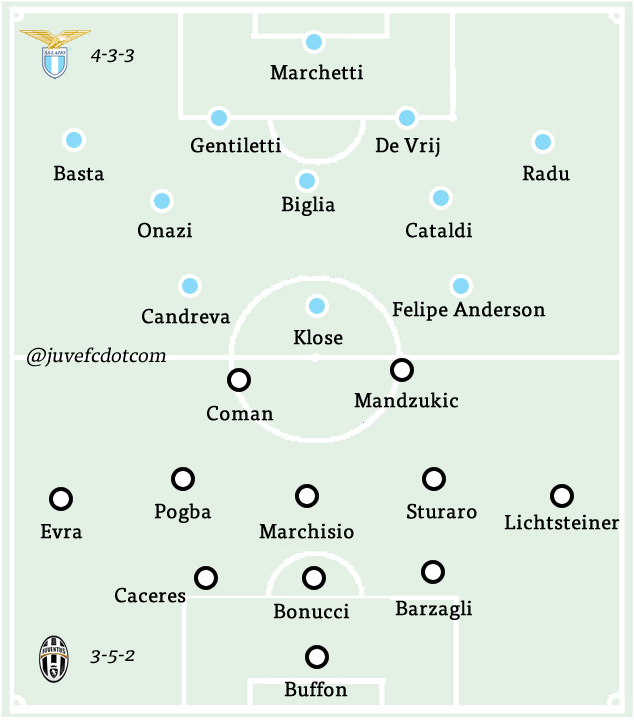 ---
Lineups:
Juventus: Buffon; Barzagli, Bonucci, Caceres; Lichtsteiner, Sturaro (Pereyra 89), Marchisio, Pogba, Evra; Coman (Dybala 60), Mandzukic (Llorente 79)
Lazio: Marchetti; Basta, De Vrij, Gentiletti, Radu; Onazi, Biglia, Cataldi (Kishna 74); Candreva, Klose (Djordjevic 61), Felipe Anderson (Morrison 86)
Ref: Banti
---
Poll:
[socialpoll id="2287407″]