Juventus 2-0 Olympiacos

Scorers: Higuain 69 (J), Mandzukic 80 (J)

---
Gonzalo Higuain came off the bench to make the difference in Juve's 2-0 victory over Olympiacos.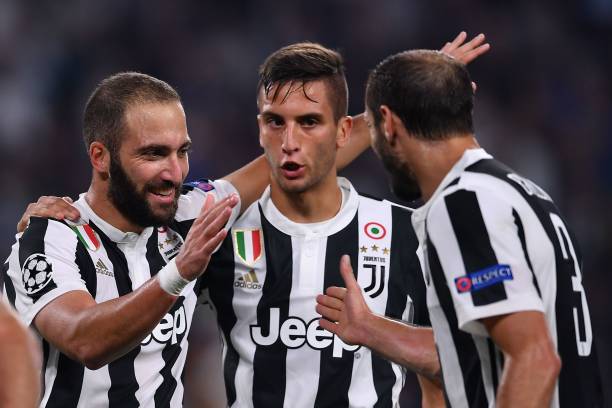 Biggest winner/biggest loser:
Gonzalo Higuain had his share of critics over the last few weeks and it felt only fitting that he came off the bench to answer/silence them. People will inevitably continue to pick fault in Pipita's performance and raise questions about his form and weight, however he does what he does best, score goals; Be it a match winning strike in the Champions League or a hat-trick of goals in Serie A, he only plays one way, and that's exactly why we bought him –  He's the clear winner tonight.
It's hard to single out a single loser as I think Olympiacos played a good game in an effort to contain us and their players are still adjusting to the change in management and tactics. Stefano Sturaro was one of the only weak links in the Juve lineup but even he played a decent game with no frills so it would seem harsh to judge him as a loser.
Takeaways from the performance/areas of improvement:
Rodrigo Bentancur stole the show as the match developed (more on that later) but I think he has areas of his game that he obviously needs to improve on. As Allegri rightly said post-match, the Uruguayan needs to work on his vertical passing and his positioning on the short passes, but this will come with time and more minutes.
The game was frustrating for large spells and we lacked real width, despite having two natural wingers on the pitch. Credit to Olympiacos for being tough to break down, but it would have been nice to see is move the ball faster and for the players to move a little quicker off the ball as well. It took until the second half for the match to open up and thats when we took the lead, stretching the Greeks defence.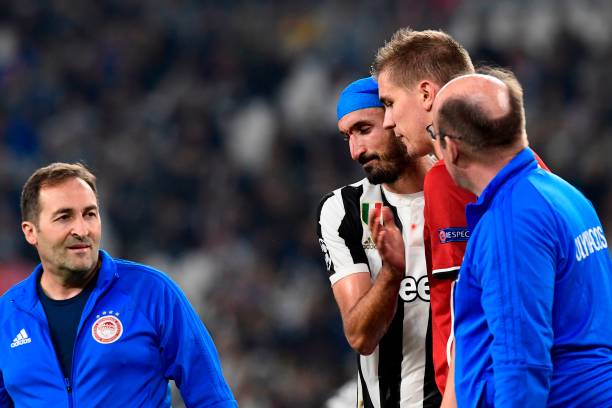 Injury updates:
Giorgio Chiellini took a nasty knock to the head and needed 8 stitches, but in true Chiello fashion, he said he was fine after the game and the 3 points were all that mattered. Miralem Pjanic was injured in the warm up and it seems unlikely that he'll be fit enough for the game against Atalanta, with more tests and an announcement expected in the coming days. Sami Khedira was back in the squad and could feature at the weekend, although perhaps not from the start while Claudio Marchisio is back in training and will have the international break to fully recover and return to the squad. Marko Pjaca and Mattia De Sciglio continue their recovery and are expected back in October/November, respectively.
Outlook for next fixture:
I think there is an air of positivity in the side after the first Champions League win of the year, and also winning the local derby. Higuain was once again amongst the goals, Bentancur solidified his status as a star in the making, and Sturaro did admirably at right back.  We must continue as we mean to go on. The results have been positive thus far, Barca aside, and the team seems to really be starting to click. I expect a difficult test at the weekend with Atalanta, but one which we should remain optimistic about. I'm up in the air in regards to rotation as it is our last game before another dreaded international break. The fixture at the weekend should be manageable, if nothing else, as Atalanta have a difficult Europa League challenge in Lyon before we see them.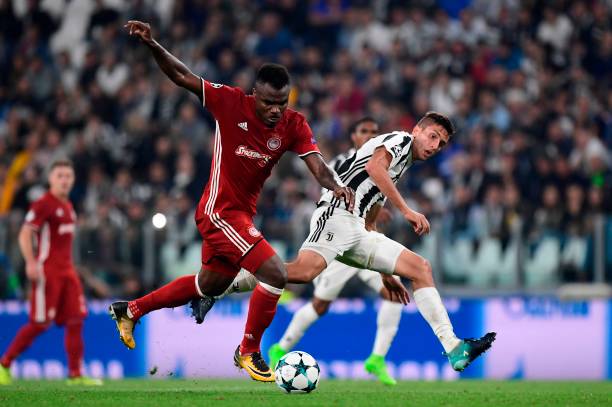 Opposition:
Compact and resolute. This was a game that Olympiakos came well and truly prepared to defend in. In the first half both Sturaro and Sandro were as far up the pitch as Cuadrado and Costa. For a last minute managerial change, they did up their game just a bit, but it wasn't enough to trouble us on the night. A few worries with counters, but nothing that wasn't negotiable. I feel the battle for the 3rd spot in our group will be very exciting to watch. It will be interesting to see how they fare going forward with their new/old manager. He's no stranger to the club and this is his fourth or fifth stint on the bench for Olympiakos.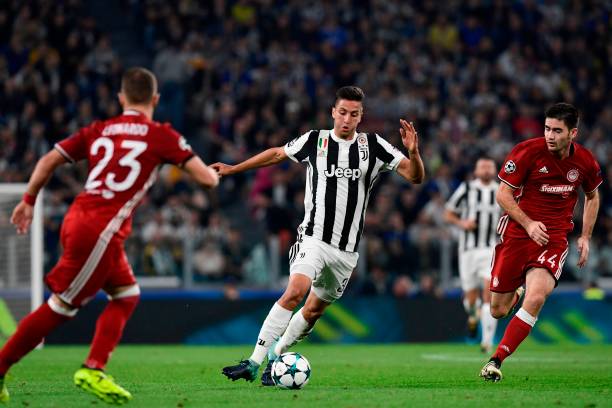 Best new signing on the field:
There is no question that Rodrigo Bentancur stole the show this evening in this regard. Called into action at the last minute and he performed admirably. Possibly the best player on the field with 93% completed passes. Didn't seem to put a foot wrong on the night and is well and truly showing that he is one to keep an eye on going forward. He plays beyond his years. While I was not the first to the Bentancur party, I'm really intrigued by his composure on the ball for his age and his range of passing. Obviously his engine is in top notch condition at twenty years of age, but he is like a gazelle. Graceful, incisive, thoughtful, and intelligent. Maybe the "big" midfield signing of the summer was Bentancur.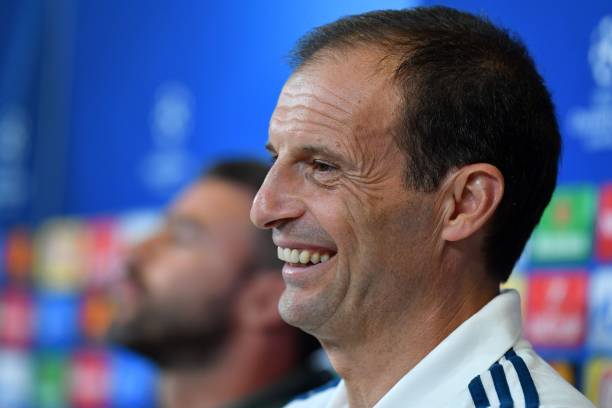 Manager Review
Today it's a 5 out of 10 for me. Max seemed planned enough for the game, but we were lacking that little bit of forward prowess which may have been left out of the team talk. I can't say I would have expected him to take an all out attack approach in the Champions League as he rarely does, but it was a controlled and calculated performance. I do have to commend him on giving Bentancur and Sturaro starting berths today. Bentancur was a stroke of genius and Sturaro did more than admirably at right back on the night. Typical of him to make substitutions late when we aren't up on the night. He's definitely starting to get the synchronicity in the team that we need. The side is looking more and more cohesive.
Formation/squad selection grade: B+
Everything worked out eventually and its hard to be overly critical of the starting XI – I think 4-2-3-1 continues to work well for us and against an opponent like Olympiacos, it was the right way to go, considering the personnel available. My only annoyance is that Daniele Rugani didn't start. The youngster features in most league games and while I appreciate that the senior heads like Barzagli or Benatia get priority, young Daniele needs moments on the big stage as he is the future of the Juve backline.
Juan Cuadrado was ineffective for large periods of the game and considering Bernardeschi is fit and raring to go, it would have been a welcome sign to see the youngster start on a European night. Reducing him to 10 minute cameo appearances most matches when he was starting (and scoring/creating chances) for Fiorentina seems short-sighted.
Lineups:
Juventus: Buffon; Sturaro (Benatia 81), Barzagli, Chiellini, Alex Sandro; Matuidi, Bentancur; Cuadrado (Higuain 60), Dybala, Douglas Costa (Bernardeschi 84); Mandzukic
Olympiakos: Proto; Figueiras, Engels, Nikolaou; Koutris, Zdjelar (Fortounis 77), Romao; Pardo (Ben Nabouhane 72), Odjidja, Sebá; Emenike
Ref: Stieler (GER)
Statistics:
Man of the Match: Rodrigo Bentancur

  Flop of the Match: N/A

  Corners: 11

  Pass Accuracy: 89%
  Shots on Target: 8
  Total Shots: 22
  Ball Possession: 76%

  Formation:  4-3-2-1