We created eight very presentable chances whilst conceding just the two for the visitors. Thankfully we took two and they took just the one when we switched off for a breather as Monaco took a short corner at lightning pace.
Other than that bothersome moment, which is not enough to sour these precious moments, we were indomitable. Perhaps slower to the ball in the first half hour, yet this was to be expected and was likely part of the game plan. Soak up the pressure which simply had to come, then begin to piece together moves and wait for the holes to appear.
Much of our play was a joy to behold, with our ability to retain possession, move the ball up the field to carve out chances with beautiful one touch passing proving the very hallmarks of a top class team I have been hoping and waiting for.
Monaco played their part in what was an entertaining, generally very sporting semi-final. They deserved a consolation goal and 4-1 overall reflects our dominance over the two legs.
I will hope, as will all others with black and white in their veins, that Big Sami recovers both for the coppa italia final and more importantly our visit to my motherland for the big one against Real. He will certainly relish facing his old side, as Alves will equally enjoy facing his old enemy. I could write a novella about Chiellini's defending, the outstanding transition from defence to attack which is now becoming ever so fine tuned, yet this was a team effort, and it is this magical cohesion of every player knowing their inter connected roles instinctively which has taken us this far.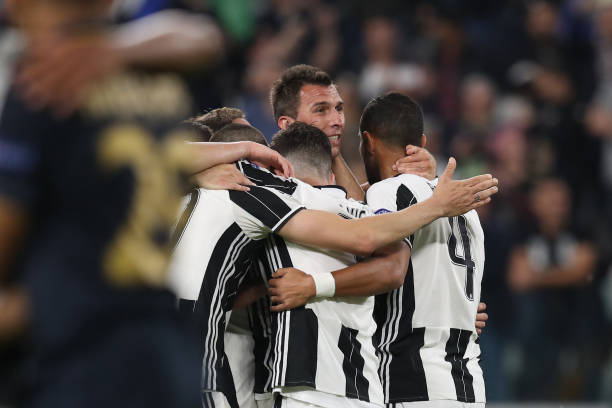 No one or two individuals are relied upon more than the team as a whole. This is our strength. In the collective, not the singular. We play for the badge, we play for each other and Allegri must be praised to the heavens for the sterling work he has forged since arriving at the club close to three years ago under a volley of insults and disharmony amongst the fans. To think that some were calling for his head even earlier this season! Lunacy, yet a sign of a section of the 'modern' supporters who are accustomed to the consume and dispose routine, demanding instant gratification…without focusing on the long game. Yet this is no time for me to launch into a devilish bout of social commentary. This is a time to rejoice, to feel our hearts lifted, our spirits soaring…
We have earned, not through hook and crook, not through generous decisions from officials, but through an ever more strident collective devotion to the cause and damn hard work our place at the top table of the global elite.
I am proud to be a juventino whether we are languishing in 17th or marching our way to a historic treble, and come what may when we step out to the famous music to reach out as one for the ultimate triumph I know my heart will be filled with rare and beautiful butterflies (it already is!), every milisecond will count as a special moment in the history we share with the club as fans.
Now we must smile, then redouble our focus, train hard and maintain the stunning momentum. There is a league title to be won, and a domestic cup final. If we can charge triumphantly through these obstacles and emerge unscathed, I see no reason now not to dare to dream. The treble is literally within touching distance.
I nod and applaud towards the club from top to bottom, I thank them all for the endeavour and desire and hunger on show for the world to see and wish the lads the very best of luck as they approach the final stages of what has already proven a truly remarkable journey.

Player Ratings
Buffon – Was forced into but the one close to serious save, other than which was well protected by a magnificent rearguard, plucked balls from the air majestically and launched the counter-attack for the opener with swift thinking and superb awareness. 8
Bonucci – Seemed rarely involved, yet so did Falcao due to Leo's marvellous shackling routine. Kept his cool and concentration until the latter stages when he felt the need to impose his authority to earn his trademark yellow. 8
Chiellini – We have found the Kaiser at his optimum at just the right time of the season. This was the performance of a seasoned soldier playing at the very top of his game. His clearance from just inside the box was world class, as was his solid aerial defensive prowess. He was simply unbeatable, from every angle Monaco tried. 9.5
Barzagli – Rolled back the years yet again to keep Mbappe pretty much in his pocket. Applied a man-marking job whilst maintaining focus on the right defensive area. His tackles were impeccable, his timing magnificent, and other than briefly switching off for the goal as several others did in turn, The Rock was close to flawless. 8
Sandro – Crafty devil, his feathers never ruffled, and locked down the left flank brilliantly. He is truly announcing himself, by my reckoning as the natural successor to Marcelo as the finest Left Back in the game. Calm, composed, careful. A faultless outing by one of the least heralded, yet most astute signings of recent years. 8.5
Alves – Enough! I am truly converted from skeptic to heartfelt fan. For I was one of his long standing detractors when he arrived at Piedmont and also through the first few months of the season. His showboating (both on and off the field!) and lack of defensive discipline left a lot to be desired and caused me to pine for Stephan and feel the club had treated the Swiss unfairly, even disrespectfully. Yet after returning from the broken leg, far sooner than expected, the Brazilian took a few games to adjust to a RM role, and has since blossomed into a player arguably more wily and equally wondrous technically than all I saw of him for the Blaugrana. Immense stamina, perfectly timed interventions, yet another assist and such a stunningly taken volley. He remains galactic class. To have created three, scored one is incredible form at this level for a 34 year old. 10
Marchisio – Entered the fray unexpectedly early doors, yet could be relied upon to offer guile and ever impressive reading of the game to thwart all efforts through the middle as he was fully in sync with every player around him. Indeed, he is not yet the player he was, but his intelligence and steady desire to die for the cause was on show for all to see. Solid, uncompromising and highly competent. 8
Pjanic – If there was a game this season which confirmed what Allegri has been suggesting since the Summer, that the Bosnian could become a top three midfielder in a deep lying playmaker position, it was this one. His duties at the back, distribution, swift and accurate delivery of the ball and set pieces were all of an extremely high calibre. He has the potential and the talent to reach the legendary status of Pirlo. 9
Dybala – Could have done better when one on one with the keeper, yet ran hard, kept seeking both space and the ball and his passing was intricate and cunning. A solid, mature performance from a player destined for true greatness on the grandest of scales. 7.5
Mandzukic – Back to his best after a shoddy return to CF at the weekend. Treading a thin line on occasion either side of the law of the field, which boiled over into frustration late on. Still, he took his goal powerfully, could have had another before and never stopped pushing, fighting, hustling. Allegri's redeployment of a player with a lengthy, successful career behind him as a centre forward, into a LM has thus far proven a master stroke. Bravo Max and Bravo Mario! 8.5
Higuain – Not as his sharpest in front of goal, which will surely return swiftly. Forced plenty of openings despite fluffing his lines on several occasions. The stamp from Glik was wretched and the Argentine did well to dowse the flames in his blood and regain focus quickly. Regardless of his failure to get on the score-sheet, his all round game has remained consistently top drawer throughout this season. Let us hope he is saving his shooting boots for the final. 7
Cuadrado – Brought on to offer Dybala a rest for the scudetto party on Sunday. He was brighter, more confident and back to the 2017 Juan I have come to thoroughly enjoy with his direct running and vastly improved distribution. 7
forza juve
TGP
(follow me on twitter HERE)