I managed a half, perhaps crooked smile when the draw was made for this tie. Not because I thought it was an easy glance in the right direction by Lady Luck, nor out of any particular eagerness to face Pocchetino and his vibrant, entertaining North London outfit. No…my droll reaction was due to the suspicion that a fair few juventini might find themselves badly surprised by the quality and ambitious nature of our would be foes.
My own opinion of the top tier of english football, which I have followed for the best part of three decades, is that the offering of present day is as wildly exciting as it is atrocious defensively. One leads to the other. It is by far the most strongly marketed football product on the planet, but rarely the finest football. Despite the latter judgement, there is a fair amount of world class talent to be found in the PL. Several of them at Spurs…For some time I have ear-marked three of their players who appear to clearly offer superior talent to their counterparts in our own squad – Eriksen, Kane and Dembele. None of whom we could now afford, other than perhaps the Belgian, who also happens to offer everything in one package that we miss in our midfield; poise, muscle, hustle, ability to dictate tempo, great feet, strength, stamina, superb defensive cover. He is a world class holding midfielder, and this position we have failed to strengthen in our squad year upon year upon year.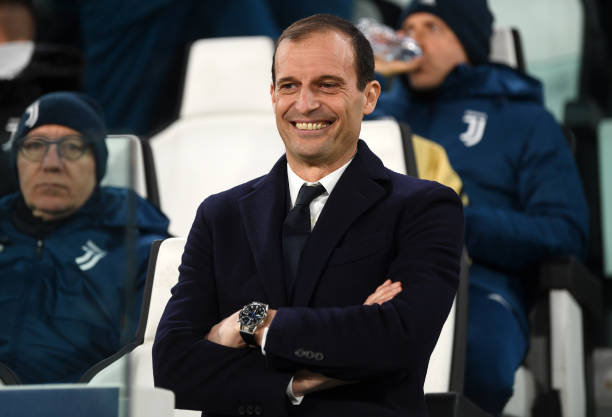 It is a pivotal role, and one which I assumed Allegri had spotted as a major strength and worked on a strategy to diffuse or disarm. To thwart Spurs you MUST mark Kane tightly, go toe to toe with Dembele and stop Eriksen picking up easy short passes with time on the ball in the middle of the park.
That is the game plan to stop Spurs. The bare minimum. Which we failed to address with our own tactics.
Max chose a two man midfield to combat arguably one of the strongest holding midfielders and highly accomplished ball players in the game. One of the two was Khedira, whose form has been at best sketchy all season, a player with poor stamina, no pace, a tendency to drift out of games so completely that he appears absent from the stadium. The other was a delicate as a butterfly flair merchant who has zero form for flourishing without mobile, protective hustle and muscle nearby. The result of this was that we lost the midfield battle from the start to finish of the game.
Dembele and Eriksen bossed the tie. They were rarely touched, never looked harried and were the best players on the night from either side. This was predictable.
The question is…could this have been avoided?
Before answering, I will add that whilst we played poorly, were tactically mismatched and not one player in black and white appeared near the top of his game, had Higuain taken one of his two simple spurned chances we would have won the game…There is the only silver lining from this abject display. We were so poor but still should have won. It is from this perspective where confidence can grow for the second leg. Yet back to the question posed above…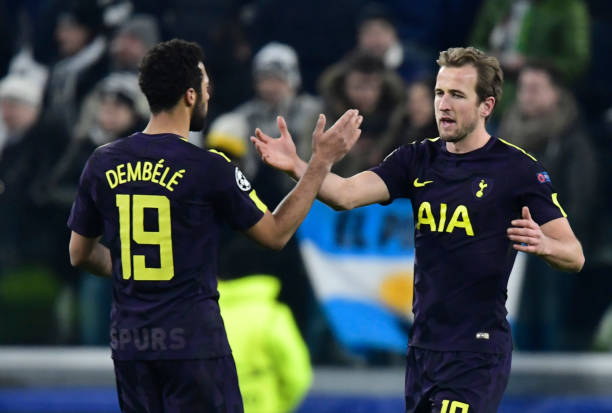 Dier sits deep for Spurs. Dembele roams more centrally and is happy to connect defence and attack as well as receive the ball in tight positions and fend off opponents with ease. Eriksen then finds positions to receive the ball from Dembele and set the fullbacks off on a scurry or seek out that serpent faced Ali or the HurriKane.
Clearly the central midfield area fight was one we had to win. Allegri decided to avoid this fight altogether, cede that area to the opponents without raising a fist in anger, and focus on the flanks and counter-attacking football. This worked well enough to create the 5 decent chances which came our way and Gonzalo should have won us the game, but in terms of the performance, the tactics were wrong and floundered poorly.
Why wasn't Marchisio chosen to complete a three man midfield?
Why were Bentancur and Sturaro brought on as subs when neither has any match sharpness?
To put it simply, such is the strength of the Dembele anchored Spurs midfield, it was a huge risk playing with basically no central midfield (which is how the Khedira/Pjanic tandem manifested). This risk did not pay off. And had Spurs won the game we could have no complaints such was their dominance.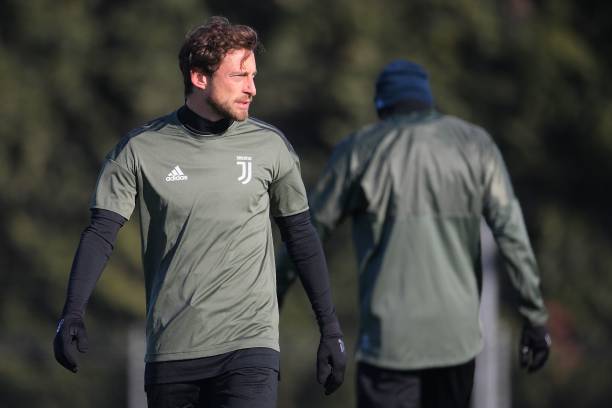 I have no idea as to why Marchisio was not starting nor brought on when the game was crying out for some experience and presence in central midfield coloured black and white.
Bentancur is still young. We were too kind to push Sturaro out in January and with Matuidi injured our squad and manager were shown to be a little less elite standard than some assume.
I do believe we could have countered the Spurs dominance in midfield by playing Il Principino, and chucking in Sturaro in place of Khedira. The German has been a passenger in more games than I care to recall, for too long and the sooner he is out the club the quicker we can progress. Or Bentancur could have slotted in at RCM, certainly more mobile and able to defend as well as distribute the ball intelligently. Yet he has barely featured of late…Likely to be loaned in the Summer I assume, and perhaps – as is my hope – we can bring in Mandragora, as he is demonstrating at Crotone everything we need in a DM.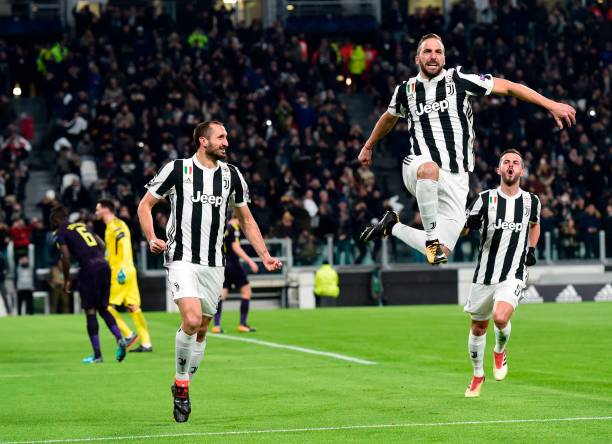 Player Ratings
Buffon
Made a decent save from a Kane close range header in the first half but certainly at fault for the Eriksen free-kick in the second. We expect better and such misjudgments add weight to the suspicion that time is finally catching up with the living legend.
5/10
Chiellini
Huffed, puffed, tackled, fought and won his fair share of free kicks. Kept Kane relatively well shackled other than for the goal, when the big man had committed himself and slipped in the middle of the park before Ali slid the ball through for the Spurs frontman to grab their first.
6/10
Benatia
Still yet to convince he has the technique and concentration to prove a rock in a side aiming for top honours. Though much improved on last season, Mehdi remains prone to poor decision making, as was seen with his needless booking and to some degree with the Kane goal (though De Sciglio was also at fault). Physically more imposing than Rugani but far less useful on the ball, and given the departure of Leo, any calm distribution from the backline should be encouraged and nurtured not demoted.
5.5/10
De Sciglio
Made one sterling tackle in the box to deny a clear goal-scoring chance, other than which offered very little but tidy short passing and adequate covering. He provided zero potency going forward, sat too deep and too often – as with others- cleared the ball straight back to the visitors.
5/10
Sandro
As with his counterpart on the right, the left-back made very little progress forward, was hemmed into his own rear third by marauding Aurier. Dealt well enough with the threats faced on his flank but failed to support the midfield and offence.
6/10
Khedira
This is not a one-off. Big Sami has long been accustomed to showings of this anaemic nature in which we appear to be playing with 10. The German failed miserably to impose any presence in the vital midfield area, was feckless in screening the defence and was not once seen in the final third looking to support Higuain. Can he be blamed when his form suggests this is the norm? Other than against weak opponents, Sami has long looked well past his best. Most worrying and damaging of all is his ever worsening lack of pace. A terrible showing.
3/10
Pjanic
Mitigating circumstances aside, poor Miralem faded horridly after such a bright start with the smart free kick for Higuain's opener. He has never had the physicality to impose himself on a game singlehandedly, relying on others to create the space for him to work in and to do the dirtier work of smashing heels and digging deep to ward off and break down opposing attacks. Not only did he fail to find the space, when he did find the ball he had nobody forward to pass to other than Higuain marked by 3 or 4. Ineffectual.
4.5/10
Mandzukic
Nowhere near a LW or LM position for the majority of the game. Perhaps carrying an injury and if so, why the hell was he playing in such an important match? No goal scoring chances other than one tame header, offered solely defensive value when doubling up at LB. I admire his work ethic and his warrior zeal but his untouchable first XI berth is proving detrimental to this side, as is the case with Sami. Industry is of course required, vital even, but so is creativity, flair and pace. None of which Mario has in his boots, all of which are desired, if not essential, qualities for any offensive wide player. We must stop playing a forward in a defensive role.
4.5/10
Bernardeschi
A couple of comfortably saved efforts on goal aside, young Freddy continues to look like 45m very poorly spent. His game was unfortunately affected by the no-show of Khedira and lack of confidence shown by De Sciglio. In short, anything he attempted going forward had to be done alone. And it showed in his output.
5.5/10
Costa
Douglas looks a shadow of the powerful player he once was at Bayern. He has less confidence, less success when he does aim himself forward and hit launch and his demeanour is sullen. Perhaps it is the defensive shape of the side which irks him? Maybe Max has asked him to backtrack when his whole career has been focused on heading in the other direction? Maybe he simply doesn't fit. What is for sure is that Mr Costa has not even yet approached a level of consistency expected of a certain Juan Cuadrado…and for those who know Juan well, they will understand what I mean by this.
5/10
Higuain
Superb strike for the opener and took the first penalty with focus and power. However, he then missed a gilt edged chance to make it three from open play, and worse still, smashed his second penalty against the bar on the stroke of half time. This is a reminder of why so many do not place Gonzalo at the very top of the game. His reputation of bottling chances in big matches is nourished by such performances…
Granted, he was tasked with leading a lonely line, with our wingers unable to offer any support and the central midfield invisible, but the reason we paid so much for his services was because he was an assurance for goals. Which have come, with decent enough regularity, but not with the consistency one would demand of a truly world class striker.
6/10
Allegri
Chose the wrong tactics, the wrong players, the wrong substitutions. His overly defensive press conference after the game belied any real confidence in the side or perhaps his own ability to get the best from this squad.
3/10
I have long suggested that the only positive to take from our haphazard form this season is that we have continued to succeed, stay in the running in all competitions, despite reaching nowhere near top gear. The hope was that Max had some plan underway, and he was conditioning the squad as is his bent, to seek optimum sharpness and momentum from February onwards.
I do not believe this to be the case. There is no set formation in place. No system which brings out the best of our strongest players. There has been no lengthy run of games where we have played well as a team. Many of our victories have come from individual not collective brilliance. We are stronger than most opponents, not playing better football.
 For three of the four major signings to have failed to make any meaningful, ongoing impact, when all four were ear-marked for the first XI is a worrying sign. It can happen. Sometimes players simply do not fit a new club, a new city and culture. We have been very fortunate with most of the signings made during Agnelli's tenure. Far more success than failure. Yet this may be the season where we have to accept we made some mistakes.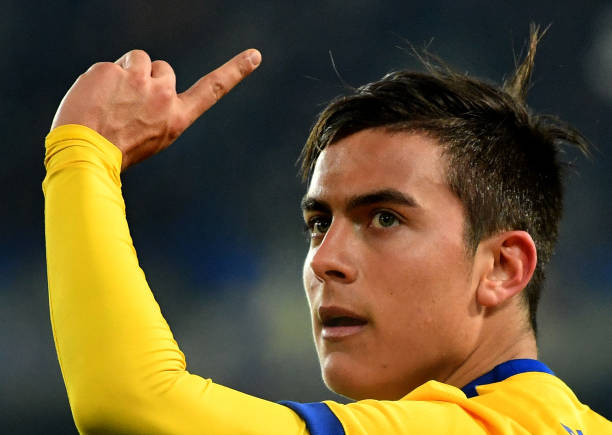 I should mention that last night we were missing Dybala and Cuadrado (as well as Matuidi) and had Barzagli been fit he would have offered more assurance at the back than Benatia. Who for me should be the one to step aside when Caldara comes in next term. Strong against weak teams, less so when facing the established or elite. And I am a greater fan of Rugani, who seems unable to earn the confidence of Il Mister, and I cannot quite understand as to why, especially given his composure on the ball which the other CBs lack. No obvious flurry of errors or awful showings, yet Benatia has the nod. Who is physically more imposing, but to my mind, less useful on the ball. He is a bruiser more than a cultured footballer. Building for the future should begin with Daniele in the first XI.
Yes yes! We could and should have won with Higuain's chances. And we of course have a decent chance of winning in London, but we must look upon this season with open eyes and calm heads and hearts. It is one of transition.
Losing Bonucci was a massive blow to the side. His ability to play the ball out of defence, at his feet or through his long passing was a steady, vital part of our success. Add in the unfortunate Howedes debacle, injuries to key players and veterans ever more creaking as they reach the swan-song of their glittering careers and the situation becomes easier to understand.
We have no settled first XI. A system which changes too often and has been proven a failure in coaxing from our most expensive signings anywhere near the blistering form shown for their previous clubs.
Had we lost to Spurs, no honest fan could say they were unworthy winners. They bossed the game for the vast majority, made many more attempts going forward, hunted in packs, showed brilliant energy, belief and determination. Every one of their players made his presence felt. I cannot say the same of our flock in black and white. Too many weak showings, too many shrinking violets. No leadership, no menace, no bite.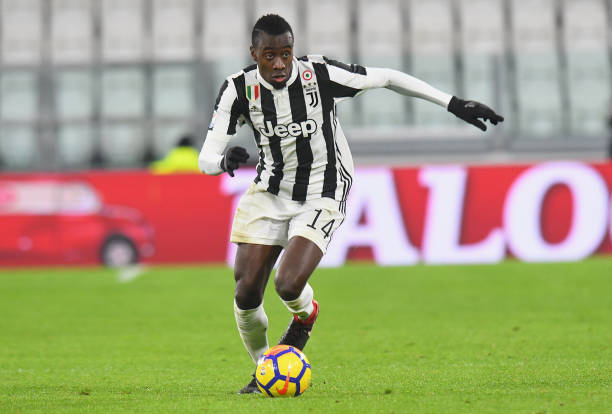 There is a lot of work to be done if we are to move from a spiral of decline (or at best stagnation) towards progress. This team is not the finished article. Too many parts do not fit together. There needs to be a renovation in the Summer. Beginning with a holding midfielder in the Dembele mould. It is amusing to find Dar black as seemingly the sole company in concert with me over the years as I have ranted of the importance of an anchor man, of a pivot of strength and guile. Amusing because we are both rather long in the fang…They may not be the most exciting players, but they are of incredible importance. A side's whole offensive and defensive strategy, its very balance, can be built on this one player who anchors the side, screens the defence, assists the attack, holds when required, gives and goes, ventures into dangerous positions. Dembele made 6 dribbles from deep last night…Pjanic and Khedira combined made 1.
Matuidi is not that player. He is not particularly creative, nor able to dictate tempo…A fit Marchisio could do the job, as he has done competently in the past, but we must assume Allegri does not trust him or his body.
It was disheartening to see us pull ten men behind the ball, when 2-0 up, at home in the last 16 of the champions league when playing any side, let alone Spurs. To watch us work hard to win the ball back in our own area then hoof it straight back to the visitors time and time again was indicative of a team lacking confidence and ideas.
Fail to win at Wembley and we can concentrate on the domestic double, though pressure for Max to depart will grow. Some would say rightly so.
I suspect that Costa and Bernardeschi will come good at some stage, hopefully in our colours, but not unless they are unleashed to do what they do best ; ATTACK. And are well supported in their endeavour.
This result and performance is not the end of the world, moreover a glum wake-up call to supporters who seem to believe we have a god given right to reach the champions league final every season. Its the toughest club competition on the planet and to have reached two finals in three years is a remarkable achievement. A period of adjustment was always going to come and now we must face the fact that our quest for silverware might dim a little as the squad moves through a transition which will hopefully lead next season or thereafter, to a settled squad built on the collective, with the potential to win at the highest level.
forza juve
(find me on twitter here)