Juventus 4-0 Hellas Verona

Scorers: Pogba 3 (J), Tevez 7, 74 (J), Pereyra 66 (J)

---
Serie A – Week 18 [Sunday, 18th January – 19:45 GMT] – Juventus Stadium

Everything is going as planned. Days after a 6-1 throttling of Verona in the Coppa Italia, Juventus again beat Verona. This time the home team won 4-0. As unfortunate as it was for Verona to have to play two straight games in Juventus Stadium, Juve took advantage of it and scored 10 games in two matches. Even better, today Juve took the lead very early and were able to cruise throughout the rest of the match.
Literally two minutes into the game Paul Pogba scored with a traditional "Pogboom" blast from outside of Verona's 18 yard box. Five minutes later, Carlos Tevez scored a goal, which was assisted by Pogba. Pogba did a nice little move where he spun and passed to Tevez with his first touch, Tevez of course finished the chance.
To put this into perspective, the game hadn't even begun airing in the United States. The game was delayed ten minutes for a Barcelona game, and in that ten minutes the game was decided. Thank the Old Lady for internet streams, I suppose. Regardless, it was a perfect start for Juventus.
From there Juventus were completely in control. There weren't really any dangerous Verona chances either. At the 17th minute, a poor Andrea Pirlo pass did end up at sparking a Verona counter, but nothing came of it. Luca Toni's finish ending up skating just past Gigi Buffon and the goal, wide right.
Two Juve players seemed to be constantly threatening to score today but ultimately came up short: Claudio Marchisio and Alvaro Morata. Both players had fine games, but neither scored despite having a decent of opportunities to do so. Morata did very well playing as a target man, but at certain times he seemed more willing to pass to Tevez than to take a shot.
For example, in the 57th minute he made a fantastic run into Verona's 18 yard box, heading towards the goal at a dangerous diagonal angle. It seemed natural for him to try and finish the chance, but he forced a strong cross to Tevez. Tevez headed the ball, but it was an awkward cross and the header went wide. Morata was phenomenal today at everything but finishing, which was rather odd as he's not known for being a poor finisher, or afraid to shoot.
Minutes later Roberto Pereyra scored Juve's third goal. This was notable because it was both Pereyra's first Serie A goal of the season and it was assisted by a BEAUTIFUL through ball from Giorgio Chiellini. I usually complain about Chiellini's attacking efforts, but it seems he has been taking passing lessons from Andrea Pirlo.
Nine minutes later and Carlos Tevez scored another goal to finish up Juve's scoring. Though nobody told that to Sebastian Giovinco, who came on for Tevez a bit later. Giovinco took a shot with his first touch of the game and forced a save from quite a distance. That was all though. The future Toronto FC man wasn't able to repeat his heroics from the Coppa game versus Verona.
It was a fine result against a mediocre Serie A side. Still, you win the Scudetto against the provinciale, and now Juventus are five points ahead of Roma. Roma drew Palermo yesterday, and it looks like Juventus could be ready to widen that gap through the month of February. The two sides meet at the beginning of March, in what will likely be the last chance for the Scudetto race to remain close.
---
 Statistics:

Man of the Match: Carlos Tevez


  Flop of the Match: N/A

  Fouls: 11

  Corners: 6


  Pass Accuracy: 89%

  Shots on Target: 8

  Total Shots: 18

  Ball Possession: 62%


  Formation:  4-3-1-2

---
Formation: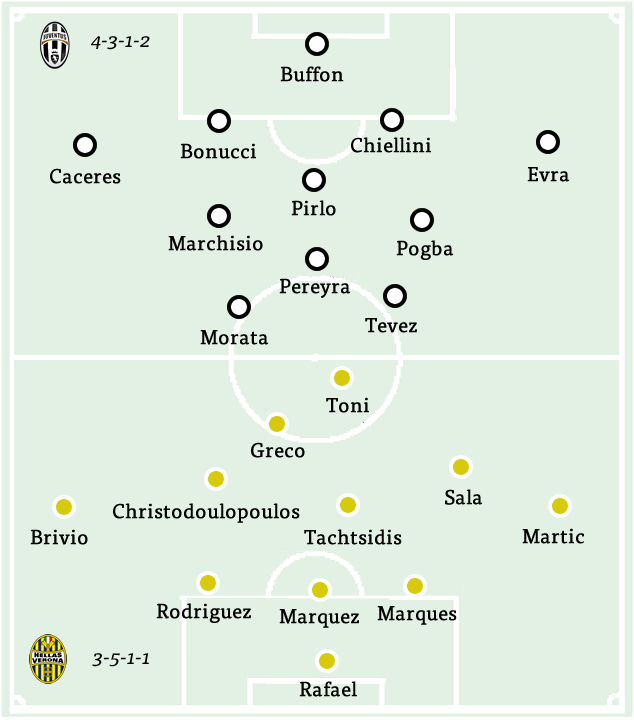 ---
Lineups:
Juventus: Buffon; Caceres, Bonucci, Chiellini, Evra; Marchisio (Padoin 77), Pirlo, Pogba; Pereyra (Pepe 75); Tevez (Giovinco 83), Morata
Verona: Rafael; Martic, Marques, Marquez, Rodriguez; Brivio, Sala (Saviola 62), Tachtsidis (Hallfredsson 75), Christodoulopoulos (Valoti 86); Greco; Toni
Ref: Irrati


---
Video Highlights:
---
Poll:
[socialpoll id="2247832″]