Juventus 4-3 Napoli

Scorers: Danilo 16 (J), Higuain 19 (J), Ronaldo 61 (J), Manolas 65 (N), Lozano 67 (N), Di Lorenzo 81 (N), Koulibaly og 93 (J)

---
Juventus let slip of a 3-0 lead but still managed to emerge with a slender victory over Napoli, thanks to a lucky Kalidou Koulibaly own goal deep in stoppages.

There are times when I'd love to be able to watch a game like this through the eyes of a neutral who has nothing invested in either team and simply wants to soak up the amazing spectacle. That, however, is utterly impossible and the ecstasy, agony….and ecstasy experienced during these 90 minutes was almost too much, given the dominance of Juve in the opening half; emerging with a late winner, however it might have come, was perhaps more than we deserved, but it was still most welcome.
A glorious opening 45 minutes, where we could see real signs of Sarri's ideas and methods, was underpinned by two great goals; one on the counter where we used the pace of Ronaldo, Costa and Danilo to exploit the empty space at the back to devastating effect. The second, a moment of sheer brilliance from Higuain who took one touch of the ball to slip past Koulibaly and the three other players with him and slot home with a tidy finish. Everything about the opening half was exceptional: The movement of the ball, the speed of the passing, the press, the containment of Napoli, the use of Bonucci to play the ball from the back, the assurance of the defence and the solid work from the midfield, highlighted by Sami Khedira.
The second half gave way to some all too familiar patterns: standing off the opposition, allowing them space and more importantly, time with the ball, failure to pressure them higher up the pitch and most surprisingly, the absence of Khedira from midfield leaving a gaping hole that Emre Can simply could not fill. The third goal should have killed the game off and the Juve of last-season would have coasted out to victory, however nerves set in after Napoli netted what initially looked liked little more than a consolation goal, a set-piece that young Matthijs De Ligt should have done better on.
A second, not soon after, was once again down to poor play from the 20-year-old who, up until this point in the game, had done really well on his positioning and overall awareness of what was happening around him. Similar to the first goal, Napoli's equaliser was scored from a set-piece and also down to an error from the Dutch defender who allowed his man to escape all too easily and apply the simplest of finishes. Shocking from a Juve team that should have known better, consdiering the combined experience of the players on the pitch.
The Juve winner came in the most surreal of circumstances: an own goal from the defensive titan that is Kalidou Koulibaly, a man who so rarely puts a foot wrong, especially in the big games and while it secured us a vital 3 points, it came in a most undeserving fashion. True to his class and character, Giorgio Chiellini made his way down to the pitch on crutches and put a comforting arm around the Senagalese centre-back; The defenders union exchanged a few words and laughs as the game closed out with the vast majority still bewildered/amazed that we had managed to come away with a win in such fortunate circumstances.
Random Thoughts
– Matthijs De Ligt was inevitably singled out for criticism, and while he rightly deserves it, to see some of the rubbish that is exchanged on social media, you would think it was a Champions League final, and he, a veteran of 30 plus years. He is young, learning every day, working to adapt and most importantly, communicate, as he alluded to in an interview published just yesterday. To equate him to his price-tag is farcical. He has shown incredible promise and will come on leaps & bounds and its a blessing that he was able to learn such valuable lessons in a game of this magnitude with Juve still emerging relatively unscathed and with a win, no less. Give him time.
– Douglas Costa was electric and while I was half advocating his sale this summer, Sarri saw in him the untapped potential that Max was unable to harness. His runs were sensational, always intelligent and into the right spaces, giving poor Ghoulam a torrid evening of it. Two assists and the opportunity to snatch a goal of his own doesn't really tell the full story of his game. As the season goes on, I think he will make the position his own and it's hard to see anyone else in the squad give him the remotest bit of competition for it.
– The midfield, after Khedira departed, was all too easily overrun and exploited to Napoli's favour. Two games in and Sami has looked a revived player under Sarri: hard-working, great positional sense and able to occupy good spaces in the opposition half. He should have rightly scored one goal while another of his efforts hit the post – the biggest problem with this is that his legs can't manage more than 50/60 minutes at a time without a drop in performance. That might be sufficient against the smaller opponents, but in games like this, not having a worthy replacement is all too telling when he leaves the pitch. Emre Can, for all his promise, doesn't have the technical qualities to play in Sami's role and in future games, might be better served playing just in front of the defence.
– Danilo did surprisingly well after coming on, scoring his first goal with his first touch in his first Juventus performance, all within 30 seconds. He strikes me as a confidence player and that early goal set him up for the rest of the game where he looked in control at right back, able to make some good interceptions and clearances along with some clever touches. Prior to that, Mattia De Sciglio put in a pretty decent shift. He is a cautious type, reliable, depandable at the back and he even mustered a good run forward or two, overlapping with Costa. He isn't Joao Cancelo, nor should we hold him up to that standard, but he can play a good enough role for us and thats vital in a long season.
– Alex Sandro continues to impress having been given more license to attack. He tore up and down the left flank and ultimately played as a hybrid left-back/winger, able to overlap with Matuidi who tucked in a little wider. Two games in and he's been consistently one of Juve's best attacking outlets – if he continues at this rate, we may see the Sandro of two years ago that attracted the attention of Europes elite.
– Higuain, for all the concerns over his salary, weight, finishing, attitude etc., has fought to return and remain in Turin, and in the games so far, he's shown a different side of his game – An ability to do a lot of dirty, selfless work to aid those around him, while still retaining a real threat in the box. I've no issue with a player that wants desperately to remain while also working to prove himself worthy of a place. That strikes me as exactly the kind of forward we should want, one who is all too familiar with Sarri's methods and who, at his best, is one of the most deadly strikers in the game.
– Overall, this looks like a team showing very encouraging signs of adapting to & playing a far more attacking brand of football. The chief concerns for me remain the same: The lack of depth and bite in midfield, the overall age of some of these players who don't have the legs to maintain a pressing, high-intensity game and this habit of reverting to type and playing with XI men behind the ball. On the positive side, all of these things can and will be addressed in the months ahead.
Injury updates:
No official word on De Sciglio just yet, hopefully it's a minor injury and one that will see him back after the international break. Chiellini is out for anywhere between 3-6 months, depending on how he recovers from the surgery. The Italian papers love to postulate expected return dates and the like, but it's better to leave it to the club and their official statements for clarity on Chiello. Aaron Ramsey is nursing a lower back injury but is thought to be on the mend and will be in the squad for the trip to Florence in two weeks. Marko Pjaca and Mattia Perin are still working to recover from their own injuries but there's been no official mention of what their statuses are or if they will be shipped out in the next 24 hours.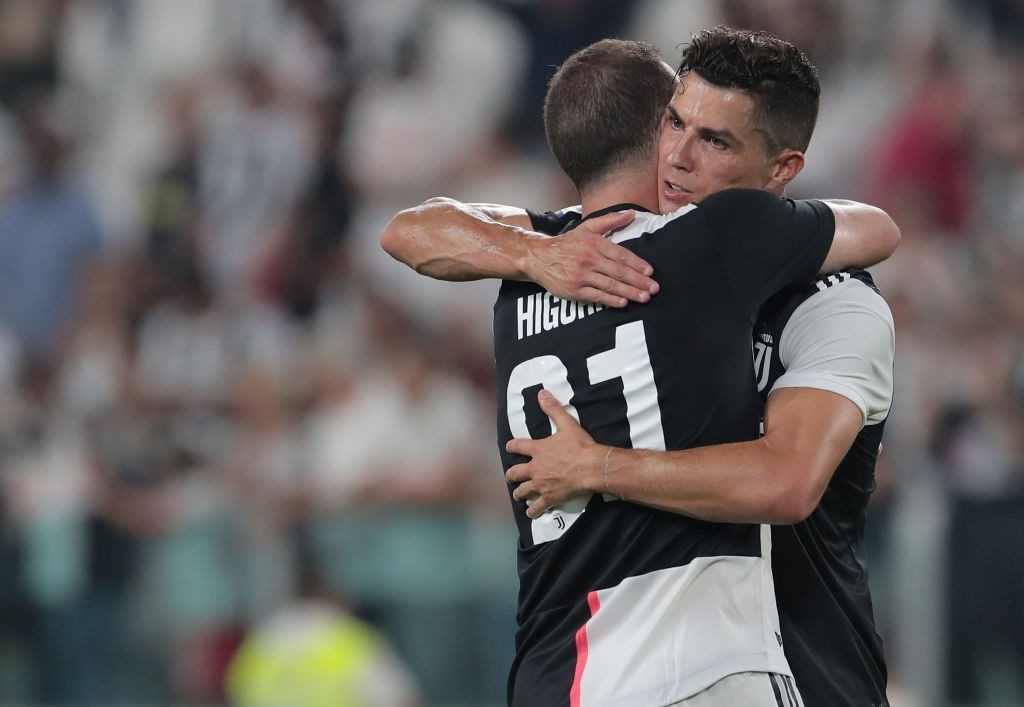 Statistics:

Man of the Match: Douglas Costa


  Flop of the Match: Matthijs De Ligt


  Corners: 2


  Pass Accuracy: 85%

  Shots on Target: 7

  Total Shots: 12

  Ball Possession: 45%


  Formation:  4-3-3
Opposition:
Napoli deserve immense credit for their fight back, as does Ancelotti for making the necessary substitutes to pressure us more, especially at the back. They looked shellshocked in the opening 45 and had Khedira scored his effort, I think that might have killed off any hopes of a fight-back. Despite that, it shows a real resilience to continue pressing, harrying and fighting for every ball. Granted, we helped them by switching up the midfield, but their work on set-pieces was enough to unsettle us and its unfortunate that it came to an individual error from an exceptional player to settle the tie. They will run as close this year.
Outlook for next fixture:
The international break is welcome (for a change) as it allows us to regroup, have the mister recover from his illness in time to return to the bench and allow us a little breathing room after a hectic start. The visit to Florence will be fiery, as it always is, and Fiorentina look a promising young side, full of attacking threat and eager to take an early scalp as they set their sights on a Europa League place at the very least. They pushed Napoli to the brink in a superb 4-3 match and while there were mistakes and poor calls from the referee and VAR, they have some experienced heads in the squad to turn to if the going gets tough and will be a tough nut to crack.
Best new signing on the field:
It has to be Danilo who found the net so early into his debut and looked such a tidy player thereafter. He managed three dribbles, two tackles, two interceptions and four clearances while also looking composed and comfortable on the ball. I think its still too early to say if we are getting the prime 'Porto Danilo' or the one who fared so poorly at Real Madrid, but the signs are encouraging for the moment. Lets see how he develops as the season progresses.
Match Highlights:
Manager Review: 7.0/10
Martusciello named a largely unchanged squad but the approach from the team was far better, perhaps due to the nature of the opposition and what was at stake with it being the first home game of the season. The substituion of Khedira seemed inevitable given how he tired and of the options available from the bench, Emre Can was the only viable substitute, so its hard to fault the boss for that. Choosing Danilo over Juan Cuadrado in place of the injured De Sciglio proved to be a masterstroke as he injected some pace in the attacks withough compromising too much at right-back. It was good to see Paulo Dybala get a run out given the news before kick-off that Juve would be keeping him, and while he offered precious little in those closing stages, the alternative would have been Mario Mandzukic who has looked a little disinterested in recent months.
Lineups:
Juventus: Szczesny; De Sciglio (Danilo 11), Bonucci, De Ligt, Alex Sandro; Khedira (Emre Can 60), Pjanic, Matuidi; Douglas Costa, Higuain (Dybala 75), Cristiano Ronaldo
Napoli: Meret; Di Lorenzo, Manolas, Koulibaly, Ghoulam (Mario Rui 46); Allan (Elmas 74), Zielinski; Callejon, Fabian Ruiz, Insigne (Lozano 46); Mertens
Ref: Orsato