Juventus player salaries are just in excess of €250 million for the 2019/2020 season, according to the latest figures from Calcioefinanza.
The Italian football finance site have worked the latest figures from today's Gazzetta dello Sport into an updated list that shows the gross figure for the Bianconeri's wage structure at €250.7 million.
Cristiano Ronaldo remains at the top of the list with a net salary of €31 million, followed by new summer signing Matthijs De Ligt who earns €8 million and benefits from the advantages deriving from the Growth Decree and the tax law for those who move to Italy. Juventus were able to exploit the the same ruling for Aaron Ramsey, Adrien Rabiot and Danilo, with overall savings of around €6 million.
Gonzalo Higuain remains among the top earners with Paulo Dybala just behind him: the first Italian on the list is Leonardo Bonucci, with a salary of  €5.5 million, while the returning Gigi Buffon is the second least paid of the Bianconeri squad with a wage of €1.5 million.
Some gross figures may differ from last season due to a refinement of the gross salary calculation method (an item that does not include severance pay and social security charges, but only personal income tax).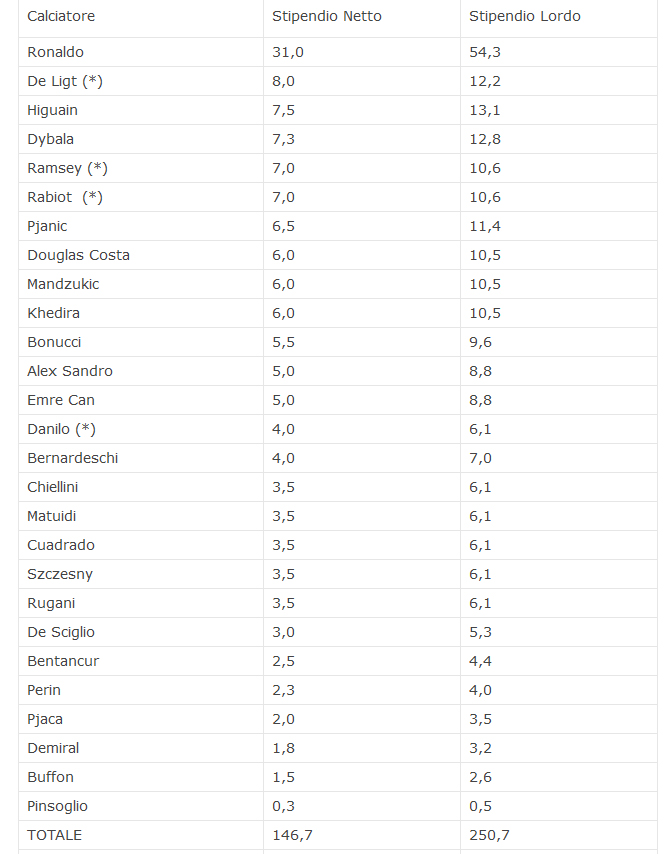 All credits for figures and graphic : Calcio E Finanza