Juventus v AC Milan

Serie A Week 12 – Sunday, 11th November – 19:45 GMT – Juventus Stadium

---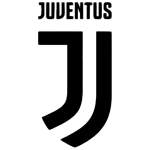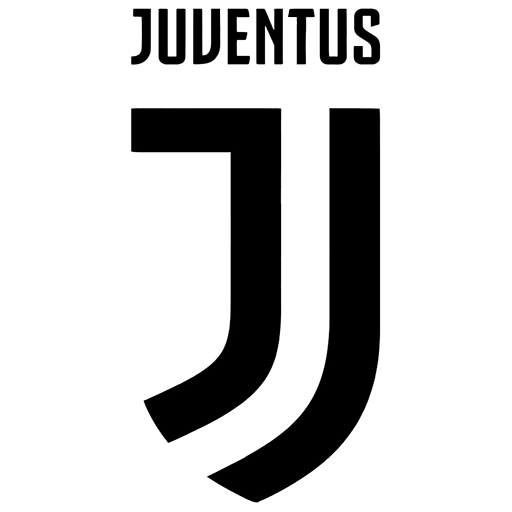 Juventus
The match against Milan will mark the end of the second grueling cycle of the season, where the Bianconeri, while rarely looking dominant, managed to win six out of seven times, always with a one-goal difference, fumbled one match, in Lecce, and qualified to the next stage of Champions League, with excellent chances to finish in the top spot. While obviously everybody would prefer Juventus to put away matches earlier, gutting out wins is a testament to the fabric and the resourcefulness of the team, and also of Inter, and the fact they have pulled that off mostly with very limited weapons off the bench is kind of stunning.
We got the first look of Douglas Costa as no.10 against Lokomotiv Moscow and the early returns are pretty amazing. The role gives him a ton of freedom to pick his spots and move to either flank depending on how he sees the action evolving, then his pace, technique and dribbling skills do the rest. Also before the injury, he has been playing with a confidence and leadership that was not seen in previous years. If he stays healthy, he is going to be a massive weapon.
Aaron Ramsey and Federico Bernardeschi have interpreted the role in similar fashion, but the gulf in terms of unpredictability is manifest. When he is on, Douglas is just one of the most uncontainable players in the world. He will have to be managed, but considering how much praise the coach has been heaping on him, he will be the unquestioned starter there once fully fit, which will generate also an up tick in quality in the midfield as well, with the former Gunner bound to be used there more often.
Bernardeschi has been unable to take advantage of the opportunity that was presented to him over the last month: the effort was there, but he struggled to make much of an impact offensively, even though that position was quite ideal to him. You have to wonder whether now that the horses are back, the coach will try to turn him into a full-fledged box-to-box midfielder, as he alluded to a few months ago, where his motor might be more useful and the lack of incisiveness in the final third less noticeable.
Also, of note is that Daniele Rugani has got two starts over Merih Demiral recently, even in Russia where it was an optimal match-up for the Turk, considering the physicality of the opponents and the absence of Matthijs De Ligt.
Rugani held his own, but it is a bit worrying that the ex Sassuolo man has been cast aside a little after just one subpar game, as he was highly regarded during the summer and displayed imposing traits and huge upside in Emilia, far more than Rugani to be honest, and he is four years younger. Hopefully it is just a matter of him taking time to adapt to a top club and he does not turn out to be another one of those prospects that become just "plusvalenze".
Ronaldo subbed off against Lokomotiv and the reports and the coach's words were not particularly reassuring, so there are decent chances he will be held out but that will be determined in the final two practices. Instead, it looks like De Ligt is trending in the right direction after an ankle sprain. Maurizio Sarri hinted that they will go with a no.10 that gives the squad more balance, so Ramsey or Bernardeschi, rather than unleash Costa right away, but that might change with a stouter midfield.
UPDATE: Ronaldo is in the squad list and he is usually ruled out in advance when he does not play, so he will likely be in the XI. Higuain has a small edge over Dybala to feature next to him, while Bernardeschi and Ramsey are more likely than Costa in the hole. De Ligt has been called up as well.
Probable lineup
4-3-1-2: Szczesny; Cuadrado, Bonucci, De Ligt, Sandro; Khedira, Pjanic, Matuidi; Ramsey; Dybala, Higuain.

Injured players:
Chiellini (knee), Perin (shoulder), Pjaca (knee). 
Suspended Players:

None
Formation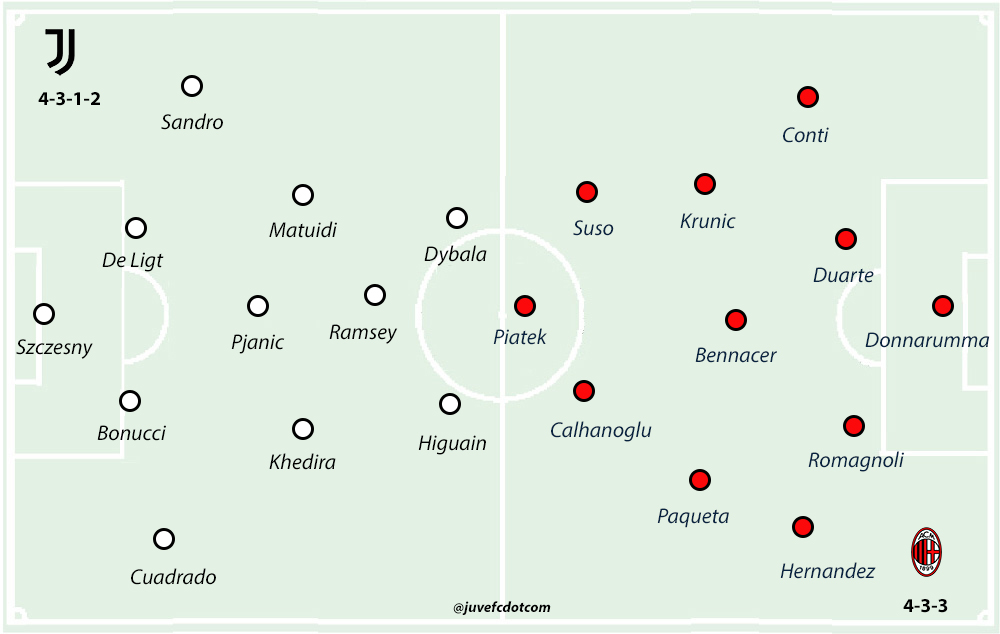 AC Milan

Milan have had all sort of issue so far, pretty much carrying them over from the last season despite two coaching changes and some reinforcements. They had an initial burst of energy when Stefano Pioli was first appointed at the end of October as they played pretty well against Lecce, but got pipped at the post. They were then beaten and outplayed by both Roma and Lazio and won ugly against SPAL.
The squad failed to take a step forward in terms of ball possession and proactivity under Marco Giampaolo, who was a preacher of those concepts and had decent amount of success at Sampdoria, but the players here did not seem to respond particularly well to him and he got the axe after seven rounds. Pioli is a more versatile and experienced coach and is trying to drag them out of the mud,  with mixed results so far. They are generally pretty lackluster and pay the price for not having a true leader on the pitch.
Giampaolo attempted to mix things up a bit but, mostly due to Suso's presence, he was forced to turn to 4-3-3 and Pioli carried on with the same tactic thus far, but a change could be on the cards for this one. They have had flaws on multiple levels. Gianluigi Donnarumma is clearly a prodigy, but he occasionally has costly blunders, their defence has been porous after a strong start, allowing at least a goal, and often two, in eight of the last nine matches. Davide Calabria and Andrea Conti have been terrible at right back, Alessio Romagnoli, Mateo Musacchio and Leo Duarte are pretty ordinary centre-backs. Theo Hernandez instead has been a bright spot with his bursting runs and has surged into a pretty significant part of their offence.
Ismael Bennacer's brilliance at Empoli has yet to show up here in Milan and he has not been able to outplay Lucas Biglia. Franck Kessie has been subpar for a long time now, and even excluded for a coach's decision in this one, Lucas Paqueta has a lot of class, but he is also wildly inconsistent. Rade Krunic fared well in his lone start and Kessie being out opens up minutes. The most impactful move by Pioli has been to move Hakan Calhanoglu to left-winger rather than use him as box-to-box, and he has been a major reference point there and he is a big threat with his shooting and playmaking.
They have had major troubles catering to Krzysztof Piatek in a productive way, but also his Milan stint has exposed the limits of his game, since he is a pristine goal poacher, pretty mobile, very capable in attacking the offside trap, but not much else. His starting job is not even that secure, as they preferred Rafael Leao in certain match-ups. The ex-Lille man is pretty electric and brings a completely different skill-set to the table, but he too can not be particularly effective touching just two or three balls in the box per game. The two would actually form a pretty intriguing tandem since they complement each other well, but they have featured together only in limited minutes.
There are few reports out there that indicate that the coach could deploy a three-man defence in this one, with Ricardo Rodriguez completing it since Mateo Musacchio is injured and Mattia Caldara is not ready. They would field one fewer midfielder and Suso and Calhanoglu would play slightly more centrally and closer to the striker. It would be intriguing to see such a seismic switch in a big game: it would benefit Hernandez and whoever starts on the right and would likely offer better support for the centre-forward, but the midfield seems a bit light.
Despite their overall blah-ness, they do have a good amount of talent in the roster and can be dangerous if allowed to counter. Their main short-coming is that they are not able take control of games as a top team is supposed to, but they have the means to hurt the opponents when they are allowed to be opportunistic, as it will be the case here. Provided they do not fall apart early, as they appear to be pretty fragile mentally.
Probable lineup
4-3-3: Donnarumma; Conti, Duarte, Romagnoli, Hernandez; Krunic, Bennacer, Paqueta; Suso, Piatek, Calhanoglu.

Injured players:
Musacchio (thigh), Castillejo (thigh).
Suspended Players:

None.
Juventus and AC Milan Performance Statistics