Juventus v Frosinone
Serie A Week 5 –  Wednesday, 23rd September – 19:45 GMT – Juventus Stadium

---

Juventus
Juventus have finally returned to winning ways in Serie A too and can start climbing the table: the match against the newly promoted and struggling Frosinone arrives with ideal timing, few days before the key away game against Napoli.
The win against Genoa certainly did not come after the prettiest performance, but Juventus desperately needed three points, the Manchester City game drained a lot of energy and winning ugly is a skill too. It will not be the last time it happens during the season. Most importantly, Juventus finally kept a clean sheet for the first time since the Supercoppa, and that helps a great deal, they did not suffer much despite Genoa's early proactivity and quickly iced the game when things went their way after Armando Izzo was shown a red card.
Massimiliano Allegri will continue to manage the roster as this cycle of seven games in three weeks reaches its midpoint. On Sunday, the coach rested Leonardo Bonucci and Hernanes, in this one it has already been announced that Gianluigi Buffon will given a day off, so Norberto Neto will make his official debut.
I would not be surprised if also Giorgio Chiellini and Juan Cuadrado were spared ahead of the San Paolo match. This would give Andrea Barzagli another chance to play as Allegri was coy about the possibility of fielding Daniele Rugani, that we will probably see only in the first Coppa Italia match, even though on paper this look like an ideal opportunity to use him. Martin Caceres will not return to the starting XI as he is not in perfect conditions yet, while it is almost certain that Alex Sandro will replace Patrice Evra on the left flank.
As it has often happened in this season, most of the bad news come from the infirmary. Mario Mandzukic has suffered a thigh strain and will miss twenty days, while Alvaro Morata was subbed off early and is dealing with a mysterious abdomen injury that hopefully will be sorted soon.
These facts leave the coach with little chances but to go with 4-3-1-2. Hernanes should play in front of the defense, with Paul Pogba on his left and one between Stefano Sturaro and Mario Lemina on his right. The Frenchman has played a nice little game against Genoa and surely represents a viable option as pivot, maybe in the future too. We have already seen in the past that Allegri sometimes prefers to have a more defensive player there and Lemina is more on the Nigel De Jong side than on the Andrea Pirlo side. When Claudio Marchisio and Sami Khedira will return, likely after the next international break, I doubt we will see much of Hernanes in that position, but we will probably still see some Lemina, who, anyway, can play as box-to-box midfielder too.
With Morata and Mandzukic ailing and Cuadrado probably rested, the attacking trio should be composed by Roberto Pereyra, Paulo Dybala and Simone Zaza and that should be more than enough to overcome Frosinone. The funny thing about the predicted lineup is that you can shake up the midfield, going with Lemina as DLP, Pereyra right CM and Hernanes AMF and you would still have a pretty good result.
Probable lineup:
4-3-1-2: Neto; Lichtsteiner, Barzagli, Bonucci, Alex Sandro; Lemina, Hernanes, Pogba; Pereyra; Dybala, Zaza.

Injuries:
Khedira (thigh), Asamoah (knee), Marchisio (thigh), Caceres (thigh), Mandzukic (thigh), Morata (abdomen).

Suspended:
None.

Frosinone
After grabbing the second place in Serie B late in the season, Frosinone have had an awful time adapting to the highest league so far. The enthusiasm for the first promotion in their history has faded away after a single half, when the much more experienced Torino have easily completed the comeback after an early score by Danilo Soddimo. That remains the only goal that Frosinone have tallied so far in four match and they have lost them all, against Atalanta, Roma and Bologna, and the last one was really worrying.
The rookie coach and Torino legend Roberto Stellone normally uses a very standard 4-4-2 that takes advantage of a strong flank game thanks to speedy wingers and fullbacks. However, that has stalled after the first game, even though he has tried several different options: Soddimo, Luca Paganini, Daniele Verde and Aleksandar Tonev. However, the area where they have disappointed the most is certainly the attack as Daniel Ciofani and Federico Dionisi, two absolute tanks in Serie B, have not been effective. Samuele Longo has offered little help, but that is not a surprising, and the highly touted Nico Castillo, once labelled the Chilean Zlatana Ibrahimovic, has yet to make his day view.
Stellone in the pre-game presser hinted that he may mix things up a little bit and ditch 4-4-2. They will miss Robert Gucher in the midfield, who is really their engine, so they could strengthen that zone using a three-man line, composed by Mirk Gori, Raman Chibsah and one between the veterans Paolo Sammarco and Alessandro Frara. But he will probably just use one of the wingers, Tonev or Verde, as second striker to add some oomph to the attack.
Usually their only doubt in the back-four is at LB, with Roberto Crivello and Daniel Pavlovic battling for the job, but, as they are evaluating everybody after the horrible start, Modibo Diakité and Leonardo Blanchard are not sure-fire starters either. Moreover, it would not be a surprise to see one of the fullbacks in a more advanced position to give the lineup a distinct defensive outline. As for the flanks, the competition is wide open, with Paganini and Soddimo as the frontrunners. Tonev should play upfront relegating Dionisi to the bench. Longo is out with an ankle injury, Ciofani should be the starter but Castillo has a chance too.
They have looked vulnerable so far, but they are not pushovers. They paid for their inexperience against Torino and were a bit unlucky against Bologna, where they create some good chances, and they have put up a decent fight against Roma, which closed the game only in the final minutes. It is certainly a weak opponent, but none in Serie A should be underestimated.
Probable lineup:
4-4-2: Leali; Rosi, Diakité, Blanchard, Pavlovic; Paganini, Gori, Chibsah, Soddimo; Tonev, Ciofani.

Injuries:
Longo (ankle), Gucher (ankle).

Suspended:
None.
Formation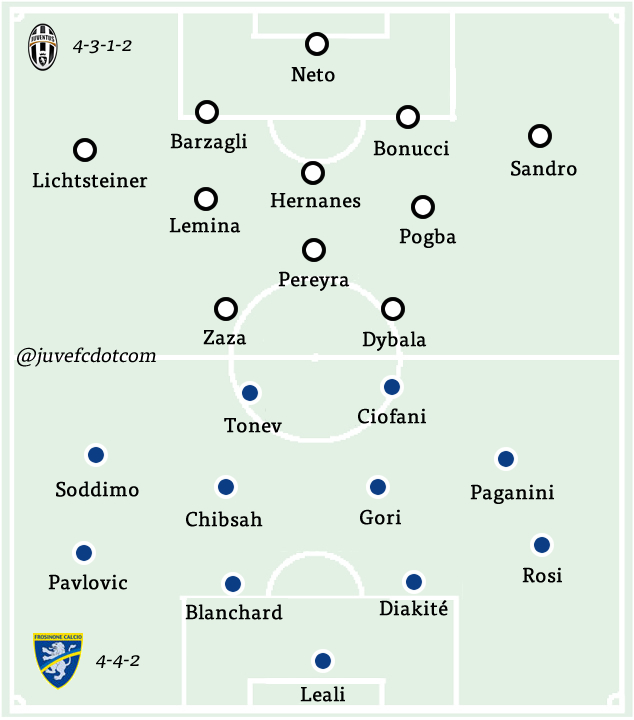 Stats and Facts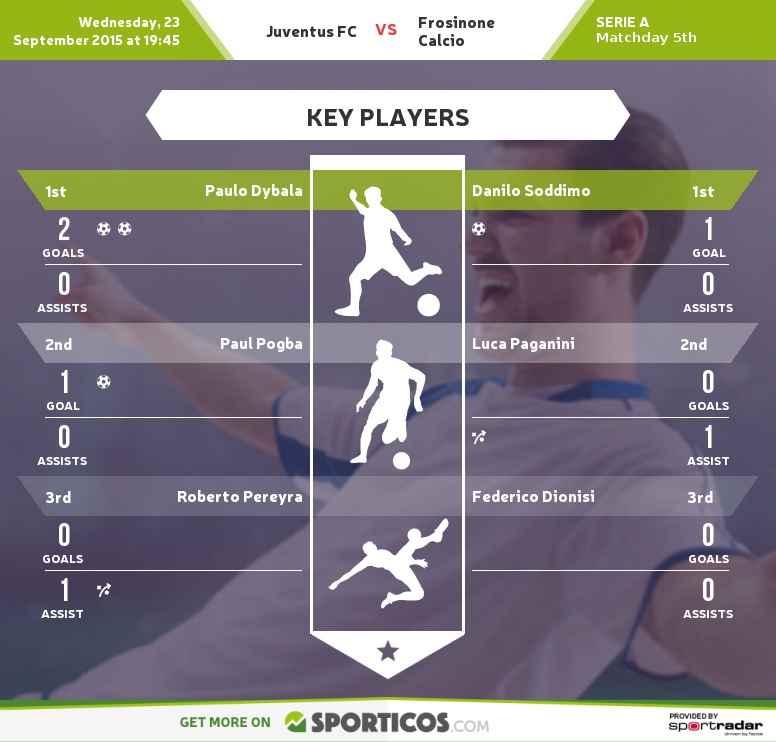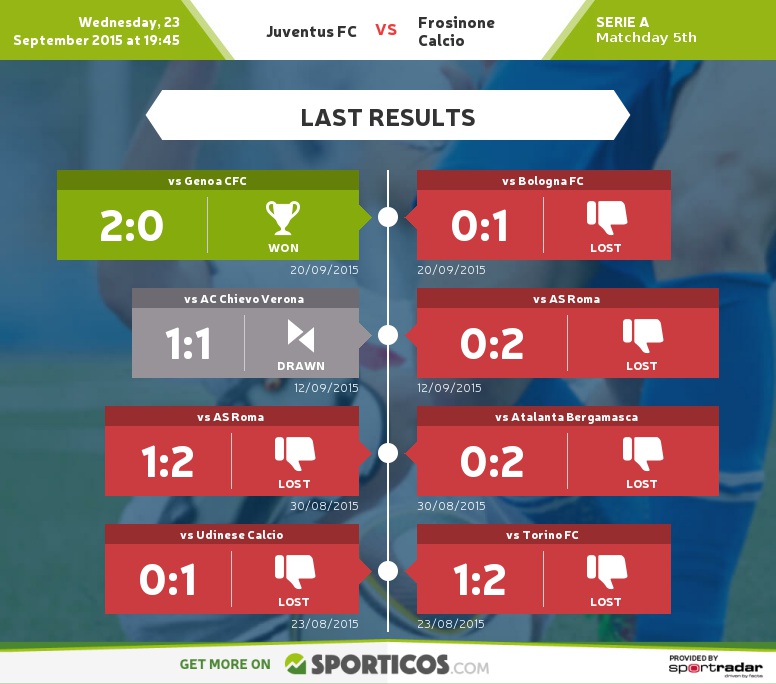 Infographics from www.sporticos.com