Juventus host Napoli in a top of the table clash in round 7 and ahead of the game, we put your questions to Napoli fan and writer/blogger Marco D'Onofrio.
You can follow Marco here on Twitter. Artwork by Federico Manasse
1. How do you think Napoli are adjusting to life after Sarri?
The three years under Sarri were incredible for Napoli fans, both from an aesthetic point of view and for the fact that the dream of the Scudetto nearly became a reality. It was almost going to be impossible for the club to replace a coach as beloved as Maurizio, but Aurelio De Laurentiis found a way to appease the fans by bringing in a big name like Carlo Ancelotti.
Ancelotti hasn't torn the club apart, but rather built upon the successes of Sarri. Instead of a complete transformation he adapted his style of play to suit the characteristics of the players at his disposal. He's already utilized more players than Sarri ever did – which may have been his biggest flaw. While it may still be early, Ancelotti has already instilled a completely different attitude in the club and the self-belief needed to be champions.
2. Thoughts on the new formation which looks more like a 4-4-1-1?
So far, so good. The 4-4-2 which often resembles more of a 4-2-4 or 4-4-1 works well with the current squad and utilizes the depth Napoli has on the wing. Lorenzo Insigne has looked terrific so far in a more central position, and expect to see Ancelotti continue to play with the 4-4-2 while also making changes when necessary.
3. Do you think Sarri is a big loss or is Ancelotti a great capture to replace him?
Sarri was a huge loss, and without a household name like Ancelotti coming in as his replacement, fans would have rioted. As much as Sarri was loved, he also showed his limitations last season.
What Ancelotti brings above all else is a winning mentality and that is crucial if Napoli are ever going to take the next step. He has also pledged to use his entire squad – which we have already seen – and that could be crucial later on in the campaign as we saw Napoli consistently fade away in the final third of the season under Sarri.
Lorenzo Insigne and Kalidou Koulibaly were the only two players who started against both Torino on the weekend and Parma midweek leading up to the show down at the Allianz Stadium.
4. With Juve starting this season by maintaining momentum and picking up points, even when they struggle with some fixtures, can Ancelotti's Napoli side match Sarri's in pushing Juve for the title?
The reality is that Juventus spend more than double in player salaries than Napoli does, and while Napoli has consistently overachieved it is always going to be difficult to compete with a club that have the resources Juventus do. However, with Ancelotti at the helm Napoli have a belief in themselves that didn't really exist under Sarri. It'll be tough for Napoli to keep up with the Bianconeri, but as the season progresses and Juventus become more consumed with the UEFA Champions League, the Partenopei have the quality and depth required to topple their Northern rivals.
5. Do you think Ancelotti can be the saviour that Naples have been searching for? Why? And how would that bring Napoli closer to Juve this season?
Again, he brings a sense of belief that didn't exist under Sarri. If he is going to be the saviour it'll be because of his mentality and his willingness to rotate his starting lineup much more often than Sarri. Napoli was always criticized for lacking squad depth under Sarri, but the reality is that the club had the quality it just wasn't being used.
6. What are your thoughts on CR7 in Serie A ?
While you never want to see a team that has won 7 straight Scudetti get even better, the move was massive for Italian football as a whole and should be celebrated across the league. If Serie A is ever going to get back to where it once was, it needs players like Ronaldo arriving. If Juventus are the only team with the financial capabilities to pull it off then all the power to them and let's just hope more Italian teams will be able to compete financially in the near future.
7. What are your thoughts on Ancelotti's style in comparison to Sarri's?
Sarri's football was an absolute joy to watch and he deserves a ton of credit for it. However, Ancelotti has proven to be much more diverse which is probably needed in order for Napoli to win a major trophy again. We saw Napoli utilize long balls to perfection against Torino, which we never saw under Sarri.
He is willing to make necessary changes as the game progresses, while Sarri could often be very stubborn. Again though, Ancelotti has built upon Sarri's system as opposed to completely tearing it apart.
8. What is Napoli lacking on the field? Is LB still the weakness or is there something elsewhere we just don't know about?
While Ghoulam's injury was detrimental to Napoli last season, I wouldn't say it was an area they were necessarily weak in and certainly aren't this year. Kevin Malcuit was probably the best player on the pitch in his debut against Parma, and with the likes of Mario Rui, Elseid Hysaj, and youngster Sebastiano Luperto, the club have never had more full-back depth.
The biggest concern this season for Napoli has to be the goalkeeping situation. Neither David Ospina nor Orestis Karnezis have looked very convincing early on. Alex Meret is going to be the goalkeeper of the future and likely present as well, but he is still just 21-years-old and very unproven.
9. How did you feel about Sarri's comments when he  stated "we lost the scudetto in the hotel room" ? – Do you think that's a fair assessment of last season?
Glad this question came up because it was probably the biggest criticism I had of Sarri and the comment still frustrates me to this day. A single week after beating Juventus at the Allianz Stadium the club completely fell apart despite the fact the Bianconeri still had some difficult fixtures to get through.
Sarri also refused to acknowledge the goal of the season was to win the Scudetto, even after Napoli's massive win in Turin. Ancelotti would never make the hotel room comment, and that may be the biggest difference between the two.
10. Having almost the exact same team as last season do you feel that mentality has or can be changed? Is Ancelotti the right man to do it?
Yes, the mentality has changed and it is already evident. One of Napoli's biggest problems wasn't anything on the field but what was in between their ears and having the most successful Italian tactician on the planet has already helped with that.
11. Do you feel with the addition of Ronaldo – more strength added to team- the rivalry will change? And do you feel that because of the expectations of Juve to win it gives opponents the ability to play open, care free ball that could lead to wins?
The rivalry will never change, at least from a Napoli perspective. Juventus were always supposed to come out on top and the fact that on paper they got even better won't make a difference. It actually may be the opposite in terms of the way teams play Juventus because as we've seen in the past, clubs tend to shut down and defend against the Bianconeri in the hopes of squeaking out a 0-0 draw.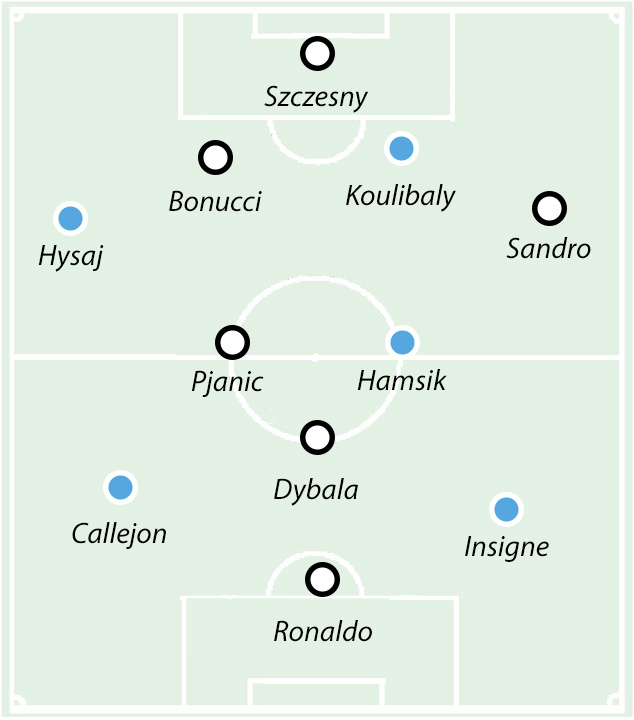 12. What would be your combined Juventus/Napoli XI?
Szczesny; Sandro, Koulibaly, Bonucci, Hysaj; Hamsik, Pjanic; Insigne, Dybala, Callejon; Ronaldo