Juventus v Sassuolo

Serie A Week 14 – Sunday, 1st December – 11:30 GMT – Juventus Stadium

---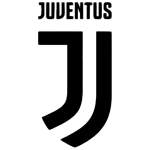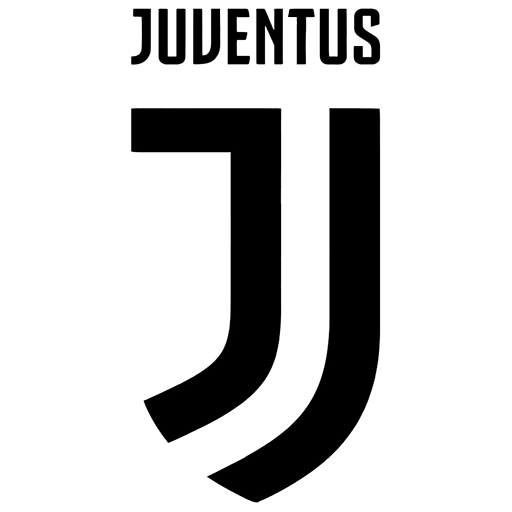 Juventus
The last two games against Atalanta and Atletico Madrid could not have been more different in terms of performances for the Bianconeri, yet they ended with the same result. For about three-quarters of the match, the display in Bergamo was one of the worst of the year, yet it turns out it takes just 15 minutes of strong play to turn things around and there will not be many match-ups that are as challenging as that one. The Old Lady then dominated Los Colchoneros, yet the narrow lead kept the opponents in the match up until the final whistle.
As it has been the case throughout the whole history of football, results do not necessarily match the performance and in the end, winning is the only thing that matters.
While the feeling that the squad has not reached its full potential yet is still there, which is not necessarily a bad thing at this point of the season, at least we know that the rope-a-doping is never on purpose and, when La Madama does not manage to take control of the proceedings, the credit goes to the opponents, who had either more energy or more aggression.
Cristiano Ronaldo came back midweek, and he looked better than in the recent past, but he was not particularly explosive on a pair of runs where he could have sprinted to the box if he was fully healthy. Now he, the coaching and the medical staff will have to decide whether it is that kind of problem for which he needs to rest routinely in order not to stress it or if he has to get minutes to improve his form. The exact nature of the issue was not revealed, which only leaves us to speculate.
While it would be nice to have him put up big numbers, he was brought in for the ultimate goal, as Gonzalo Higuain and Paulo Dybala are picking up the slack in brilliant fashion, we better focus on having him nice and ready for the Spring. With Matthijs De Ligt surging in the back, Miralem Pjanic becoming an even bigger beacon and the two Argentinian strikers delivering up front, there has not been any leadership void, which is reassuring.
Speaking of injuries, Douglas Costa got hurt again and it looks like he is poised to be that one player we constantly have to wait for, wondering how much he would raise the ceiling of the whole team if he was out there.
It seems like a losing proposition, so let's focus on the ones that are available: Aaron Ramsey has not looked great after coming back from his muscular problem, while Federico Bernardeschi fared well off the bench in Champions. Even though he has been for the most part underwhelming, health is a skill and the ex-Fiorentina man is durable and, also when he struggles offensively, his motor is always useful.
Alex Sandro is set to be back and perhaps even start right, Juan Cuadrado did not play on Wednesday, so he should be in the XI. Emre Can has been mentioned as a possibility in the midfield and the sudden absence of Sami Khedira, who is getting a routine day off, does open up some minutes. The Bentancur-Pjanic-Matuidi midfield has been the best combination so far, but they will try to avoid running anybody into the ground. In the hole, Bernardeschi has a slight edge on Ramsey, who is also an option as box-to-box, while Ronaldo is currently expected to start, likely next to Higuain.
Probable lineup
4-3-1-2: Szczesny; Cuadrado, Bonucci, De Ligt, Sandro; Khedira, Pjanic, Matuidi; Bernardeschi; Ronaldo, Higuain.

Injured players:
Costa (thigh), Chiellini (knee), Perin (shoulder), Pjaca (knee), Khedira (knee), Rabiot (thigh). 
Suspended Players:

None
Formation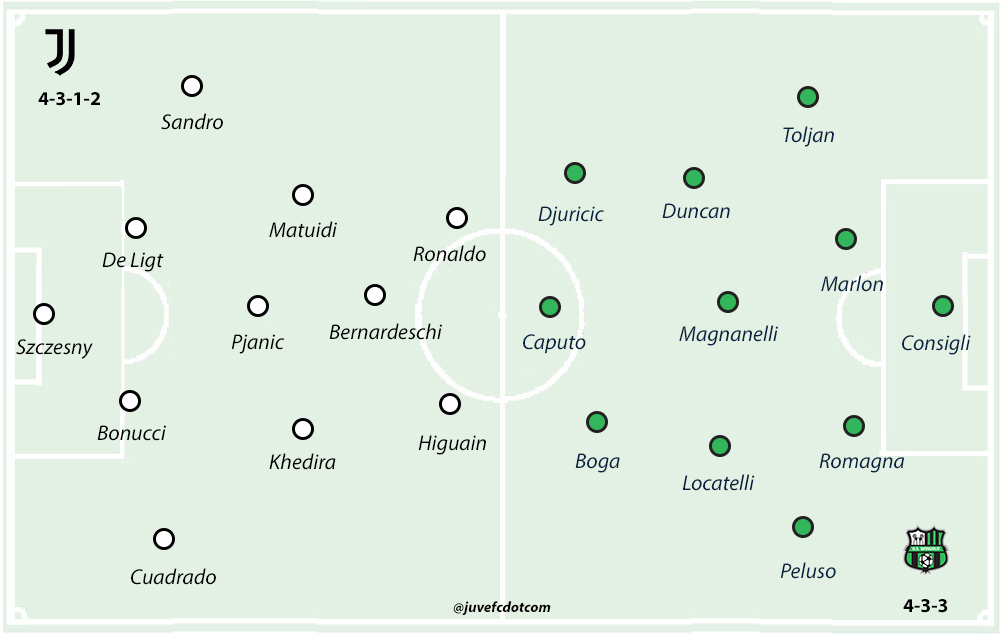 Sassuolo

Sassuolo have endured so many changes throughout the summer and it was probably fair to expect a fairly slow start, and they have surely been rather underwhelming out of the gate. However, they are picking it up recently, as they have racked up a few points in the last five fixtures, losing only late to Fiorentina and Lazio, defeating Verona and Bologna and drawing with Lecce.
During the transfer market, they cashed in on Stefano Sensi, Merih Demiral and Pol Lirola, three cornerstones, and also let go Kevin-Prince Boateng, Khouma Babacar and Federico Di Francesco, therefore undergoing a very substantial makeover of the roster. The newcomers have not all panned out so far and they also had to navigate through a number of injuries.
They smashed it out of the park with Francesco Caputo, who has been the solution to their finishing woes since they had not had a productive centre-forward in a while. He has scored six times and provided three assists, and he is tailor-made for their style because he is very mobile on counters and also a decent playmaker, so not just a goal-poacher. Ironically enough, they had not had a striker this reliable since Gregoire Defrel left for Roma a few years back and the Frenchman came back in the summer, but he has been outplayed by the ex-Empoli man, and he is currently out with an ankle sprain.
The most notable absentee will an old Juventus acquaintance: Domenico Berardi, who opened the season on a tear but recently suffered a thigh strain. He had not been performing this well in a few seasons, basically since when the Old Lady still had some sort of option to acquire him, but he repeatedly refused the move. It looks like he has turned the corner from a mental and consistency standpoint and the train to move to a top team could come again for him in 2020 and he would be smart to jump on board this time.
However, the Bianconeri luckily will not have to deal with him and it will probably be Filip Djuricic filling it up front – he is a pretty good player thanks to his technique and shooting prowess, but he is not very at ease on the flank. The coach has toyed with a diamond formation, but has moved back to a pure trident since Jeremie Boga, who is way more comfortable out wide, detonated over the past few weeks and, sans Berardi, he will be the one player to stop in order to keep them in check. He is one of the most explosive players in Serie A with his combination of supersonic speed and dribbling skills. He has polished off his finishing, becoming an even bigger problem.
While the attack has been very good, they have had a few inconsistencies both in the back and in the midfield. They have allowed 23 goals and surely the absence of Gianmarco Ferrari, their best centre-back, has not helped. They are one of those teams that tries to play with pace and be proactive, but the other side of the coin is conceding a lot since the defence is often too exposed.
Jeremy Toljan and Mert Muldur are coming along nicely after a slow start, thus making up for the departure of Lirola, while there has been a little too much Federico Peluso as left-back while Rogerio has been recovering from a meniscus tear. Georgios Kyriakopoulos has been better, but coaches tend to opt for the more conservative option when facing Juventus. Marlon and Filippo Romagna are surely talented, but still not super-duper reliable and, more worryingly, are often overwhelmed by the offensive volume the opponents usually manage to create against them.
They have had some troubles finding the right combination in the midfield after Sensi, who could switch between two positions with ease, bolted. They used Pedro Obiang as pivot a lot at the beginning of the season, but recently went back to old Francesco Magnanelli there. Alfred Duncan and Manuel Locatelli have alternated very good stretches to disappointing ones and the coach is not very confident about using Hamed Traore as box-to-box, usually preferring him as no.10.
Traore broke out in the second half of last season at Empoli and La Madama likely engineered his move to the Neroverdi, but he has been a bit lost in the shuffle a little bit so far. They can go in several directions here, including using Obiang and Magnanelli together or turning to the gritty Mehdi Bourabia. Traore could also play over Djuricic if they indeed opt for a more robust.
They have yet to deploy it this season but their manager at times mentioned a three-man defence and that would certainly bolster the formation. Andrea Consigli is dealing with some sort of ailment and he might not play. The coach did not mention Gianluca Pegolo among the possible replacements, but he is back from a finger fracture and would likely fill in if the starter was unable to go.
Juventus will have to deal with a squad that has above-average quality and courage, even though it will be a little undermanned. It will be paramount to not leave too much to counter, because they have fantastic weapons on that regard, but it is not a very muscular side and their defensive phase is pretty exploitable.
Probable lineup
4-3-3: Consigli; Toljan, Marlon, Romagna, Peluso; Duncan, Magnanelli, Locatelli; Djuricic, Caputo, Boga. 

Injured players:
Berardi (thigh), Defrel (ankle), Rogerio (knee), Ferrari (thigh), Chiriches (thigh).
Suspended Players:

None.
Juventus and Sassuolo Performance Statistics