Juventus v Torino

Coppa Italia –  Wednesday, 16th December- 19:45 GMT – Juventus Stadium

---

Juventus
What a turnaround. It was exactly three months ago that young Paulo Dybala was facing the cameras, imploring supporters to keep faith following a wretched start to the season, which saw the Bianconeri collect a solitary point from their opening three games.   "You only get out of a period like this by working hard." Dybala told Tuttosport back in September. "We know that this isn't an easy moment for us, our fans aren't used to seeing Juve with just one point after three matches. But if we can turn this situation around, it'll be even more amazing."
Fast forward three months and Juve have leapfrogged Roma in the standings, laid waste to Man City (home and away) to qualify to the last 16 of the Champions League and are breathing down the necks of league leaders Inter. When you add in last weekend's emphatic 3-1 victory over Fiorentina, there's plenty of cause for optimism, especially when you consider the nature of said victory. A penalty converted in the opening minutes of the match was La Viola's only shot on target and while they dominated the possession, 62% – 38%, Juve still managed 6 efforts on goal, finding the net with 3 of them.
Next up, we face city rivals Torino in our first Coppa Italia match of the season and there's expected to be a long awaited start for some of the squad players. Speaking ahead of the match, Max Allegri revealed some of his choices for tomorrow's game.
"Dybala could rest tomorrow, as he's played a lot of games," Allegri admitted in his pre-match Press conference.
"He's available. Two of Mandzukic, Zaza and Morata will play. Everyone is fine, so whoever plays tomorrow will do well.
"Zaza is very good, as is Morata, the same for Mandzukic who is in good physical condition, but I think the whole team is going through a good period.
"Morata-Zaza? They could be a pair, they can happily play together."
"Tomorrow, Neto and Rugani will play. After that I'll see how the three defenders are who have played so far, between Bonucci, Chiellini and Barzagli.
"Technically speaking Rugani is a player who can play… he had a good game at left centre-back in a friendly this summer, or he can calmly play at right centre-back.
"He's a lad who has improved a lot, so tomorrow he'll be ready to play.
"As for the injured players, Hernanes did almost everything with the team yesterday, so we'll see today.
"He's finally recovered, let's see if he'll be available tomorrow, if not he'll do extra work ahead of Sunday's game at Carpi.
"Lemina went to Barcelona yesterday to be seen, unfortunately he has a problem with his patellar tendon, and when that flares up it's a problem.
"Pereyra is making a journey in his injury recovery, and we'll see in the New Year. The others are all available."
Judging from that, it's safe to say we'll see Neto start in goal, with a back three of Rugani, Chiellini and possibly Bonucci. Given that we're sticking with the 3-5-2, I'd expect Lichtsteiner and Sandro to play either side of a midfield with Khedira, Marchisio and Pogba. With Dybala rested, it'll be Zaza and Morata up front.
Probable lineup:
3-5-2: Neto; Rugani, Bonucci, Chiellini; Lichtsteiner, Khedira, Marchisio, Pogba, Sandro; Morata, Zaza.

Injuries:
Pereyra (hamstring), Asamoah (knee)

Suspended:
None.

Torino
Probable lineup:
3-4-2-1: Padelli; Bovo, Glik, Moretti; Peres, Acquah, Vives, Baselli, Molinaro; Quagliarella, Belotti

Injuries:
None
Suspended:
None
Formation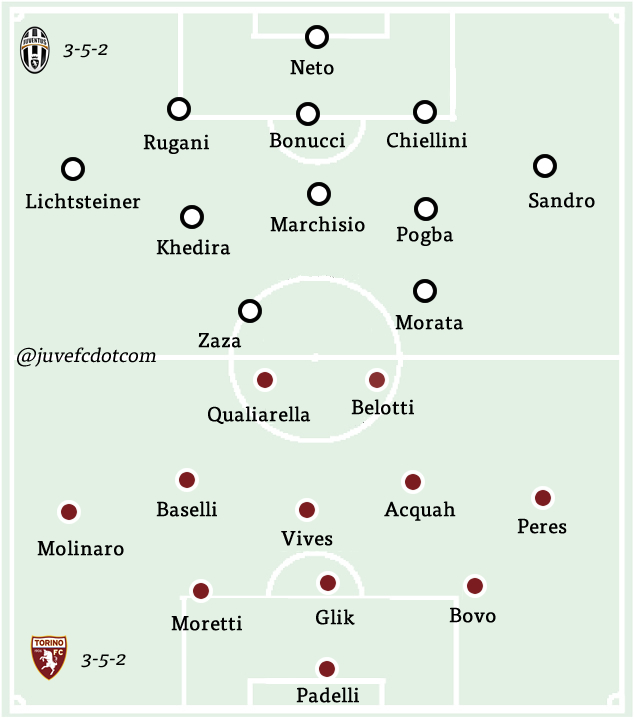 Poll
[socialpoll id="2316487″]