Juventus v Sampdoria

Serie A Week 38 –  Saturday, 14th May – 16:00 GMT – Juventus Stadium

---

Juventus
After a dismal game against Hellas Verona, Juventus look to bounce back and finish in style in front of its fans in an unusually early Saturday game. The management was probably planning to have the parade after this, hence the 5 pm start, but the bus ride will reportedly not happen. The team will hoist the trophy and then celebrate with the fans at the Stadium. A parade after the Coppa Italia final is very unlikely because of International duties.
As the coach suggested, it has been a month since Juventus secured the Scudetto and it is hard to maintain a high level of intensity. The Bianconeri were beaten by Parma last year in a similar fashion. From every defeat comes a lesson and I guess this time is that, if you do not have the right focus, anybody can defeat you. Still, it was a meaningless game and we should not make too much out of it.
However, there is indeed a concerning aspect about the last few matches and it involves the midfield. As we all know, Claudio Marchisio will miss the Coppa Italia final because of an ACL tear and Sami Khedira is likely to be sidelined because of a calf strain as well. Therefore there will be two open spots, alongside Paul Pogba, a situation similar to the start of the season, where the team struggled badly. One week before Juventus' last competitive game, none of the potential replacements has really stepped up to take one of those two spots. They did not do particularly bad, but they did not shine either. Massimiliano Allegri announced that Roberto Pereyra and Hernanes will start tomorrow and it will be a precious chance for both to try to overtake Kwadwo Asamoah, Stefano Sturaro and Mario Lemina in the pecking order.
Daniele Rugani will be rested after playing a bunch of games in a row and Giorgio Chiellini will get some minutes under his legs after a series of injuries. A choice that makes sense on paper, but it would make even more sense to see Andrea Barzagli, Rugani and Chiellini together as Leonardo Bonucci will be suspended for the final. Replacing Bonucci, who fortunately is extremely durable and can usually avoid picking up cards, has always been a tough challenge. The last time it happened Barzagli started in the heart of the defence, probably because the coach does not think Rugani has the stature yet to fill those shoes. We will find out next Saturday.
Paulo Dybala and Mario Mandzukic will start upfront, with Patrice Evra inevitably on the left wing as Alex Sandro picked up a silly double yellow in the last game. The only doubt is on the right, Stephen Lichtsteiner is the favourite over Juan Cuadrado as of right now. Alvaro Morata has recovered from a hamstring contracture, but he will start on the bench. Norberto Neto will continue to start in goal.
Probable lineup: 
3-5-2: Neto; Barzagli, Bonucci, Chiellini; Lichsteiner, Pereyra, Hernanes, Pogba, Evra; Mandzukic, Dybala.
Injuries:
Marchisio (knee), Khedira (calf), Caceres (Achilles).

Suspension:
Alex Sandro.

Sampdoria
It has been a weird year and even weirder week from Sampdoria. Thanks to the Carpi loss against Lazio, they clinched the permanence in Serie A without needing to wait for the final game, despite a horrible performance in the Derby della Lanterna, where Genoa smacked them right from the get-go.
The sporting director Carlo Osti deemed the squad unworthy and this caused a big brouhaha as the coach Vincenzo Montella resented the comment greatly. At some point, it looked like he could even resign before the last game of the season. The future of Montella is very much in doubt: he has a year left in his contract and some heavyweight suitors (Italy, Milan…) and the eccentric president Massimo Ferrero has stated that he would let the coach go if he wanted.
Montella was hired to bring the team to new heights after an underwhelming, but not that terrible stint by Walter Zenga. However, the team's collapse never really stopped. Luckily for them, others team did worse. Montella is probably more of a coach for the upper part of the table rather than for the relegation zone as his teams are more about technique and finesse than about the grit-and-grind mentality needed in those perilous areas. He was certainly overqualified for the Sampdoria job but accepted anyway because of his strong ties with the club. Despite poor performances, it does not seem like his stocks were irreparably hurt.
They will travel to Turin with some notable absentees: Niklas Moisander, Fernando, Antonio Cassano, Carlos Carbonero, Lazaros Christodoulopoulos and Davide Ivan. Fernando, who played in the Derby despite a swollen ankle, is the most important one: he was not a cheap summer addition from Shakhtar Donetsk, but he contributed right away is a difficult position and lived up to the expectations. Moisander and Carbonero have started few games as the squad, both under Zenga and Montella, desperately tried to find a tactical identity that could work.
In the end, Montella settled on a 3-4-2-1 that gave them relative success. In the most recent games, he has dropped Inter loanee Andrea Ranocchia, who really did nothing to help his case to make Italy's Euro 2016 roster, to insert Matias Silvestre. Mattia Cassani and Modibo Diakite are slated to start but I would not be surprised if the prospect Milan Skriniar was given a shot.
The two flanks have been the only other bright spot for them: Lorenzo De Silvestri and Dodo proved to be reliable wing backs with high motor. Edgar Barreto and Nenad Krsticic are set to team up in the middle. Their star Roberto Soriano should play behind the striker, pairing up with either Joaquin Correa or Ricky Alvarez. Fabio Quagliarella is primed to be the lone striker. The tactic can easily switch to a 3-5-1-1 as Soriano can play both positions. Of course it is the final game of the season so it is possible that some bench players will be given minutes or even a chance to start. In that sense, Jacopo Sala, Luis Muriel, Pedro Pereira and Angelo Palombo could see the pitch.
Antonio Cassano is officially out due to gastroenteritis, but, unsurprisingly, he was caught in more controversy. After the Derby, for some reasons, he cussed at the executive Antonio Romei, who does not have an official role with the club but is said to be Ferrero's right-hand man and has handled the transfer market for them. A local TV obtained the letter with which the club was ready to terminate Cassano's contract, but in the end they decided to not complete the procedure.
Probable lineup: 
3-4-2-1: Viviano; Cassani, Silvestre, Diakite; De Silvestri, Barreto, Krsticic, Dodo; Soriano, Correa; Quagliarella. 
Injuries:
Fernando (ankle), Moisander, Carbonero (knee), Cassano (gastroenteritis), Christodoulopoulos (hamstring), Ivan (hamstring). 
Suspensions:
None.
Formation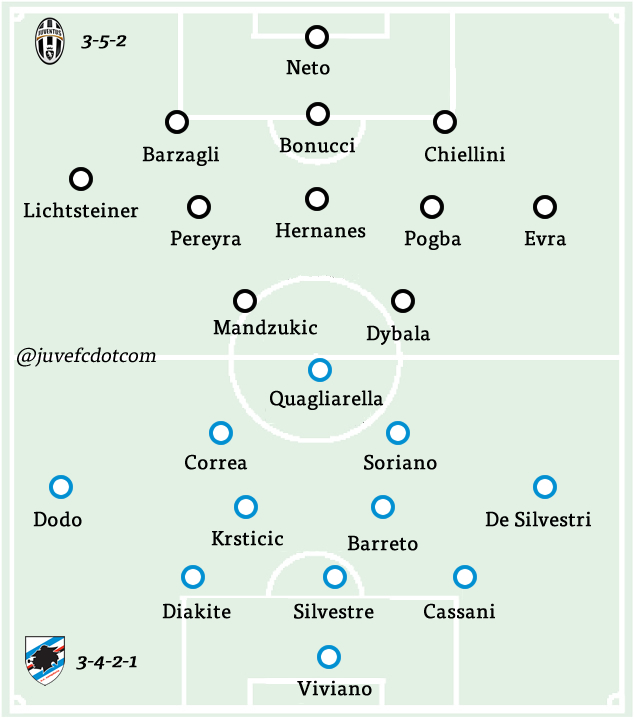 Page image from Juventus.com