With the dawn of a new year fast approaching on the horizon, and my eagerness to embrace a brutal epitaph of Obama's reign of terror dimming, I feel keen on first focusing my energies on hope and promise. Which brings me to the youth sector, long neglected indeed, as life has been hectic and generally wretched, but I have kept tabs, kept the scouts busy with their assignments and I am pleased to finally find the time to thread together an overview of the current state of play.
Rather than wade through the mega swamp, I will offer a brief run down of appearances and then focus on the most positive starlets…
(NB Ignore the 'Holder' column. TO – Attaccante Striker, C- Centrocampista Midfield, D- Difensore Defender, P- Portiere Goalkeeper. All stats taken from this brilliant site focused on Juve Youth and Loans )
Serie A

Serie B

Lega Pro (Serie d)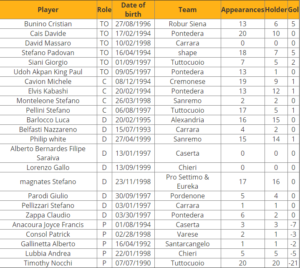 Foreign Leagues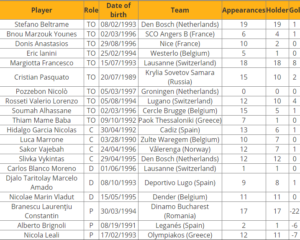 It has been a stop start season of woe for Berardi, almost solely due to injury bothers, and Bouy has also fared wretchedly in the appearances stakes, but this is (hopefully) down to an awfully run Palermo, and a new club will be found for the grounded dutchman in January. Tello and Lirola seem the major success stories, in terms of players who remain with a chance of consideration for the senior squad at Piedmont in the long term future. Given the injury sustained by Alves will preclude his return to first team action until February at the earliest and Lichsteiner has not been offered an extension to his contract which expires in the Summer, I suspect that discussions will be held with Sassuolo in regards to young Pol. May have to offer them a sweetener to bring him home earlier than previously agreed (June 2018).
Dropping down a level to the second tier…
It is a shame to see Romagna failing to earn a regular starting berth as my hopes for him were and remain impressive. Perhaps a change of teams would do him some good, but he has time on his side. Cerri and Ganz are gaining decent experience, with neither prospering at a level they both know well enough. Cassatta and Garcia are the highlights, yet neither seem destined for greatness. By which I mean a future in black and white.
Heading further afield, Nicola Leali took his time, but has of late found himself the starting keeper for Olympiakos. Regular fixtures at a solid level is all we can ask of the lad and he is clearly working hard to earn his place for the runaway league leaders in Greece.
Rosseti, who I thought looked a decent player when attending the friendly pre-season outing against Melbourne Victory here, has fared well in his Swiss sojourn…
Beltrame has been progressing nicely in Holland, with Donis also managing a few appearances for table-toppers Nice in France.
And a quick mention for Vajebah Sakor, who at 20 years old forced his way into the Valarenga first XI and enjoyed a solid season for the Norway outfit. Their championship has just finished and it will be interesting to see where we now place the dynamic midfielder. The highlight of his campaign may well be this strike…
Primavera stats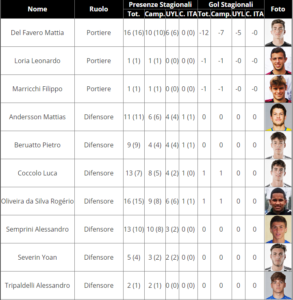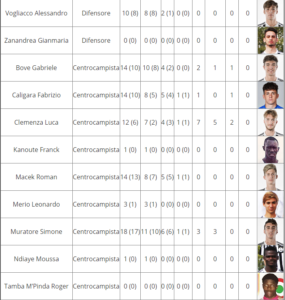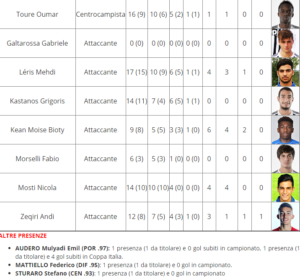 We will soon lose Rogerio, a mainstay of Grosso's side, as he has been selected to represent Brazil in the  U20 tournament running January to late February. Other than which, Clemenza has returned from his ACL injury suffered early doors this year and hit the ground running, Kean is up to his normal goal plundering antics, Zeqiri, Andersson and Leris have proven jolly additions and the other usual suspects of Muratore, Coccolo, Caligara, Kastanos and Macek have been in respectable form.
The reason for Audero finding himself out of the reckoning for the primavera is that he has been training with the senior squad and regularly featuring on the bench for Serie A fixtures. Not much chance of actually playing with Neto and Buffon ahead of him, but it is assuredly valuable for his development to be training with the big boys. He has progressed, as he is our official number three goalkeeper at just 19 which is a solid show of confidence in his promise, yet I am eager to see him find competitive action. I doubt we will see this happen until the Summer, when he will be too inexperienced to replace Neto if he leaves and so will be loaned out.
Federico Mattiello has also been part of the senior squad after returning from injury, yet to make the bench but is gaining fitness and learning from the established stars.
As some are already aware, the U19s finally managed to progress to the knock-out stage of the UEFA Youth League –

We will face Ajax (A) in the last 16 on February 7th in a do or die single tie.
In the league campaign…We are sitting pretty in first.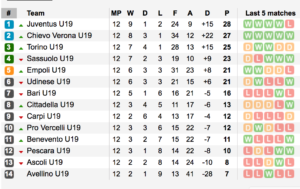 Our last fixture was a welcome 0-3 victory away to struggling Pescara…
Unfortunately we are out of the primavera coppa after a mauling from Fiorentina at home!
Please feel free to request any further information on any of our young guns and I will endeavour to assist.
No doubt there will be some activity during the winter transfer window, which I will cover when concluded, yet for starters –
We are soon to finalize a move for 18 year old Colombian starlet Juan Manuel Valencia, a midfielder who will sign from Cortulua for around 1.3m. Expect him to appear in our primavera in the New Year.
Some eyebrows to be raised with our confirmed interest in a 16 year old striker who has been labelled the 'Romario of Belluno', a player whose idols are Del Piero, Dybala and Giovinco, his favourite team of course Juve. Alex Cossalter made his debut this season with Serie D side Feltre and was due for a trial at Juve earlier this month yet this has been waylaid due to illness. He will soon return and if he can impress, will be added to our flock. It is certainly impressive to see a 16 year old striker playing regularly at senior level.
A name new to some,  19 year old shot stopper Alex Meret, may well be snapped up from Udinese during January. Currently impressing out on loan at Serie B side SPAL, the 19 year old could possibly see himself ear-marked as Buffon's understudy for the 17/18 campaign. A regular for the azzurri at consecutive youth levels U16s through to the U19s and now part of the U21 set-up, Alex has obvious talent. Enough to place him ahead of Leali next Summer? I will assume that Neto will leave, he wants to play football and we also need to more seriously focus on finding a successor to Buffon. Having a player already at the club, part of the squad, groomed by the best in the business does seem a prudent path. And it may well make the transition from a world without Buffon in black and white smoother. Also, no world class keeper is going to leave regular football elsewhere at the top level to play second fiddle to Santo Gianluigi. Much to ponder for Beppe and his chums…
We continue to invest in promising talents, our U19s are progressing and I suspect that many of the players out on loan will bring in a profit in due course, whether through sales, further loans or as makeweights in moves for the cream of the crop of the provincial sides.
My predictions for potential opportunities with the senior side –
Emil Audero
Filippo Romagna
Bioty Kean (such a shame his minder in waiting is Raiola!)
Luca Clemenza (this chap has serious talent)
Rogerio
Wishing one and all a vibrant end to 2016 and a decadent, lascivious beginning to 2017, the Mongolian year of the wombat goddess…
Forza Juve
TGP