Lazio v Juventus

Serie A Week 15 – Saturday, 7th December – 19:45 GMT – Stadio Olimpico

---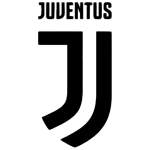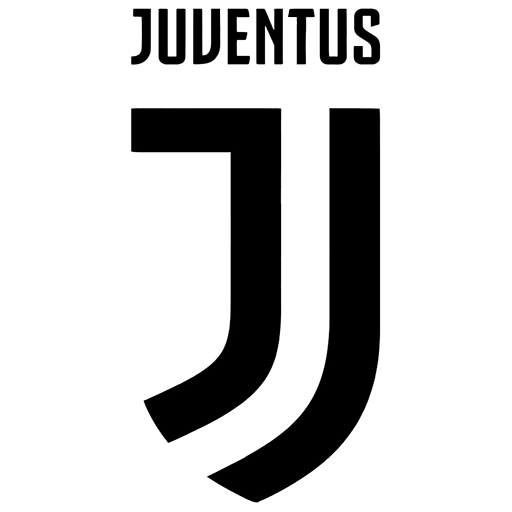 Juventus
When you play with fire you end up getting burned and that is what unfortunately happened in the Sassuolo game, as the team, as they have often done against the minnows, looked too nonchalant and not totally up to the task, despite the fact that they did get the lead for a change, but it was short-lived. There was a long black-out before the usual furious final stretch, but it was not enough to complete the comeback this time.
Such displays are supremely frustrating because the seeds of greatness are visible in the squad, but the consistency is not there yet. It is kind of the opposite of what has been going on for a long time, where you knew what you were going to get in each game but the ceiling was not as high and the truly brilliant performances were numbered.
While most of the criticism has been directed towards the offence and the playing style in general, which is not as dominant as it is supposed to be, I would argue that it is on the other end where there is more room for improvement. Despite the relatively good numbers, the squad has given up the least goals in Serie A and had not surrendered multiple goals in a long while, the back-line, or better the defensive phase, has rarely been super stifling and completely shut down the opponents. The horror show on the second goal by the Neroverdi is in an outlier, but there are ways for the whole shebang to ameliorate.
The games where the Bianconeri have managed to lull the opponents into submission through ball possession have been very few, which is the downside of constantly pursuing a goal. While better approaches and underestimating the opponents less should solve some stuff, the lads could paradoxically improve by taking the intensity down a notch in the later stages of the tilts. It is a virtuous cycle.
Hopefully dropping to second place, which is totally undesirable and surely draining if we stay there for a while but not a complete disaster this early, will have lit a fire in the players' belly and a rare full week of rest and preparation should result in a better and more energetic showing.
In news that came out of the blue, Sami Khedira will miss three months following knee surgery, but the positive aspect is that it is not that big of a deal. Rodrigo Bentancur had basically already taken over in that spot, faring much better than the German veteran. Moreover, the schedule is not very crowded and there is just one meaningless Champions League game in this period, so the rotations are not too hindered.
Now it is time for Emre Can to step up: for somebody that talks a big game, he surely blew an opportunity with a pitiful performance against Sassuolo. Confidence is key and his has been totally shot since the events of early September, but now everything is in front of him to bounce back. Despite the injuries, he was pretty solid last season, but perhaps he is not technical enough for Sarri-ball, or he is one of those players that do well only when they play consistently. It is a true make-or-break month for him because January can go in any direction: from being sold to maybe taking Khedira, or somebody else's spot, in the UCL list.
As for the lineup, it should be the go-to one considering that Wednesday's match is inconsequential: Paulo Dybala has been too good to stay on the bench and Cristiano Ronaldo looked better. There are not really any doubts since Aaron Ramsey has been ruled out in advance with a small muscular ailment. Perhaps the management should consider bringing in a quality midfielder in January considering the never-ending problems of him, Douglas Costa and Adrien Rabiot.
Juventus have often been able to rise to the occasion in big games, for instance against Inter and Atletico Madrid, and this surely qualifies as one, so I am curious to see whether they will come out all guns blazing, looking for redemption after last week's faux-pas.
UPDATE: With the intent of having a more conservative line-up, Mattia De Sciglio and Can could play over Juan Cuadrado and Federico Bernardeschi, with Bentancur moving to no.10.
Probable lineup
4-3-1-2: Szczesny; Cuadrado, Bonucci, De Ligt, Sandro; Bentancur, Pjanic, Matuidi; Bernardeschi; Dybala, Ronaldo.

Injured players:
Costa (thigh), Ramsey (thigh), Chiellini (knee), Khedira (knee), Perin (shoulder). 
Suspended Players:

None
Formation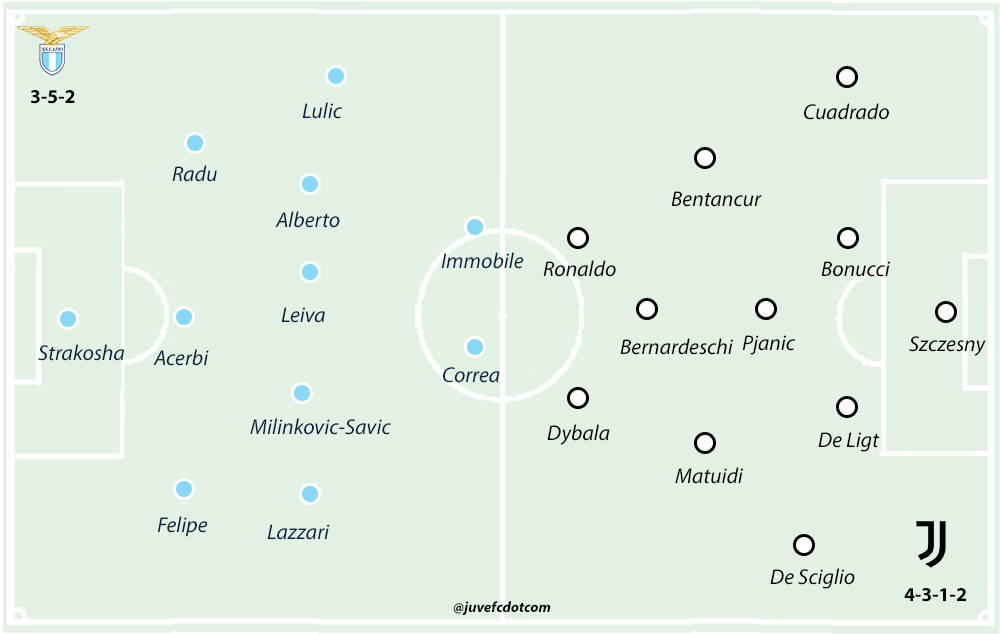 Lazio

Lazio have one of the most predictable designs in the League, yet they have been extremely successful, which goes to show how much quality they have at their disposal and how well they are able to execute. After a shaky start, they have rattled off six wins in a row, fully deserving the third position.
They have been riding the stellar form of Ciro Immobile and Luis Alberto: the striker has already found the target a mind-blowing 17 times, scoring in the last nine rounds in a row, while the Spaniard has notched ten assists.
Joaquin Correa has been a much better finisher, he has netted six goals and three assists, and so their offence is truly hard to contain. Correa is so slippery, Alberto has incredible vision and touch and Immobile basically picks his spots and bags every ball he gets in the box. They would be deadly if given room to counter.
They could even go up a level if Sergej Milinkovic-Savic started playing his best football: he has been just okay so far with two goals and five assists. He is not used as offensively as in the past, so his scoring numbers are down, but the biggest problem is that he rarely ever takes over games and there are too many moments when you forget he is out there, which is baffling for somebody so talented. He does the little things better now that he has turned into a full-fledged box-to-box midfielder, but the flashes are less bright. Marco Parolo has been tested in the starting XI, I guess to have a more defensive posture, but it would be a shock if the Serbian tank did not draw the start.
The only meaningful change during the summer was the acquisition of Manuel Lazzari from SPAL, who is perfect for their 3-5-2 scheme and has been more consistent than Adam Marusic in that position, but he has not been the same force he was with the Estensi, where the whole offence ran through him. His role is diminished, but he is still somebody you that needs to be held in check because he is a precious release valve when they get bottled up centrally. The other newcomer Jony has not managed to unseat Senad Lulic on the other flank.
Stefan Radu has missed a bit of time and during that. they changed their back-line with Francesco Acerbi as left centre-back, Luiz Felipe centrally and Patric on the right: a design that yielded very good returns because Acerbi is a sneaky playmaker, but Radu is now back and Patric is a little banged up, so the choice should be the standard one here, with Bastos challenging Felipe for the third and final spot.
Lazio have often been considered a paper tiger in Italy during their very positive recent stretch: they easily beat up on the minnows, but then falter against the top teams. This year, their most challenging games came before they got hot: they tied with Roma and lost to Inter, but put up a good fight and should have come away with points. During the streak they have defeated Fiorentina, Torino, Milan and Sassuolo, which is decent but not a remarkable feat. They will be eager to snatch their first statement win and prove that they truly belong in the Serie A elite.
Probable lineup
3-5-2: Strakosha; Felipe, Acerbi, Radu; Lazzari, Milinkovic-Savic, Leiva, Alberto, Lulic; Correa, Immobile. 

Injured players:
I.ukaku (knee), Patric (calf), Berisha (thigh). 
Suspended Players:

None.
Juventus and Lazio Performance Statistics