Lecce v Juventus

Serie A Week 9 – Saturday, 26th October – 14:00 GMT – Stadio Via del Mare

---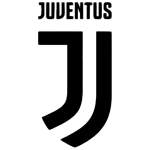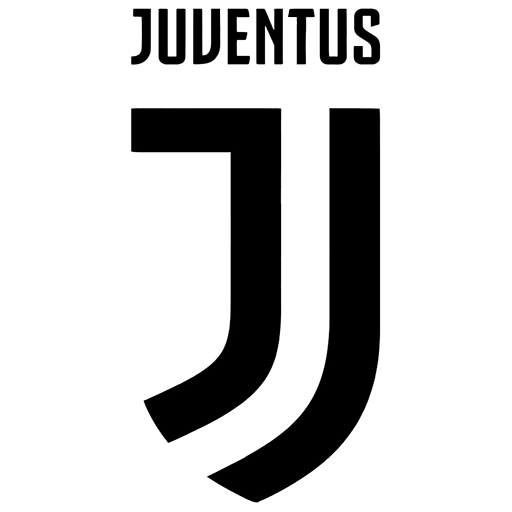 Juventus
Thankfully Paulo Dybala bailed us out on Wednesday, warding off the usual Champions League ghosts that always tend to creep up on Juventus here and there. The performance was fine, as it has been in most of the matches so far, but Lokomotiv Moscow was arguably the best defensive team we faced so far and did a masterful job almost all night long. In that kind of fixture, which are weirdly, in a positive connotation, becoming less frequent in Serie A, the defence has to take care of business and avoid conceding against opponents that barely attack. In the worst-case scenario, it has to end in a nil-nil and giving up cheap goals has been a recurrent issue so far.
After heaping praise on the merits of the diamond formation, what transpired on Wednesday actually proved that sometimes you do need to play with width when the opponents are so diligent in clogging up the middle. Douglas Costa would have very useful there. Juan Cuadrado was able to take advantage of his freedom on the flank and should have been rewarded with an assist in one of his numerous crosses, while Alex Sandro also should begin attacking more, even though he did play a major role in the second goal.
Obviously, it is down to nit-picking here but a wrinkle that could be added to the game plan is more outside shooting. The primary route to score so far has been the constant pursuit of central interplay in order to free up a man in easy position in the box. While that has produced great actions, some variety would not hurt, and we do have some helluva shooters, so when things get tough, they should be permitted to fire away.
It looks like Aaron Ramsey will be out for a little longer in order to heal properly from a pair of injuries, which opens up a hole as no.10. Even when he is subpar, which is unfortunately rather often, but he is bouncing back recently, Federico Bernardeschi is better there than as a winger because his passing and shooting by far exceed his quickness and dribbling skills. But he can not be run into the ground with so many matches in a row. Rodrigo Bentancur moved the ball well in that role, which he also briefly occupied in the Inter game dishing out an assist, but the Russians were stifling and finding daylight was a feat.
The most alluring option would be to go with the three strikers and Dybala in the hole, but for now it is likely just an in-game option in contests of the same nature as the most recent one, where the enemies are completely passive. It is just not feasible to have a proper defensive phase if three players do not actively participate, it would require an incredibly stout and energetic midfield.
Furthermore, with Costa and Ramsey both sidelined, it is the best off-the-bench weapon at disposal of the coach and it is always recommendable to have a solution to break out in case of emergency.
Considering the short turnaround and the upcoming midweek round, there will be some changes, including the biggest one since Cristiano Ronaldo has already been ruled out. Juan Cuadrado and Sami Khedira are also candidates to get a day off, like one of the two centre-backs.
Probable lineup
4-3-1-2: Szczesny; Danilo, Bonucci, Demiral, Sandro; Bentancur, Pjanic, Matuidi; Bernardeschi; Dybala, Higuain.

Injured players:
Costa (thigh), Chiellini (knee), Danilo (thigh), Perin (shoulder), Pjaca (knee). 
Suspended Players:

None
Formation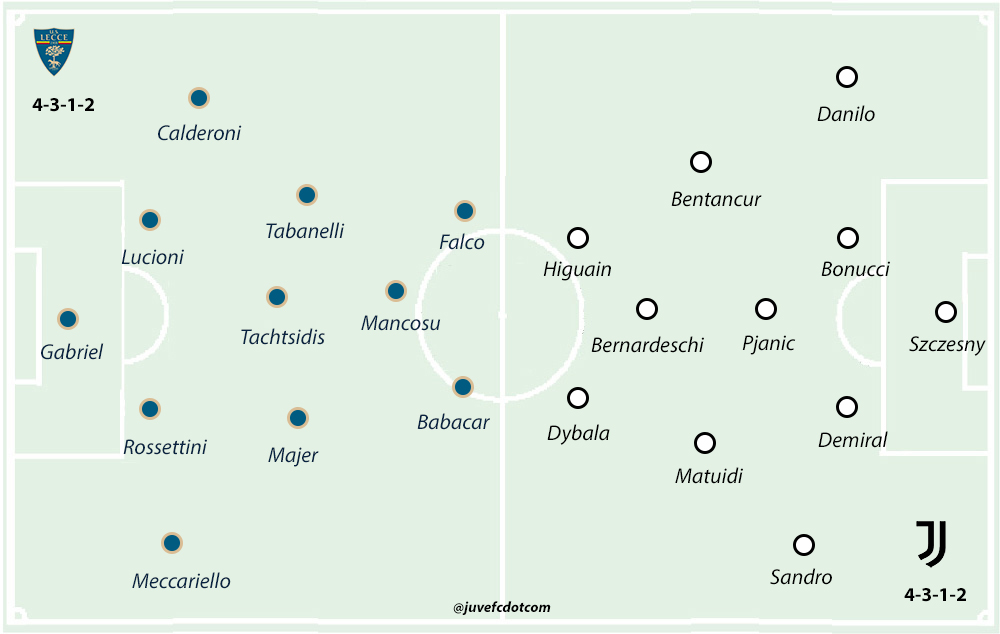 Lecce
Lecce took Serie B by surprise last season, and they are trying to do that, in more contained fashion, this year as well. They are an interesting bunch that can sneak up on opponents that underestimate them. It is not overly surprising that they have collected all their points on the road, defeating SPAL and Torino and equalizing at the buzzer versus Milan.
Helmed by the up-and-coming Fabio Liverani, they are a courageous side when it comes to attacking, even a little too wild at times. The lack of a go-to-scorer has held them back so far: they tested Gianluca Lapadula earlier in the season, now they are trying out Khouma Babacar with slightly better results. They also have last season's starter Simone La Mantia on the roster, who could end up being the solution. They have an above average offensive production for a minnow, but they have had problems turning it into goals.
The downside of always charging forward with five or six men is that you expose the defence and this had led to some proper collapses against the top teams. They have given up four goals to Inter and Napoli and three to Atalanta. The back-line is pretty talent-strapped to begin with and often has to deal with adversaries outnumbering them and having a head-start. The coach adapted Biagio Meccariello to the right flank last week over a pure fullback like Andrea Rispoli to try to shore it up, perhaps he will do it again here.
They did not change their infrastructure much during the summer, bringing in few new players but only three of them have been regular starters: former Milan Gabriel between the sticks, journeyman Luca Rossettini in the back and then, as mentioned, the centre-forward. Giannelli Imbula should eventually take over one spot in the midfield, but he has been bugged by few injuries so far. That is also an area of concern, as the output of their two primary ball handlers, Panagiotis Tachtsidis and Jacopo Petriccione, has not been good enough for how they want to play.
Their offense leans heavily on Filippo Falco and Marco Mancosu: the former is a pacey second-striker that can glide past any defender, while the latter is an opportunistic trequartista that is always a threat since he has mastered the art of trailing the action.
Falco was fantastic last season and guided them to the promotion, but he has not been as effective in Serie A. Diego Farias has had a better impact when called upon, especially exploiting his quickness, and he might soon take over the position. Mancosu instead has already bagged three goals, three of which from the penalty spot.
They avoid sitting back, and they reverse field position quickly and in bunches when they recover the ball. They have shooters from distance and some decent hustle in the midfield, primarily with Andrea Tabanelli and Zan Majer, but that depends on what trio is chosen. On the other hand, their defence is surely exploitable and things sometimes get out of hand for them when they go down in the score, because they try to solve the situation in a hurry, opening up too much room.
Probable lineup
4-3-1-2: Gabriel; Meccariello, Rossettini, Lucioni, Calderoni; Majer, Tachtsidis, Tabanelli; Mancosu; Babacar, Falco. 

Injured players:
Imbula (thigh). 
Suspended Players:

None.
Juventus and Lecce Performance Statistics