When you think of the attacking talent available to us right now, there's one name that's frequently overlooked. Especially after a mercato where the focus has been primarily on the final 3rd.
Some, such as Higuain and Dybala are lauded. Cuadrado is met with what I would say is most commonly an iteration of bewilderment. Pjaca is on the treatment table, but promising if he can regain full health and form, and stay that way. Douglas Costa comes from the promised land of pace and raw attacking talent. Seemingly manufactured in the same laboratory as his compatriot Alex Sandro. Bernardeschi is young, talented, and probably the penultimate adjective for Juve, Italian. Kean, is tipped as our future. (He is also Italian.)
One man whose importance cannot be underscored with simple qualifiers is Mario Mandzukic. "Here is a man seemingly without a conscience: for whom the ends always justify the means." -V
When 'Mr. No Good' first arrived at J Medical in the summer of 2015, boasting the frame of a teenager who has hit their growth spurt early, but has yet to fill it out, an earnest of the club's desire was fulfilled. Juxtaposed with La Joya in the attack, there was a certain level of tranquility about our attacking capabilities for the season ahead. His first year had a modest return given the rotation with Morata, but it is the 2016/2017 season when we found out what he was truly made of.
When Pipita arrived one summer on from Mandzukic, which I think most of us can well and truly still admit we never saw coming, concessions had to be made in regards to who would be leading the line. Thus, as he always does, Mario set about his business quietly and professionally. Humbly accepting the rotational role and ever working hard, watching, waiting for an opportunity. Never too far from the limelight, but almost never directly beneath it.
That opportunity came with a change of formation, and also, a change in position. He took it, and never looked back. There was immediate skepticism abound. Even I couldn't help but scratch my head and wonder what Allegri was thinking putting Mario on the wing. Mario said it best himself; "A lion doesn't stress over the opinion of sheep."
People have often labeled him as an "unorthodox" left wing since his change in role. I believe this is not only a competitive advantage, but a resounding underestimation of his talent and capabilities. He has made that role his own. Offering a completely different variety of attacking, and defending options that frequently leave opposition without a concise answer as to how they should defend against him.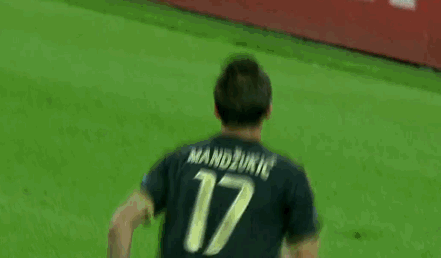 Yet, ever since the switch, there have been clamors for replacing him with a more traditional winger. I think the more prudent question is: how exactly do you unseat him from our starting eleven? His defensive contributions alone have made him nearly indispensable. You're probably all too familiar with the bone crunching tackles, and probably most famously, the double block against Atalanta where he literally took one to the face to prevent a goal.
I understand the thought process behind wanting a more traditional wing player. Better crossing ability, more service to Pipita, take the creative load off Dybala, etc. The list well and truly goes on and on. But, his tireless running, tracking back, starting of attacks, being a target, outmuscling the frequently dwarfed full backs who he comes up against, and adding a dimension to our squad that no traditional winger can truly supply. That shouldn't be so easily cast aside.
Additionally, from a more tactical standpoint, I think he can be much more productive in terms of goal tally this year if he is allowed drift into the box more when the attack is being built from the right side. Douglas Costa and Desci/The Swiss Express having not only Higuain in the middle, but also a towering Mandzukic to deliver crosses to could be devastating. (Sorry Cuadrado, but this isn't a luxury we have with you starting, as no one knows if your cross will find a warm body in the stands, or one on the pitch. (Cuadrado has more than enough talents we can, and should use nonetheless, but we'll save that for a different discussion.)) All of this is before we even mention how useful Mario is for set pieces.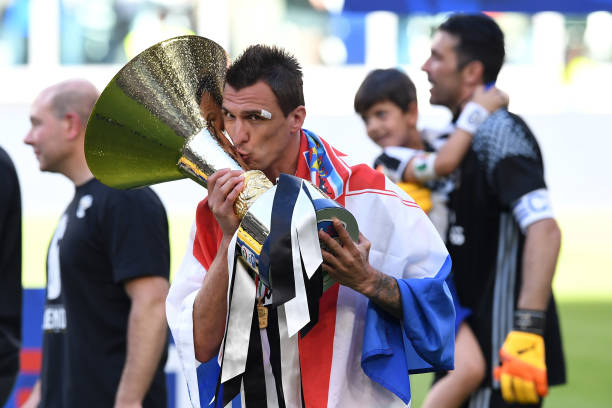 Most of us yearn for commitment and loyalty from the players on our squad. Few others have made the best of a situation like he has. To be displaced from your starting role in your natural position, to be placed in an unfamiliar one, doing it all with no complaint and becoming an integral part of our side again all the while. He could have agitated for a move, which is apparently the current flavor for dissatisfied players, but he did not. He stayed loyal to the badge, the club, his contract, the fans, and the project. It seems like that would be more cause for reward than replacement.
Mandzu will have some role to play at Juve this year. How big or small that is, I can only speculate. Maybe taking him out of the starting eleven will work, maybe though, just maybe, it'll be, 'no good.'
Let me be abundantly clear that I am not making a case for who our starting eleven should be, or what formation we should utilize. I humbly offer an alternative viewpoint than I am typically confronted with. I implore you, my fellow readers, writers, and Juventino: lend me your pens. For if you agree, or disagree, I want to know, and most importantly, I want to know why.
I can't find the words within myself currently to conclude this succinctly, so I'll borrow some that I think are most fitting in regards to Mandzu: "But what are kings, when regiment is gone, but perfect shadows in a sunshine day?" -Christopher Marlowe.
(This will be the first in a series of pieces offering alternative views than the most common on players within our squad.)