When you talk about the transfer market you have to talk about a few  things. 1.) How absolutely ridiculous of a circus it is. It's laughable. 2.) Your club's needs and next season's objectives. 3.) Your capacity to fill those needs to meet those objectives. 4) Once the window closes, what your squad looks like. Make no mistake,  the transfer market is as much about what happens on field as it is  about our club as a business off of it. It's a brazen statement absolutely, but one I find to be true. (Bonus trivia: Why is Juventus more highly scrutinized financially than almost any other club in Italy? Because we are one of three publicly traded clubs in Italy.)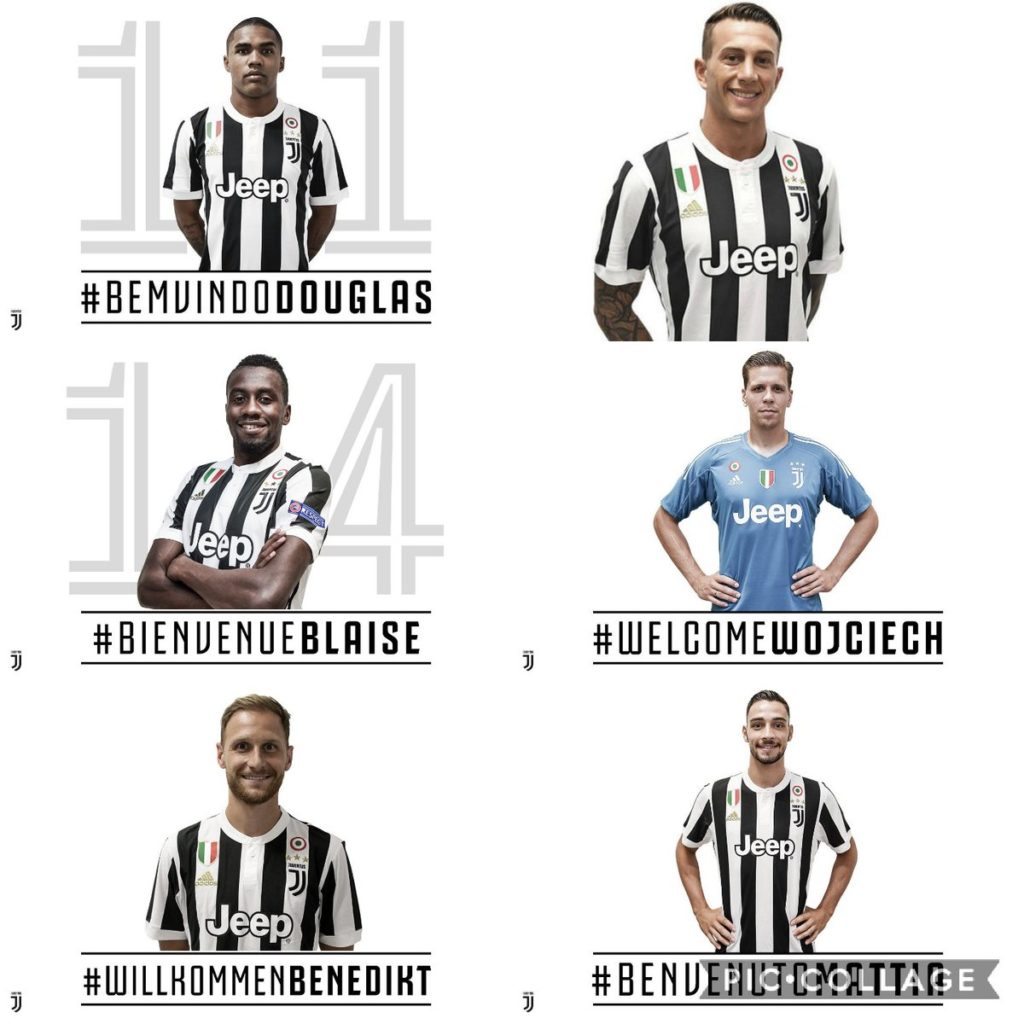 I quipped  the other day, and i think it's worth repeating: The net spend of our summer is roughly 25m Euros based on what I read most recently. Our net spend is approximately 1/6th and 1/9th of Dembele and Neymar respectively. 25m Euros spent for Douglas Costa, Federico Bernardeschi, Blaise Matuidi, Mattia De Sciglio, Benedikt Howedes, Wocjciech Szczesny, and Rodrigo Bentancur. I have no qualms with that. And what would you really rather have? One Neymar, or, seven quality players? I'll take the seven, because lest we forget that this game is still a team sport, regardless of how much you spend on that one player, you can't play them, nor can they win by themselves.
We did have one departure of significance in Leonardo Bonucci, but to me it's a calculated enough risk to take. I have observed claims that we've sold him to a direct rival, but have we? For me, calling Milan a direct rival is fairly generous considering where they finished in the league last year, the overhaul this summer, and that they have absolutely no possibility of facing us on the continent this year. Is Bonucci one of the of the top centre halves in the world? Absolutely. Will we ever truly know why he left? Maybe not. I'll borrow an idea from a friend that I firmly believe, "No one player is bigger than our club." – The Gutter Poet
For us to measure our success in the market this year, we must use our finalized squad list as a barometer for our success. Here is our squad as it stands:
Portieri (Goalkeepers): Santo Gigi, Sczesny, Pinsoglio
Difensori (Défense): De Sciglio, Chiellini, Benatia, Alex Sandro, Barzagli, Howedes, Rugani, Lichtsteiner
Centrocampisti (Midfield): Pjanic, Khedira, Marchisio, Matuidi, Asamoah, Sturaro, Bentancur
Attaccanti (Attack): Cuadrado, Higuain, Dybala, Douglas Costa, Bernardeschi, Mandzukic, Pjaca
This is the portion of this review where most readers would expect to find a numerical rating on a scale of 1-10 for our mercato. I apologize, but you will find no such rating here. If you cling to such a rating for an approximation or measure of our success this summer, I assure you, there are 150 articles out there by now that have assigned a numerical rating to our market for your reading pleasure.
I'll measure the success in a different way.
Formations, tactics, etc. aside, I think our market was a success and here's why:
Are we a markedly improved squad from last year? Absolutely.
Have we resolved personnel problems like having true wingers and a more robust midfield selection? Certainly.
Have we lost anyone of monumental significance like Dybala? Absolutely not.
Have we added quality to our depth, moved on fringe players, and do we have multiple players for each role? Yes.
Have we done all of this by spending fractions of what other teams are spending on individual players? We have.
I will firmly stand behind the idea that I don't think this is the finished product for Juve just yet. I think we are one market away. There are more questions of our squad that need answering. A RB and a CB for one thing. A backup LB. Maybe one more CM, but I'm not convinced we do need it just yet. I'd like to see how we fare this year with our current midfielders before beleaguering that idea. That isn't the question we seek to answer though, the question is, was this years market a success? By my measure, it was.
Beppe has frequently stated that we have a strong squad, and if we can find players who can raise the already high level of quality we have that we will look at them. Albeit for a fair price. That sums up our market this year perfectly. We have once again raised the quality level of Juve, and that makes our mercato this year a success. Seal of approval given Beppe and co.
In summation and for your consideration my fellow Juventino: have we not won 6 Scudetti, 3 domestic doubles, run deep in the CL, including two finals appearances, all on the bounce of Calciopoli? Are clubs spending umpteen more dollars than us that are wildly less successful than we are every year? We absolutely crave the CL title, coming so close and losing hurts, and it hurts a lot, but we are a winning club every year, and we should not so easily forget that. We are a strong side, we will remain a strong side, and we will continue to become stronger, year over year, as we have done.
Fino alla fine!
Forza Juventus!