With the action moved decisively from the field to the transfer market and a hint that the club might well be learning from recent bothers and aiming to get business finalised early doors, it seems the Right time to peek at the current crop of rumoured deals which refuse to die on the vine.
The known departures are heavy in experience and whilst there is the possibility of further losses, presently we are faced with replacing Lichsteiner, Asamoah and Buffon. All three have played a mammoth part in our success stretching back many moons. All three will be sorely missed. Which adds further responsibility to Beppe, Paratici and Max to ensure that every effort is made to keep the club moving in the right direction.
Of the transfers gathering steam of late…
We probably find Mattia Perin as the most serious and likely move. The 25 year old shot stopper has that mad zeal in his eyes and sterling bravery combined with acrobatic cat like reflexes. He is proven quality, at least at Genoa. Just the one cap for La Nazionale to date, yet he has long been in the leading pack of those best positioned to replace Santo Buffon at international level. Yet we must consider the two ACL injuries Mattia has suffered in recent years. One in each damn knee. Does this suggest ongoing injury concerns? Will the spring in those plucky pins be affected detrimentally? This is up to the medical staff to deduce. I will place my faith in them and add my support for the move. Italian, young, strong character, brave enough to throw himself in front of Hades for the cause…and capable. I cannot state enough – mainly due to fatigue and the chill here in the garden despite my russian hunting hat and the rum from earlier – Perin is a berserker. Whilst his catching might look suspect, his ability to get down and across and up and in flight, to reach the ball is extremely special. He also has somehow fused together his fight or flight synapses which leaves him always with only one option when faced with danger, FIGHT. Thats the kind of spirit we need in the ranks.
The price seems right, with Preziosi apparently seeking somewhere between 15 and 20m, which seems fair enough for a starting goalkeeper of good age and standing in the game with just one year left on his contract.
We seem keen, yet not on paying the full whack. Likely starting around 10m, though open to including other players as a makeweight in the deal. Sturaro would be fine. I would go as far as to suggest 10m plus Sturaro, for what can the real value of Stefano be currently? He has barely featured for the last two campaigns, and when he has played he has been poor. There is apparently interest in his services from abroad, for 15-20m. Which seems excessive, though the market is wild and unpredictable. Anything is possible, nothing is certain.
More troublesome is talk of Mandragora finding himself returning to Genoa as part of the deal. Which would be with a buy-back clause. Less worrying, more a bother to be exact, for Rolando's first full season at senior level for relegated Crotone has been impressive for a 20 year old. Especially in the role of DM/CM which carries a lot of responsibility. He does represent precisely what I think we have been lacking, namely a physical presence in front of the defence, who can screen, act as a fulcrum, pass, tackle, affect tempo and put himself about. Rolando also has just received his first call up to La Nazionale, as part of the three friendlies Mancini has lined up as he steps into the new role.
The realisation I have come to of late is that we are set with Pjanic in that position, not role. So we are not looking for a natural (sitting) DM. With such a conclusion, the youngster's development would be better served playing regular football in the top flight than kicking his heels on our bench to play bit part roles elsewhere than his natural area. I do hope I am wrong, and that he does find himself forcing the issue over the Summer and earning the right to prove himself worthy of Juve next term. He could be strong enough to release the Bosnian to focus more on dainty footwork and unlocking defences, rather than fighting constantly for the ball against far more physically robust opponents all too deep for my liking.
We have been linked to Emre Can for decades (it seems). A free transfer for a german international of 24 years of age, highly thought of by Klopp, Low and many others of sterling repute, able to play several roles across the midfield and even in defence if required, seems a solid move. Yet why the devil has it taken this long? Due to respect for Liverpool? Is he holding out for a mega pay rise? Using us as a prop in his wage war play? Is his role going to be changed, if we do sign him, from a centrally based DM to one of the box to box roles either side of Pjanic?
I would be happy if he appeared at Piedmont. His resale value alone is worth the punt. And he has performed consistently if rarely tremendously in an savagely offensive Liverpool side where he is kept very busy indeed. He has helped the side improve on their league position and reach a CL final.
Given his age, there is also plenty of room for further development of his skillset, which has appeared to my own eyes, that presently of a well rounded, mobile central midfielder, able to support in attack yet naturally at home screening the defence and battling the middle of the park. Quite tidy on the ball for a scrapper.
To replace Sturaro or Khedira, this would be a welcome move.
Dennis Praet is a player we have long monitored. His progress since moving to Italy with Sampdoria has been steady. The Belgian appears always composed, of sound decision making, lively turn of pace with that golden quality of being comfortable on the ball in tight circumstances when surrounded by opponents. In short, he is tough to get the ball off, seems apt at knowing when to release or run with the damn thing and has an expansive passing range. He can can also tackle and intercept, which confirms his reading of the game is well rounded for a player of his age (24). We have great relations with Samp and the rumoured 22m release clause is a small investment.
What strikes me as most welcome is Praet's footballing intelligence. He seems cool under pressure and a step ahead of his opponents with the ball at his feet.
We would be technically improved to find him join Can in replacing the two mentioned above.
Matteo Darmian at 28, still in fine shape physically yet seeking more regular football after his Man U career fragmented under Mourinho, seems a useful addition to the squad. Especially for the 15m (ish) fee bandied about in the press. He is reliable on both flanks from a fullback position, has a good engine and is highly experienced at the top level. I don't think we have seen the best of him in the Premier League, for a variety of reasons, but he has not become a poor player. Perhaps lost his way a little and with some regular football back in his homeland, we could well find him returning to the same swashbuckling menace of his Torino days.
Personally, I like the idea of Italians playing for Juve. And to ponder a backline including Perin, De Sciglio, Chiellini, Caldara, Rugani and Darmian is appealing for Juve and La Nazionale.
(NB briefly on Caldara…I have been impressed with his muscle, hustle and tackling ability every single time I have seen him play. He has shone too bright, too often, to be regarded as anything but a superb purchase. I might not have seen an Italian centreback with this amount of promise since Cannavaro)
None of the above signings cause the eyes to widen, the pulse to quicken and sensations of a serious CL assault to crystallize in the head and heart. Yet we must remember our progress of these past few years. Its a tough task to improve the squad and we are not often in the habit of plundering mega resources in pursuit of a target we are already as close to, as perhaps can be realistically expected given our financial strategies.
The midfield has proven a problem for the side since we lost Vidal, Pirlo then Pogba. All of whom were impossible to replace like for like. The club is trying to focus on this area, hence the interest in Can and Praet (also Pellegrini, Cristante) and I feel we must dispense with the notion of a huge bid for Savic or any other name which has attracted the covetous glances of clubs with much deeper pockets.
Talk of Martial and Morata seems to have cooled. For now. And we await news on the Colombian starlet Santiago Arias. Who may well be ear-marked to replace Lichsteiner. He does seem an interesting talent, yet the dutch league is no surefire barometer of true quality. Eredivisie player of the year with plenty of experience for his country, Arias could be a gem in the rough, adding some latin flair and grit to the De Sciglio, Darmian, Sandro crowd of fullbacks at the club.
Interest in Mandzukic from United makes some sense, given the physicality, experience and incredible determination of the Croat giant, alongside his versatility and probable eagerness to play in his desired role, or simply embark on a new adventure as the twilight years of a glorious career approach. His chances of playing next season in black and white appear diminished by the ever more impressive form of Little Doug, the return of Pjaca and hoped for further integration of Freddy Bernardeschi. There is also Juan to consider…
I am completely sold on Costa. He started in fits and spurts, yet as the season wore on, he found not just consistency, but looked far and beyond our most dangerous attacking player every time he stepped onto the field. He simply must be retained, the loan made permanent, for to have a world class player with insane pace settled and sharp, represents one of the finest pieces of business for the club for several years.
Unsure presently on the Spinazzola situation. His ACL injury means he will not be anywhere near our first team or any other until October. Perhaps we will rehabilitate, and play him in the B team. Which reminds me…
yes yes! Finally it has happened. Or rather, it is happening. For the FIGC announced recently the introduction of B teams from the start of next season. With clubs able to register this second side in any openings which appear in Lega Pro (third tier). These openings depend on clubs failing to meet financial and stadium requirements. The B teams would be viable for promotion or relegation, yet never to step foot in the same league as their A counterpart. Which isn't likely to happen with a Juve B team, unless another club President decides to buy the FIGC, create outlandish bespoke charges of wrongdoing, and demote us. It happened before…
The B teams will comprise of mainly U21 players, with some U23 also allowed, and perhaps even a smaller still addition of senior players. There will be a minimum requirement of players registered in Italy for 7 years and restrictions on the amount of games any player can feature for the B team and still then play for the A team thereafter in the same season. Nothing has yet been confirmed, despite Albertini's announcement early May. With both the Serie B topdogs up in arms and even the Lega Pro crowd seemingly in the dark. Yet it appears that the thing will get done. And we will be in a perfect position to register a side for next season.
I feel this is a very positive step for italian football as a whole, not just for Juve. We will be able to move players from the primavera to senior football with more care, with more control of their training and development, avoiding the bothersome loans and modern co-ownership routines (buy-back clause).
It will be interesting to see how our B team of youngsters will fare against the men. It is no given whatsoever that we would soon see the kids in Serie B. Yet who cares! We will essentially have a second team to follow. More to come on this long overdue happening, when details are confirmed.
Before signing off for the night, I will add that Dal Canto's primavera side miraculously sneaked into the league campaign play-offs after demolishing Atalanta 4-1 a week back. Del Sole, Fernandes and Del Favero were top drawer in that exciting match wherein everything finally seemed to come together, at  this late stage in the season. (NB update-  They drew their quarter-final first leg 1-1 at home to Roma yesterday with the return set for June 1st.)
I believe our U17 and U15 sides are also still very much alive and kicking in their respective end of league tournaments. Which bodes well for the future. And finally..
The Juve Women's side recently won the title in their debut campaign. Beating Brescia 5-4 on penalties after a 0-0 draw in the play-off final, which came due to the league campaign ending like this-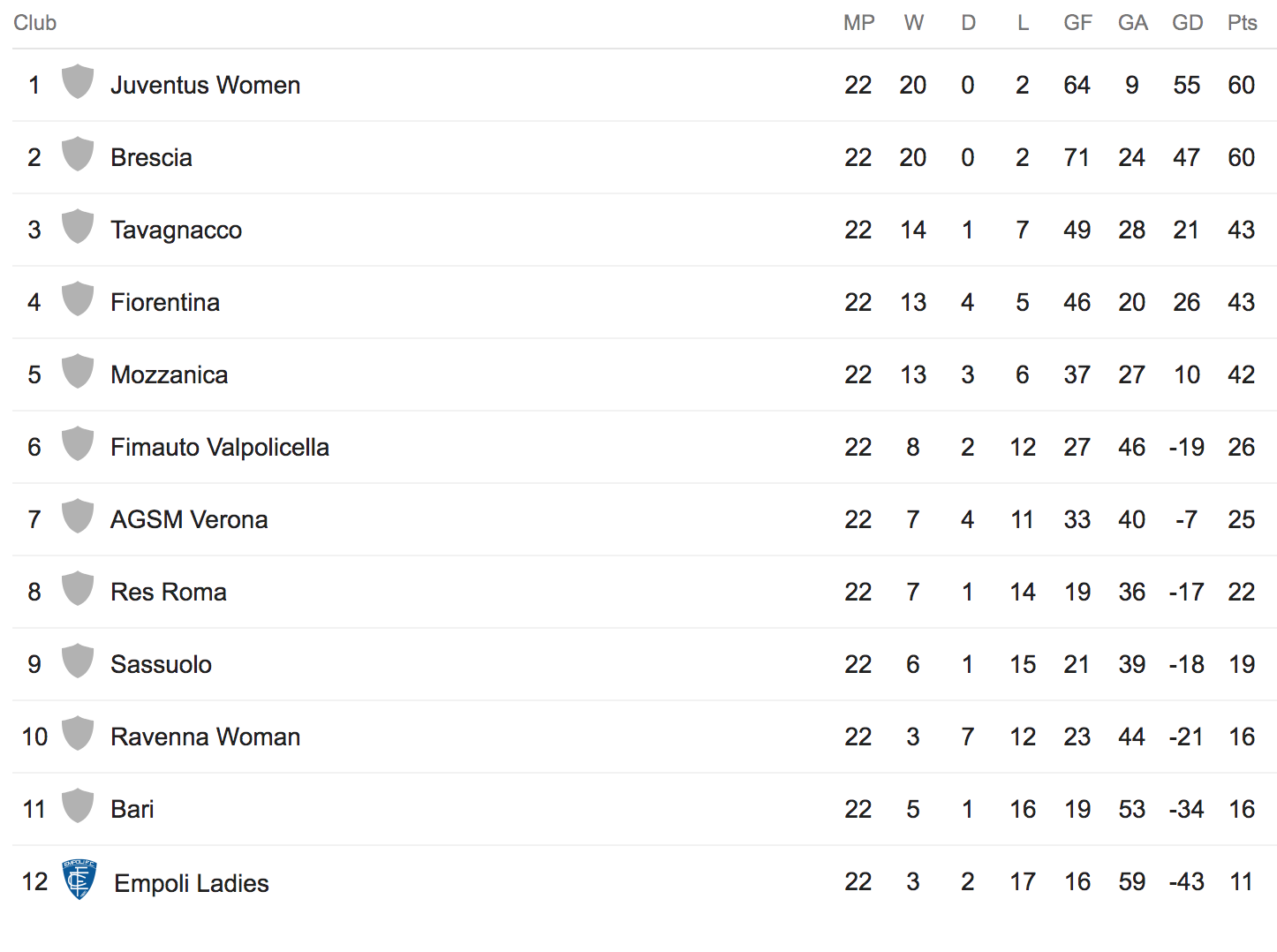 forza juve
(seek me out on twitter here)