Juventus vice-chairman Pavel Nedved says his priority for the season is to win all three competitions that Juventus are participating in.
The Czech legend spoke with lidové noviny.cz and recapped on his career with the Bianconeri as well discussing Gigi Buffon's upcoming retirement from football.
The following was translated by regular site contributor Radek Jaska – You can follow him here on Twitter
Italy won't participate in the WC after 60 years…
Nedvěd: "It is a massive blow. Italy is a big country who has always had and always will have talented footballers, however if the country doesn't create some sort of a system it will keep suffering. Football is by far the most popular sport in Italy and Italian football doesn't have the head of the league, doesn't have the head of the association, doesn't have stadiums and its teams do not have "B" teams. So far, we are looking for a new man who would begin the new era of Italian football. The new man could be Damiano Tommasi, ex-Roma midfielder. We hope it will get better."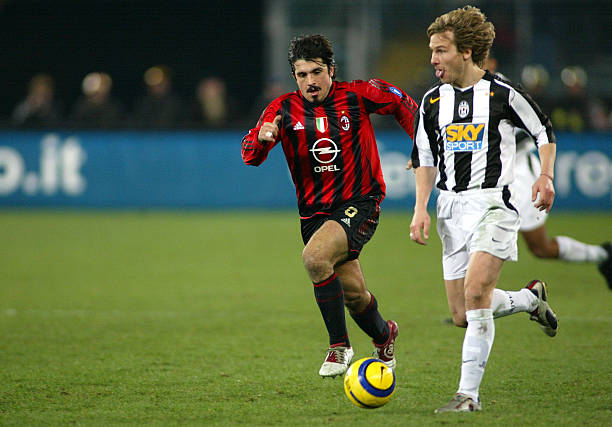 Don't you feel nostalgic?
Nedvěd: "I have so much work at Juventus that I don't know what to do first… Although I must admit that I feel sorry that my career was over so quickly. I would love to experience it again if there would've been the opportunity to do so…..and because there isn't I would love others to experience something similar."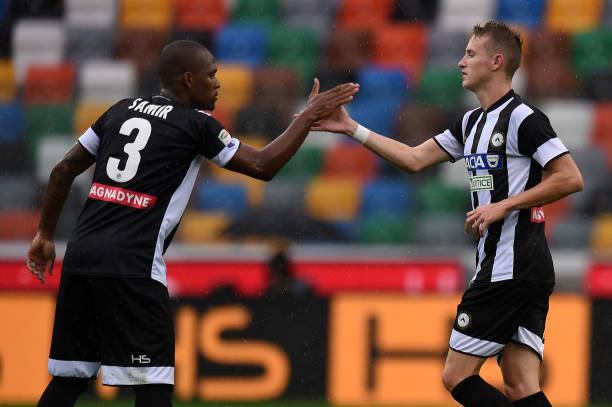 Is there "a new Nedvěd" in the Italian league?
Nedvěd: "You don't have to look very far, look at Udinese; Barák and Jankto are doing great. Even though there isn't the pressure which would come at bigger clubs I still congratulate them for their performance. My affection towards Czech players is understandable and it pleases me if someone from Juventus tells me 'look, this Barák guy is solid'. The idea of bringing a Czech player to the club still holds onto me. I'm not suggesting anything but it's clear that both Jankto and Barák can play in Serie A at the highest level. Jankto is fast, straightforward, hungry for goals. Barák came in the summer and took it by storm. I like his physical condition and his humility. He is a left footed player who defends, attacks and is able to run many kilometers. However I wouldn't compare him to myself, we're not the same."
Juventus is now behind the first Napoli in the league table…
Nedvěd: "We're only 1 point behind but I must admit that Napoli are doing great. Their team is well composed, they have leaders and they haven't wanted the title this much since Maradona's days. If we manage to win our 7th straight Scudetto, which is our goal, it will be the most difficult defense. We are still in all three competitions and we want to win them all. The biggest priority for our fans is the Champions League but my priority is to win all three competitions. I never lower my ambitions and I appreciate how our boys are still pushing forward. Some of our players can win their 7th straight Scudetto which is truly remarkable when you realize that when season ends, it all resets and you go again."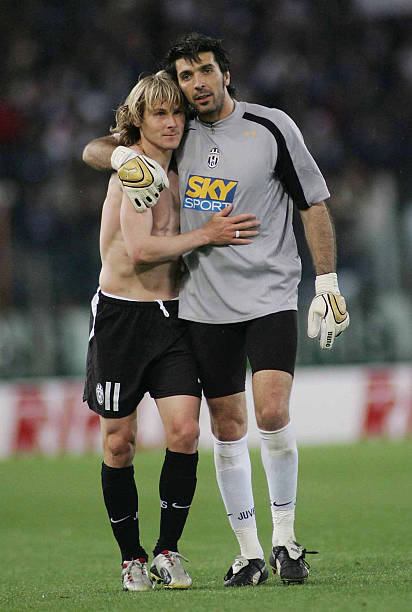 Buffon announced that he will retire after the season. Have you tried convincing him to stay?
Nedvěd: "No, I haven't. He will decide it with president Agnelli. Gigi's performances are still great and we're happy to have him in our goal."
In January 2004 Buffon congratulated you on the pitch on winning the Ballon D'Or. What do you remember from that afternoon?
Nedvěd: "I remember how the head of France Football magazine came to Turin with the Ballon D'Or in a box. He gave it to me before the match and I was running around the stadium and showing it to fans. The fans were standing and applauding while I was wishing for the match to start because the trophy was so damn heavy and I got tired way before I even kicked the ball…"
You played against Perugia and your wonderful goal was decisive.
Nedvěd: "I hit the ball pretty well. From thirty meters, with my right foot straight to the top corner. Even now I get chills when I remember it. Beautiful weeks in which I managed to win the biggest individual trophy a player can win. Now the Ballon D'Or trophy is in Juventus Museum because in no way does the trophy belong only to me."
Buffon would deserve the trophy as well, don't you think?
Nedvěd: "I agree, he is truly special. Sadly you can't slow down age and Gigi probably won't have his trophy… Not even for his achievement. "
How difficult is to say goodbye? Buffon is about to say his goodbye soon; did you hesitate with yours?
Nedvěd: "I gave everything I had to football . Even though I still enjoy when I put on my boots and go play with friends, I don't miss it that much. When I said in 2009 that I'm retiring it wasn't a hard decision but it was irreversible. I felt gassed. Juventus wouldn't be winning with me anymore."
What about other clubs…?
Nedvěd: "I didn't want to play for a smaller club. I could, there were offers from MLS to finish my career there but I wouldn't enjoy it. I wanted to retire while still on top and not slowly fade away. And I hope I managed just that."