Saturday 23rd September 2017, Paulo Dybala runs on to a pass from Miralem Pjanic and smashes the ball home from the edge of the area, the first goal of four for Juve in the Derby Della Mole. Cue familiar celebration, but this wasn't just about beating our cross-city rivals, it was a culmination of excitement and anticipation which had been building since the beginning of the season. Could we be seeing the arrival of a true Juventus great? He had recently been given the famous number ten jersey and it seemed as if he had matured overnight. Del Piero 2.0? Comparisons were not that short of the mark in this case. Interviews with him around that time were positive and bold and acquired an almost captain-like quality by rallying his team mates. He isn't in the category of bloodied foreheads and tough tackling, like Chiellini, but it was certainly exciting to hear from a normally quiet and unassuming player.
A natural in the Trequartista role since his £23.4m move from Palermo in 2015; One always gets the feeling he's more of a creator of goals rather than a goal scorer, although his goal scoring record is impressive; 20 in his debut season with Juve and 19 last year. The Torino game was the high-water mark of Dybala's season so far after absolutely thunderous start where he scored 12 goals in eight games, this included hat-tricks away to Genoa and Sassuolo. His surging start prompted mutterings of intent from the English media about a move to the Premier League. Digressing here, I always find this particularly grating and patronising as these stories always have a hint of the journalist just noticing a player who has scored a few goals and they instantly add two and two together, as if every player dreams of playing in England and playing in England is the only way a player can be really considered to be at the top of his game. The myopic media also presume any English team can sign anyone on a whim. This is partly true with the vast amounts of money in the English game, but again I digress.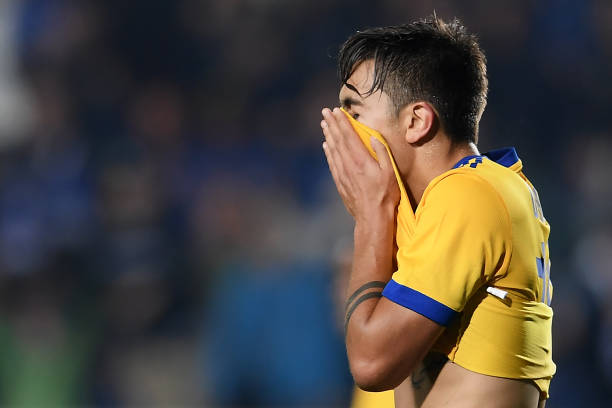 The turning point for Paulo, and if we're being honest, Juve in general, came away to Atalanta in October. A late summer evening where Juve, with a helping hand from the VAR (video assistant referee), were denied a win. A dubious VAR assisted penalty in the last minute gave Juve a chance to seal the win. Dybala, usually so reliable (although always goes to the goalkeeper's right) had his penalty saved. The result, a draw after being two goals up and a stumble for Juve ahead of the international break.
Since then he has scored one in nine games and missed another last minute, VAR assisted penalty in the home defeat to Lazio. Now despite what we may believe Paulo actually is human and is prone to the same pressures and stresses of adult life, it was always unlikely he would continue to shred defences at the rate we had seen earlier in the season. However, the question should be asked is why the almighty drop off in form? From the dynamic, flair demon to a lifeless and timid shell of the player we know and love. Last Sunday's game against Benevento (incidentally, the term 'home banker' was coined for this match up) was easily Paulo's worst of the season as time and again he dropped deeper and deeper into midfield and left to forage for attacking scraps in the absence of Pjanic. The Bosnian is the perfect foil for Dybala as he links the midfield and attack with an effortless style which at times reminds me of Zidane.
What we have found when Pjanic doesn't play is a lack of attacking influence in midfield, the knock-on effect is a disjointed and toothless attack with Higuain isolated as Pjanic's stand in, usually Khedira, although more recently Marchisio and Matuidi, desperately try to emulate Pjanic. They're completely different players and it's often painful to see Juve so lacking in attacking ideas. As the weeks have worn on opposing defences have been increasingly able to cope with Dybala by having a defensive midfielder drop off or by playing an extra man in defence. Simple really, and you get the feeling the very best players will always find a way to lose their marker and make themselves more elusive in the final third. Injuries haven't helped the stability of the midfield, but a reliable Pjanic-style back up would help.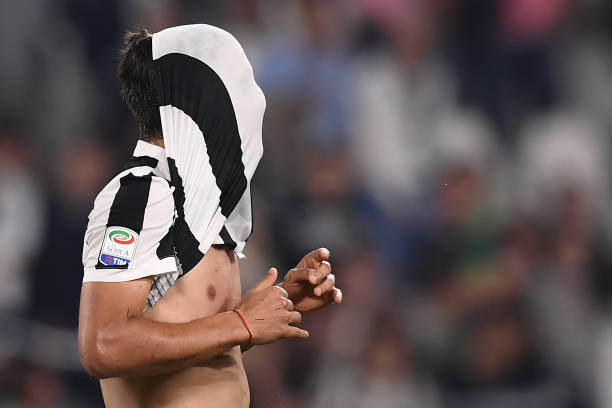 It could be argued that, like Alex Sandro, his attention is elsewhere and, Dybala has an advantage over Sandro here as he's had a strong start to the season, whereas Sandro has been flat out poor. However maybe the enthusiasm about turning out for the Bianconeri is waning. We were finally assured by Giuseppe Marotta in the summer that Dybala wouldn't be going anywhere when rumours of a move to Barcelona surfaced, he was quoted as saying,
"We did not receive any direct offer from Barcelona for Dybala, but above all we had absolutely no intention of selling him and were certain he'd wear the Juventus jersey. We even gave him more responsibility with the number 10, a shirt that holds a great deal of importance in the tradition of Juventus."
I say 'finally' as he, worryingly, said earlier,
"The player is the one who decides his fate and if he wants to leave, it'll be impossible to keep him."
Hardly the resounding 'hands off' warning we were looking for. However, the player himself upon being given the number ten shirt for upcoming season said he was concentrating on his future with Juve.
"I'm very happy at Juventus. I extended my contract three months ago, the club asked me to take their No 10 jersey, I thought about it for two days and said, 'why not?'. I want to grow here. If the President wants me to, I'll stay here forever."
I think deep down, no matter how much we like to think otherwise, Dani Alves' comments in the summer about Dybala needing to leave Juve to further his career, are quite true. That is unless we win the Champions League within the next two years, maybe then Dybala will stay, but such is the demand for success and coupled with the relative short shelf life of the 21st century footballer, means Juve are going to have to deliver big success or risk losing Dybala to one of the filthy rich clubs. Let's face it any one of Barcelona, Real, the top five in England, Bayern or PSG would instantly be able to afford him.
I am not suggesting we sell him because he's scored one in nine, however with the January transfer window looming on the horizon would Marotta and co. be tempted to cash in? Unless we have a replacement lined up, and by that, I mean a player of the quality and stature of Alexis Sanchez, it's difficult to see us letting him go until the summer, especially if we're still in the Champions League after Christmas. I am of course hysterically over reacting over a lack of form from someone who is still on the youthful side of 25, alas this is the job of a writer. I aim to provoke discussion and reaction among my peers.
Despite Paulo's form, the team itself has been quietly, almost begrudgingly, going about their business since the defeat to Lazio. The bonkers goal-fest away to Udinese apart, we have shown all those Allegri tactical hallmarks by grinding out five wins and a draw. Yes folks, we're undefeated since, according to some, our world fell apart after a home defeat by an impressively organised, up and coming team. It's hasn't been pretty at times but it's very effective. I for one, in pre-season, was hoping for an uptick in entertainment value, given the signings of Costa and Bernardeschi. I'm still hopeful this will become reality as the season evolves. The new signings should've been a huge boost to our strikers, Higuain probably more so due to his style of play, but the added element of flair which both Federico Bernardeschi and Douglas Costa have in their respective arsenal should've helped to create more for the front two as they take a little pressure off Dybala. This hasn't happened yet. Allegri's preference of Mario Mandzukic and Juan Cuadrado; last season's pairing on the wings, has been productive in terms of goals and assists (three and five for Cuadrado and five and two for Mandzukic so far), but Dybala and Pjanic are still relied upon to create most of chances through the middle.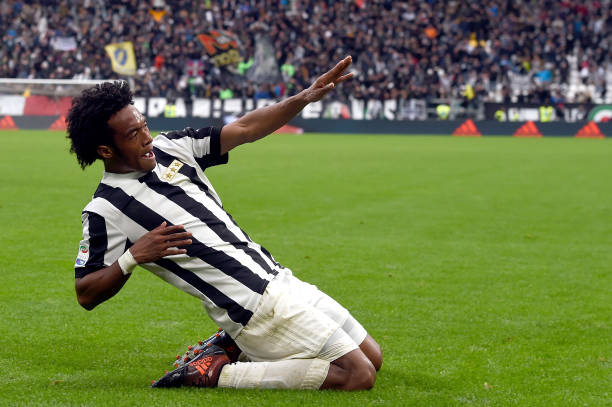 So where do we go from here? In September, Gonzalo Higuain was rested after an indifferent spell of form, the result since then is an impressive return of seven goals in nine games. The rest allowed him to re-charge the mind and body and I think Dybala would benefit from a substitute appearance or two. Bernardeschi, and to a lesser extent, Costa, purely because of the position he naturally plays, would certainly benefit from more playing time in the centre of the pitch, Bernardeschi has shown to be a capable goal scorer in his handful of appearances, with a no small amount of flair and creativity too.
We have seen Dybala become increasingly frustrated during games, I like a little edge to a player's style; playing with a chip on the shoulder if you will. However, being caught on camera muttering Spanish insults, reportedly towards Allegri, and throwing your shin pads around after being substituted isn't good for either player or manager. At best it's a player aware of his talents and genuinely frustrated he hasn't been able to impact a game in the way we know he can. At worst it screams petulant, egotistical, unprofessional and selfish. I'm hoping Allegri has spoken with Dybala and is helping him to channel that frustration into positive performances.
A lot depends on how he plays over the next six weeks leading up to Christmas. The longer this goes on, the more difficult the issue becomes. I believe it was Bill Shankly who told us "form is temporary, class is permanent", Dybala has certainly shown a lot of the latter, we can only hope the former picks up very soon, for everybody's sake.